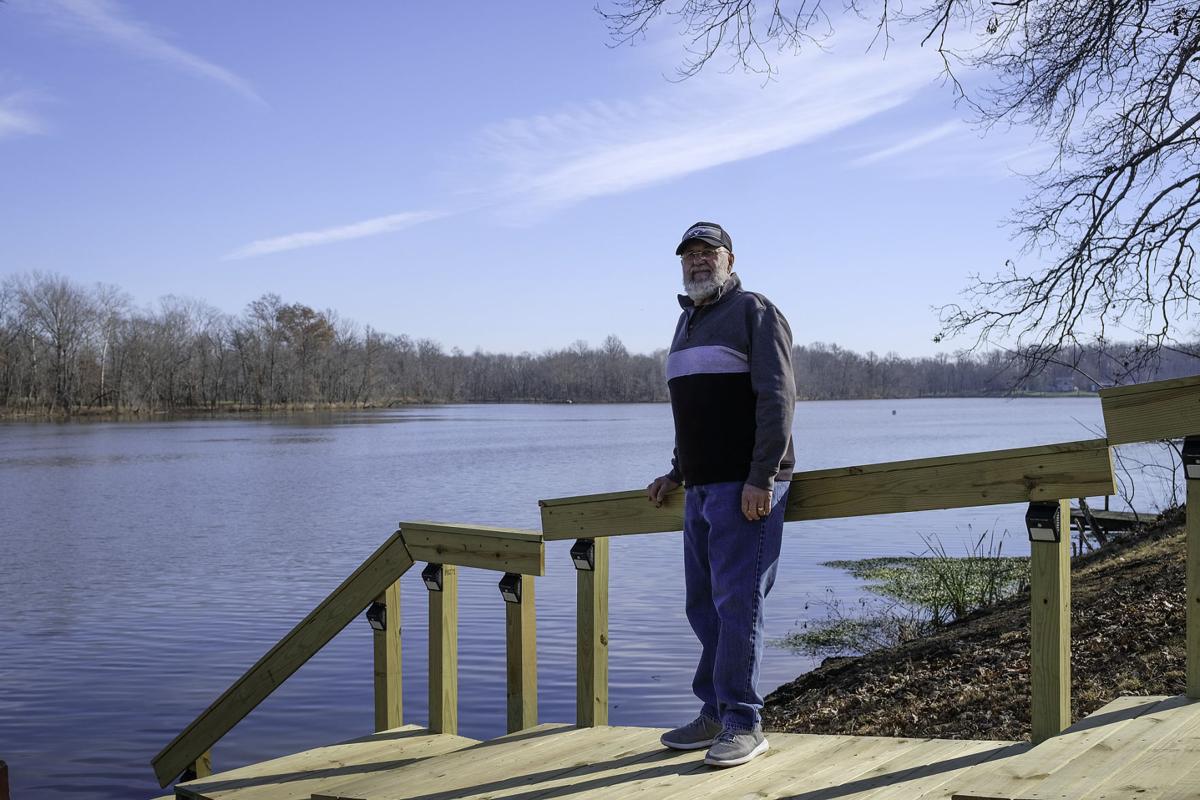 DU QUOIN — After tabling an ordinance to allow for oil extraction at Du Quoin City Lake last month for lack of support, Mayor Guy Alongi said he's directed the city attorney to prepare the lake and surrounding city-owned land for sale.
Alongi had backed a proposal by KWR Ventures Owner/Manager Kevin Reimer to lease mineral rights from the city in the event that his exploratory wells on private property discovered an oil reserve that may have encompassed some city property.
The mayor said he viewed it as an opportunity to bring in much-needed revenue to the city coffers. The lake, at one time the city's water reservoir, sits outside city limits and those who live around it do not pay municipal property taxes. It's costly to maintain the property without a revenue source to fund its upkeep, Alongi said.
"I looked at it as an opportunity during a pandemic, when sales tax is tough and unemployment's high and you don't want to raise property taxes like we're having to raise here in Du Quoin for our police and fire pensions … It could have been a large windfall to the city of Du Quoin," he said.
Several homeowners who live near the lake strongly opposed the drilling proposal, and protested at the Nov. 9 meeting.
When it became apparent that the ordinance lacked enough support to pass, Alongi said he declined to call it for a vote.
But the events that transpired made him take a closer look at city expenses related to the lake. That brought him to the conclusion that it's time to find another entity to take over the property, he said. The lake is open for public access, but Alongi argued it doesn't provide a benefit to the vast majority of his taxpayers. Rather, he said, it's mostly a benefit for the county residents who live around it.
Alongi said it would likely be a year before the property is put up for sale. The city will first seek an appraisal of the property's value. Any final decisions about selling it would also require the council's approval.
The city acquired the rural Perry County property to construct the water reservoir in 1935. For years, it supplied water to city residents and the surrounding area. But that hasn't been the case for decades, since the city tapped into the Rend Lake Water Conservancy as its municipal water supplier, as did many other local communities. Today, the lake is maintained for recreational use.
Some homeowners near the lake are frustrated with the mayor's proposals — they oppose any drilling at the lake site and want the city to continue ownership.
Bruce Conley, who lives on the northwest side of the lake, said the city-owned lake's benefits extend far beyond the people who own homes around it. It is open to the public and includes a public boat launch. "A lot of people fish out here," he said. Among his concerns, he worried an oil drilling operation would cause an unnatural and unpleasant smell and look unsightly.
Larry Roberts, also a homeowner on the lake and vice president of the City Lake Association, a voluntary organization that helps maintain and stock the lake with fish, said he also would like to see the city keep it a public asset.
He said the association is exploring the legalities of forming a park district to take it over should the city decide to go forward with a sale. But he is worried a private entity could outbid their small organization.
"If we go and privatize this lake, so many people who go out there and fish are not going to be able to do it again," he said.
Conley and Roberts said they understand there is some expense to the city to maintain the property. But they see it like a municipality maintaining any other park or recreation area for the benefit of its citizens. Fishing tournaments and visitors to the lake also help generate revenue to the city, they said. 
Roberts said he opposed the drilling proposal because he is concerned about environmental and health hazards and other potential negative effects to the lake, as well as their property values if that does occur.
"One, we've got bald eagles," Roberts said. "We've got people out there who've had cancer and hopefully don't get cancer again. They're scared to death of it. ... We don't want to tear it (the lake) up. We don't want them out here fracking."
Reimer, who approached the city about leasing its mineral rights, called the concern generated by his proposal "ludicrous," and the claims made about potential environmental and health hazards unfounded.
He said his operation would take place on a small footprint, and involve machinery no heavier than that used by farmers. Reimer said he had yet to determine if he would need to use hydraulic fracking, as it would depend on what exploratory drilling discovered, if anything.
The proposed ordinance, he said, would have required him to seek further city permission for fracking. Further, Reimer said people may misunderstand what's meant by fracking in Illinois, wrongly comparing it to large-scale, high-volume operations elsewhere.
"In Illinois, when they talk about fracking, it's not anywhere analogous to the large scale fracking going on in the shale plays, where they use tens of millions of gallons of water and tens of millions of pounds of sand, he said.
He also said he had no intention to place any surface-level equipment on city-owned property.
Rather, he said the issue is that if he discovers oil on the private land where he holds the mineral rights, but if some portion of the reserves crossed onto city property, he wanted to ensure he had clearance to extract it via directional drilling. Reimer said he may still have the ability to do so — it's not a clear-cut issue.
When the city took the land to build the lake, Reimer said, officials did not intend to include the mineral rights, and it's a question as to whether they did. "In fact, some of the minerals I have under lease," he said. "But in an effort to make it fair for everybody, I thought, 'Well, I'll take a lease from the city, pay them too, and that way no one gets shortchanged.'"
The city ordinance would have streamlined the process and cleared up any questions about the mineral rights. Now, determining who owns the mineral rights on certain tracts would likely have to be settled by the court.
Reimer said he made a "super good offer" to the city. "Had the project been successful, it could have generated real money for the city," he said. Not that there was any guarantee of success — far from it.
"I told them in all likelihood I'm going to drill a dry hole," he said. "Statistically speaking, you're wrong more than you're right." Reimer is still planning exploratory drilling near the lake before the end of the year. He owns the mineral rights on some privately owned parcels surrounding the lake that the city has no jurisdiction over.
If he does strike oil, Alongi said he hopes his council would be willing to reconsider the ordinance. "Are you going to kick a gift horse in the mouth and tell them he can't go get it and give us our money?" he said.
Depending on the circumstances, Reimer said he would consider reapproaching the city — but then again, he might not. He was frustrated by the nature of the pushback he received from the homeowners, saying some seemed to have a personal agenda.
"I have no problem with someone not wanting me to drill. I have a problem with someone saying they don't want me to drill because of manufactured reasons that don't have a science or basis behind them," he said.
Roberts and Conley argued that any potential benefits offered under the plan did not outweigh the potential risks to the scenic area, in their minds. They are continuing to fight the drilling proposals, reaching out to regional and statewide lawmakers for assistance. 
Meanwhile, Alongi said he's determined to put the property up for sale. Alongi surmised there are outfits out of Chicago or St. Louis who might be interested in purchasing it as a hunting and fishing club. That said, Alongi said he would be open to, and prefer, that the homeowners find a way to come together to buy it. He described the formation of a park district by lakefront homeowners as "the perfect handshake between the city and residents out there."
Alongi acknowledges he was frustrated that the lake-area homeowners fought so arduously against the drilling proposal. The city, he said, has spent just over $208,000 maintaining the lake since he took office in 2015. That includes for oil and chipping access roads, mowing dams, spillway repair and construction of a new parking lot, among other expenses.
"They (lake area residents) pay no property taxes to the city, they pay no fees to the city, they absolutely pay zero for the city. It's a little private club sitting out there for a bunch of people that's not a private club — it doesn't cost them anything," he said. "The city plows the roads, oil and chips their roads, they (city workers) maintain the dam, they maintain the city lake. So, I've taken the approach that now it might be the time to take a look at selling the city lake like the city of Marion did."
Marion recently put its former water reservoir in rural Williamson County up for sale, and approved a bid at a recent meeting. Similarly to Du Quoin, Marion hasn't used its lake as a water source for several decades, and instead utilizes Rend Lake. The roughly 500-acre property, which the city bought from Marion Water Co. in the 1940s, has been exclusively used for recreational purposes since then, mostly by duck hunters, Marion Mayor Mike Absher said.
The city sold annual parking passes to users to generate some income. This year, he said, the city sold 54 parking lots, bringing in a total of $852 — nowhere near the $10,000 annually he estimates the city has spent maintaining the grounds. At a recent meeting, Absher said the city accepted a sole bid for the property of $1.5 million. The local individual who bought it plans to transition the property into a private hunting club, he said.
618-351-5079
On Twitter: @MollyParkerSI ​