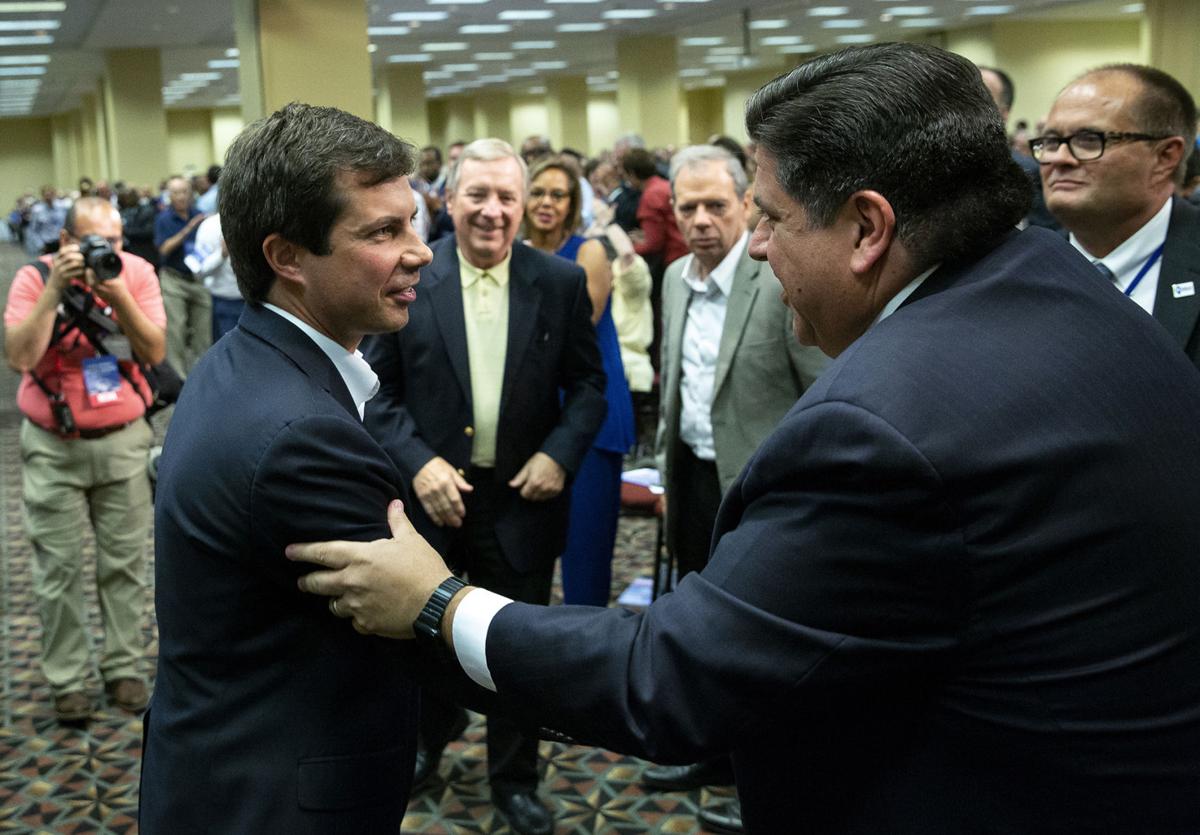 CARBONDALE — In a forum hosted by the Southern Illinois University Paul Simon Public Policy Institute, Pete Buttigieg said he would "love" to have a role in the White House administration if Joe Biden wins the race in November.
"But we've got a much more immediate issue right now, which is to make sure there is in fact a Biden administration," said Buttigieg, the former mayor of South Bend and 2020 Democratic presidential candidate.
Buttigieg said he believes Biden is in a good place in the race against President Donald Trump — but it's also going to be a "real challenge" until the end. Attempts at voter suppression and false allegations about the election process are problematic, he said. And Trump's refusal to commit to a peaceful transition of power in the event that he loses is "an item of deep concern," Buttigieg added.
He was referencing Trump's response to a reporter's question on Wednesday asking whether he would commit to a peaceful transition of power regardless of the election's outcome. Trump said he would have to "see what happens." The president called the ballots a "disaster" and said they should be thrown out, referencing his oft-repeated but unsubstantiated claim about widespread fraud associated with mail-in ballots.
Buttigieg's talk, hosted by institute director John Shaw, kicked off the Paul Simon Public Policy Institute's fall lineup of speakers. Shaw has invited numerous high-profile public figures from a diversity of backgrounds to address the university community as part of the institute's ongoing "Understanding Our New World" virtual series.
During his 45-minute talk, Buttigieg reflected on the most recent primary season that propelled the Midwestern mayor of a small college city to national political prominence. Buttigieg turned heads winning the Democratic primary in Iowa and placing second in New Hampshire, both critical early states, before eventually withdrawing from the race March 1 on the heels of a bruising loss in South Carolina.
On the campaign trail, Buttigieg said what struck him most was how similar people's concerns are from place to place, despite the national storyline of division. 
"You come to learn that, on one hand, there's tremendous variety and diversity in our country, and on the other hand, so much of what people are dealing with is pretty similar," he said. "People are trying to make sure that they can earn enough to get by and take care of their family. They expect to be better off than their parents' generation. They want health care. We want to know the planet's going to be in good shape for future generations. There's some fundamentals here that, again, get kind of dazzled out of our view." 
Shaw asked Buttigieg how he handled the transition back to a quieter life after removing himself from the race. He said it was strange shifting from a 100 mph campaign to hunkering down at home, as much of the country locked down to slow the spread of the coronavirus around the same time. But Buttigieg said it also afforded him more time to spend with his husband and unwind. "It may have done me some good. Because probably what Chasten and I most needed was to be home, to spend more time with each other than we'd been able to in a year and a half, and to be in one place and think clearly," he said.
Buttigieg also discussed his new book coming out early next month titled "Trust: America's Best Chance." Buttigieg said America is facing a threefold crisis in trust: in institutions, including government; in each other; and in the world's trust in the U.S. as a whole. The issue of restoring trust is the focus of his book and research at Notre Dame, where he serves as a faculty fellow with the Institute for Advanced Studies, a university-wide research institute. As an example of how the erosion of trust in government institutions has harmed America, he cited the fact that many people have ignored life-saving health advice from scientific experts related to COVID-19. Healthy debate and diversity of thought is part of a robust society. But not living in the same "field of fact" is incredibly dangerous, he said.
"I think for us to have the 2020s unfold in the way we're really going to need them to for the future of the country, we need to do something about it," he said.
618-351-5079
On Twitter: @MollyParkerSI ​