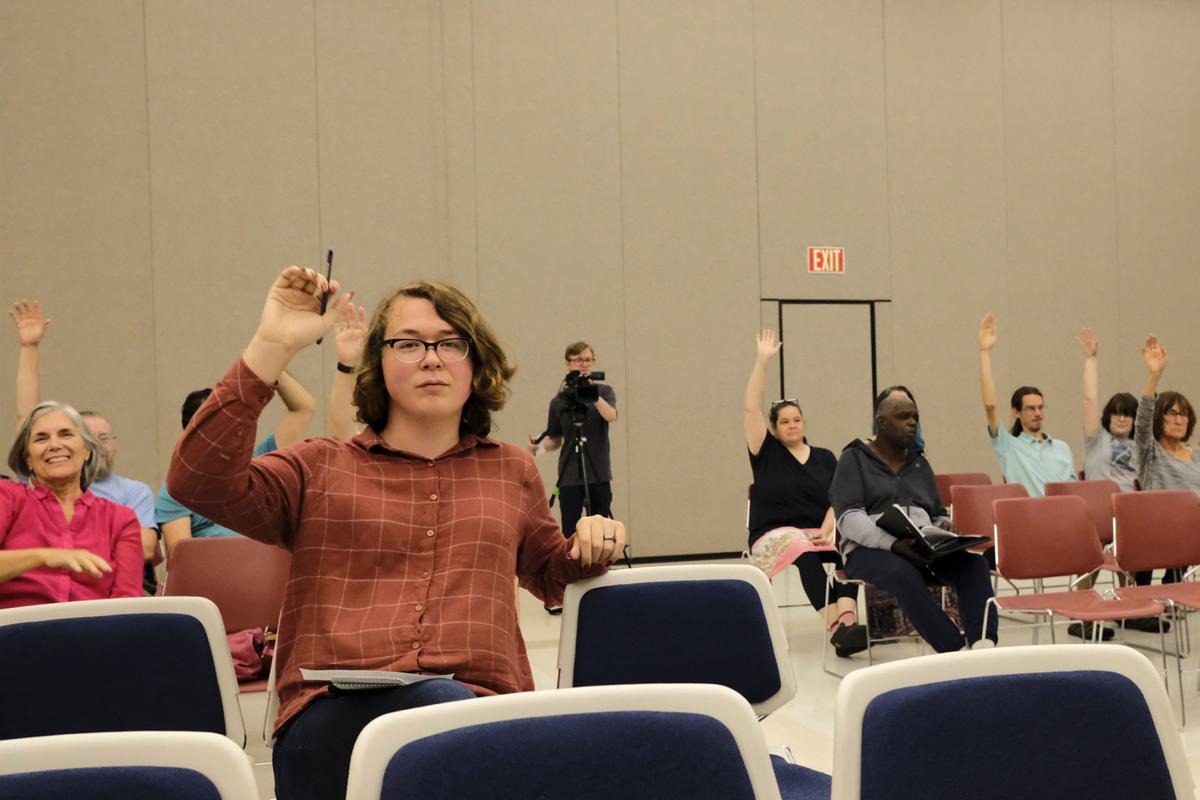 CARBONDALE — As the deadline for legal pot in Illinois creeps closer, Carbondale has started serious discussions about what legal cannabis sales would look like in the city.
CARBONDALE — Coming on the heels of two Southern Illinois communities voting to opt out of allowing the sale of recreational cannabis come Jan…
Come January 1, residents in Illinois will be able to walk into a store and buy up to an ounce of marijuana at a time in forms ranging from flower to edibles to wax to oil. But where these stores end up has been a topic of debate for many municipalities. According to the law passed this year, cities can opt out of allowing the sale within their city limits. Murphysboro and Marion have already done this.
The conversation during Tuesday's Carbondale City Council meeting opened with Economic Development Director Steve Mitchell going over the brass tacks of the new law and how the licenses will be rolled out by the state.
He said, if "all the stars align" Carbondale could potentially be home to two dispensaries until December 2021 when the market opens up further. He said the Harbory medical dispensary in Williamson could have the option to put a second location in Jackson County for recreational sale — he said he's trying to initiate talks to bring them to Carbondale.
Later in the meeting Mayor Mike Henry said he had "talked with two people who are very serious about applying for this license and they are both Carbondale people."
The tenor of talk was matter-of-fact Tuesday. Councilperson Jessica Bradshaw made the point that it is "a foregone conclusion" that pot will be coming to Carbondale.
"The question is just how and where," she said.
There were logistical questions and suggestions from council members. Adam Loos spoke the most. He had a long list of recommendations and thoughts. He said his primary concern was taxing it — he thought the taxes should be low to undercut other counties and "to stamp out the black market" for pot sales.
He also said the sale of cannabis in Carbondale could go a long way to helping bring in tourism.
"I think it puts heads in beds," Loos said, adding that it would attract people between the age of 40 and 60 years old.
Recreational marijuana will be legal in Illinois beginning Jan. 1.
"You'd be surprised how many people in that age smoke pot," he said.
Loos also pointed out that allowing marijuana sales in town could help recruitment at Southern Illinois University Carbondale. In fact, he had a suggestion.
"Change the slogan. SIU: Work hard. Play hard," he said.
He also addressed the need for the city to repeal its paraphernalia ordinance, which outlaws things like pipes and other marijuana delivery methods. He said it would be no good if one could buy marijuana in town but be busted for having something to smoke it with.
This garnered a "hell yeah!" from the front row of the audience.
Also in Loos' laundry list of suggestions was setting up a "prohibition" on the growth of up to five marijuana plants in the city. He said similar to the way the city handled "decriminalizing" marijuana in years past by making it a civil violation, they could side step the state law's strict rules on who can grow marijuana. The law allows only those with a medical card to grow the plants.
He said if the city imposes its own regulation, it could enforce that instead of state law. In his version, the city would instruct Carbondale police to put this at the lowest priority level for enforcement and such reports could only be given to the city attorney who could impose a fee of around $25.
Two more local governments considered ordinances based on the Cannabis Regulation and Tax Act on Tuesday.
Councilperson Lee Fronabarger said should cannabis be sold in Carbondale, he thought the taxes the city got from it should go toward a special project and not put into the "black hole" of the general fund. This was supported by Loos who put the idea out that the money be put to city-owned parks.
Mayor Henry said he would prefer the money go to a social project.
"We need to break this cycle of poverty and discrimination in Carbondale," he said. "I think we could do a lot of good with this. It's like free money to us."
City Manager Gary Williams interjected to inform the council that 8% of the total state revenue from the sale of recreational pot would go back to communities as added funding for law enforcement.
Councilperson Tom Grant recommended that the city use money to instate a program that would test street drugs for potency and purity, helping reduce overdose deaths from things like opioids cut with fentanyl. He asked if something like this could be considered for this state money.
Early in the discussion, Henry likely cut short the need many in the audience felt to speak on the issue. He asked for a show of hands how many people thought it was a good idea for recreational cannabis to be sold in town.
MARION — Two items on the agenda for the Marion City Council's regular meeting Monday evening drew a crowd as the council voted on a proposed …
Nearly the entire room raised their hand. Slightly less did for the question of allowing specially-designated smoking locations in town.
Still, many came to the mic to thank the city for their interest and support. There was only one person who came to speak against allowing the sale in Carbondale.
Going into Tuesday's meeting three out of the six members on Carbondale's city council, as well as Mayor Henry, said they planned to vote in favor of allowing pot to be sold in Carbondale.
Councilors Grant, Fronabarger and Carolin Harvey all said they were on the fence and were doing their own research on the matter to make up their minds. Grant said he was concerned about what allowing pot to be sold in town, and the city taking tax money on it, would do to potential federal grant eligibility.
Harvey said she was anxious to hear what Carbondale residents had to say, noting that the council is there to act on their wishes.
Nearing the end of Tuesday's discussion council asked that an "opt in" vote be put on the next council meeting agenda and Loos asked that a repeal of the paraphernalia ordinance also be added. Williams said staff would work on it.
Loos and Mayor Henry said while such a yea vote isn't legally necessary, people who are looking to spend the considerable cash to get a dispensary license would want to know how enthusiastic a city was to have their business.
618-351-5823
On Twitter: @ismithreports
Get Election 2020 & Politics updates in your inbox!
Keep up on the latest in national and local politics as Election 2020 comes into focus.