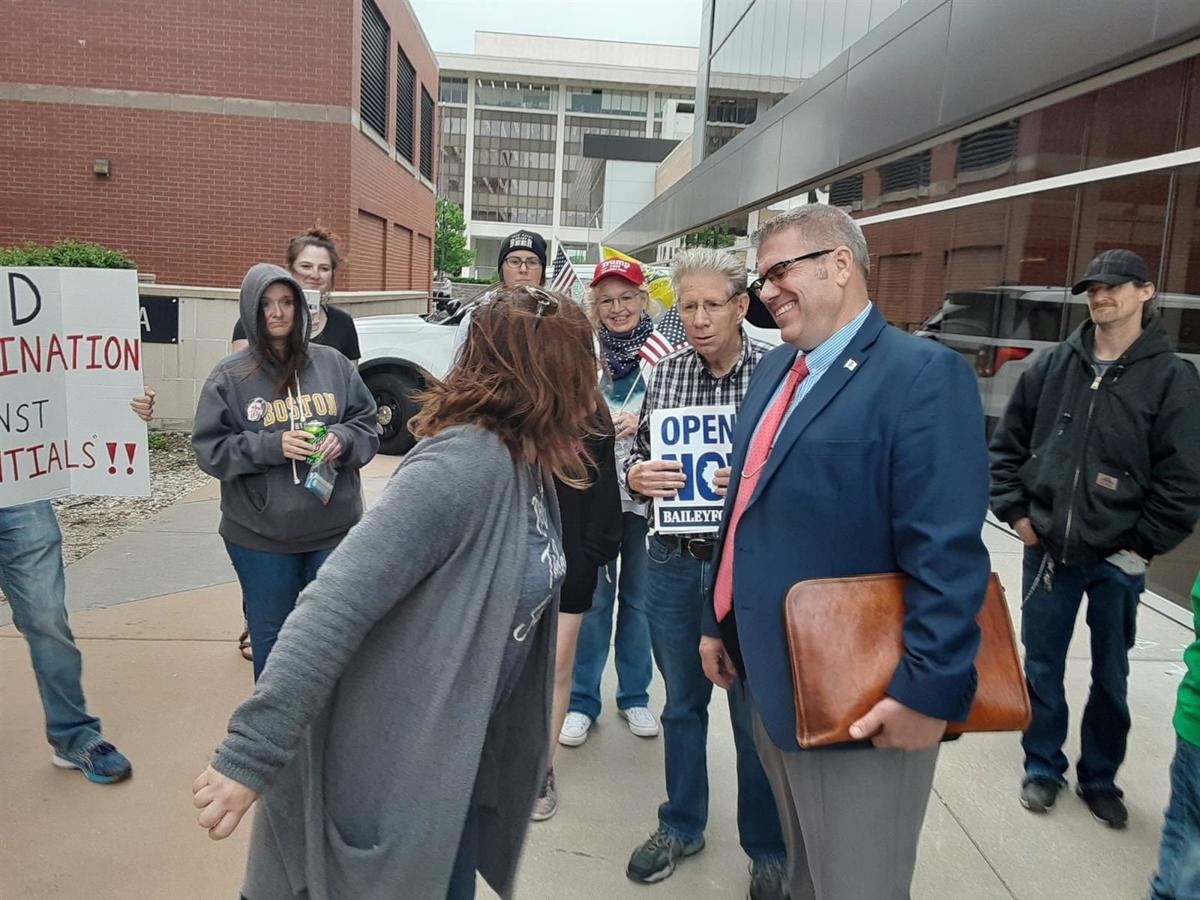 SPRINGFIELD — The Illinois House voted Wednesday afternoon to remove Republican State Rep. Darren Bailey, of Xenia, from session at the Bank of Springfield Center after he refused to comply with a facial-covering requirement in newly-adopted House rules.
In a bipartisan vote, the Illinois House adopted rules Wednesday that include a requirement for members, staff members and visitors to the special session to wear a face covering over their nose and mouth, if they are medically able to do so.
Democratic Rep. Emanuel "Chris" Welch, of Hillside, made a motion to remove Bailey from the House proceedings after Bailey responded "I will not," when he was asked to come into compliance with the face covering requirement in the newly-adopted rules. The House voted 81-27 in favor of Bailey's removal.
Divisions among House Republicans emerged over the face-covering requirement.
Prior to session reconvening after caucus on Wednesday, House Republican Leader Jim Durkin, of Western Springs, spoke for several minutes with Bailey. Durkin wore a mask during their conversation, Bailey did not.
When the House returned to session, Durkin urged all members to comply with the new rules.
"We cannot ignore nor compromise the health and safety of every member of the General Assembly, their family members, every one of our staffers who works tirelessly for us," Durkin said.
The exception to the new face covering rule for the special session is when members are eating or drinking, and then it is recommended they stay at their individual table.
Lawmakers returned to Springfield on Wednesday for the first time since March 5. The House is meeting in the downtown arena, the Senate in the Senate chamber at the Capitol.
Capitol News Illinois is a nonprofit, nonpartisan news service covering state government and distributed to more than 400 newspapers statewide. It is funded primarily by the Illinois Press Foundation the Robert R. McCormick Foundation.
Meet the 'Mask Committee,' making masks for Southern Illinois police, health care workers
Photos: Meet the 'Mask Committee,' making masks for Southern Illinois police, health care workers
On March 20, I made a mask for my husband, who is a health care worker, because there was a shortage of personal protective equipment, or PPE, at his workplace. Then, I made more masks for my elderly neighbors, elderly local people and local friends, as well as friends from New York and Florida. I was using leftover fabric I had in my workshop — holidays patterns like Christmas, Valentine's Day and Fourth of July.
I was running out of material and then Calico Country Sew store in Carbondale started donating fabric. I picked up some yards, and I was able to make masks for the police officers from Carterville. But, that was it: I ran out of material, and Amazon wasn't shipping until May. As soon as I announced on my Facebook page that I had run out of material, people started donating fabric, metal wire, machine needles and threads. With that donation, I was able to keep making more masks to donate, and I completed a group of masks for Herrin police officers.
Then, Dr. Amanda Brazis Cook from Southern Illinois Healthcare approached me asking if I can reuse operating room drapes to make masks. She brought the material to my house, and at that point, I realized I needed extra hands to mass produce masks for area health care workers. 
I asked the president of Carterville Rotary Club to help me find ladies who know how to sew, and Mary Slider and Louise Humble joined the effort. I also asked the president of my Woman's Club in Herrin, and she was able to help me find three more ladies: Patty Cox, Carla Shasteen and Tienne Kollar, all of Herrin.
Another doctor joined the team: Dr. Danielle Tomevi brought material and also found a lady to help us, Dorene from Murphysboro.
And that is how the mask committee was formed. We named it "Mask Committee: Keep Calm and Sew."
After that, Joni, a nurse at Herrin Hospital, joined the committee, too, then Mary Russell, one of the managers from Dillards, Nancy, one of my neighbors, and Mirna from Murphysboro.
We have been sewing our hearts out since March. April was the busiest month for us. We have made hundreds of masks to donate.
Then, we had a request of a new pattern and we had to divide the committee in two to work the requested pattern. Dr. Sara Altamimi provided us with more OR drapes to use, and we have been working making two different masks for area health care workers.
Ninety-five percent of the masks have been donated to SIH, and 5% to community members and police officers. We have received several selfies of health care workers wearing the masks in different departments. It really made us happy that we can give back and help the community in time of need.