CARBONDALE — Vermont Sen. Bernie Sanders leads among likely voters in Illinois' Democratic primary, and Gov. J.B. Pritzker has a 51% job approval rating statewide. Those are among the findings of a new Paul Simon Public Policy Institute poll.
Results of the latest poll from the Southern Illinois University-affiliated institute, released Thursday, also indicate President Donald Trump remains popular among Illinois Republicans, especially downstate.
The poll of 1,000 registered voters was conducted Feb. 10 to 17, according to a news release from the Simon Institute. Registered voters were asked about their likelihood of voting, and likely Democrat and Republican voters were polled about their preferences in the presidential primaries.
Sanders leads in Illinois Democratic primary; Trump leads among Republicans
Likely voters were asked, "If the Democratic (or Republican) primary for president were held today, would you vote for ..." followed by a list of viable candidates.
Among Democrats, 22% said they would support Bernie Sanders; 17% said they would vote for former New York Mayor Mike Bloomberg; 14% said they would vote for former Vice President Joe Biden; 13% for former South Bend, Indiana Mayor Pete Buttigieg; 8% for Minnesota Sen. Amy Klobuchar; and 6% for Massachusetts Sen. Elizabeth Warren. The remaining candidates polled at 1%.
"This pro-Bernie tilt is similar to what has been happening in the early states, and what the national polls show, and it is likely to continue until Super Tuesday and then on to Illinois and other big states on March 17," John S. Jackson, a co-director of the poll, said in the news release.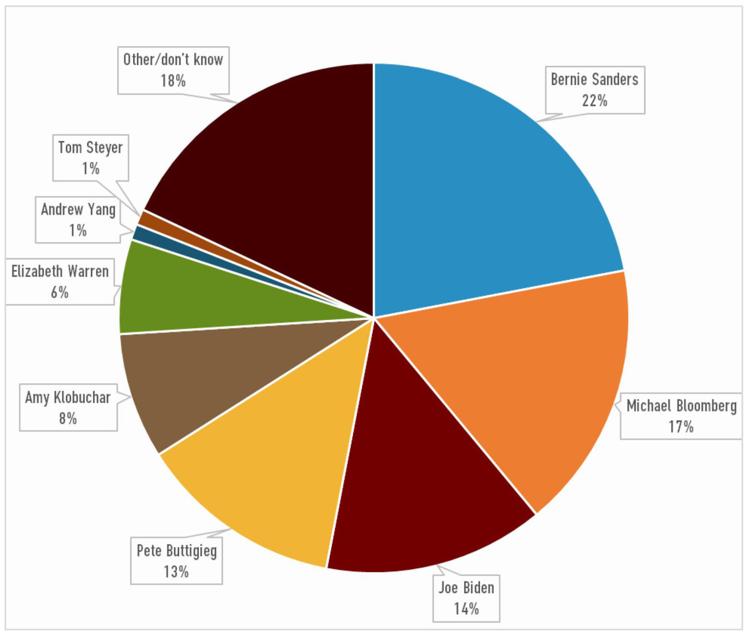 Among downstate Democrats, 23% said they would vote for Sanders, while Buttigieg came in second with 17%, followed by Bloomberg with 15% and Biden with 10%.
Among Republicans, 89% of likely voters said they would vote for Trump in the primary, while 11% said they would vote for Bill Weld, and the remainder were undecided. Downstate, 93% of voters said they would vote for Trump.
Gov. Pritzker has 51% approval rate statewide; downstate, only 38% approve
The poll also asked the 1,000 people polled about their approval of Gov. J.B. Pritzker. Pritzker is not on the ballot this year.
Among Democrats, Pritzker has a 77% approval rating; among Republicans, that drops to 20%.  Downstate, 38% of the voters approve of the job Pritzker is doing, while 52% disapprove.
When the Simon Poll was last conducted in 2019, 40% said they approved of the job Pritzker was doing, while 38% disapproved. His approval rating is up 11% in this latest poll, but his disapproval rating has remained the same. Poll co-director Charlie Leonard said in the release that that indicates people who said they were undecided in 2019 have come around to approve of Pritzker.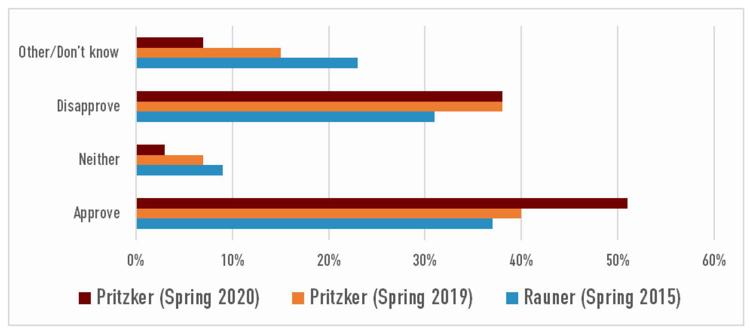 Trump 'markedly more popular downstate'
The poll also asked the 1,000 voters polled about their approval rating for President Trump. Statewide, 39% said they approved, while 58% disapproved.
Job approval scores for Trump rest heavily on partisanship: 87% of Republicans approve, while 92% of Democrats disapprove.
"Regionally, President Trump is markedly more popular downstate than he is in Chicago and the suburbs," the release reads. While 73% of Chicagoans disapprove of Trump, 56% of downstate voters approve.
The poll also asked voters about their approval rating of U.S. Sen. Dick Durbin, who is running for re-election. He has a 52% job approval rating statewide, with 79% of Democrats approving and 70% of Republicans disapproving. Downstate, 39% of voters approve of Durbin, while 64% of Chicago voters approve.
The poll was conducted by phone with random digit dialing; potential interviewees were screened based on whether they were registered voters and quotas based on area code and sex, according to the release. Interviewers asked to speak to the youngest registered voter at home; cellphone interviews accounted for 60% of the sample. A version of the poll was also available in Spanish. The margin of error for the entire sample was 3.1%. For the Republican sample, the margin of error was 6.4%, and for the Democrat sample it was 4.5%.