1 year from Election Day, here's how the Illinois governor's race is shaping up
SPRINGFIELD — Brace yourself. The deafening political ads and rounds of candidate appearances are coming. The race for Illinois governor is entering the final countdown — and every corner of the state is in play.
Monday officially marks one year from Election Day for what's widely predicted to be one of the most expensive statewide races in American history, a battle royale featuring a handful of well-funded candidates focused on leading the fifth most populated state in the nation.
In most marathon election cycles, 12 months is seen as an eternity. But this isn't a typical state. And this isn't a typical election cycle.
Instead, GOP Gov. Bruce Rauner, elected on a no-nonsense outsider-reform platform, faces a near revolt from within his own party over his handling of the past three years, a likely challenger in state Rep. Jeanne Ives, of Wheaton, and a crowded Democratic slate that includes one of the richest men on earth.
A Republican state legislator is mulling a primary challenge against Illinois Gov. Bruce Rauner.
The past term, full of protracted budget battles, $14.6 billion in unpaid bills and bruising clashes with the Democratic-led Legislature, have not been kind to Rauner, who political site Politico labeled as "the most vulnerable incumbent governor in the country." Such baggage is a lot to overcome, said former Republican Gov. Jim Edgar, who held the office from 1991 to 1999. A moderate conservative, Edgar has distinguished himself as a visible intra-party critic of Rauner's handling of spending issues, especially pensions.
"The last 2½ years have been a disaster without a budget and all the problems it caused," Edgar said. "I think most people would like to see government function, and he's the governor, so he's kind of the one responsible."
Rauner has repeatedly said he won't be deterred by critics and is making progress in his reform agenda that includes property tax relief, term limits and responsible budgeting.
"We can throw in the towel, walk away and leave our future to the same corrupt career politicians," he said in a video message last month announcing his candidacy. "Or we can fight. I choose to fight."
For political observers like Jak Tichenor, it's time to grab some popcorn and watch how things unfold.
"Illinois politics never fails to disappoint when it comes to volatility," said Tichenor, the interim director of the Paul Simon Public Policy Institute at Southern Illinois University Carbondale. "It's like a (Steven) Spielberg action movie. You just have to suspend your disbelief to follow the plotline."
Rauner's unique predicament
The winner will earn not only a leadership role in the financially broken state, but also a chance to play a role in drawing the district lines that will help shape Illinois politics for the 2020s. To get there, the battlefield is complex. On the Democratic side, the primary field includes:
• Daniel Biss, a state senator and math professor;
• Bob Daiber, Madison County regional schools superintendent;
• Tio Hardiman, a Chicago community organizer;
• Chris Kennedy, a businessman and nephew of President John F. Kennedy;
• Alexander Paterakis, a suburban engineer and small business owner;
• J.B. Pritzker, an entrepreneur and heir to Hyatt hotels.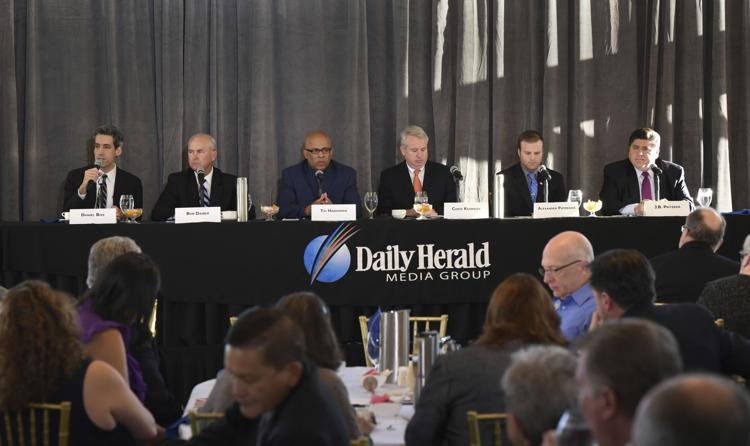 For Rauner, a natural advantage for any political incumbent is the ability to tout progress and showcase specific accomplishments while in office. The challenge for Rauner, a former equity investor who had never held public office before the last election, is that several of his major legislative victories have turned part of his own base against him.
Those who have watched Illinois politics for decades, like Tichenor, say the governor enters the election cycle in an almost unparalleled situation.
"Rauner's situation is very unique," Tichenor said.
The closest example he could think of was Dan Walker, a Democrat governor from 1973 to 1977. Walker ran his successful campaign by attacking machine politics, the face of which was Chicago Mayor Richard J. Daley. The result was a "man without a party," since neither Republicans nor Daley's Democrats had any allegiance to him.
Tichenor stressed that it's not a perfect analogy because Walker deliberately went against a large portion of his party's power. Rauner, meanwhile, has continued to stress his conservative pedigree with his "turnaround agenda," featuring such issues as a property tax freeze, changes to the state's workers' compensation system and term limits on elected officials. But he has also signed legislation that would allow state health insurance and Medicaid coverage for abortions, as well as a bill that prohibits police from detaining or arresting a person based on their immigration status.
A poll released last week by the market research company Morning Consult had Rauner's approval rating at 30 percent, making him one of the least popular governors in the country. The same poll showed his disapproval rating at 55 percent, with another 15 percent undecided.
The poll was conducted between between July 1 and Sept. 30, wrapping up just as Rauner signed a controversial measure expanding abortion coverage for women on Medicaid, saying he supported abortion rights. It marked a reversal for the governor.
The Republican backlash was immediate. State Rep. Peter Breen of Lombard, the new House Republican floor leader, said last month that the governor had failed to keep his word and was "done," adding that a primary challenge was inevitable.
CHICAGO — Illinois Gov. Bruce Rauner ended months of speculation Thursday and signed legislation allowing state health insurance and Medicaid …
Just a few weeks later, Ives announced she was circulating petitions to challenge Rauner in April's primary election. To get on the ballot, she needs to submit a minimum of 5,000 signatures to the State Board of Elections by Dec. 4.
If she overcomes the first hurdle, observers said the three-term representative faces an immensely difficult task against Rauner, whose re-election campaign committee had $72 million on hand Thursday. Ives had $22,488 on hand in her House re-election campaign committee.
"You can buy yourself a primary victory," Edgar said of Rauner's advantage.
Although Ives is unable to match Rauner dollar for dollar, she is likely to draw attention from conservatives looking for an alternative candidate. She has already started to receive donations from the Illinois Liberty PAC, a political action committee chaired by Pat Hughes, who co-founded the Illinois Opportunity Project.
Rauner also lost an ally in the Illinois Policy Institute, a libertarian think tank he had donated more than $500,000 to before he was elected and continued to share a close relationship to during his governorship. Following his signing of the abortion bill, the institute's CEO John Tillman called the governor "Benedict Rauner," implying that he betrayed his party.
Rauner replaced several longtime members of his staff with former employees of the Institute in July, shortly after an embarrassing defeat in the state budget fight when Democrats and some Republicans overrode his veto. Newly hired members of his press staff later quit. The staffing shakeups further complicated Rauner's attempt to communicate his message in the face of what he said were repeated political attacks.
Ives has a reputation as a sharp-tongued ideologue willing to go after those who disagree with her, said Kent Redfield, an emeritus professor of political science at the University of Illinois at Springfield. The support from those Rauner has alienated will strengthen her ability to "beat up" on the governor throughout the primary, he said.
"She's going to be talking about his lack of accomplishments, calling him a failed governor," he said. "You can see the Democrats picking up those themes in the general election."
Another possible spoiler for Rauner is former U.S. Rep. Joe Walsh, a suburban Republican who has hinted at an independent run for governor. The onetime Tea Party congressman turned firebrand radio talk-show host would do little to appeal to the moderates in the general election, but Redfield said Walsh could take enough votes from the most conservative members of Rauner's base to make re-election more difficult.
Millionaire vs. billionaire?
The field of Democrats remains deep for the March 20 primary election, but one has already started to establish his front-runner status.
By now, it's already evident the 2018 race for Illinois governor is a contest like no other.
Pritzker, the billionaire venture capitalist and heir to the Hyatt hotels fortune, has spent $21 million through the end of September to build his ground game and flood media with television and radio ads.
So far, his aggressive push has seemed to work.
"If you look at some of the polling that has come out, then you can clearly see him out in the lead," Tichenor said. "Those like Chris Kennedy and Daniel Biss are really going to have to step up their game to remain competitive."
CHICAGO — Billionaire J.B. Pritzker touted his business record and progressive values Thursday as he kicked off his campaign for Illinois gove…
Pritzker was the clear winner of an October Capitol Fax/We Ask America poll, winning support from 39 percent of the 1,154 likely Democratic primary voters surveyed. Kennedy was a distant second with 15 percent of the vote, followed by Biss with 6 percent. Hardiman and Daiber each polled at just 1 percent. Another 36 percent were undecided in the poll, which was conducted between Oct. 17 and 18.
Along with spending millions of his personal wealth, estimated at $3.4 billion, Pritzker has collected significant endorsements that include Comptroller Susana Mendoza, Illinois Secretary of State Jesse White, Congresswoman Cheri Bustos, the AFL-CIO and the Illinois Democratic Chairmen's Association.
CHICAGO — The 2018 Illinois governor's race is on pace to be the most expensive in U.S. history, propelled by a wealthy Republican incumbent a…
The endorsements, as Redfield sees it, do not help Pritzker from a fundraising standpoint, but can cut his opponents' legs out from under them before they've taken a step.
"He doesn't need the money, but when he gets those endorsements, he freezes out the other candidates from possible fundraising sources," Redfield said.
The early offensive has hampered other Democrats' efforts. The second-place fundraiser, Biss, trailed far behind with $3.5 million, an eighth of what Pritzker has raised and a sixth of what Pritzker has spent so far.
CHICAGO — State Sen. Daniel Biss said Monday he's running for Illinois governor in 2018, joining a growing field of Democrats hoping to unseat…
Kennedy, whose entrance to the race in February generated national interest because of his family history, has struggled to establish momentum, raising just $2.8 million. To stand out, Kennedy needs to establish his identity and create a "wow" moment for voters, Redfield said.
"What does he have outside the magic of the Kennedy name that someone my age might remember?" he said. "For someone younger, the name doesn't mean as much."
CHICAGO — Chris Kennedy, son of the late Sen. Robert F. Kennedy, announced Wednesday he will run for Illinois governor in 2018, bringing the i…
For other Democratic candidates like Biss, Daiber, Hardiman and Paterakis to move ahead, political observers said other candidates would need to drop out. They would also need strong, charismatic performances at debates and in appearances on "free media," like television news and newspapers, to establish themselves as alternatives to big-money candidates like Pritzker.
General election uncertainty
With just under a year to go until the Nov. 6, 2018, general election, there is plenty of time for candidates to rise and fall through the polls until voters cast their ballots. Still, political observers note that it's possible to make educated guesses based on past voter behavior and trends.
Recent elections have shown Illinois to be a left-leaning state, Edgar said, and the party that does not hold the White House typically draws more people to the polls. Top that with Rauner's low approval numbers and discontent among his base, and it looks as though the incumbent is about to enter a fight for his life.
It comes down to the candidate's resume and name recognition, he said.
"(Donald) Trump proved, you cannot beat somebody with nobody," Edgar said.
While Pritzker has established himself as the Democratic frontrunner, Redfield pointed out that favored candidates' campaigns can implode for any number of reasons, and there are several potential landmines for Pritzker.
Voters in central and Southern Illinois may hesitate to support a wealthy Chicago Democrat, especially as opponents hammer a message about Pritzker's relationship with longtime House Speaker Michael Madigan and his past communications and contributions to disgraced former Gov. Rod Blagojevich.
"There's potential trouble there," Redfield said.
Rauner's early campaign efforts appear to be a variation of his "Shake Up Springfield" messaging, which propelled the first-time politician's defeat of incumbent Gov. Pat Quinn. In his re-election announcement video Oct. 23, a lone Rauner rides his motorcycle across empty stretches of road as he talks about taking on Madigan and Chicago Democrats, ending with a statement that "home is worth fighting for."
It's an unusual message to run as an incumbent, Redfield said, especially since Rauner seems to still be angling himself as a political outsider despite nearly three years in office and millions of financial contributions to the Illinois Republican Party.
It may be better for Rauner to focus on things he can control to improve his standing with moderate Republicans, Edgar said, such as working with the General Assembly on business-friendly policies he can take back to voters.
"(Rauner) needs something that he can go to and say that he's done," Edgar said.
With a year to go until the general election, all the candidates will have an opportunity to make their case to the voters.
Tichenor stressed that "many political lifetimes" can occur between now and the primary election, let alone the general election. A single past controversy or flub could turn a onetime favorite into an also-ran.
BLOOMINGTON — Illinois Attorney General Lisa Madigan's surprise announcement in September that she would not seek re-election in 2018 set off …
"Illinois politics has a peculiar property to turning on a dime," Tichenor said. "You never know what's going to happen one day from the next."