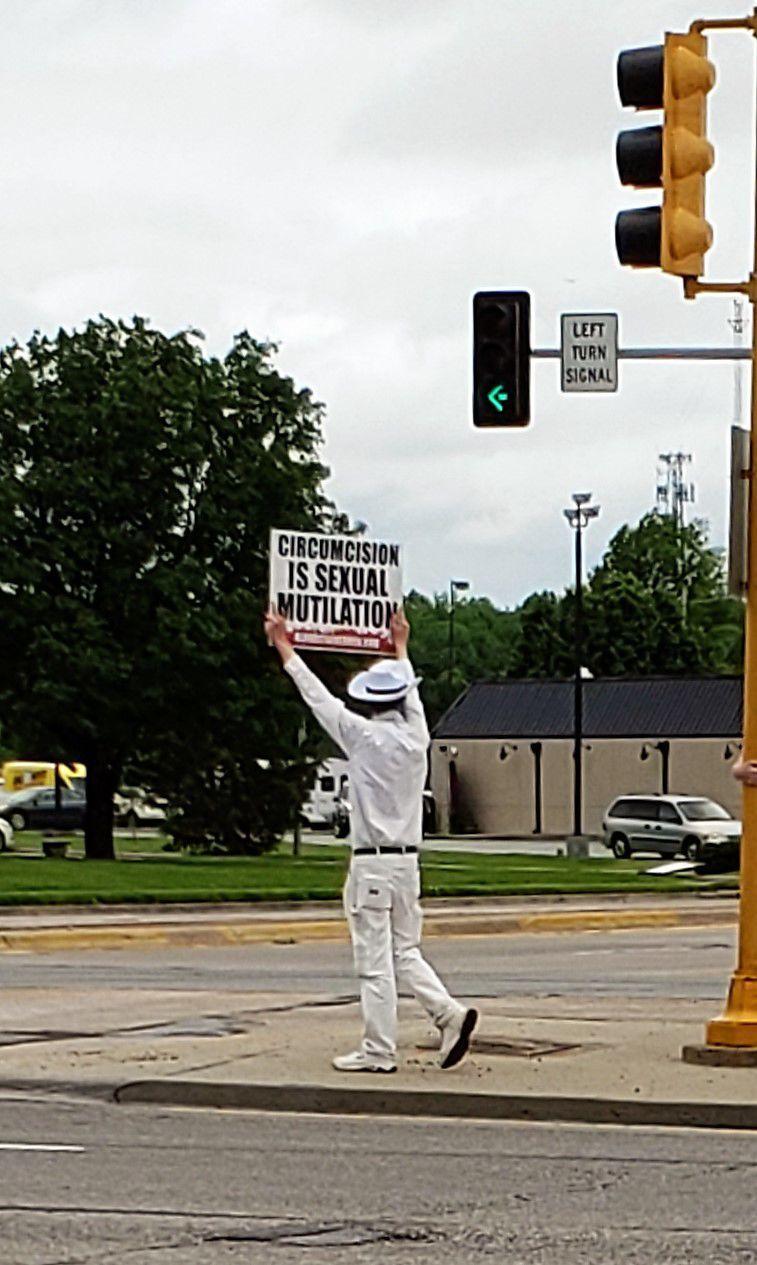 CARBONDALE — Protesters on the sidewalk along Main Street in front of University Mall became a hot topic on social media Thursday and for those driving in the area. A group of men and women protested the widespread circumcision of newborn males, calling it genital mutilation.
Comments on posts were both positive and negative. Some people thought the visual image of the protest was not appropriate for young children iin the area. Some drivers honked in support, while others made less friendly gestures to protesters. 
The group held signs that read, "Circumcision harms humans," "Circumcision is sexual mutilation," "Foreskin is not a birth defect" and "It's not your mother's penis."
The protesters were affiliated with Bloodstained Men and their friends, a group first formed to bring white painter's overalls with red crotches to the American Academy of Pediatrics 2012 convention to protest circumcision.
Harry Guiremand, of Kapaa, Hawaii, was one of the protesters in Carbondale. "Circumcision is a harmful, traumatic, unnecessary surgery on a nonconsenting patient," he said.
He said the procedure violates the ethics of both the American Medical Association and American Academy of Pediatrics. The practice of circumcising newborn males was abandoned 50 or 60 years ago in Great Britain and is not recommended by medical associations in Holland, Canada and Australia.
The protest group included people from Chicago, Denver, Boston, California and Canada, along with a couple local protesters.
James Rigdon, of Jacob, was pro-circumcision for a few years. He believed it was cleaner, safer and needed to be done. When his wife was pregnant with his son a few years ago, Rigdon did more research. He learned about the benefits of intact foreskin and that 70 percent of the men in the world do not have the procedure. He changed his mind.
"I think it should be a boy's choice to decide how much of his body he gets to keep," Rigdon said. "We don't own our children. It's our responsibility to raise them."
Guiremand said the American Academy of Pediatrics released information that was "confusing" in its 2012 policy statement on circumcision. He added that the 2012 statement has expired.
According to both the American Academy of Pediatrics website, aap.org, and their parent-focused website, healthychildren.org, the organization still says the benefits of circumcision outweigh the risks. However, they stress that circumcision is not essential to a child's well-being, so parents must look at both the benefits and risks and make the decision for their child, according to a post updated in 2014 (the most recent information available on the topic).
Bloodstained Men maintains that circumcision causes problems, including damage to the penis. Guiremand said 100 boys die each year from the surgery, adding "we hear about them on Facebook."
AAP and Centers for Disease Control also list benefits, including a lower risk of acquiring HIV, HPV, genital herpes and syphilis and other sexually transmitted diseases.
Bloodstained Men and their friends are on a 16-day protest tour that will end Saturday in St. Louis. They have had protests in Missouri, Indiana, Illinois, Ohio, Kentucky and Tennessee.