ANNA — When Japanese fighter pilots bombed Pearl Harbor 77 years ago today, Cairo's Bill Eblen was a "boneheaded" 16-year-old, he says, boasting with friends about how he would fend off the next attack with his rifle from home.
He enlisted in the Marine Corps two weeks after graduating high school, hoping for warm weather and tropical music in the South Pacific.
He had no idea what to expect, the 93-year-old told The Southern. But of all his options, he thought the Marines were the least likely to get him killed.
"You go over there a snot-nosed kid," Eblen said, "lackadaisical as hell. You don't believe it until it happens. It's gut-wrenching."
April 1, 1945, was his reality check. Eblen and his regiment were dropped into the water just off Okinawa island, to begin their advance. They scrambled to shore, under the cover of American gunboat fire so intense the water "looked like it was boiling," Eblen said.
"I was scared to death," Eblen said. "They probably thought I was shooting dice," by the way his hands were shaking.
Like many veterans of the world's bloodiest modern war, Eblen's deployment was a series of near-death experiences.
He was nearly killed in training off the island of Guadalcanal, when a Japanese submarine ambushed his ship.
Months later, he narrowly avoided the Battle of Iwo Jima, which claimed over 26,000 American lives, and which Eblen firmly believes would have killed him, too.
Instead, he was assigned to the Battle of Okinawa. He spent 61 days on the front lines as a radio operator for the 29th Regiment of the 6th Marine Division, calling in airstrikes for other companies as they moved northward.
In that time he came feet away from being killed by a mortar strike, watched a kamikaze pilot dive towards U.S. boats, and called in air strikes on top of his own position, as he was pinned down by enemy fire.
Eblen can laugh about those experiences now, but he knows they changed him.
He was shipped home from China holding the rank of corporal. But back on U.S. soil, he struggled to find a sense of a purpose.
"I was more interested in drinking than doing anything else," Eblen said. He had horrible nightmares, and heard screaming. He was easily startled, to the point he warned his young nieces and nephews not to scare him or catch him unawares.
"I could really hurt someone," he worried, in those moments. "It was spontaneous."
Over 70 years later, the trauma still affects him sometimes, he said, when something startles him at the Anna Veterans Home where he lives.
In spite of the scars, Eblen is tremendously proud of his military service, as is his family.
"If we all sit down at the table, there's plenty of political differences, but you won't find anyone in our family that doesn't respect the military," said John Profilet, Eblen's brother-in-law.
Eblen married into Profilet family, also of Cairo, in the 1960s, and found success as an insurance salesman and estate planner. He's an animal lover and a major financial supporter of PAWS, Anna's no-kill animal shelter. One day, he plans to be buried in his blues.
Eblen's first brush with fame came late in life, when he donned his marine dress uniform to attend his niece's 2017 wedding
He was pushed down the aisle in a wheelchair, holding a sign that read "I'm her something blue," referring to the traditional wisdom that for good fortune a bride should carry, among other things, a blue object with her on her wedding day.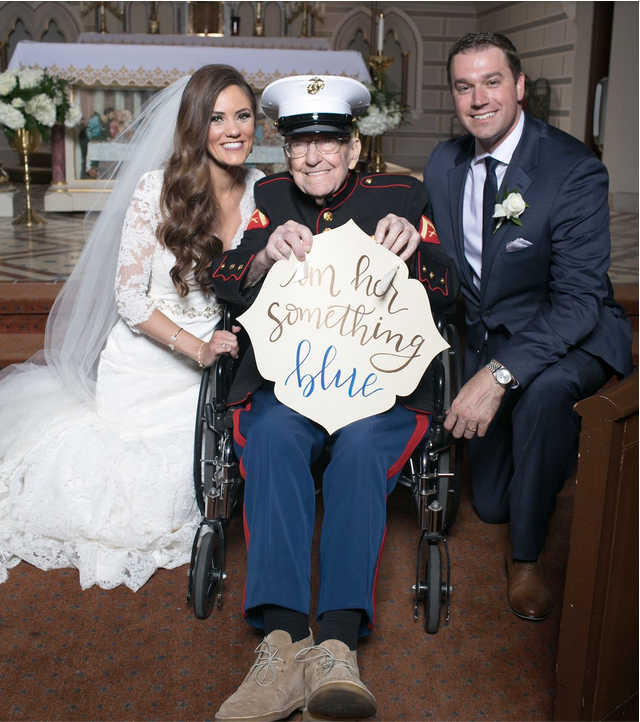 The photos received some 33 million hits on social media, his family said, and Eblen was interviewed by media outlets from across the country, including People magazine. Still, he promises the fame never went to his head. At least he's pretty sure it didn't.
"I'm too damn old to remember!" he said.
These days, Eblen's duty as a soldier is to keep spirits up at the Anna Veterans Home, he explained.
"I'm a big jokester, always have been," he said. "Just get 'em laughing. That's my niche in life, I guess."
There are several other WWII vets at the home, Eblen said. But they're disappearing quickly.
"There's not many of us left to celebrate out here," Eblen said. "We'd like to, but they play taps here more than they do at Arlington National Cemetery. And I don't want to be in that line."
Among the vets, Eblen considers himself lucky to have a family that visits him, and a mind that's still good enough to recite the names and calibers of Japanese artillery from 70 years ago, and track all the players on the current Cardinals roster.
"Most of the guys in here who really got it the worst won't say anything," Eblen said. "They just clam up, they're still so shocked. They don't want to be brought back into that any more."
He's had roommates who barely spoke, and others who screamed uncontrollably. Regardless, his approach is the same.
Talk to them. Cheer them up.
"He's a unique person at the veterans' home," Profilet said. "He livens up the guys. He's uplifting."
And still going strong. Aside from a bad back, which is "everyone's" problem, Eblen said he's feeling great and looking forward to his 94th birthday, four days after Christmas.
"I'm a tough old geezer," he said. "A blast from the past."