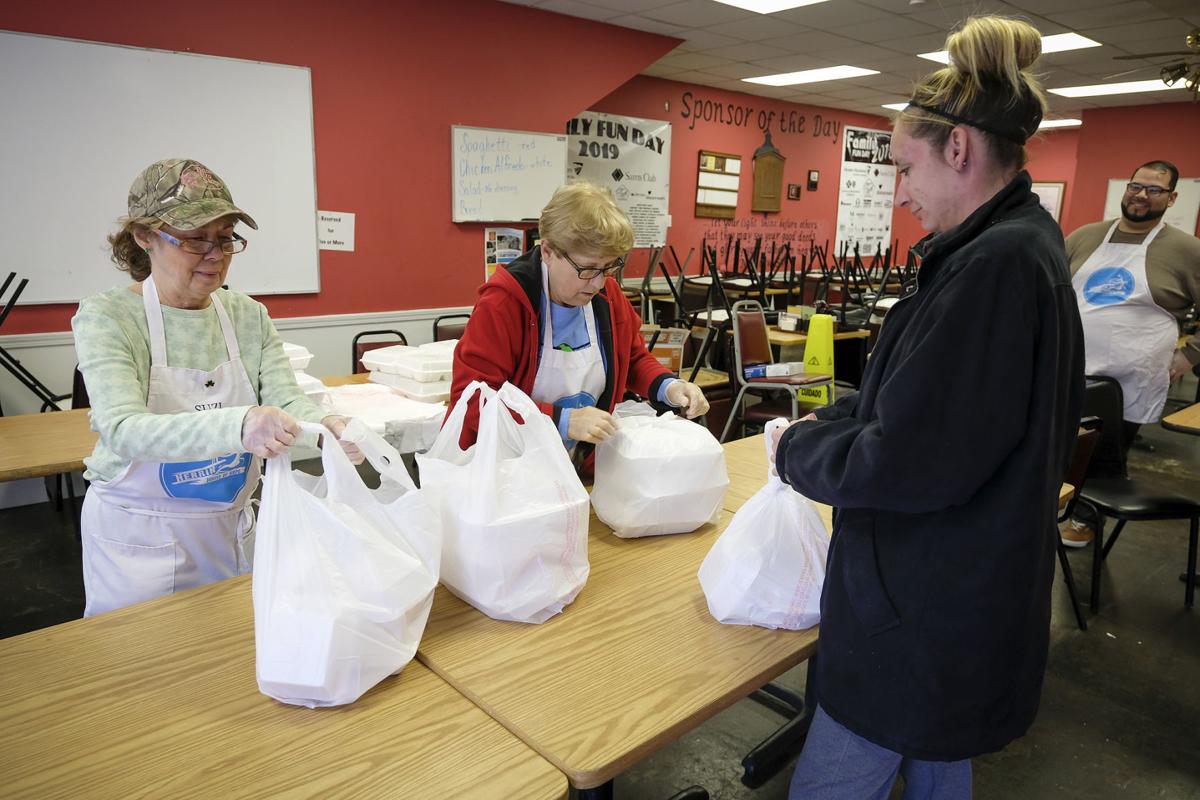 Across Southern Illinois, schools, churches, food pantries and area restaurants are teaming up to make sure people have access to meals as schools and places of employment are shuttered in an effort to slow the spread of COVID-19.
The Southern will update this list as we learn about additional resources. If you'd like to tell us about a resource we're missing, email news@thesouthern.com.
Jackson County:
Grab-and-go meals for school-age children are available at the following locations:
Thomas Elementary School
Carbondale Middle School
Carbondale Community High School District 165
Note: Students are directed to enter the CCHS cafeteria through the external doors and exit in an efficient manner.
The school is offering numerous pickup locations; times vary by location:
Murphysboro Middle School - Cafeteria Entrance
Bocce Ball Court (near Riverside Park)
Longfellow Park
Murphysboro Youth and Rec Center
9 a.m. to 11 a.m. (for breakfast and lunch meals)
Gorham Fire Department
Pomona Town Hall
The district will be using two white activity buses to deliver food during this two-hour window at the following routes:

North 7th, 8th and 9th Streets
Bridgewood, Valley Ridge
New Horizons
New Hill, Old Brick Road
Mobile Ranch
Hoffman Road
Former Public Aid office area just north of Hardee's
Note: Anyone who sees the bus is welcome to come to the bus and pick up a meal, the district said. To suggest other drop-off locations, call the district office at 684-3781 and plans will be adjusted as necessary based on need.
Grab-and-go lunches are available at the school. 
Staff is also available to deliver some meals to homes where students live. To arrange for delivery, email mgoff@up140.org or call the school at 618-529-4151.
Boys and Girls Clubs of Southern Illinois: 
Meals are available at the following times at the organization's main location for members: 
12 p.m. to 1:30 p.m. (lunch) 
3:30 p.m. to 5:30 p.m. (dinner)  
Good Samaritan Ministries
The Carbondale-based soup kitchen is open for three meals a day. Anyone is welcome, and all meals are offered to-go only at this time.  
8 a.m. to 9 a.m. (breakfast)
11:30 a.m. to 12:30 p.m. (lunch)
5:30 p.m. to 6:30 p.m. (dinner)
Children can receive a free sack lunch with turkey and cheese sandwich, chips, applesauce and a cookie, Monday through Friday. 
11 a.m. to 1 p.m. (no purchase necessary)
5 p.m. to close (kids eat free when their parents dine in) 
Marion Unit 2 School District:
Grab-and-go lunches are available at the following nine locations:
City Hall Municipal Building, Creal Springs
Jefferson Elementary School, Marion
Lincoln Elementary School, Marion
Longfellow Elementary School, Marion
Washington Elementary School, Marion
Marion Junior High School
Marion High School
Boyton Street Community Center, Marion
Freewill Baptist Church, Pittsburg
Staff will deliver grab-and-go meals from school buses in parking lots at the following nine locations:
Freeman Spur City Hall
Colp City Hall/Community Center
Hurst Community Center
Fifth Street Housing Community Center, Herrin
North Side Primary Center, Herrin
Herrin Junior High School
Harvest Time Worship Center, Herrin
Herrin Civic Center, west parking lot
First Baptist Church, Energy
The school district is offering grab-and-go meals at the following times and pick-up points. 
Carterville James Street Park
Hocbrier
Intersection of Peach Lane/Spillway Road
Cambria Park
Carterville Jr. High Parking Lot (North) 
Mac/Weld Parking Lot
Paradise Acres Bus Stop
Crainville Baptist Church Parking Lot 
Herrin House of Hope is moving its hot meal service to a take-out platform but will continue serving families. In-house dining is discontinued until further notice.
JC Manna Mission in Johnston City
Any school-age child can receive a brown bag lunch while supplies last. Proof of residency required. 
Franklin County:
Frankfort Community Unit School District
Look for a yellow school bus at the following times and locations; all district students are eligible for a "grab-and-go" breakfast/lunch sack, Monday through Friday, while school is closed. 
Frankfort Intermediate School
Frankfort Community High School (East Side)
Denning Elementary School (North Side) 
West Frankfort Park Aquatic Center Parking Lot
Antioch United Methodist Church Parking Lot (Illinois 149 at 3013 Antioch Road east of West Frankfort)
St. Mark's Episcopal Church South Parking Lot (212 North Ida Street at West St. Louis Street)
Orient: American Legion Post 1961 (parking lot)
Pershing: At the corner of Pershing Road and Country Club Road 
Jack Russell Fish Co. in Benton
Free to-go grilled cheese and fries for all school age children for two weeks. Place an order by calling 439-FISH.
Free to-go mini turkey sub and a bag of chips. No purchase necessary.
Johnson County:
Buncombe Grade School
West Vienna Senior Center
Vienna Grade School
Vienna High School
Reeseville Community Church in Grantsburg
Grantsburg Post Office
Cypress Village Hall
Belknap Post Office
New Simpson Hill Grade School
Simpson Post Office
Ozark Pentecostal Church in Ozark
New Burnside Park in Burnside
Note: Lunch and a breakfast item will be included in the bags. Those in need but unable to reach one of the pickup locations are asked to call 618-658-4461, ext. 217, or to email info@viennahs.com. In the message, leave a drop-off location.
Alexander County:
Cairo Unit School District 1
The school is delivering meals into the Cairo community for its students and all children who attend Head Start. 
Cairo schools and Southern Illinois Worship Center  
The Southern Illinois Worship Center will set up a food pantry at the Cairo Junior/Senior High School on Mondays.
618-351-5079
On Twitter: @MollyParkerSI ​
Concerned about COVID-19?
Sign up now to get the most recent coronavirus headlines and other important local and national news sent to your email inbox daily.