The words "Southern Illinois" appear in our newspaper dozens of times every week. And we have made a stylistic decision to capitalize the "S" in Southern, even though it is not by legal definition its own state or territory.
That longstanding practice is a nod to the fact that people consider this region distinct from other parts of the state. 
Part of that has to do with geography in a state that measures about 390 miles from the Land of Lincoln's feet around Cairo to the tip of his top hat at the Wisconsin border. But its also about — more so about — cultural and economic distinctions. That's a concept difficult to draw hard boundaries around. 
So, how exactly does one define Southern Illinois? Ask a dozen people, and you're likely to get a dozen different answers. Is it south of Interstate 70? Or south of Interstate 64?
Do you include the Metro East and other parts of southwest Illinois? 
The bottom third of the counties in the state? The bottom fourth? 
The answer likely depends on the perspective of the person answering. To some "northerners," it's everything south of Springfield, or even everything south of Cook County. For those living in southernmost Southern Illinois — yes, that's another distinction that's been made — the cutoff may be Carbondale, home of Southern Illinois University.  
Below are a few maps from governmental organizations that show some of the different ways the region can be packaged. Of note, some of the office territories are defined that way for administrative purposes, and are not necessarily meant to serve as a definition of Southern Illinois. Still, it illustrates how one person's definition of Southern Illinois can be different than another's.
Here's a map from the Illinois Department of Natural Resources's "Calendar" page for Southern Illinois.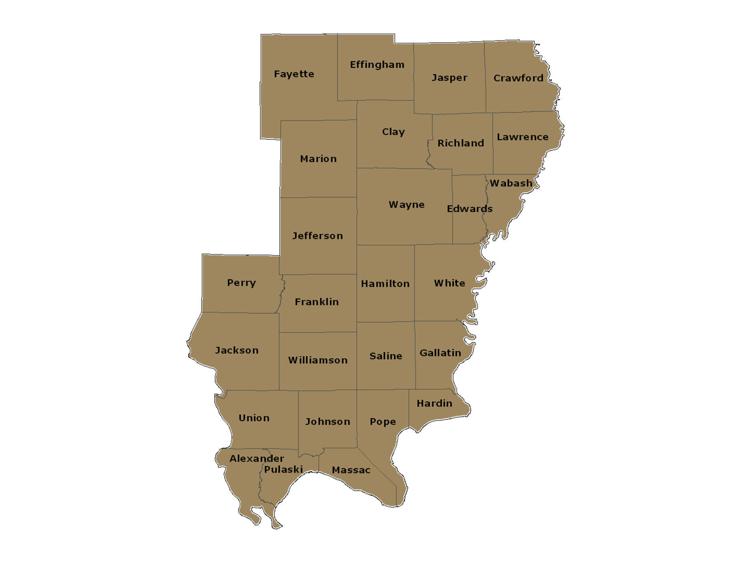 Here's one from the U.S. Department of Justice defining the counties served by the Southern District of Illinois.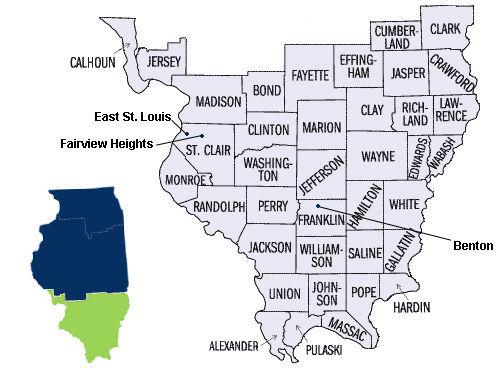 And here's one from website of the Southern Illinois University Paul Simon Public Policy Institute, located on the landing page for its compilation of polls from years past.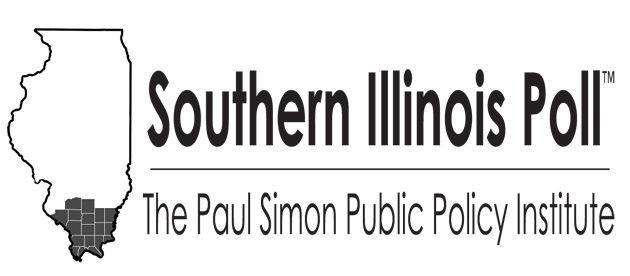 Speaking of Public Policy Institute polls, there's a great one from 2012 that fits with this conversation about why the definition of Southern Illinois matters. Mention was made of culture and economics; it's also political. The poll found that nearly half of all Southern Illinois voters favored having Cook County broken off into its own state. And there's another one from 2010 that illustrates the cultural divide in Illinois, based on where one lives. The finding of that poll was that most Southern Illinoisans were feeling pretty darn good about their collective selves that year. At the same time, they were pretty cool on Chicagoans. 
People from these parts, they're not just Illinoisans, they are Southern Illinoisans. For many, this is a point of pride. And at times, it is a rallying cry, especially when the region feels slighted by its northern neighbors. This has been a uniting factor for Southern Illinois politicians from both parties for years.
Case in point, here's former state Sen. Gary Forby, D-Benton, at a rally in 2012, after then-Gov. Pat Quinn proposed closing several facilities in Southern Illinois, including the Tamms Correctional Center in Alexander County. 
"Why don't we do away with Chicago?" Forby tells the crowd, suggesting it could be lopped off and pushed out into the water, with Quinn on the nose of the boat. At one point (not included in this clip), Forby also suggested taking all the inmates from Tamms and unleashing them onto the streets of Chicago, as retaliation for closing the prison. 
And here's U.S. Rep. Mike Bost, R-Murphysboro, in April 2015, talking with constituents at a town hall meeting at Cairo City Hall. Bost implies that part of the issue for Southern Illinois is that all of the power in the state rests with the north, saying that two-thirds of state legislators can see the Sears Tower on a clear day. One of the listeners suggests there should be a "Northern Illinois" and a "Southern Illinois." 
"I actually tried to carry that bill and took a lot of criticism," responded Bost, who spent 20 years in the Illinois General Assembly before he was elected to U.S. Congress in 2014.
618-351-5079
On Twitter: @MollyParkerSI ​
Get local news delivered to your inbox!
Subscribe to our Daily Headlines newsletter.