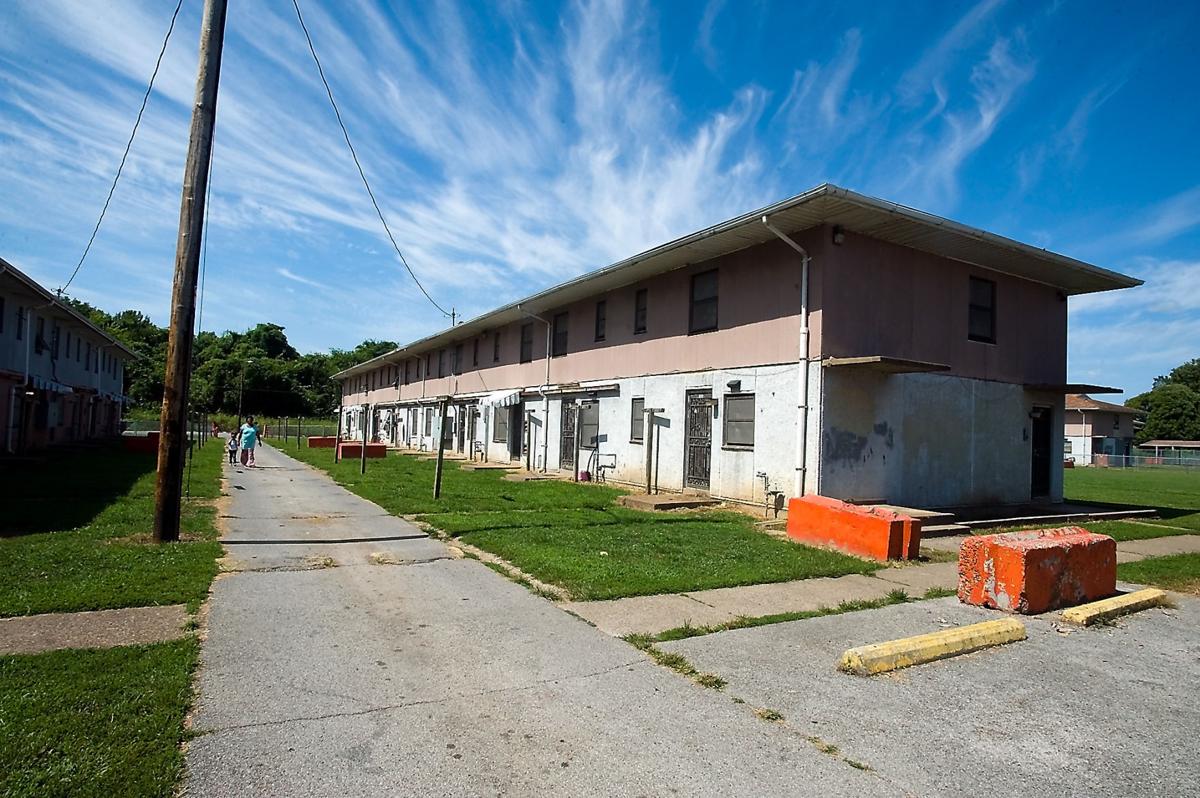 CAIRO – U.S. Sen. Mark Kirk has sent a letter to the Department of Housing and Urban Development's Inspector General calling for an investigation into the nearly $20 million in federal tax dollars provided to the Alexander County Housing Authority over a seven-year period.
Kirk's letter, sent this past week to Inspector General David Montoya, demanded answers as to why the ACHA continued to receive taxpayer dollars given that HUD officials had apparent knowledge of misuse of funds by ACHA staff dating back to at least 2010.
Kirk cited HUD documents from 2010 and 2013 that detailed problematic spending. The 2010 review, HUD wrote, was to address "improper payments and other high-risk elements," and the 2013 review noted "significant misuse of funds" and alleged the ACHA was noncompliant with multiple federal and state housing laws, as well as labor laws.
Various HUD documents from 2014, 2015 and early 2016 detailed mounting concerns over mismanagement and neglect of core duties by ACHA staff while they inappropriately spent hundreds of thousands of dollars on themselves.
Among issues cited in a September 2014 review, for example, were excess travel for unnecessary training conferences in destination cities, inappropriate payments to the former executive director of more than $40,000 after his retirement, and almost $300,000 inappropriately paid out to employees in early retirement buyouts, unused vacation and sick time, and post-retirement contracts and benefits.
A review of the agency's compliance with the Civil Rights Act alleged discriminatory practices in employment and housing in a city with a long history of racial tension. In 1974, the agency settled separate lawsuits filed by the Department of Justice and a private civil rights lawyers' group with promises to integrate public housing complexes and to correct discriminatory practices.
Forty years after those settlements, the 2014 review by HUD's Office of Fair Housing and Equal Opportunity alleged the ACHA spent more money on and paid more attention to its complexes that primarily house white residents and are more racially integrated while neglecting the Elwood Place and McBride Place complexes that almost entirely house African-American families.
For instance, it stated the agency beefed up security at its senior housing development on the Ohio River, where the ACHA offices are located, while doing little to improve the safety of families living at Elmwood and McBride, where people have reported concerns with drug rings, gun violence, robberies and rape.
CAIRO – It's about 3:30 p.m. on a Thursday afternoon when the bus rolls up to McBride Apartm…
In 2016, two years later, a letter to former ACHA board Chairman Andy Clarke, conveying the results of an on-site inspection on Feb. 2 and 3, listed continued serious health and safety concerns for residents of those complexes, which house dozens of children who account for about 60 percent of the Cairo public schools population. Issues cited included roaches; unlockable windows; tenant reports of bedbugs, mice and rats; plumbing and electrical deficiencies; paint peeling from ceilings that needs to be tested for lead; units lacking working smoke and carbon monoxide testers; and ongoing concerns about crime.
A similar report from inspections the month prior stated that a former employee had sold a master key to the units, leading to a large number of burglaries and tenant shootings at McBride Place.
CAIRO – Hundreds of people here rely on public housing for shelter, with the average income …
The money kept flowing
Kirk's office obtained the HUD review documents in late February, some of which the newspaper had previously had access to, and some it had not. They were provided in response to a letter that Kirk co-wrote in October with Iowa Sen. Charles Grassley, chairman of the Senate Judiciary Committee, to HUD Secretary Julian Castro in response to The Southern Illinoisan's ongoing "Chaos in Cairo" investigative series. In the letter, Kirk and Grassley demanded HUD take immediate corrective action to the address allegations described in the articles, and included the request for public records for an independent review by their offices.
Given HUD's apparent years-long knowledge of serious management deficiencies in Cairo, Kirk said he is "disturbed by HUD's continued flow of taxpayer dollars to the ACHA despite yearly documented financial mismanagement." He asked the HUD Inspector General to "investigate and make public how these funds were used." HUD provided 120 transactions to the ACHA between 2008 and 2015, totaling $19,755,352, according to Kirk's office.
On Feb. 22, federal officials took over the ACHA, dismissing the board and shortly thereafter, Jason Ashmore, the executive director who served about six weeks under questionable terms. Ashmore is the mayor of Sesser, and he was hired by the former ACHA board against HUD's orders and over concerns he lacked proper experience. He has not received payment for the time he reported to work, and it's unclear if HUD plans to compensate him.
CAIRO — The Alexander County Housing Authority Board, in a brief meeting on Wednesday aftern…
Top leadership at the agency has been unstable for nearly two years. A January HUD review stated two interim executive directors hired by the board did not spend sufficient time in Cairo to correct problems. Jefferson County Housing Authority Executive Director Tom Upchurch and Pulaski County Executive Director Joann Pink were tapped by the ACHA board to serve interim tenures with the agency while also maintaining their other full-time posts. Both were paid under contract for their work.
HUD declines comment
HUD's Chicago office declined comment regarding the questions raised in Kirk's letter. "We are in the process of responding to the congressional inquiry. Until then, we'll reserve comment," HUD spokeswoman Gina Rodriguez said via email.
Rodriguez also declined to respond to the newspaper's request for HUD to document its oversight policies for housing authorities, to include what information they must self-report, and timelines for on-site HUD inspections and reviews. In their letter, Kirk and Grassley also requested that HUD document the steps it had taken to ensure federal dollars were being spent appropriately in Alexander County as they continued to issue funds to the local agency while knowledgeable about problems.
In response, HUD's assistant secretary for congressional and intergovernmental relations, Erika Moritsugu, wrote that in 2013, the agency initiated a "Public Housing Authority Recovery and Sustainability" process that included remote and on-site assessments and "follow-up recovery planning and technical assistance."
The ACHA was requested to develop a recovery plan, to include a plan for staff training, but did not, Moritsugu told the senators. Between 2013 and 2016, HUD has provided technical assistance regarding capital fund expenditures, and has been manually reviewing drawdowns since 2014, Moritsugu wrote. She also stated the agency, in August 2015, sent the interim executive director a link to an online financial management and governance curriculum for staff and board members, but only one board member completed the training.
The situation that played out in Cairo comes on the heels of other similar cases around the country where local housing authority management has been accused of misusing taxpayer dollars while residents' living conditions deteriorated. There are more than 3,000 local housing authorities across the country of various sizes, though the vast majority are relatively small, overseeing 500 or fewer units. The ACHA has 494 units in its inventory.
The public housing system has been roundly criticized by policy experts. Billions of dollars flow through a system, comprising federal, state and local agencies, with weak oversight controls, they contend, leaving too much room for abuse and error in a massive social service program that provides housing to several million people, many of them vulnerable children, older adults and people with disabilities.
In many places throughout Illinois, including in Alexander County, respective county board chairmen appoint the housing authority board members, which hire the executive director. But the county boards, generally speaking, are not further involved in the financial or managerial oversight of the housing authorities. Short of drastic actions such as a takeover, HUD's ability to affect change where necessary is relatively limited by the separation of governmental powers.
CAIRO — Jason Ashmore is no longer executive director of the Alexander County Housing Authority. 
HUD, What took so long?
In response to inquires, Rodriguez also declined to answer a question the newspaper has posed before: Why did it take federal officials so long to show up in Cairo, given the deplorable living conditions of residents, and documented misuse of funds and mismanagement dating back years?
In announcing the Feb. 22 takeover, HUD's news release stated it followed a "years-long pattern of financial and operational mismanagement, poor housing conditions, and alleged civil rights violations against the households the housing authority was responsible for assisting." In an interview the day of the takeover, HUD spokesman Brian Sullivan said the agency loathes takeovers, and only exercises that option in "the most extreme cases and only when it's required to protect the health and safety" of residents.
The ACHA was the 19th housing authority HUD has taken over in 30 years, and one of only five presently under administrative receivership.
Though HUD had documented serious misspending and mismanagement in reviews in 2010, 2013 and 2014, and taken some steps to address those issues, officials seemingly did not take a heavy-handed approach to fixing those issues until late 2015 and early 2016, as the newspaper began to expose the alleged misdeeds and the poor living conditions of public housing residents in Cairo.
In September, the newspaper detailed further troubling allegations of misspending — including excessive travel to destination cities and fine dining that appeared to be on the taxpayers' dime — according to a review of hundreds of records provided in response to a Freedom of Information Act request.
A few weeks later, three agents from HUD's Office of Inspector General and an FBI agent delivered a subpoena to the ACHA administrative offices in Cairo and spent about four hours carting out boxes of paperwork and electronics. But again, review of HUD documents show the agency was aware of the vast majority of issues noted in the newspaper articles dating back to at least 2014.
In the Feb. 29 response from HUD's Moritsugu to Kirk and Grassley, she informed the senators that the HUD review documents they requested were attached, but that a number of other documents they sought to review were not available. That will remain the case "while the ACHA is under investigation" by HUD's Office of Inspector General, she wrote. That office will neither confirm nor deny that there is or was ever an ongoing investigation, though the October subpoena stated that there was.
The documents HUD denied the senators, citing the ongoing investigation, included those showing salary, benefits and other compensation paid to former, longtime Executive Director James Wilson, ACHA credit card statements, agreements for legal fees and consulting work, vehicle policies, and all travel records.
To date, no one has been charged with a crime related to an investigation into the ACHA. Wilson, the former longtime executive director, in an interview with the newspaper in August, acknowledged, in hindsight, he could have done some things differently, but he denied any illegal activity and defended his tenure, which spanned from 1989 to 2013.
"I tell everybody we're just like the state of Illinois. We lived it up too good," Wilson said in August, in a recorded interview with a reporter at Longbranch Café in Carbondale. "And we didn't see this coming and we thought it would last forever and when the (federal) cuts came, we weren't in a position to handle it. That's exactly right."
Wilson also served as mayor of Cairo for 12 years during the time he was ACHA director, resigning from that post in 2003 following a re-election loss. Wilson has since declined to speak with the newspaper, telling a reporter some months ago not to call him again. The newspaper also has been unsuccessful in reaching Martha Franklin, the executive director who followed Wilson, and who previously served as his finance director.
Kirk pushes oversight law
On Thursday, when the Senate Appropriations Committee favorably reported the fiscal year 2017 HUD appropriation bill, it included new language pushed by Kirk intended to crack down on excess spending by housing authorities on central office functions. The provision calls for HUD to initiate rulemaking for a policy that provides for better tracking of and less flexibility for how these funds are used. In Cairo, administrators paid for staff benefits from funds that were intended to be used for capital improvements at complexes.
In an April 1 letter, HUD had already announced its intention to begin the rulemaking process. The language Kirk cited, if passed, would make that intention a congressional mandate.
The "re-federalizing" of administrative fees was first suggested by HUD's Inspector General in a June 2014 audit that was conducted "due to our concerns over potential misspending by public housing authorities." In a statement, Kirk said he pushed the legislation because "people throughout Alexander County have been taken advantage of and forgotten by those who were responsible for providing them with safe, clean housing free from infestation and decay" and he hopes this helps put a stop to abuses.
CAIRO — The vote by the previous members of the Alexander County Housing Authority board to …
In his April 18 letter to Inspector General Montoya, Kirk said he was particularly concerned by the alleged asset management fees paid to the ACHA board, and requested a forensic audit on the use of the funds.
Representatives from Kirk's office and that of U.S. Rep. Mike Bost held office hours in Cairo this past Wednesday, and spoke with several residents about their concerns regarding the ACHA. They also attended the monthly tenants meeting that the new federal ACHA administrators host monthly to provide updates and answer questions.
HUD reports on progress
At the tenants meeting Wednesday evening, Towanda Macon, a co-administrator of the HUD Recovery Team assigned to Cairo, and team member Janet Harris, informed residents they are close to securing a new contract for infestation control, and will begin the process next week of changing out the inner-core of locks to address the issue with the unaccounted for master key(s).
They also have implemented a new policy under which cash rent payments will no longer be accepted in the ACHA's office. Residents can pay with a cashier's check or money order, or they can pay cash at one of two banks in Cairo.
Macon also noted that the agency has posted an ad soliciting for applications for the executive director position. A resident asked if that meant Macon and other HUD officials would be leaving town soon, and Macon responded that it does not mean that. A transition plan back to local control has not been established at this point, she said. The job posting, which closes May 20, seeks an "innovative problem solver" and "dynamic leader" with a minimum of five years' experience as a senior administrator in a medium or large organization that administers public housing programs, among other requirements.
Macon, who has been leading the team in Cairo for about two months, said many "Basic 101" management items were in disarray when federal officials arrived. Just to name a few, she said the agency had multiple phone carriers, including an outdated long-distance carrier, two elevator contractors, though it was unclear that either was performing work, and antennas on the roof they couldn't figure out for what purpose.
Procurement policies also were nonexistent, she said, and it has therefore taken time to implement new policies that would allow them to issue a contract for a qualified extermination company. Pest control concerns have been handled on a unit-by-unit basis awaiting this contract, Harris said.
"We're building this place from ground zero," Macon said. "Literally, that's what we're doing."
Some of the policy changes that are affecting residents take time for them to adjust to, she said, such as the office no longer taking cash for rent in the office. Standing around talking after the meeting, Rob Winchester, Kirk's senior adviser, said he couldn't believe that cash was being accepted, and he questioned whether it was all accounted for.
Macon said she couldn't speak to past practices, and noted all the records had been removed by investigators. But said the cash policy was unusual for a housing authority.
"The risk is too huge," Macon said. "But change is slow. And that was going on for many years. That was the first thing we were like, 'Really?' We could not believe that."
Though Kirk's office has been critical of HUD's slow response as an agency over the years to problems cited in Cairo, Winchester told Macon he was "just really pleased" to hear from residents at both meetings that expressed they felt that Macon and the other HUD team members on the ground were making progress, and had their doors open to residents and community leaders.
"It's nice to see some solidarity and your proactive approach," Winchester told Macon.
Looking long-term
While pest control, security and establishing strong policies and procedures have been items at the top of the to-do list, Macon said there have also been conversations ongoing about what to do long-term with the two complexes in the worst condition: McBride Place and Elmwood Place. A recent physical needs assessment revealed $7 million in immediate needs just to make the units meet basic health and safety requirements, and millions more to address future needed repairs. Aside from being old, the units have also been neglected for years, she said. That means there's no easy solutions.
"We're trying to figure out the best way, because there's no housing in Cairo," she said. "So what do you do?" Part of the solution may be asking residents if they'd like to relocate to public housing in other communities, but there are people who want to remain in Cairo, she said. Another barrier to community housing is the high cost of utilities charged by Cairo Public Utilities, a nonprofit that operates a municipal electric, natural gas, internet, hardware store and sewage treatment utility.
"The utilities are egregious here," Macon said. "That's the other thing we're investigating."
Shameka Nelson, who rents a six-bedroom apartment at McBride Place, said she's attended all the residents meetings since HUD's arrival, and she remains hopeful conditions will improve for her family. She lives in a unit with seven of her children, ages 12, 9, 8, 7, 6, 2 and 1. Nelson said she's worried they've been exposed to health risks because of the neglect of the complex.
Four of the children have asthma, and one has severe asthma, she said. They had asthma before moving in, but it's gotten much worse since they have lived there, she said. She expressed concerns at the meeting about mold that returns despite cleaning it regularly.
Nelson said she's considering moving to Missouri if nothing changes soon. But she'd like to call Cairo home if they were to tear down McBride Place, and offer somewhere safer for her family to call home. Throwing money at repairing the complexes, at this point, would be a lost cause, she said. "I think they need to be torn down and built back up," she said. "Because they are old. And when I say they're old, they're old."
618-351-5079
On Twitter: @MollyParkerSI ​