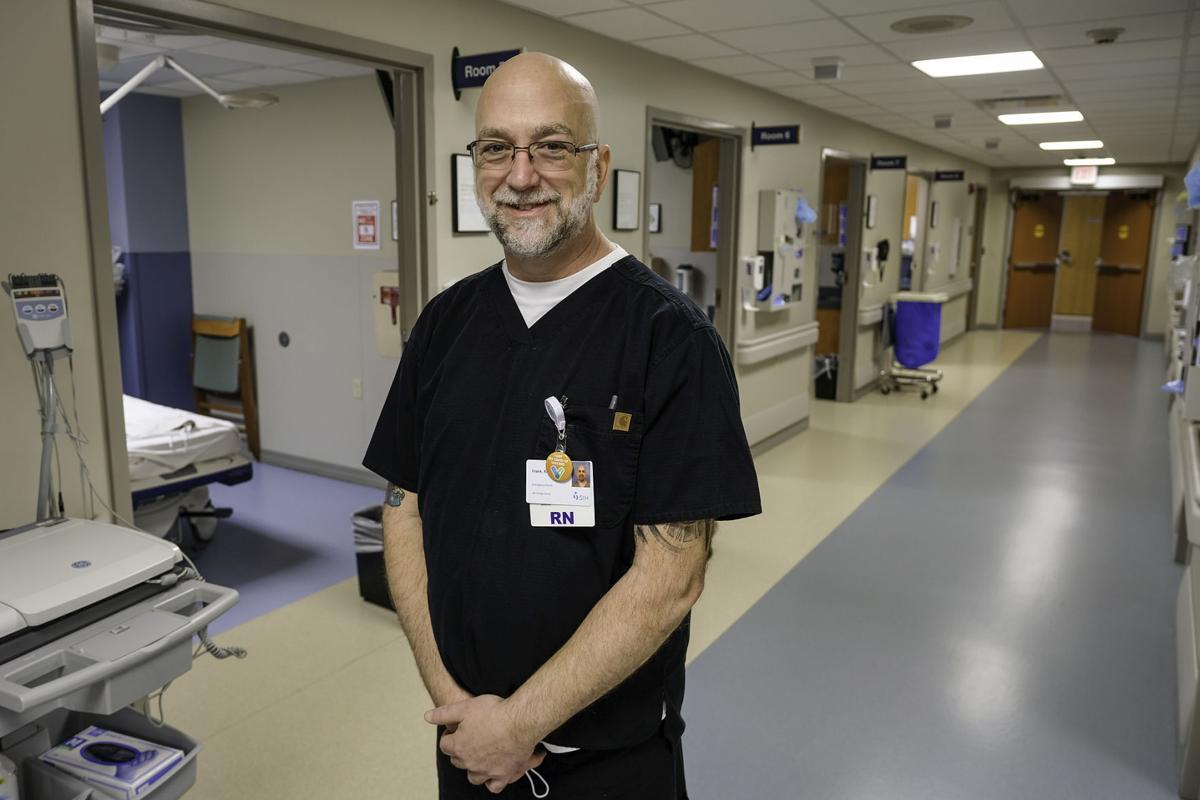 After 27 years as a paramedic and nurse, Frank Saunders of Du Quoin is trained to recognized the symptoms of a heart attack. He is called to put that training into use a couple times a week as Emergency Department charge nurse at Murphysboro's SIH St. Joseph Memorial Hospital.
Before coming to St. Joseph, Saunders worked in the emergency department at SIH Herrin Hospital. He was part of a team at Herrin that achieved a 44-minute door-to-balloon time in 2010. That means from the time the patient came into the emergency room in Herrin with heart attack symptoms to his arteries being reopened was 44 minutes, and that included the 20-minute ambulance ride from Herrin to Carbondale.
The symptoms of a heart attack became much more personal for Saunders on Sept. 29 when he began experiencing chest pain.
"I first thought I had pancreatitis," Saunders said. "I didn't have typical symptoms. I just had chest pain."
Saunders' pain was not radiating. He did not feel pressure. He wasn't short of breath or sweating.
Being in the medical field, he knew the only way to determine whether or not he was having a heart attack was to go to the emergency room. He went to Marshall Browning Hospital and was transferred to SIH Memorial Hospital of Carbondale, where he had a heart catheterization.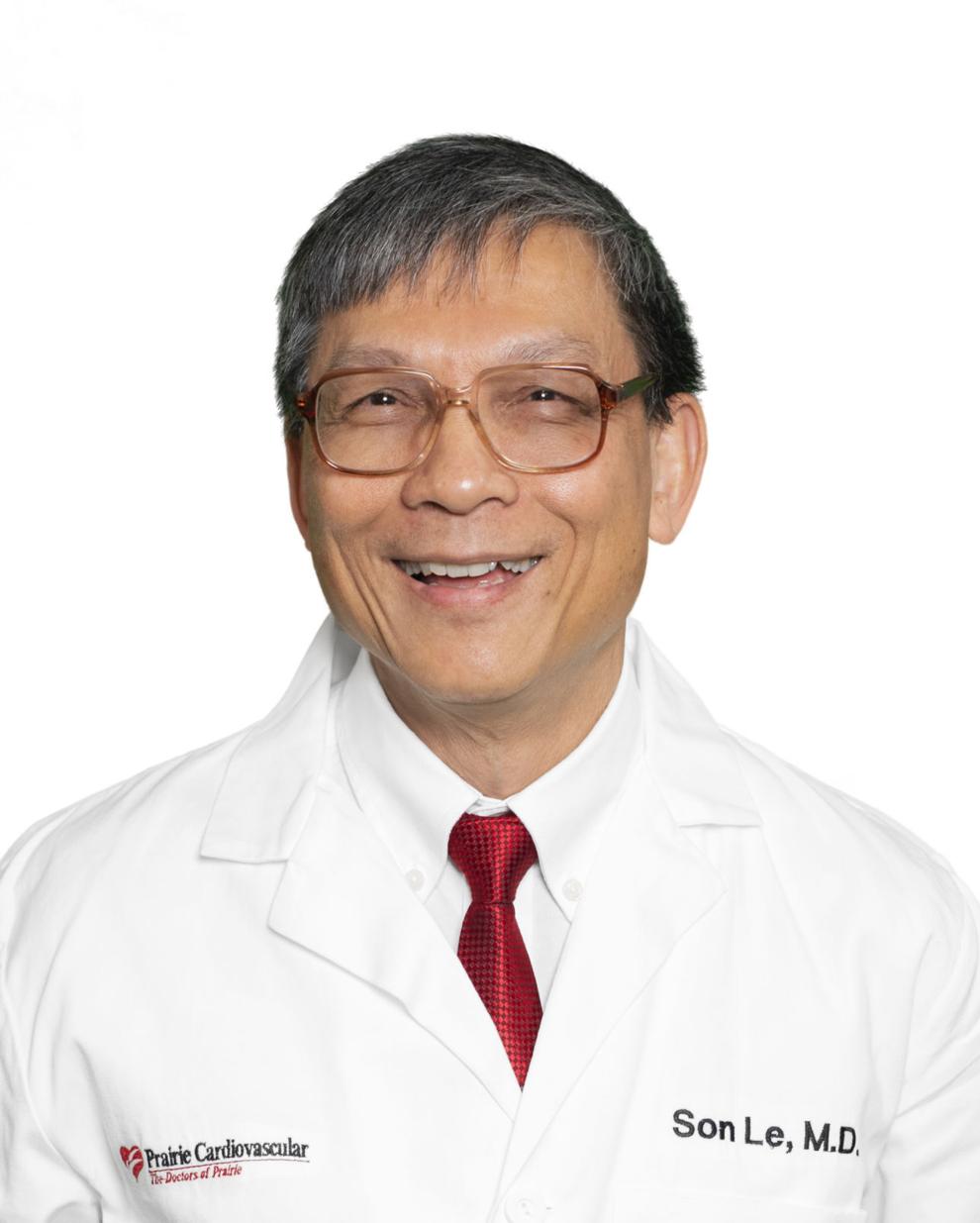 Dr. Son Le, interventional cardiologist at SIH Prairie Heart Institute, said Saunders arrived at Memorial around midnight with chest pain. They already knew he was having a heart attack and had determined he had a blockage in the artery on the bottom of his heart.
Le said opening the artery usually takes care of the problem. In the cath lab, Le found something unexpected.
"His artery was very complex, because it was not a straightforward artery. It was like a corkscrew. It is a very irregular type of artery. There were many blockages in the proximal and distal parts of the artery," Le said.
The procedure was more difficult because Le had to go into the heart through an artery in the arm using a small catheter. The catheter makes it harder to get equipment to the heart.
"He had so much there, I struggled to fix all the areas. I opened the artery, but I couldn't fix them all. I couldn't bring the stent in," Le said.
At 3 a.m., the team was tired and the catheter was getting soft, so Le made the decision to stop trying to clear more of that artery and look at the rest of Saunders' heart. He found a lot of problems on the left side of Saunders' heart in the front, back and widow-maker arteries — all of them.
Le stopped the heart cath and talked to Saunders about what he found. Saunders was stable and had no more chest pain. Le had stopped the heart attack.
The next day, Saunders saw cardiothoracic surgeon Dr. Russell McElveen, and they decided he needed bypass surgery. Because Saunders had just had a coronary intervention and was on blood thinners, they would wait seven days. He had surgery Oct. 5.
"He had a post-operative course that was not complicated. Mr. Saunders stayed seven days from his surgery date," McElveen said.
McElveen said a lot of people think of open heart bypass surgery as a big scary operation. "Bypass surgery is getting routine. It is a safe option that can help people, and it's not as painful as some people would guess," he said.
McElveen said people tend to ignore the symptoms of chest pain or think they have heartburn or GERD, so they may not come to the hospital. He urges anyone having chest pain to go to the emergency room to be evaluated.
"Cardiovascular disease is still the number one killer of Americans. It's important to take the symptoms to heart," McElveen said. "We're more than happy to take care of them locally."
After two months of light duty, Saunders is back to work full time in the emergency department at St. Joe's. His advice for anyone with genetic risk of heart disease is to control their diet, control diabetes if they have it, and don't ignore the warning signs. Pay attention and listen to your body.
"I am thankful for the physicians and staff I did have. I recommend anybody comes to SIH and Prairie Heart Institute," he said.
Saunders went through cardiac rehab at St. Joe's. He has lost 30 pounds and is eating a heart-healthy diet. "When you have a near death experience, it scares the hell of out you. Because of Dr. Le, I have minimal heart damage," he said.