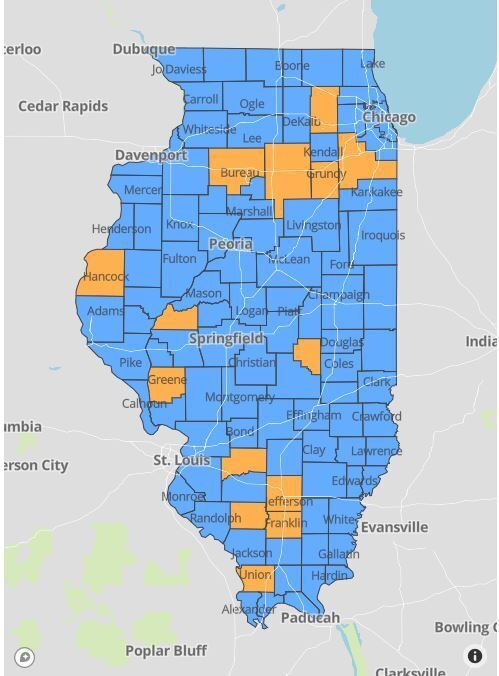 SPRINGFIELD — The Illinois Department of Public Health said that four Southern Illinois counties — Jefferson, Perry, Franklin and Union — are at a warning level for COVID-19 based on meeting two or more risk indicators.
They are among 14 counties at a warning level statewide.
The metrics are updated weekly, from the Sunday through Saturday of the prior week. Perry County is listed at a warning level for the third week in a row, and Union County for a second week in a row.
Meanwhile, three Southern Illinois counties listed at a warning level by IDPH last week fell off the list this week: Jackson, Saline and Williamson.
Union County is at a warning level again because of its high new case rate and positivity rate. But it did see improvements in the week ending Aug. 8, the most recent for which data is available, compared to the week ending Aug. 1. Its case rate of 202 new diagnoses of COVID-19 per 100,000 people fell to 107 new diagnoses per 100,000 people. And its testing positivity rate fell from 15.7% to 8.9%.
The state's target is for counties to keep their case rates below 50 new cases per 100,000 people and testing positivity rates below 8%.
Perry County is at a warning level for the same reasons: high new case and positivity testing rates. But its numbers moved in a troubling direction. For the week ending Aug. 1, Perry County reported a new case rate of 161 per 100,000 people, compared to 274 per 100,000 people for the week ending Aug. 8. Its positivity rate increased from 12.2% to 18%.
In Franklin County, the new test rate for the week ending Aug. 8 was 127 per 100,000. It had a positivity testing rate of 9.3%. In Jefferson County, the new test rate was 262 per 100,000 and 14.8%.
The other counties on the state's warning list are: Bureau, Cass, Clinton, Greene, Grundy, Hancock, Kane, LaSalle, Moultrie and Will.
According to IDPH, the 14 counties at a warning level saw cases or outbreaks associated with weddings, businesses, birthday parties, long-term care facilities and other congregate settings, bars, sports camps and among family members in the same household.
The state agency also said that public health officials are observing people in some communities not wearing masks, or not wearing them properly. Further, local health departments are facing challenges in obtaining information necessary to halt local transmission. And "inconsistent messaging from local elected leaders" is contributing to ongoing transmission in some communities "where there is little public concern for consequences or enforcement of social distancing, banning large gatherings or quarantine/isolation orders" IDPH claimed, though did not offer specific examples.
IDPH said that several counties are "taking swift action and implementing mitigation measures" such as increasing the availability of testing in their communities and working with local businesses to educate people on mask guidelines.
618-351-5079
On Twitter: @MollyParkerSI ​
Concerned about COVID-19?
Sign up now to get the most recent coronavirus headlines and other important local and national news sent to your email inbox daily.