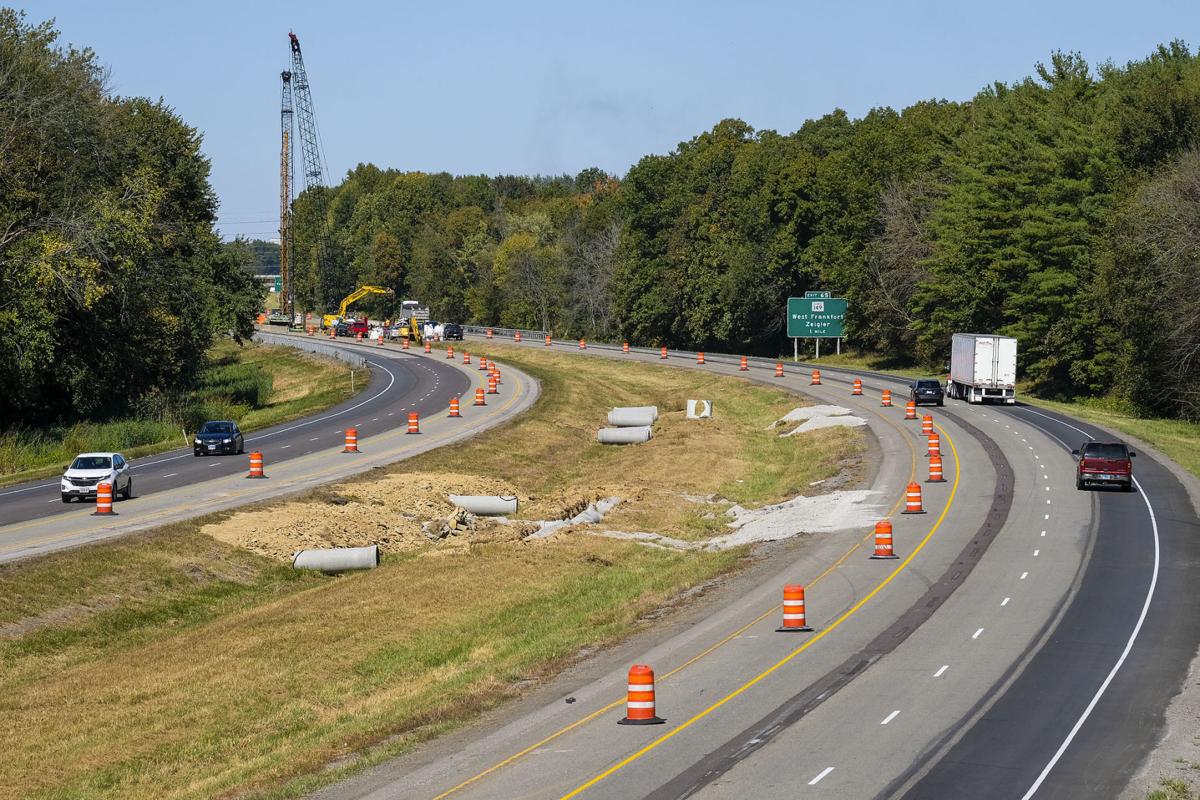 Interstate 57 is the longest interstate highway in Illinois, running diagonally through the length of the state from Alexander County to Chicago. In our region, I-57 includes 95 miles of road from the southern tip of the state to Mount Vernon.
Last week, Illinois Department of Transportation announced projects in the ongoing and future expansion of Interstate 57 from Mount Vernon to Johnston City. In a news release, IDOT said the projects highlight a commitment to improve safety, reduce congestion and encourage economic growth throughout the region.
The project is separated into six segments, representing a total investment of $257.8 million for Southern Illinois, with $224 million coming from the Rebuild Illinois capital program.
"With the Rebuild Illinois capital plan, Illinois isn't just making temporary repairs and patching up existing infrastructure, it's investing for the future," Gov. J.B. Pritzker said in the release. "Rebuild Illinois is the beginning of an effort to improve and replace roads and bridges and provide jobs throughout the entire state. By undertaking the I-57 expansion and other projects in the years to come, IDOT will ultimately create safer roads for Jefferson, Franklin and Williamson counties."
State Rep. Dave Severin (R-Benton) in a Thursday news release called the project investments "long-overdue highway funding" for Southern Illinois.
"This week, the Illinois Department of Transportation announced an ongoing and future expansion of Interstate 57 from Mount Vernon to Johnston City," Severin said. "This investment and expansion will not only improve safety and reduce congestion but help improve economic growth throughout the state."
Severin says the project was the first major capital investment program passed in over a decade. It will help bring dollars home to Southern Illinois that will create jobs and improve transportation and public safety, he said.
"I was a supporter of the capital program so that we can get Illinois moving in the right direction to fix our crumbling infrastructure," Severin said. "When we invest, we grow, and that's what Southern Illinois needs."
Five of the six I-57 expansion segments are ongoing or upcoming, with one already completed.
Each segment includes widening I-57 to three lanes in each direction and replacing key bridges. 
Planned construction includes:
Milepost 63 to milepost 66 with new structures over Pond Creek; scheduled for completion in the fall of 2022;
Milepost 67 to milepost 75 with new structures over Big Muddy River; scheduled to start in 2022;
Milepost 75 to milepost 85 with new structures over Marcum Branch and Gun Creek; scheduled to start in 2024; and
Milepost 85 to milepost 92 with new structures over Dodds Creek, scheduled to start in 2023.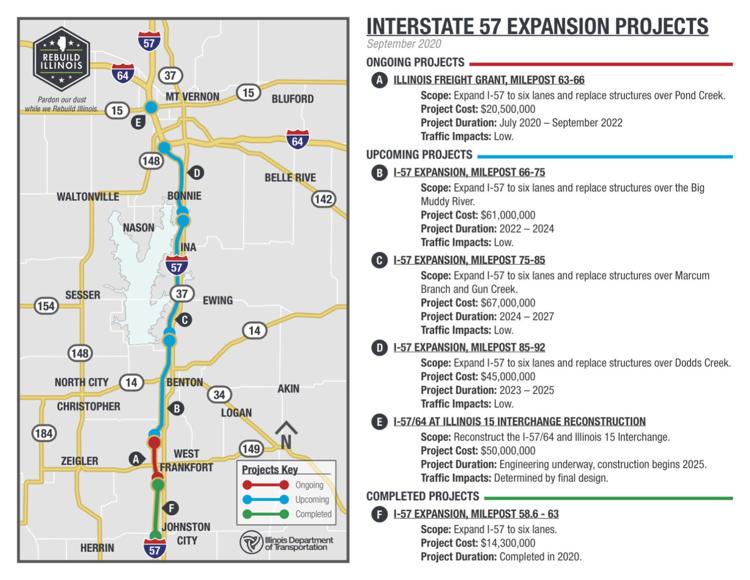 Milepost 58.6 to milepost 63 widening to three lanes in each direction was completed in fall 2020. The reconstruction of the I-57/64/Illinois 15 interchange is scheduled to start in 2025.
In addition, IDOT is embarking on a major renovation of the Trail of Tears rest areas on I-57 in Union County later this year, which will expand and enhance truck parking.
Motorists can expect delays and should allow for extra time when traveling through these work zones, IDOT said. Drivers are urged to pay attention to changed conditions and signs, watch for traffic signals, be aware of width restrictions, refrain from using mobile devices, and be alert for workers and equipment.
Over the next six years, IDOT is planning to improve more than 3,300 miles of highway and 8.4 million square feet of bridge deck as part of the Rebuild Illinois capital program, according to its news release. The first year of the program included approximately $2.7 billion of improvements statewide on 1,706 miles of highway, 128 bridges and 228 additional safety improvements.
Get local news delivered to your inbox!
Subscribe to our Daily Headlines newsletter.