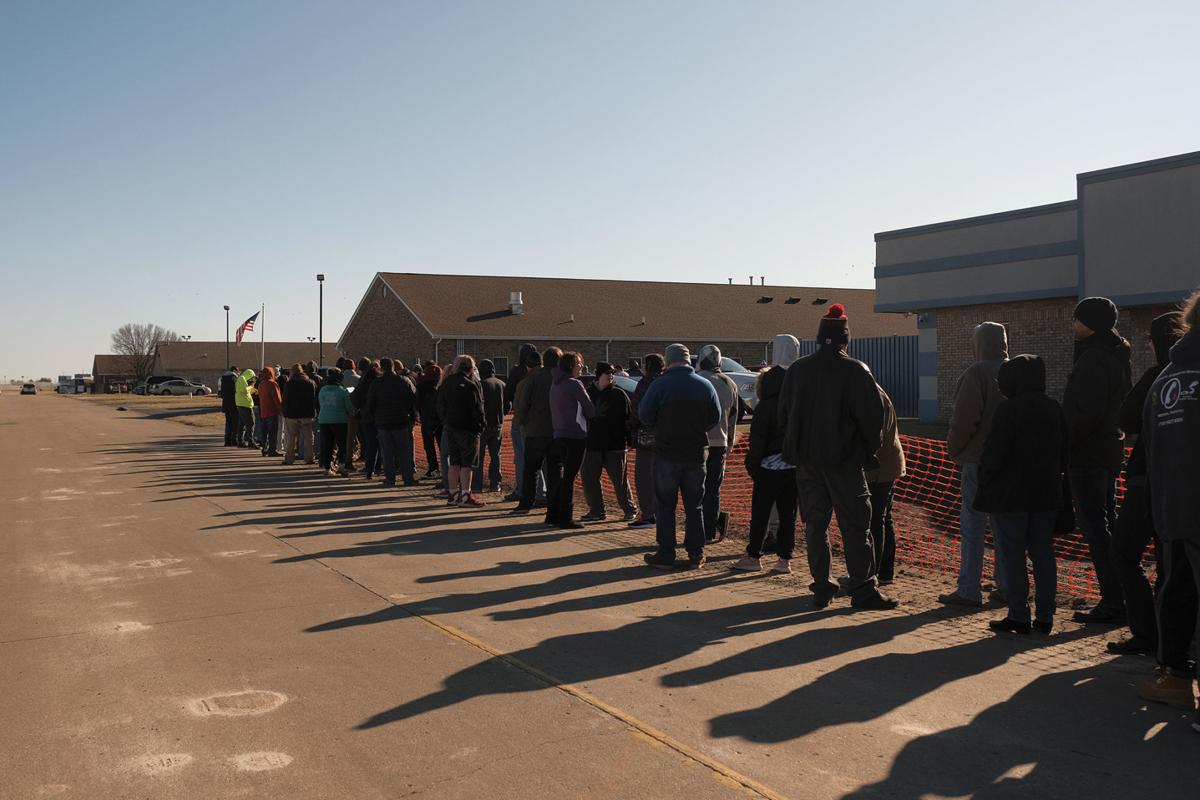 CARBONDALE — As Illinois announced mammoth sales numbers for the first month of legal recreational pot, some still have questions about Springfield's long game as the black market sees little to no drop.
Gov. J.B. Pritzker's office on Monday announced that in the first 31 days, dispensaries in the state sold nearly $40 million in recreational cannabis — this was the opening of the new industry after Pritzker this past summer signed the law legalizing adult-use recreational pot.
MARION — Dakota Wilson spent the night in his car Tuesday. He watched the Larry the Cable Guy movie on Netflix as he waited outside the Harbor…
In the first month of legal recreational cannabis, Carbondale Deputy Chief Stan Reno said the city's seen little impact on local street sales.
"The Department has not identified any discernible impact from the legalization of cannabis at this point. We are continuing to investigate illegal cannabis offenses," Reno wrote in an email Friday.
Long lines and supply issues were big complaints among customers, but pricing was also a hurdle for some. The state's tax schedule for recreational cannabis ranges from 10% to 25% depending on the amount of THC, the psychoactive compound in pot, in the product sold. That's on top of a 6.25% sales tax, and starting this summer, there is the potential of another 3% to 3.75% tax from both the county or municipalities where legal cannabis is sold — each had to previously set their tax within that range if they want it to be collected.
These taxes, coupled with a throttled supply, are taking prices to nearly double those on the black market.
Rosie Naumovski is the executive director at Thrive, which runs dispensaries in both Anna and Harrisburg. She said price is one of the biggest complaints she hears from customers, but looking nationally, she said prices do usually start high and then drop, and she expects the same to happen here.
Gov. J.B. Pritzker's office announced numbers for the first month of recreational pot sales in Illinois, calling the rollout a success.
Naumovski said that the roles between dispensaries and cultivators have shifted since medical cannabis was legalized in 2013. Before, she said, dispensaries had the upper hand when patient counts were low and supply was high. But when the number of medical card carriers increased, and the boom of recreational sales came, the tables turned.
"It's a cultivator market right now," she said.
When asked about the roll-out, especially looking at availability and price, Naumovski wasn't quick to throw stones at Springfield, but did have some critique. She said the tax structure is overly complicated with all the tiers and the layers of state, county and municipal taxes.
"I just wish they would have taxed it at a rate that makes more sense and is just easier," she said. But, Naumovski reiterated her hope that the market will swing back toward more competition for growers, and she hopes this will lead to a dip in black market sales. But she said it could just take time.
For her part, she said she understood and respected the state's choice to limit the number of growers out of the gate.
"We didn't want a place like Oregon where people are growing on every other corner and nobody's making any money," Naumovski said.
Still, dispensaries in Southern Illinois have seen an avalanche of interest despite some inconveniences. In the release announcing the first month's numbers, Pritzker's office called the initial roll-out a success.
With the legalization of adult-use recreational cannabis in Illinois earlier this month, the options now presented in stores can be overwhelming. We tried to demystify some of the things you might find in a dispensary, and what to do with them.
In a statement following questions from The Southern his week, Toi Hutchinson, Illinois' cannabis regulation oversight officer, said the slow roll-out was deliberate.
"The administration has made clear throughout this process that it is taking a deliberative and multi-phased approach to cannabis legalization to ensure the roll-out is effective and that social equity applicants have space in the market," Hutchinson said. "Legalization was the first step in a multi-step process and product shortages were expected to occur as they have occurred in every other state that has legalized cannabis."
Part of this slow roll-out was to build up tax revenue to put into the law's social equity programs for equity applicants, who are eligible to receive technical assistance, grants, low-interest loans and fee reductions and waivers when going through the red tape to get into the cannabis business.
While that addresses the state's goal of inclusion in the industry, it does not address questions the Southern had regarding market dynamics and consideration of how taxation as well as limited initial licensing for growers and sellers would impact pricing and ultimately the continued success of the black market.
When The Southern followed up with these questions, the governor's office sent the following statement in an email Friday.
"The market will stabilize gradually in the coming years. The 21 existing commercial cultivators are scaling up their operations and their max canopy space has been increased to 210,000 square feet. The Department of Agriculture will issue 40 Craft Cultivation Licenses by July 1, 2020, increasing the amount of product available to dispensaries. The state does not set prices for cannabis or cannabis-infused products. All pricing is set at the discretion of licensed dispensaries competing against one another for customers' business."
618-351-5823
On Twitter: @ismithreports
Get local news delivered to your inbox!
Subscribe to our Daily Headlines newsletter.