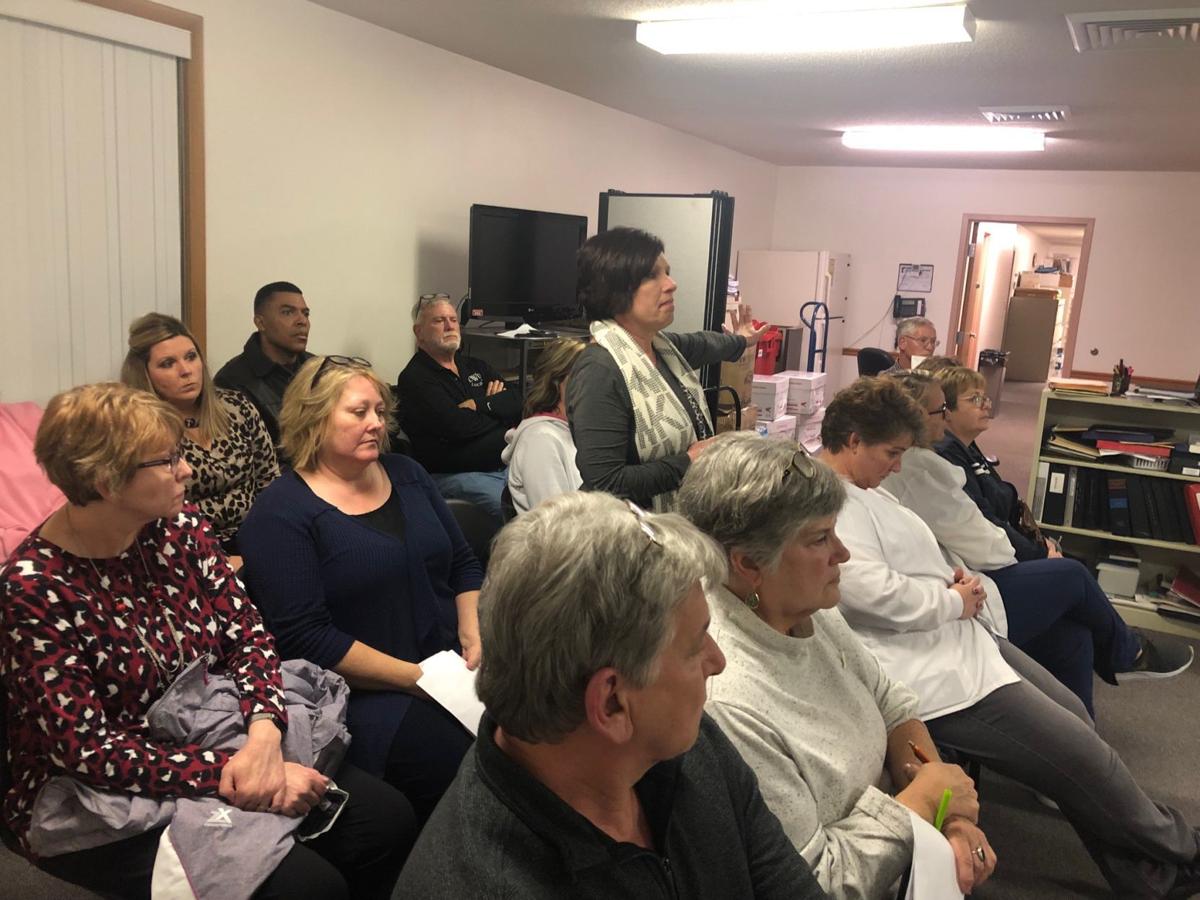 MARION — Several employees of the Franklin-Williamson Bi-county Health Department told its board that they have serious concerns about their work environment.
"We've lost 13 people in about a month and a half; a lot of people have resigned. There have been two or three that have retired. Our Home Health (department) is virtually gone," Karla Burton, a longtime employee and registered nurse, told board members at a special meeting Monday night.
Most of the meeting was held in executive session, for "discussion of personnel, pending/threatening litigation and collective bargaining matters," according to the agenda.
After the board reconvened in public session, employees asked for additional time to discuss their concerns with members. Burton said she felt it was necessary to address  the "elephant in the room."
She and other workers in attendance said that they have only received one raise in six years. They also described low morale and leadership that they feel is not inclusive of everyone.
On Dec. 4, four Home Health employees submitted resignations, Amy Crespi, a secretary in the department, told The Southern; she was among them. The other three resignations came from the department's clinical manager and two registered nurses, she said.
Crespi, who has worked at the health department for 18 years, said that employees and management haven't been in lock-step at all times over the years. "But it's never been this bad, and 13 people have never handed in their resignations at one time, within a month," she said. She blamed the morale deficiency on low pay and employees not feeling heard by superiors.
Crespi and Pam Bennett, a nurse's aide and biller in the Home Health division, said that because so many people have left or announced plans to leave from their division, the health department has had to suspend accepting referrals for new home health clients, and assign existing clients to other area home health agencies. Bennett submitted her resignation prior to the other four, she said. She attributed her decision to "office politics that I didn't like." 
You have free articles remaining.
Administrator Kevin Kaytor, who was hired in 2017 to oversee the bi-county health department, declined comment to the newspaper after Monday night's board meeting. He sent an email to staff on Tuesday stating that the department's Home Health division will remain open. The division is undergoing a restructuring and more information will be provided once that is complete and new referrals and patients can be accepted, the email said, according to an individual who received it.
Brent Gentry, a board member, said that he's fielded calls from people concerned that the Home Health division is shutting down. He's also had people reach out and ask if the health department itself is on the brink of closure. Gentry said that those rumors are false. He called it unfortunate that so many people are leaving at once, but maintained that the department would be able to quickly fill vacancies.
"We have given the OK to hire expeditiously and we'll be up and running as strong as ever," Gentry said. The department has already started advertising for a clinical director and registered nurses. 
The newspaper was unable to verify on deadline the exact number of employees who have left the department, or announced plans to leave. One employee told the board that it was nearly 40% of their overall department staff. Gentry said he wasn't sure how many had submitted resignation letters. But he noted that the total count also includes employees who are retiring, or who have said they are leaving because they've found other work or are returning to school. 
Gentry said the board stands behind Kaytor, the administrator it hired in 2017. "We were financially in rough shape, and he turned the ship around," Gentry said. "He's a numbers guy, and Lord knows that's what we needed at the time."
At Monday night's meeting, some board members asked the employees to provide them more information about their concerns. But they also said they were limited in responding because the employees have a vote pending to unionize. They began the process in the summer, and it's taken several months as there were disagreements between the workers seeking to organize and management about who all would be included in the collective bargaining unit.
The parties have reached a settlement, and eligible employees will be able to vote between Dec. 19 and Jan. 9 on whether they want to unionize with representation from the American Federation of State, County and Municipal Employees.
"Everything you've brought up is about money. We can't talk about those things. Our hands are just sort of tied," Martha Braid, a board member, told the employees who appeared before the board Monday night. To discuss salaries while a union vote is pending could result in an unfair labor practice complaint, the board's attorney explained. But Braid told them that she's interested in seeing improvements to the work culture at the department. 
"I think we are wanting ideas about how to change the culture, because you all are there working every day," she said. "You're responsible for the culture that you create, how you interact with the people that you work with, trying to encourage each other. ... It sounds like a very negative culture that you guys work in."
Rick Hartke, another employee addressing the board, suggested that the department should conduct a market analysis of each specific job class to see what is the average salary throughout the region, and make adjustments as warranted. That could help with recruitment and retention, he said. He also made suggestions for other ways that the department could boost its incoming revenue. "If the military taught me anything, it's that you've got to take care of your people," he said.
618-351-5079
On Twitter: @MollyParkerSI ​