POPE COUNTY — Poncho Randolph was a workhorse of a man. But in 1966, he decided it was time for a little break. The crops were already in the ground at his farm near Dixon Springs. And business at his auto body shop in Metropolis could wait.
He and his wife paid a visit to their neighbors, who were also close friends, to see if they might be due for a getaway as well. Over coffee, they discussed their vacation plans.
"I'm going to shut that body shop down and go to the hills. Y'all want to go?" Randolph asked them.
"Well, probably. How long you gonna be gone?" neighbor Yvonne Crosier responded.
"I'm gonna leave Saturday and come back the following Sunday."
Crosier started adding up the days on her fingers as she mentally committed her family to tag along.
"Well Poncho, we're gonna have us a nine-day trail ride."
Crosier recounted this conversation on Sunday night sitting outside her camper parked atop a hill overlooking the Shawnee National Forest. 
What started as a summertime retreat for two families — four adults and four children — now draws more than 3,000 campers and guests combined, 800 or so horses and countless cowboy hats, boots and belt buckles.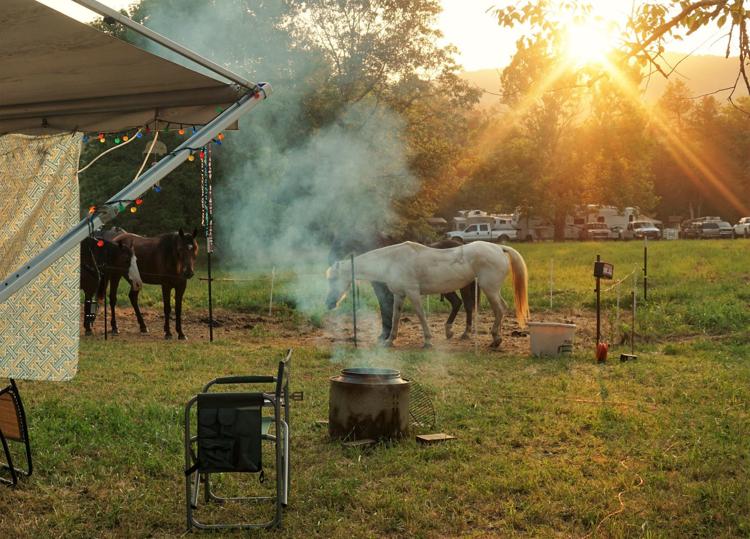 "Little did I know that was going to stick for 53 years," Crosier said of the legendary event in the heart of rural Pope County. This year's event, the 53rd annual, started Saturday and closes Sunday. 
Weeklong events at the campsite include country and gospel concerts, cookouts, organized trail rides, youth horse shows and riding competitions. Last year, the event helped raise $10,000 for St. Jude Children's Research Hospital in Memphis. 
Campers' digs run the gamut — some are in tents and trailers that wouldn't bring $100, others turn heads rolling through the countryside in RVs worth upwards of $150,000.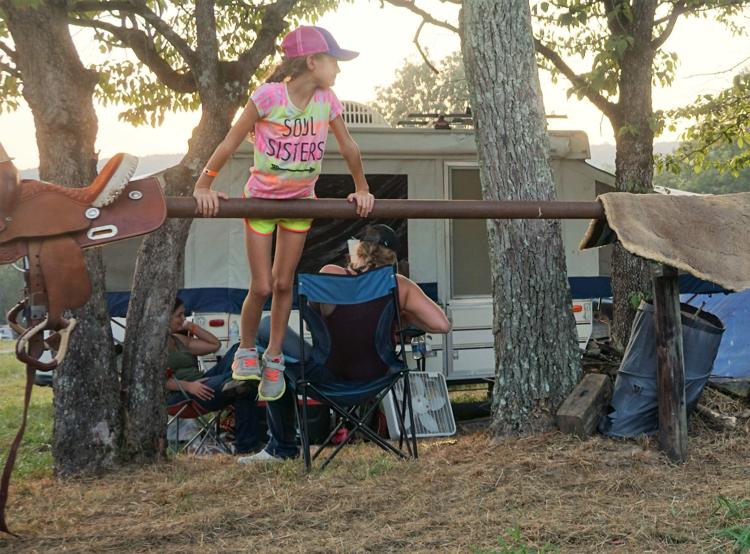 "It's a melting pot," said J.D. Mathis, president of Associated Saddle Clubs of Southern Illinois and chairman of Nine Day Trail Ride. "All different kinds of people come out here. The rich. The poor. The religious. The nonreligious. We try to include everybody.
"Usually, in society, you can't get these people to get along."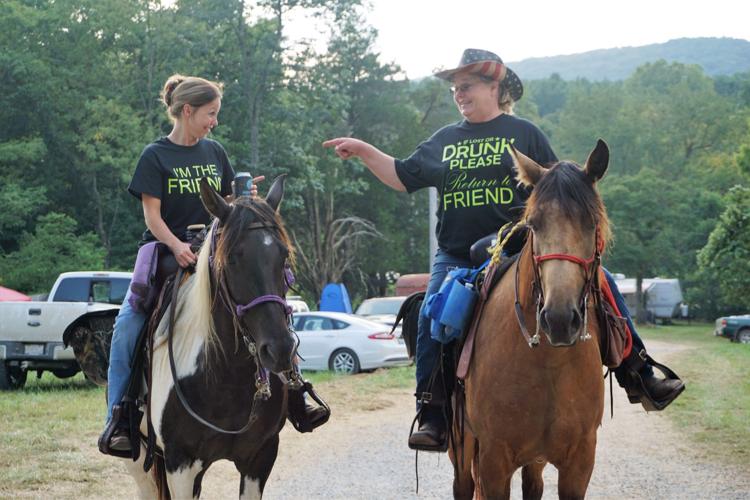 It may help that cellphone service is nearly nonexistent; one might be lucky to get a bar by climbing to the top of the hillside. Participants shut off the outside world to the best of their ability while they are out here, Mathis said. There is minimal talk of politics. The beauty, said Tim Wallace, a Pope County native, is "you can just sit out here and mind your own" while the crickets and katydids sing.
The campsite is located just off a dusty gravel road near One Horse Gap Lake, about halfway between the four-way stop in Golconda and Garden of the Gods in Herod. Most of the year, the 80-acre private campsite is little more than an open field in the middle of nowhere.
"It turns into a city overnight," Mathis said. "We draw more power than Golconda and Rosiclare and E-town all combined."
People are so enthusiastic about the event that they keep coming back year after year. 
For David Meier, of Tunnel Hill, this is his 47th year participating. He spent the earliest years of his youth in Chicago, until his parents relocated to Southern Illinois. "Dad wanted out of the city," he said. "They wanted down in the country."
He likes the fact that young kids can make new friends and run free around the campground without too much worry, like he did when he was young. And nobody goes to bed hungry.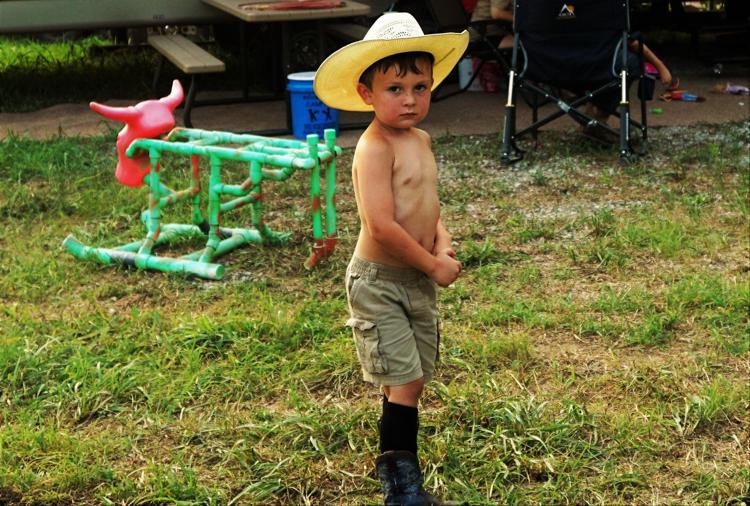 His campsite, like many, includes a full-sized refrigerator plugged in outside. On Sunday, Meier fried fish and fed about two dozen people underneath his wooden gazebo that sits just off his camper. It's decorated with multicolored string lights, a bit of flair that sets it apart from the others. 
While some people come as much to soak in the atmosphere, riding horses is still the main attraction.
It's not nine days on a trail, as the name might suggest to the unfamiliar. Rather, the event offers nine days of camping, with people riding as much as they want from the campsite. But people do ride horses day and night. Horse enthusiasts rank the region's 360 miles worth of trails as among the best in the Midwest.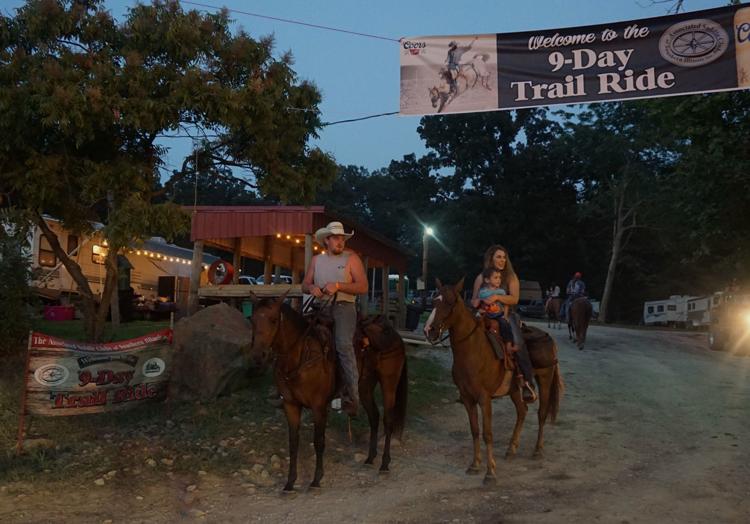 "Someone is on a horse 24/7 out here," Mathis said. 
They ride on the private grounds, as well as in the surrounding Shawnee National Forest. The Nine Day Trail Ride draws people from throughout the region and country, and is one of the biggest events of its kind, said camper Kenneth Wiseman. 
"Did you know there's more equine in the state of Illinois than there is in Kentucky?" added Wiseman, who is also vice president of the Shawnee Trail Conservancy, a nonprofit that partners with the U.S. Forest Service to maintain trails. 
"Kentucky is supposed to be the horse capital of the world. But there are more horses in this state."
At 78, Crosier said the event has changed over the years. As it grew, there were growing pains. But she said she's never missed a single one. Others come close, but she estimates she's the only one who can claim the unofficial title of longest running participant. 
She still rides every day. 
"I just love it," she said.
Nine Day Trail Ride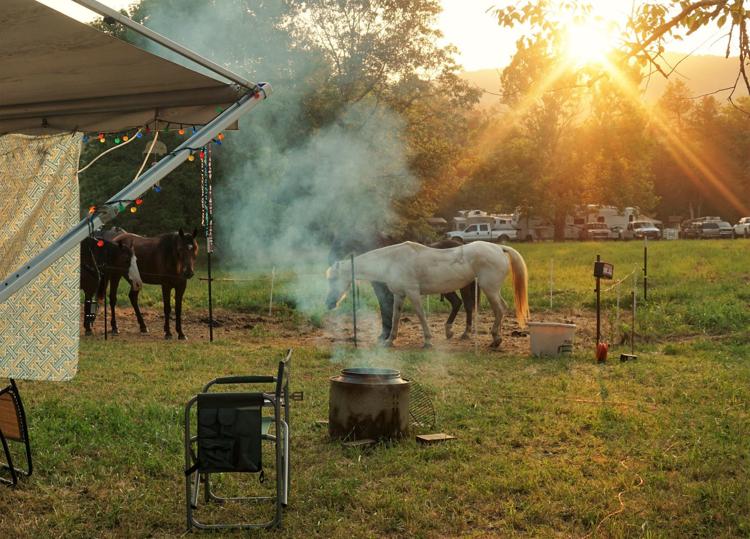 Nine Day Trail Ride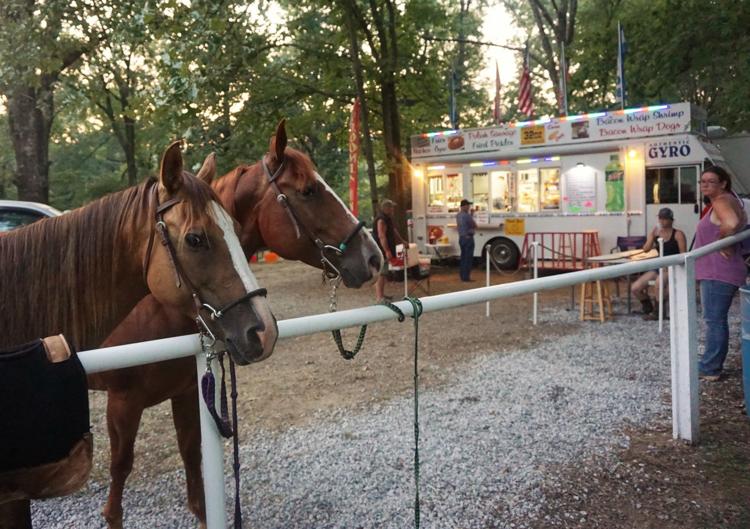 Nine Day Trail Ride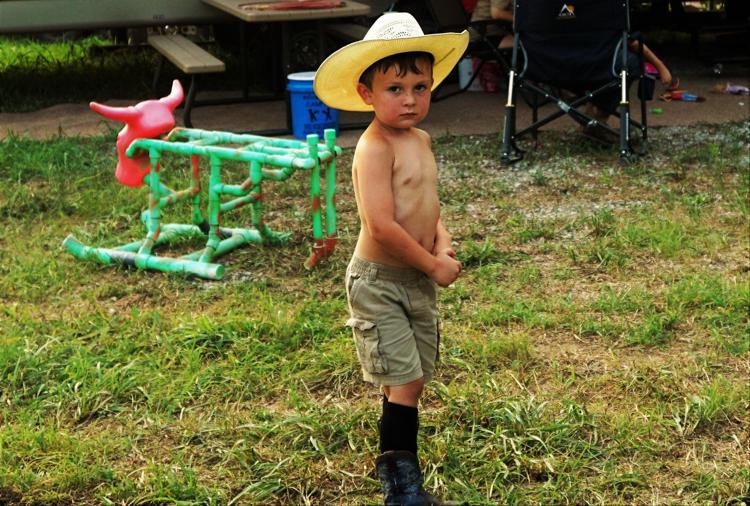 Nine Day Trail Ride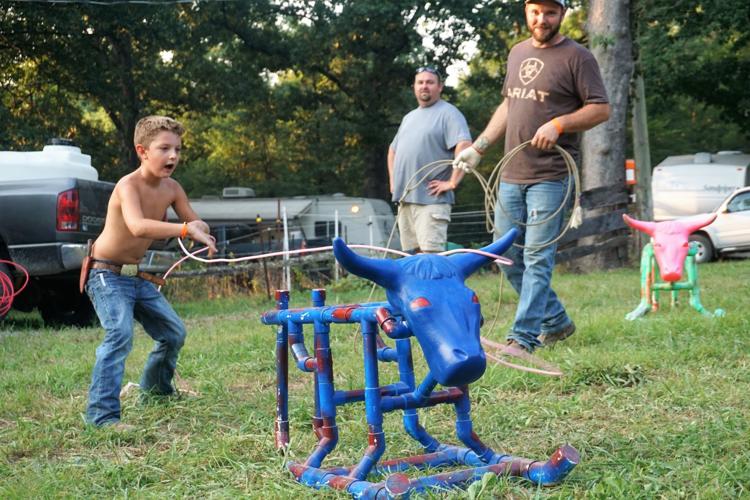 Nine Day Trail Ride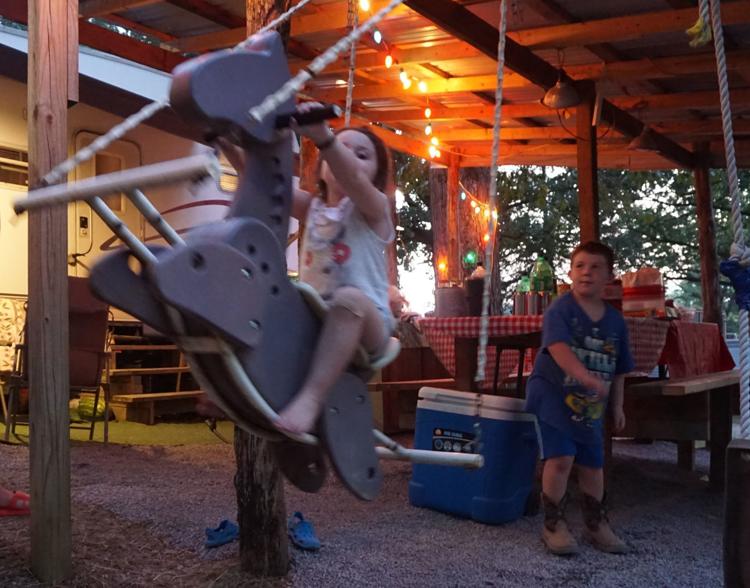 Nine Day Trail Ride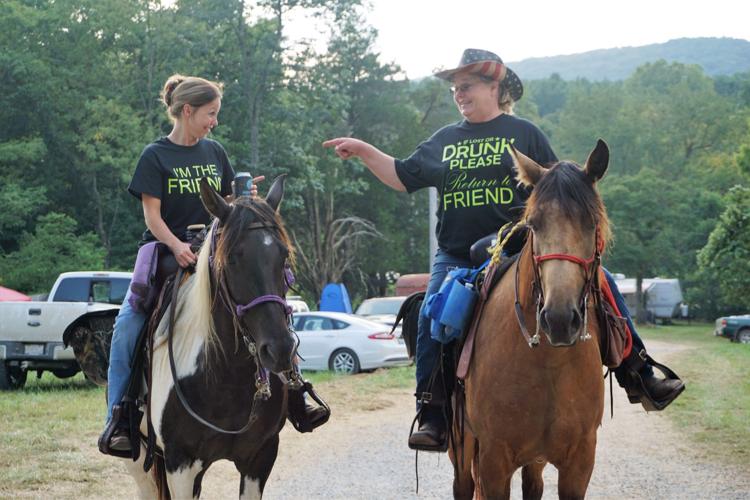 Nine Day Trail Ride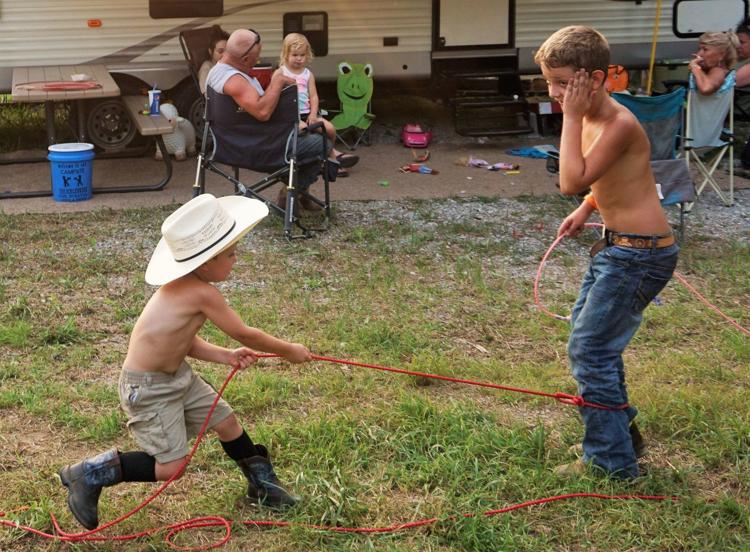 Nine Day Trail Ride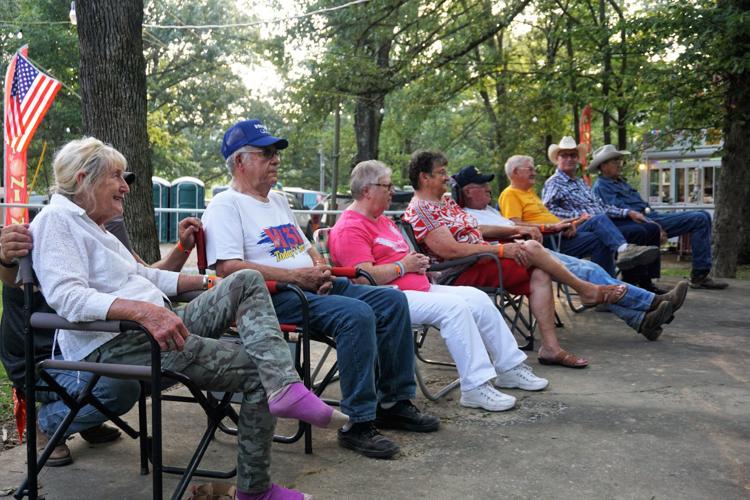 Nine Day Trail Ride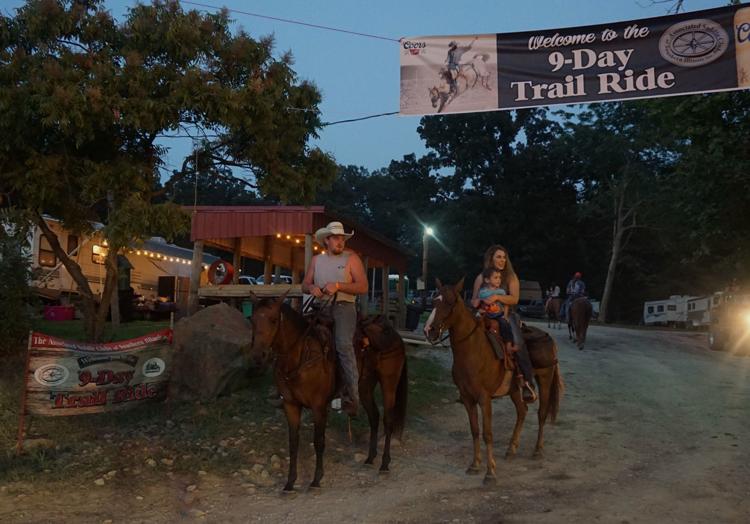 Nine Day Trail Ride
Nine Day Trail Ride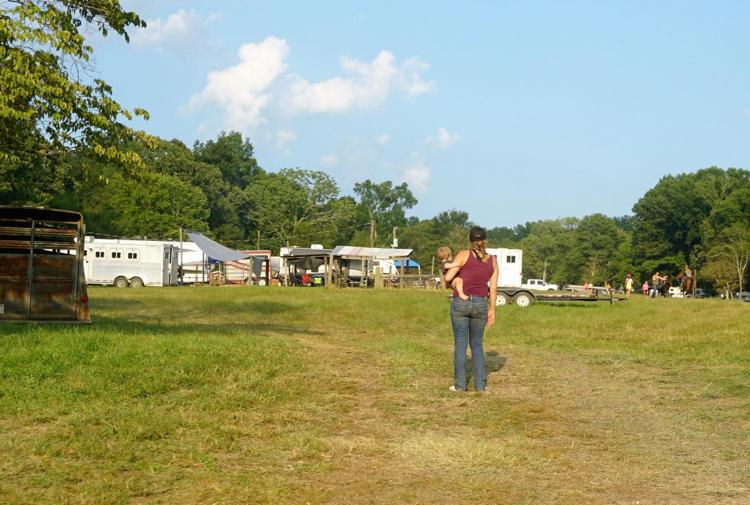 Nine Day Trail Ride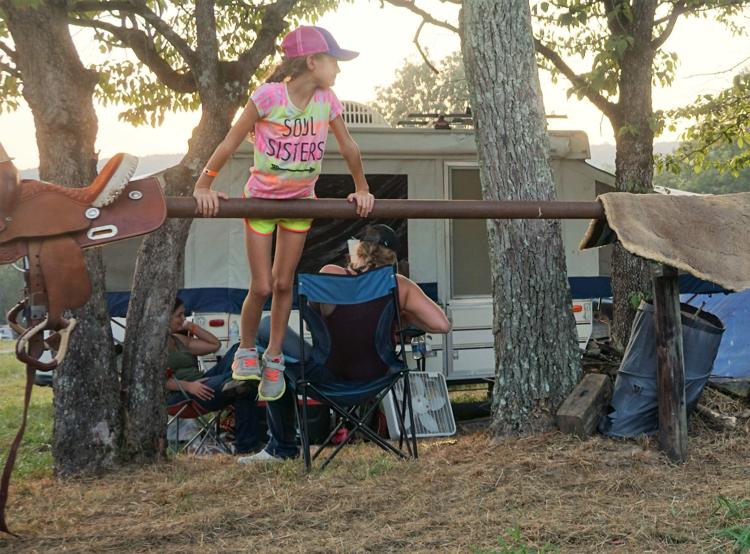 Nine Day Trail Ride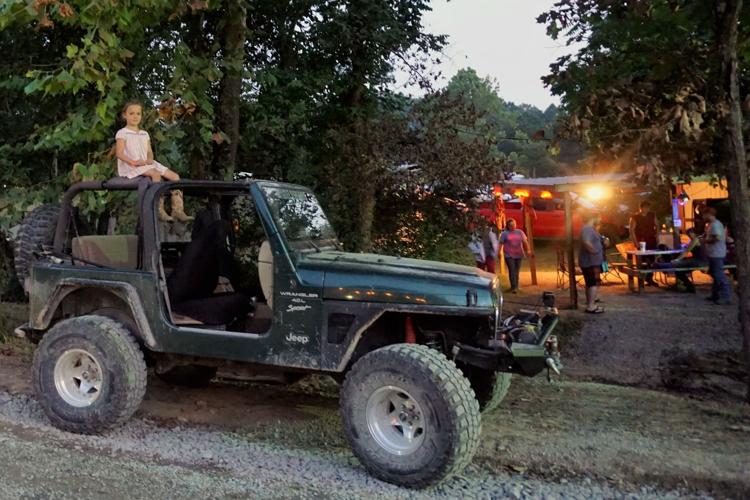 Nine Day Trail Ride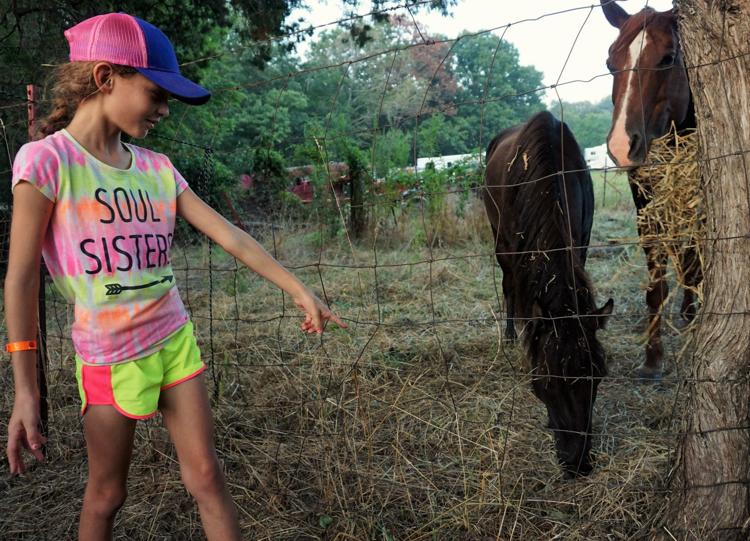 Nine Day Trail Ride
Nine Day Trail Ride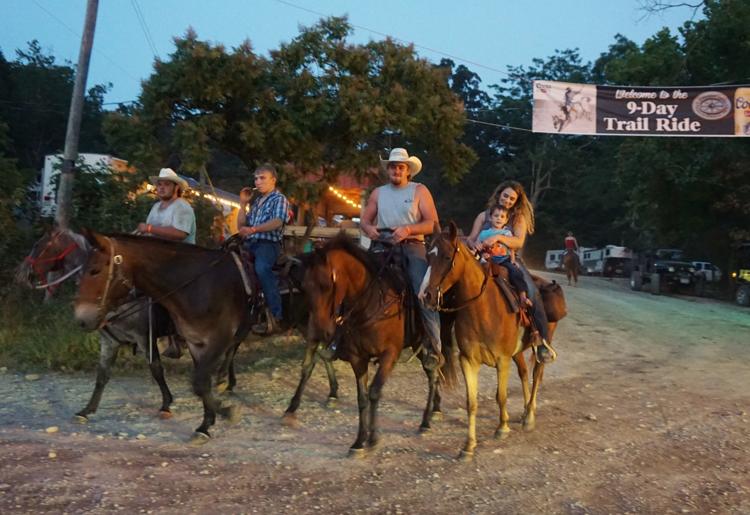 618-351-5079
On Twitter: @MollyParkerSI ​
Get local news delivered to your inbox!
Subscribe to our Daily Headlines newsletter.