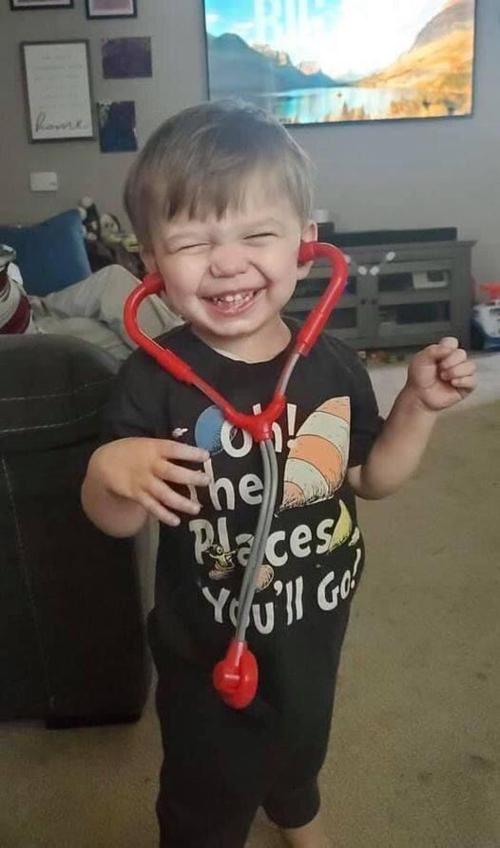 Carbondale 2-year-old Nathan Smith and his mommy and daddy, Karle and Josh, have a request: Please wear your mask.
"Nathan's super fun and spunky, but he also is really sick," Mom Karle Smith said.
Nathan was born at 32 weeks and weighed 3 pounds 12 ounces. Karle Smith said he was "rock star" in the NICU at SIH Memorial Hospital of Carbondale. They had Nathan at home for almost three weeks when they noticed his breathing was "off."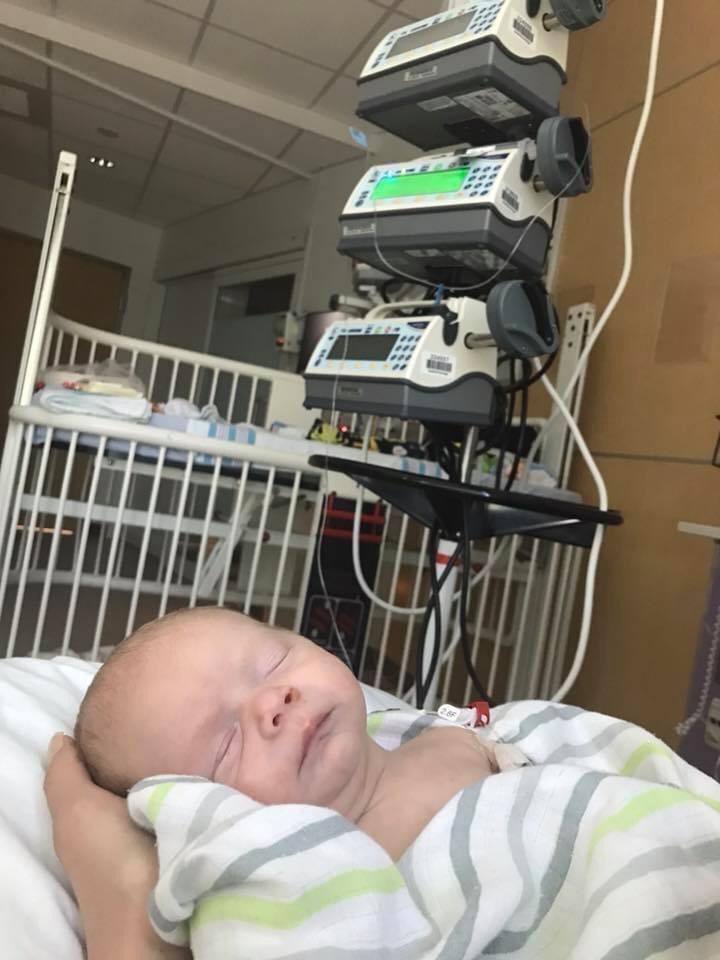 They took him to the emergency room, where he was diagnosed with pneumonia. He was flown to Children's Hospital in St. Louis ahead of a 13-inch snow storm. By the time Karle and Josh arrived in St. Louis, the team at Children's was working toward a diagnosis. They were told he had congenital nephrotic syndrome.
Nathan has congenital nephrotic syndrome of the Finnish type, a kidney disease, and hypogammaglobulinemia, an immune disorder.
His kidney function is normal or near normal as far as the work they do; however, Nathan's kidneys filter out and discard the things that healthy kidneys keep. His kidneys discard things like antibodies and protein.
This requires a daily ritual of infusions of albumen to replenish the beneficial things he lacks in his blood, followed by intravenous Lasix to remove extra fluid that builds up from the infusion. The process takes about two hours and 45 minutes each day.
He also gets IBIG to replenish his immune system every four weeks.
"It's helping," Karle Smith said, adding that it takes many blood donations to keep Nathan alive. "BPL and the American Red Cross are huge when it comes to Nathan's life."
Dr. Kurt Martin, a pediatrician at SIH Center for Medical Arts, said Nathan's condition is incredibly rare. He has not seen another child in his 25-year career with the same diagnosis.
The disease cannot be cured and does not go into remission. When Nathan's kidneys fail — and his parents have been told they will — he will need a kidney transplant. For most children with the disease, transplantation occurs at about age 3. Because Nathan's kidney function is better than most, doctors believe he will need a transplant about the time he goes to school.
If you ran into the Smith family at the grocery store or in a park, Nathan would look like a normal, healthy toddler. But, you won't run into the family with Nathan because Nathan does not leave their home.
Karle and Josh Smith say a run-of-the-mill cold can get Nathan admitted to the hospital. The seasonal flu could kill him. The pandemic has made germs even more of a concern for the family.
"He has a compromised immune system. COVID poses an above average risk," Dr. Martin said.
Karle and Josh have to work to keep their medical insurance. One of their great fears is that one of them will bring COVID-19 home to Nathan. The family knows people think anyone who is immune compromised should stay home, and they are.
"Nathan has never been to Walmart or a grocery store," Josh Smith said.
"We have family members we are close to who have never met Nathan," Karle Smith said.
They say the pandemic rules haven't been a lifestyle change for them. They have been frequently washing their hands and practicing social distancing since 2018. Because of the pandemic, visits from the few people approved to come into their home, including Nathan's cousins and playmates, have been suspended.
"We believe it's better to be safe than sorry. Our family has been really understanding," Karle Smith said.
Now, they are asking everyone else to be understanding, too, and to wear a mask to protect vulnerable babies and children by also helping protect their parents.
"I have to work. If I don't work, my son doesn't have health insurance," Karle Smith said. "It's not political. We're not asking people to wear masks forever, just for now."
"I know it's inconvenient. If we do this one thing, it will save some person's life, and we're not doing it," Josh Smith said.
Dr. Martin said wearing a mask, washing hands frequently, social distancing and other recommendations keep all people at high risk safe, including children and babies with congenital heart disease, autoimmune disorders, diabetes and lung diseases. He also worries about children spreading the virus to adults.
"If your child has symptoms of upper respiratory infection, don't give them Tylenol and send them to school," Martin said.