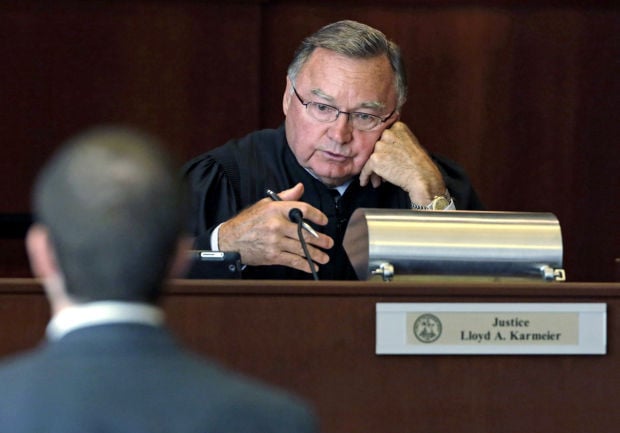 SPRINGFIELD -- After surviving a contentious and expensive race for retention, Illinois Supreme Court Justice Lloyd A. Karmeier will be sworn in for his second term on the high court during a ceremony Monday.
The 74-year-old jurist will take the oath of office for another 10-year term during an 8:30 a.m. ceremony at the Washington County Judicial Center in Nashville. Retired Supreme Court Justice Philip J. Rarick will administer the oath of office.
Karmeier, a Republican, narrowly won his second term representing the court's Fifth District on Nov. 4 after opponents pumped $2 million into an 11th-hour television advertising campaign seeking to topple him.
You have free articles remaining.
Supporters countered the attacks with an estimated $1 million and helped push Karmeier above the 60 percent threshold needed for him to retain his post.
Karmeier represents a district covering the state's 37 southernmost counties.
Karmeier received a bachelor of science degree in 1962 from the University of Illinois. He obtained his juris doctor degree in 1964 from the University of Illinois College of Law.
Karmeier clerked for former Supreme Court Justice Byron O. House from 1964 to 1968, served as Washington County state's attorney from 1968 to 1972 and clerked for former U.S. District Court Judge James L. Foreman from 1972 to 1973.
He was elected Washington County circuit judge in 1986 and was retained by voters in 1992 and 1998. He joined the Supreme Court in 2004.