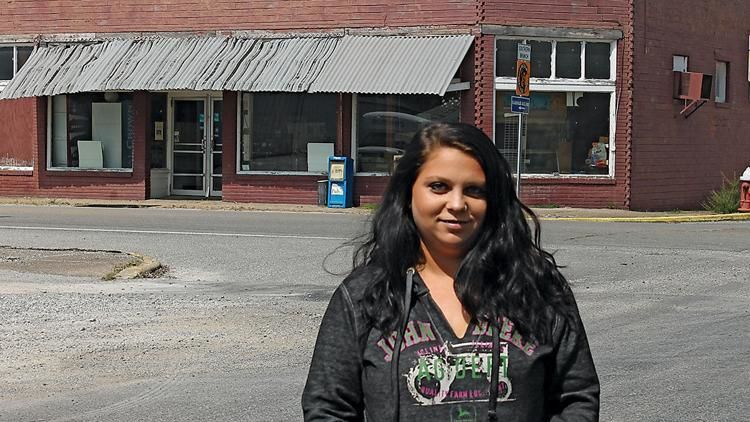 KARNAK — This village of 500 got a double whammy earlier this year, when the community's only grocery store closed along with its only restaurant.
Wilson's Grocery Store and Our Place restaurant — both owned by Channie Anderson and her husband — closed in May. That has left the residents of this town with fewer options for fresh food.
Jessica Sharp has been especially inconvenienced. The young mother of six lives across the street from the building that housed the businesses in this Pulaski County community.
"It's changed a lot," she said while tending to her week-old baby boy, Waylon. "Before, we could go across the street and grab a pound of hamburger. We can't do that now."
One saving grace was the opening less than a year ago of a Dollar General store. It does stock some nonperishable food items along with dairy products such as milk. But it's not the same as having a grocery with fresh produce and meats.
"It's not the same as having an actual grocery store," said Brandie Wynn, as she was entering the store to pick up a few items. "It's nice though, the Dollar General. Karnak's never had anything this nice."
Wynn used to purchase deli meat, hamburger, pork chops and produce from Wilson's. Now she must drive about 20 miles to Metropolis or Vienna for food items.
"I spend a lot more money on gas," she said. "Also, there's all that extra time driving. It's annoying."
The closing of grocery stores in small communities is part of a trend in the highly rural area here, in the southern tip of Illinois. Even a city the size of nearby Cairo, which has a population of more than 2,000, doesn't have a grocery store.
"Cairo is in the same situation as Karnak, as is the village of Grand Chain, in Alexander County," said Tiffany George, executive director of the Southern Five Regional Planning and Development Commission, which serves Illinois' five southernmost counties.
There are other communities in the region that have lost their only grocery in the past decade.
"It's very disheartening to these communities where people can't go somewhere else," she said. "A lot of people who have owned these groceries for years have struggled to compete."
George said that there have been conversations by entities such as USDA's Rural Development Agency about solutions to the problem, especially regarding Cairo, which is one of the poorest rural cities in the state with a poverty rate of nearly 30%. But nothing has been put in place.
One option that has been discussed is a mobile farmers market that would visit small towns weekly. Even if something like that were put into place, fresh food would be available only during the growing season.
Not all hope is lost, however. George pointed out that there have been some instances in the region of groceries changing hands, as a younger generation carries on.
In the past 10 years, the store in Olive Branch has had new ownership, she said.
"The grocery store in Pulaski has new ownership, and recently the one in Dongola changed ownership," she said. "It does seem like there is a trend where people who have run these stores for years are getting into retirement. Some are having younger generations purchase and operate the grocery."
Meanwhile, residents of this community must deal with the loss of their only grocery. James Sharp, who has lived here for 14 years, said Wilson's was more than just a retail establishment; it was a true community institution, serving the poor with dignity.
"There are people here on fixed incomes," he said. "They would let you charge. A lot of people would do that. They'd charge all month, then go in at the end of the month and pay their bill.
There are a lot of people who did that. It was a down-home store. They know everybody and everybody knows them."
Sharp is among those who dearly miss the grocery.
"They had some of the best meat around," he said. "We have to go to Vienna or Metropolis to get meat now. We have the Dollar General. If we didn't have that, there'd be real problems."
---
Everything you need to know about the 2020 General Election in Southern Illinois
Everything you need to know about the 2020 General Election in Southern Illinois
Take a look at a sample ballot for your county, check out our election previews, and more. 
Visit elections.il.gov for information about voter registration, polling places, early voting and more.
Get local news delivered to your inbox!
Subscribe to our Daily Headlines newsletter.