CARBONDALE — Quentin Casler may not be the best at flipping his sign, but that doesn't stop him from breaking out his dance moves, waving a cloth and spreading smiles while encouraging people to stop by and grab some food at the local Little Caesars pizza shop.
"Bread city! Come get your pizza! Come get this bread!" Casler yells out as he dances and salutes a passing car as its driver waves to him. His exuberant demeanor catches the attention of many who honk as they pass by. A man comes up to him and hands Casler a tip and mentions he's doing a great job as a smile beams across his face.
The Carbondale native has turned into a local celebrity after a social media post commending his enthusiasm garnered the attention of the community, with many singing praises for his efforts.
"No matter what mood I'm in, I am always instantly more positive and stoked on life every time I see the Little Caesars hype dude on Oakland giving it his best," Walter Wit, manager of PK's, wrote in part.
He said he regularly sees Casler while waiting in line at the bank across the street and watches cars wave at him and "get lifted up by his positive attitude and spirit," especially now, during the COVID-19 pandemic.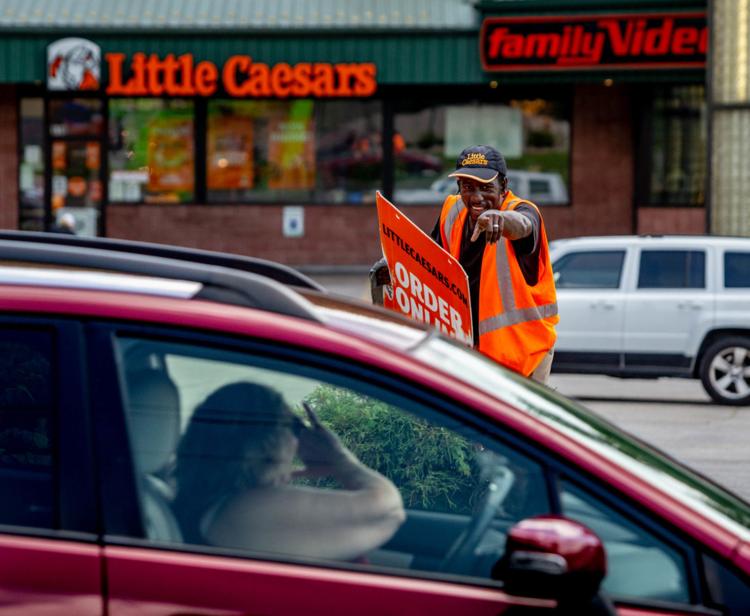 "Everyone's dealing with this pandemic in their own way and to have someone out and about, waving and being so energetic and uplifting, it's made the world of difference every time I've driven by," Wit said. "His spirit seemed unbroken (and is) just stoked to be doing what he's doing."
Casler said he has wanted a job as a sign-shaker for the pizza shop for years and he finally has been able to do it. His passion for customer engagement started during the 2017 Great American Eclipse, when he jumped around in a pancake costume to promote a local breakfast chain.
"Once I got in the suit, people loved it," he said. "That was the first time that passion was sparked in me. I said, wait a minute, I think I got something here."
While widely known as the "Hot and Ready guy with a sign," Casler said he wants people to know he is more than that. He is an avid musician and a man of faith. When he's not working at Little Caesars, he's working on his music with the Christ Like Muzik Group or co-hosting Gospel Open Mic events in town with his wife, Carla.
"I feel like the Lord is using my job so I can draw people to Him through this here," he said. "We wake up every day and do what we do because He gives (us) the strength to do it. That's what gives me (strength) — knowing the bigger picture and not always focusing on the small and complaining."
Thursday marked Casler's last day shaking his sign outside of the Little Caesars in Carbondale. The city notified the store that Casler would not be able to continue his job there due to an ordinance prohibiting commercial signs outside that are "carried, waved or otherwise displayed by persons either on public rights of way or in a manner visible from public rights of way."
Roni LeForge, City of Carbondale spokeswoman, said city leaders did not want to comment in regard to this story.
"We need to keep this positive vibe (in Carbondale) regardless of him working for a Little Caesars," Wit said. "He's uplifiting spirits in this community in a time that desperately needs it and for the (city) to flush that out, in my mind, is just totally whack."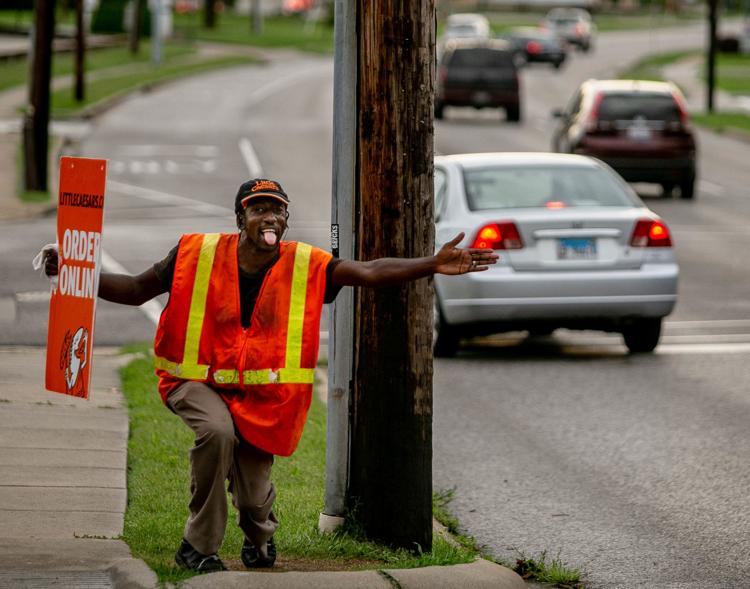 Casler said the team at the Carbondale location has been nothing but supportive during his time at the store. "Every time they see me out here, they tell me I'm doing a good job. They tell me about the comments on what the customers are saying," he said.
"He is our first impression and he is just such a big motivation here," said Kaitlin Pool, Little Caesars Carbondale store manager. "He does a really great job out there. Everybody loves him and he's just a joy to be around."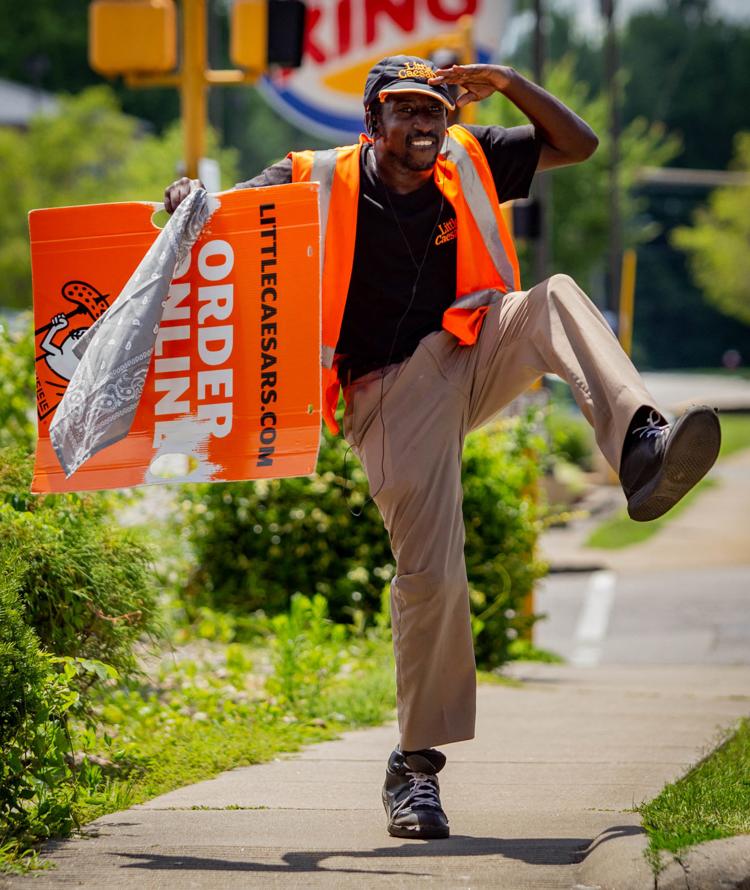 After the notice from the city, Casler is set to be transferred to the Little Caesars location in Marion to continue drumming up business and making people smile. Despite his transfer, Casler said he doesn't want people to stop supporting the pizza shop in his hometown.
"Let the impact on this curb right here be the reason why you smile and go get pizza every time you pass by even if I'm not here," Casler said. "Remember the smiles I brought. Remember the love or the encouragement or the positivity I brought. Let that make you go get pizza from this location where we're from and don't stop because I'm not here."
He said he is able to shine light onto the community because "Jesus Christ opened that door to be here," and no matter where he is working he is "going there to give (God) the glory" and to share "positivity" in the community.
Looking to the future, Casler said he hopes he can continue being "a blessing" to people and bringing joy to their days through his work through his eventual retirement. But he said he's going to take it one step at a time and see where the road leads — this time to the Hub of the Universe.
"I'm going to miss it here, but I guess I did my part," Casler said. "I'm going to make an impact wherever I'm at (and) now I'm going to go make an impact in Marion."
Get local news delivered to your inbox!
Subscribe to our Daily Headlines newsletter.