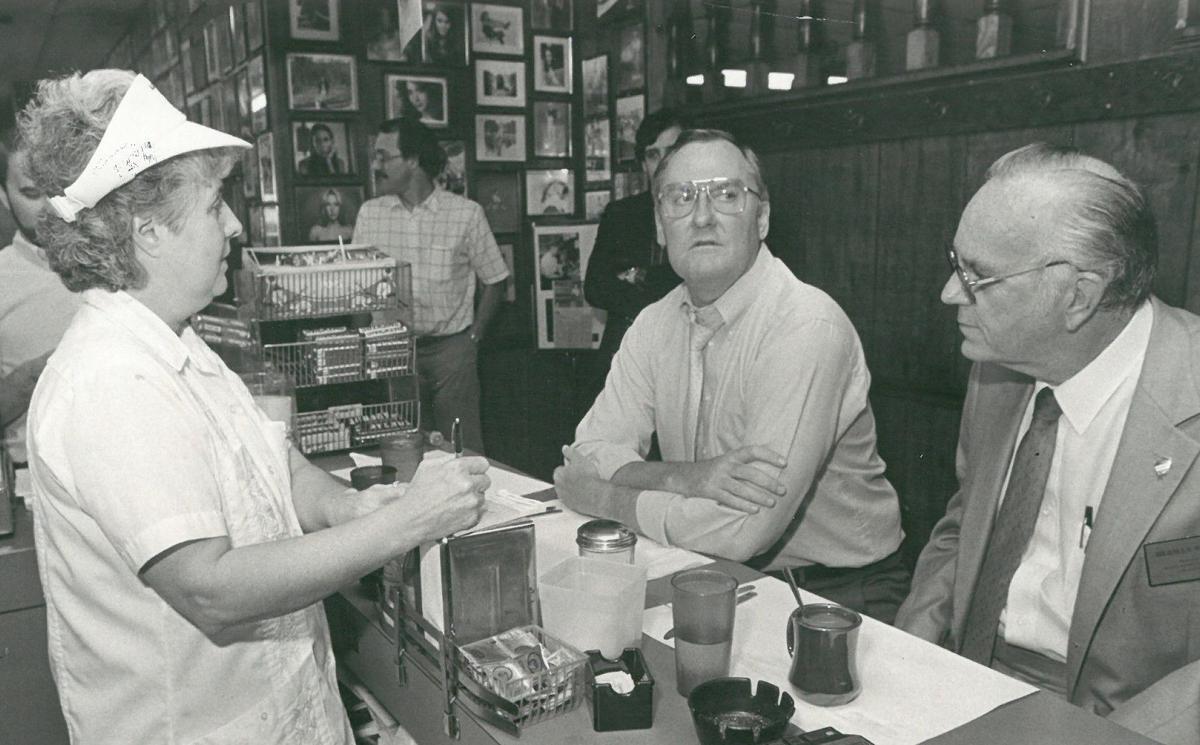 The late Gov. James R. Thompson — "Big Jim," as he was known — left a big impression on Southern Illinois. The Chicago prosecutor turned governor didn't truly discover Southern Illinois until he was running his first gubernatorial campaign.
But once he did, it was hard to keep him away, friends and supporters say.
He loved to come to the area to visit historic sites and go antiquing in Makanda and Alto Pass. Thompson frequently visited Giant City State Park Lodge when he had a hankering for some fried chicken. He was a regular at the annual Du Quoin State Fair, which he is credited with saving.
Phil Gilbert recalled one of the first visits Thompson made to the region when he was running for governor. Former Gov. Richard Ogilvie had called his father, the late attorney and state senator, and said he was sending a young prosecutor from Chicago, who was making a bid for governor, to speak on the Southern Illinois University campus.
Ogilvie asked Gilbert's father to pick Thompson up at Southern Illinois Airport before his event and show him around. Gilbert went with his dad. Breaking the ice upon introduction, Thompson joked that during an earlier speech in Peoria, he'd told the crowd he was proud to be in Southern Illinois. "They said, 'No, no, it's further south.'" Then, when he got to Belleville and tried again, the response was similar: he wasn't there yet.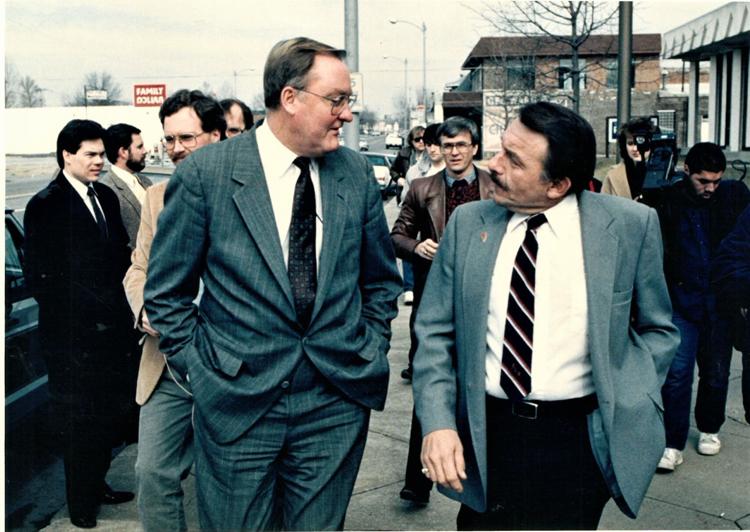 Figuring he was now safely near the southern border, he told the Gilberts in Murphysboro, "I'm glad to finally be in Southern Illinois." Gilbert said his dad looked at Thompson and said, "Jim, you're still at the northern tip of Southern Illinois." He had yet to visit places like Vienna, Cave-In-Rock or Cairo, and wasn't yet acquainted with the area's natural beauty in the Shawnee National Forest or places like Cache River Wetlands in Cypress.
"He never knew those places existed before. And once he found out, you couldn't keep him away from there," Gilbert said. "He really took to the area, probably much more than any governor in my lifetime."
With his passing two weeks ago, people in the region such as Gilbert, now a federal judge and chairman of the SIU Board of Trustees, have been reflecting on the influence that Thompson left specifically on Southern Illinois. They say he did more to build up Southern Illinois during his three terms as governor, which spanned from 1977 to 1991, than perhaps any other governor before or after.
Under Thompson's leadership, the General Assembly and governor dedicated funding to resurface, widen and extend major roadways throughout the region. Thompson's administration oversaw the overhauling of aging start parks and lodges, including Giant City Park, which hadn't seen any major investment since the 1930s. He saved the Du Quoin State Fair from extinction, supported the development of the SIU campus and built a new prison in Johnson County, among other things.
"Thompson gave me 75% of everything I ever asked for for Southern Illinois," said Bob Winchester, of Rosiclare, who was a Republican state representative during Thompson's first term.
One of the things Winchester liked about Thompson was he was willing to strike a deal to get things done — and he didn't leave out downstate legislators in wheeling and dealing, or Democrats. For instance, Winchester said the late Bill Harris, a Democrat representative from Marion, asked the governor for assistance to build a four-lane highway running out of Herrin to Illinois 13 on Illinois 148.
"Thompson gave it to him," he said. "That was the kind of guy he was. Thompson didn't see Republican. He didn't see Democrat. He just saw people that cared about their area and were willing to vote on his bills."
Winchester also recalled a time when Thompson decided he wanted to attract the 1992 World's Fair to Chicago to showcase the city. "Well, downstate legislators, including Democrats, were a little nervous about that, and people thinking we were doing too much for Chicago," Winchester said, putting the sentiment of the day among downstaters lightly.
Winchester said he was telling his wife at the time about the governor's plan, and she suggested he leverage the governor's desire to negotiate a commitment for financial support to help the state's parks and lodges, then desperately in need of renovation.
The thought was all these people flooding into Chicago for the World's Fair would need someplace to stay, and some might be interested in lodging beyond a hotel in the city. Winchester said he told the governor that downstaters might warm to his idea if he agreed to pump some money into what was then the Department of Conservation.
Working with the agency director, a former SIU professor who Winchester suggested for the job, they made a pitch for $400 million. Thompson's budget guy at the time said that was too much, but agreed to $100 million — $20 million over four years. The World's Fair deal eventually fell apart, but state parks across Illinois had never looked better.
"No work had been done to our lodges and our parks since the Civilian Conservation Corp in the 1930s," he said. "We were way behind in terms of having an updated parks and lodges system."
In his own neck of the woods, Winchester scored money to build the Golconda Marina. Giant City State Park Lodge, which had already earned Thompson's affection, also got a huge boost.
Richard Kelley, whose family has operated Giant City State Park Lodge for decades, said he owes much of his success to Thompson. Two weeks ago, Jayne Carr Thompson, Thompson's widow, called their longtime friend, Jane Hayes Rader, of Cobden, to inform her of Thompson's passing. She also asked Rader to personally call Gilbert and Kelley to let them know before the news hit the media. Taking the call early that morning, Kelley said he "truly broke out in tears."
"I couldn't hardly talk to her," he said. "That man has had more influence on my life than anyone except my father."
Thompson fell in love with Giant City by accident, Kelley said. What resulted was a lifelong friendship between the two men.
Kelley said in March of 1983, Thompson was in Marion for an event, and someone suggested he visit the lodge. Kelley and his son had taken over the operation two years prior, and at the time, he said the property was a beat up, embarrassing mess. They did some work to improve it, but without deep pockets, it was still pretty rough around the edges when Thompson and his security detail walked in one afternoon and asked for a stiff drink.
But they didn't seem to mind, as they stayed for several hours. Eventually, Thompson asked if they could have something to eat. He directed them to a large round table in the Shawnee Room, and said the cooks would have a meal right up. Before it was served, he asked Kelley to come sit with him and tell him about the history of the place, which dates to 1939.
"He loved antiques, anything antique," Kelley recalled. "He said, 'Man, we've got to do something about this place.'"
"I said, 'Boy, if you've got any connections, we could sure use some help.' I'd forgotten he was the governor after about two hours or so."
Leaving, Thompson shook his hand and said he'd be back. "I'm thinking to myself, 'I'll never, ever see you again. This is Southern Illinois. He's from Chicago, Springfield — up north. We're not going to see the governor.'"
But Thompson returned for the lodge's famous fried chicken on many occasions over the years. When it came time to renovate the state's parks and lodges, Thompson prioritized Giant City.
"To this day, I am so proud of this lodge," Kelley said. "This is our 40th year running this lodge. And there's not one thing in this lodge that hasn't been fixed. It looks as good now as it ever has ever."
Rader, who was longtime friends with Thompson and his wife, said he was drawn to Southern Illinois in a way few upstate politicians ever have been. "He was happiest when he was just roaming around down here," she said. Often, he would land his helicopter on the Raders farm in Cobden, which created quite a stir with the neighbors.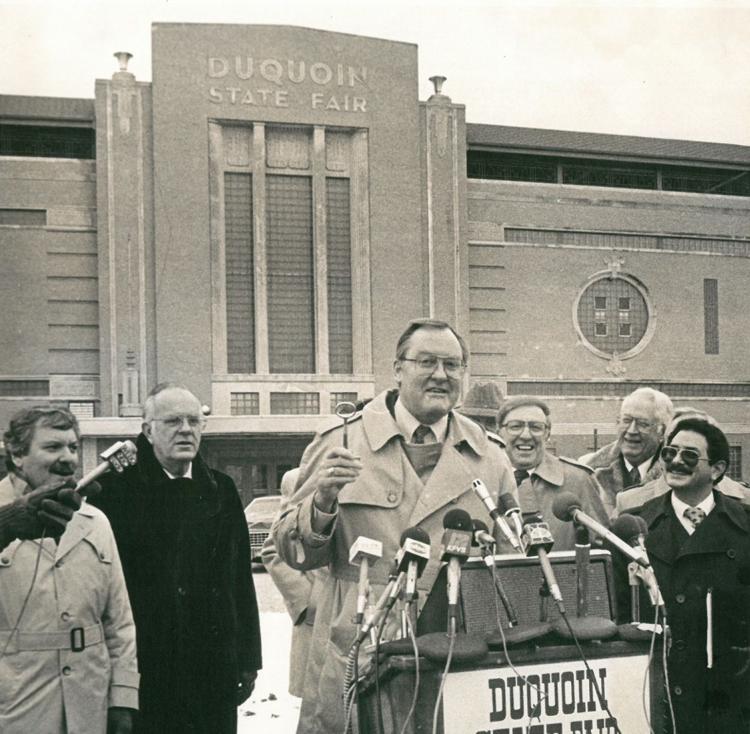 "The thing I'm ultimately most grateful to him for is saving the Du Quoin State Fair," she said. Rader's grandfather, a horse breeder, was among a small group who started the fair in 1923. It was eventually passed down to her father and uncle. Both died young, and her brother took over, but it was not something he had anticipated doing, she said.
Around 1980, the sprawling fair property transitioned to the Jabr family, which were involved in a number of business ventures. The Jabrs were a "forward-thinking and imaginative family," but the fair was dogged by the loss of the Hambletonian harness race in 1980 "and resentment that the fair had been parked in somebody's international portfolio," wrote John Croessman, then the managing editor of the Du Quoin Evening Call, in a 2010 article.
A divorce between Jean and Saad Jabr, which came with a division of assets, created further economic problems for their management of the fair. The Jabrs decided to put it up for sale about five years after taking it over. 
But with mounting debt and a line of vendors itching to get paid, it seemed the state of Illinois could be the only realistic buyer. Thompson was interested, but the Jabrs wanted upwards of $3 million more than he was willing to let the state pay for it.
Negotiations stretched on so long that it wasn't certain whether the fair would go on that year in 1985. Eventually, Jean Jabr asked Gilbert and his father, both attorneys, to step in and help. Two days before the start of the fair, the Gilberts met with senior members of the governor's team at the Jabrs' estate in Carbondale, according to Croessman's report, which relied on a historical recounting of events from Gilbert. 
Negotiations stretched into the evening, but had collapsed. The governor's chief of staff decided he would give up and return to Springfield. Before leaving, he phoned the governor who told him, "Don't come back to Springfield without an agreement." The next day, over breakfast, they finally worked it out.
The state has operated the Du Quoin State Fair uninterrupted for most of 35 years -- the exception is this year when it was closed because of the COVID-19 pandemic.
"If it wasn't for Governor Thompson, there wouldn't be a Du Quoin State Fair today," Gilbert said. Rader said Thompson was unwavering in his commitment to pull of the deal because he loved Southern Illinois and knew how important the tradition of the fair was to the region's people and its economy. Though losing the Hambletonian stung, Rader said she was grateful that Thompson helped to find the funds to bring the World Trotting Derby to town, which also enjoyed a successful run.  
Thompson died on Aug. 14 at the age of 84. He was Illinois' longest-serving governor. Kelley said the help and concern he extended rural Southern Illinois is among his great legacies. He didn't have to do it, Kelley said, as Southern Illinois wasn't critical to his campaigns. But he genuinely liked the people he met in these parts. "He was one of the most friendly, down to Earth people I have ever met in my entire 85 years of living," he said. 
Editor's note: This story has been corrected. The original version misspelled Jayne Hayes Rader's last name. 
618-351-5079
On Twitter: @MollyParkerSI ​
Get local news delivered to your inbox!
Subscribe to our Daily Headlines newsletter.