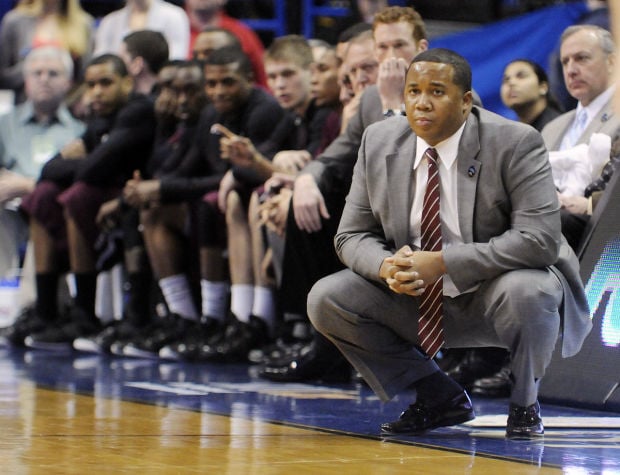 CARBONDALE — Former SIU men's basketball coach Chris Lowery is seeking millions from the university. He alleges breach of contract and defamation, according to arbitration documents.
SIU fired Lowery after the 2011-12 season.
Lowery, currently the associate head coach at Kansas State, signed a seven-year, $5.25 million contract extension after the 2006-07 season at SIU. It was the richest contract in school history, with a base salary of $750,000 per year plus annual university or cost of living increases.
Lowery was let go with two years still left on the deal when the Salukis finished a school record-worst 8-23.
It was SIU's fourth straight season without a postseason game of any kind, despite there being more post-season tournaments than ever. It was also his fourth straight non-winning season.
Lowery was paid a lump sum of $164,240.72 for his unused vacation and sick time in April last year, according to a final pay slip obtained through a Freedom of Information Act request.
He is seeking between $1.5 and $5 million from the university and argues breach of contract and defamation, according to a form seeking an arbitration hearing dated June 19, 2012. He seeks attorney fees, arbitration costs and punitive damages.
A hearing on the filing was to take place 300 days from June 19, but it was not clear if the hearing took place or it was rescheduled,
Lowery was owed more than $1.5 million for the final two years of his contract. SIU athletic director Mario Moccia said shortly after the 2011-12 basketball season that Lowery was fired "with cause." Moccia declined to go into that cause, citing possible litigation.
Reached Friday, the athletic director said he could not go into further details for the same reason.
Lowery's attorney on the request, Daniel Bell of Jackson Lewis LLP in Cleveland, did not return messages seeking comment.
SIU's attorney in the matter, Thomas H. Wilson of HeplerBroom LLC in Springfield, also did not respond to interview requests.
Lowery, the youngest coach in the nation to get his team into the NCAA tournament between 2005-2007, left SIU with the distinction of owning the best record in Saluki history and the worst.
SIU's 2007 squad reached the Sweet 16, achieved the highest national ranking in school history (11th) in the coaches' poll, and set the school record for wins with a 29-7 record.
Lowery was criticized for players transferring, a poor team academic record and the lack of success in his last five seasons at SIU.
More than a dozen players transferred from SIU between 2007-2012, leaving only a lone, fourth-year senior this past season, point guard Kendal Brown-Surles.
Two players were academically ineligible for the 2011-12 fall semester, and the men's basketball team's most recent Academic Progress Rate score (908 in 2010-11) was only eight points from bringing disciplinary action from the NCAA.
On Twitter: @Todd_Hefferman