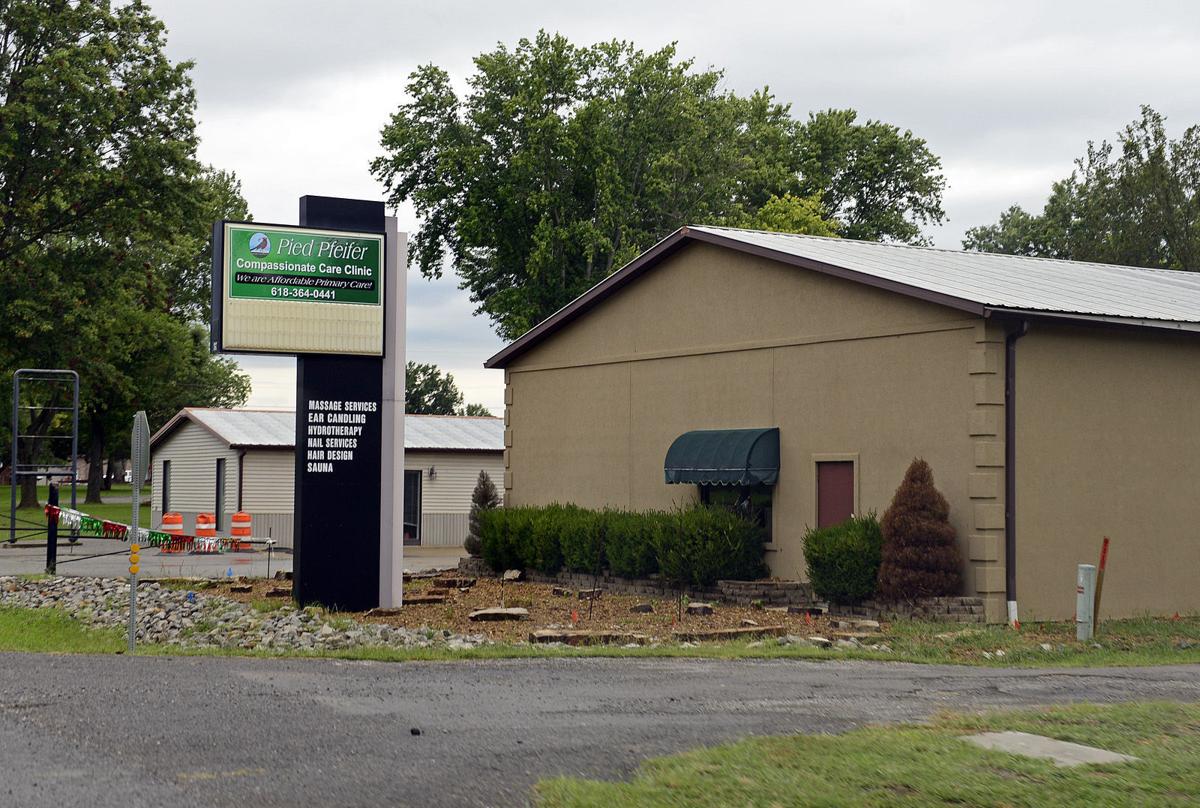 The medical marijuana industry has taken root in Southern Illinois in many ways, but people attempting to register for the state's pilot program are facing a major roadblock: it's very difficult to find a doctor in this area who will sign the physician certification form required by the state.
At least three of the region's largest medical groups – SIU, Southern Illinois Healthcare, and Heartland Regional Medical Center – say they do not allow their physicians to participate in the process on behalf of patients.
It's been two years this month since former Gov. Pat Quinn signed into law The Compassionate Use of Medical Cannabis Pilot Program Act that makes Illinois one of 23 states and the District of Columbia that have medical marijuana programs in place.
People seeking the registry identification card to access medical marijuana at a dispensary are required to submit $100 to the Illinois Department of Public Health along with their application. The paperwork must include a physician certification that the patient has a qualifying condition for the program, and signed consent to submit to a fingerprint background check. People with drug felony convictions are not eligible.
Cultivation centers, dispensaries under construction
Despite the pushback from the traditional medical community regarding medical use of the marijuana – a plant with a long, controversial history in the United States – plans are well under way to grow and sell pot for medical purposes in the region.
Companies are moving forward in Jackson and Union counties with completion of marijuana cultivation centers where officials at both centers say they will soon grow pot, and dispensaries for patients registered with the state to access the marijuana are under construction or blueprinted in Marion and Anna.
But some area patients said they have had to jump through more hoops than they expected to register for the program because their traditional family physicians have been ordered not to participate by their employers.
The hesitation, hospital representatives say, is that marijuana, including for medical purposes, remains illegal at the federal level, and legal protection against physicians and their employers who participate is uncertain.
Hospitals say legal environment uncertain
Southern Illinois Healthcare, or SIH, communications coordinator Rosslind Rice said in an emailed statement that SIH Medical Group physicians "do not provide prescriptions for medical cannabis" given that "medical cannabis is not legal according to federal law." SIH operates hospitals in Carbondale, Herrin and Murphysboro, as well as the SIH Cancer Institute in Carterville, among other regional clinics.
The medical groups all cited legal uncertainty and vulnerability, though there has been little federal pushback on state programs. President Barack Obama's administration, as a matter of policy, has chosen not to allow federal agents to raid retail operations in states where medical marijuana is legal. In December 2014, Congress passed a similar policy as medical marijuana advocates called for a federal policy regarding states' patchwork medical marijuana laws that would outlive a particular president.
The U.S. House and Senate this summer agreed to extend similar language set to expire in September, though the While House has reportedly threatened to veto the spending bill amendment that includes the policy extension over an unrelated issue.
Illinois's law provides that a physician cannot be subject to arrest, prosecution or punitive action by the Medical Disciplinary Board solely for certifying a patient for the program, or providing a medical opinion, that a patient is likely to receive therapeutic or palliative benefit from medical cannabis to treat or alleviate a condition or symptoms. The law says physicians only can be disciplined if they issue certifications for a patient not under their care for said illness, or for not properly evaluating and treating the patient's condition.
SIU, Heartland Regional weigh in
SIU spokeswoman Rae Goldsmith said neither the SIU Board of Trustees, which oversees the School of Medicine, nor the school's administration have issued formal policy statements on certifying patients to access medical marijuana. But SIU doctors are not allowed to sign off on medical marijuana certifications at this time.
"The School of Medicine has internally discussed concerns related to lack of legal protection given the federal status of non-synthetic medical marijuana and lack of state legislative policy or protocol for prescribing it," Goldsmith said in a statement provided to the newspaper.
She concluded: "At this point, there are no plans for developing a policy given the uncertain legal environment."
SIU, through the SIU School of Medicine, operates the SIU Family Medical Center-Carbondale, and a rural health clinic in West Frankfort, in addition to adolescent clinic centers.
Heartland Regional Medical Center, in Marion, also does not allow its physicians to provide certification for medical cannabis, and does not plan to into the foreseeable future.
Heartland spokesman Herby Voss noted in an email that while Illinois has one of the most stringent set of rules governing the implementation of medical cannabis in the country, marijuana, including for medical purposes, is still illegal at the federal level.
"Given that, along with the looming uncertainty of possible legislative intervention at the state level, we do not anticipate any changes in our position in the foreseeable future," Voss said.
A patient seeking certification also told the newspaper that she had been turned away by a doctor at the Christopher Rural Health Planning Corp, which has clinics in Christopher, Du Quoin, Herrin, Sesser, Mount Vernon, Johnston City and elsewhere, but attempts to reach administrators were unsuccessful.
Long waits at willing Marion clinic
Because most major providers are not allowed to sign the certifications, that has led a lot of people seeking to register in the state program to a Marion clinic that will. That place is Pied Pfeifer Compassionate Care Clinic, at 8386 Old Route 13, in Marion. According to the clinic's Facebook page, Pied Pfeifer Marion is a primary care doctor's office that is "sympathetic toward medical cannabis" and has a "strong belief in the power of natural healing."
But getting in and through the process isn't easy, patients say.
"Rhea," a Du Quoin woman in her 70s who says she has suffered from rheumatoid arthritis for about 20 years, said she first asked her family doctor at the SIU's Family Medicine Clinic in Carbondale to sign the certification. Rhea is the woman's middle name. She asked that her first and last name be withheld because of the stigma associated with marijuana. Rhea said she has tried a number of prescription drugs to relieve the debilitating aching in her joints.
When he declined, Rhea said she checked with SIH, and also was told no, before hearing by word-of-mouth about Pied Pfeifer. Rhea said she was seen by Dr. Bodo Schneider, who travels between the office in Marion and one in Orland Park in northern Illinois by the same name. She said her first appointment was July 31, and she waited more than four hours from the time of her scheduled appointment to see the doctor, she said.
The waiting room was packed with people from all over the region, some who drove for several hours to see him, she said. And she'll have to return several more times before he signs the certification, she said. That's because Illinois law requires physicians signing the certifications to have a bona fide relationship in treating the patient for their debilitating illness that qualifies him or her for participation in the medical cannabis program. Rhea said she was told the doctor likely would sign her certification by early November, on perhaps a third visit, after at least 90 days had passed since her initial visit. Neither insurance nor Medicare covers the visits; she pays out-of-pocket.
Seeking a less painful pain remedy
Rhea said she wants to explore use of medical marijuana because other medications she has taken have made her feel bad, mentally. On one occasion, Rhea said she confused her methotrexate prescription for aspirin and accidentally overdosed, causing her to become very sick. After that, Rhea said she was determined to seek more natural remedies.
She changed her diet. She exercised when she could. But the arthritic flare ups still come on fast and painful, she said. By early afternoon, she said, several times a week, sharp pain moves into her hands, wrists, shoulders and jaw joint. It's the type of pain, she said, that makes it difficult to even make dinner, or transfer the clothes out of the dryer onto the bed for folding. Rhea said she has been diagnosed with an aggressive form of the disease.
Rhea said what people misunderstand about medical marijuana is that many forms of it do not produce a high, and it is not always smoked. For example, Rhea said she would like to try an oil derived from cannabidiol, or CBD, an extract from the plant that does not produce a high but that has shown in some studies to have medical qualities. It is the tetrahydrocannabinol, or THC, the principal component of most marijuana plants, that produces a high. THC also has medical uses, such as reducing nausea in cancer patients or increasing hunger in AIDS patients, but Rhea said she's not interested in any drug that will alter her mental state.
"I feel like, from the neck up, I'm pretty good, and from the neck down, I'm a train wreck. I don't want anything that will interfere with my clear thinking or mental abilities," she said.
Several attempts by the newspaper to reach Pied Pfeifer's Marion clinic were unsuccessful. A representative of the Orland Park office indicated she would return a call with information about the process for patients in Southern Illinois, but had not as of press time. No one answered the phone in Marion during the past two days.
Carla Allen, of Carterville, another woman seeking medical marijuana registration, and a Pied Pfeifer clinic patient, said the process has been difficult and lengthy, and might in the end prove too expensive for her to pursue after she jumps through all the necessary hoops. Allen said she suffers from fibromyalgia and spinal issues, and wants to try another remedy since traditional prescription medication is making it hard to function.
"There's not a lot of information available or people down here to help you figure it out," she said of the program.
618-351-5079
On Twitter: @MollyParkerSI ​