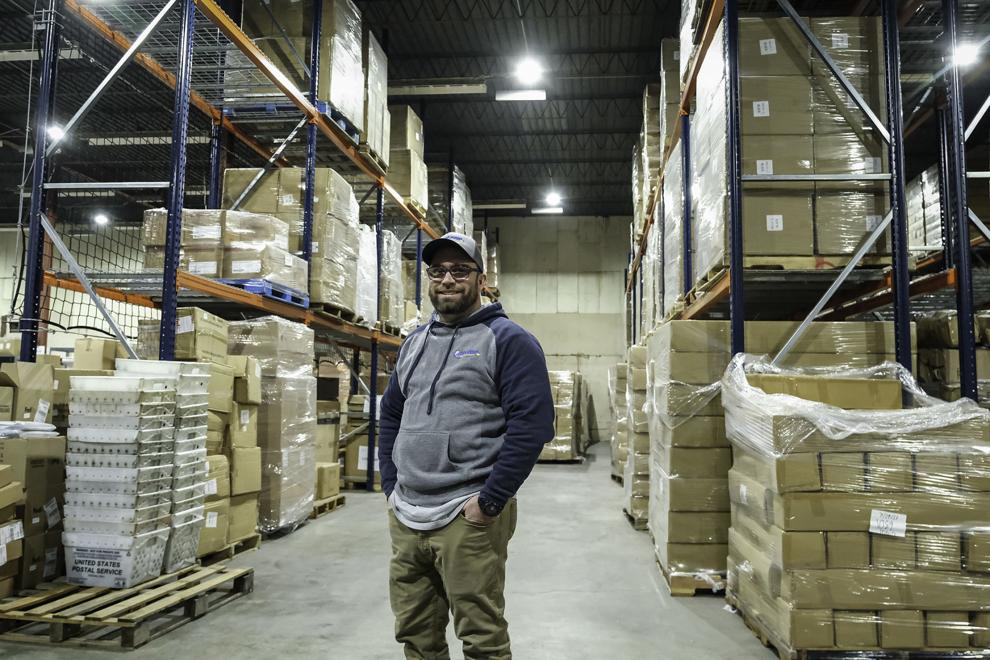 When Josh Walker talks about pleasing his customers, he really means pleasing those customers' own customers. That is how his Marion company is successful.
After all, if Walker's business — Pro Prep and Fulfillment — does not properly and quickly process and ship orders to retail locations and consumers, his customers – the companies offering the items for sale – do not succeed either.
"We do not own any of the inventory that we process," Walker, Pro Prep and Fulfillment's president, explained. "We service customers that have online businesses."
In essence, the company serves two types of business: those that want to place items on Amazon by correctly preparing those items for Amazon's warehouses and those that sell directly to consumers from their own business' websites. 
The 10-employee company works with both individual online retailers – imagine boutique retailers with a website – as well as larger companies with items for sale on Amazon as a third party. Before those items can be distributed by the online retailer, they have to be bagged and labeled according to Amazon's requirements.
"We have customers from all over the world," Walker outlined. "A majority of our customers are international sellers so they can't physically have those goods sent to their location and then sell within the U.S. market. They need a company like ours to physically take those goods, warehouse them and do the direct-to-consumer fulfillment for them.
 "Here's how I explain it," Walker said. "If I am a small business owner, selling items out of my home, do I want that product coming into my house or garage? or (do I) go rent a location for it? Or do I want to outsource to a company like us, where they never see the product outside of some samples? It just makes things easier for them."
Inside the 25,000 square-foot warehouse, racks and shelves are packed with everything from Blu-ray discs and battery-powered heating blankets to hammocks and clothing. In all, there are hundreds of thousands of items. Walker said he wants more.
"We want to continue to capture branded companies," he said. "Preferably companies that high-volume customer fulfillment needs or those that need some sort of bundling or kitting."
He explained that kitting is the process of taking multiple components (or stock keeping units) and combining them into a final product that is sent to the customer.
"For instance, with the battery powered blankets, there are many components to that – the blanket, the battery pack, the accessory packs, the bags, the carrying bag and all of the other things that go into the box. We bring all of those together."
For the process, Pro Prep and Fulfillment team members become a sort of human assembly line.
"All the way down to the end of the line where the final person is sealing things, putting the company's branding on the box and adding their SKUs and palletizing all of the boxes," Walker said.
He said prior to the COVID-19 pandemic, most of the company's work was with sellers on Amazon. After a brief stoppage when Amazon focused on healthcare and essential items, things began to take off again, especially in the direct-to-consumer part of the business. Today, fulfillment for direct-to-consumer sellers makes up about 70% of the business.
"We went from doing a handful of consumer orders per day to sometimes as many as 1,000 per day," he added.
The process is invisible to customers, placing orders for products at home. As they make an online purchase, a copy of the sale immediately goes to Pro Prep and Fulfillment for packing and shipping. Other than this automatic queueing of orders, the rest of the process is done manually.
"As we continue to grow, the next stage will be to automate some of those processes," Walker said.
Most of that growth will continue to come from word-of-mouth, as it has since the company began. The speed of getting products to buyers is important, too, he said.
"Our location actually helps us with that," he explained. "Most prep centers are in the coastal regions, but our central location makes lead time to us and to the end customer shorter and typically cheaper. Our location is a huge advantage and it shows in our customer's reviews."
December Business Spotlights
Colorado couple's local disc golf business began with a 'Spider house' in Benton, Illinois
Here's the scenario: two people from Colorado – one with a detail-oriented personality, the other with passion for a growing sport – were looking to relocate somewhere with a historic home in need of renovation. 
They find the perfect place in Southern Illinois, and combine their move and interests into an opportunity to launch a unique new business.
This is the story of Matt Locke, a manager for a software company, who realized during the COVID-19 pandemic that he could work from anywhere. Willing to take advantage of the opportunity and sharing a desire with his domestic partner Katie Lee to find a home with "old character," he began looking to relocate.
Working state by state eastward from Colorado, the couple searched for homes online. One, in Benton, captured their imagination.
"When we hit Illinois, we found this crazy house and on picture 23 or 26, there was a gold spider on the ceiling of one of the rooms and it turned out that in every window in that room there was an ornate spider web," he explained. "We called it the spider house."
Turns out the couple had discovered a 6,000-square foot, three-story home on Benton's McLeansboro Street built in 1910 by prominent banker, entrepreneur and farmer Robert Ward. Formerly home to a stained glass business, the house had the character the couple was looking for.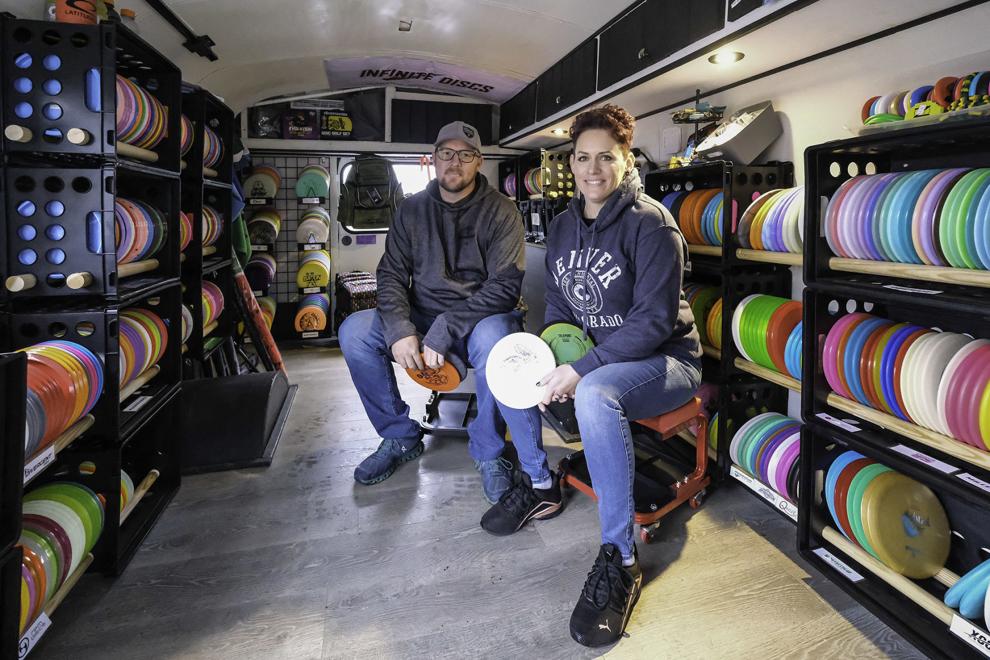 Their new home had plenty of acreage, too, perfect for Locke to practice his disc golf shots. He is an enthusiast for the sport where players throw flying discs at targets. The game is played much like traditional golf, with the number of throws required from tee to target counted for scores. Like golf, low scores are preferable.
Considering the growing popularity of disc golf in the region, Locke's interest in the sport, Lee's desire for a new challenge and, thanks to a converted school bus – also with "character," a new business was born.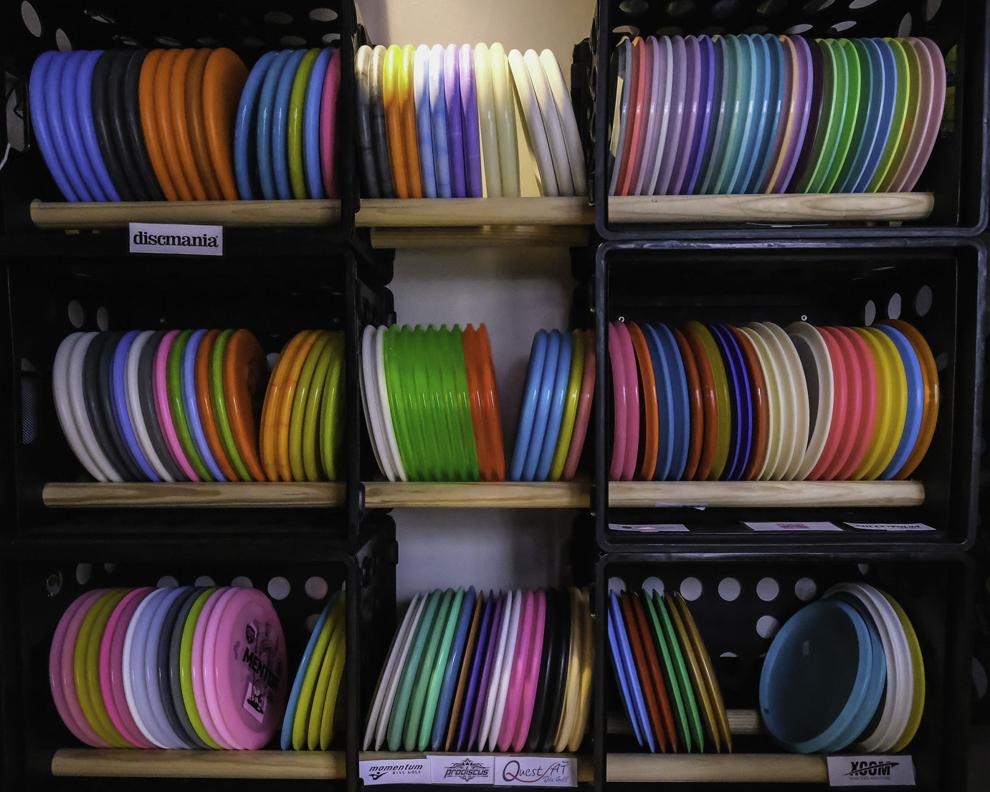 "We discovered a lot of people in the area already played disc golf, but there was not a lot of places to get discs," explained Locke. "There are so many different plastics, so many different brands and molds. You can't get a feel of how a disc is going to feel online; there's just no way, but touching discs before you buy them is imperative."
To help disc golfers and grow the sport, the pair, using their new home as inspiration for a name and the converted small school bus as a mobile retail unit, launched Spider House Disc Golf earlier in the year.
While the company offers discs and accessories online, a main focus of the business is setting up shop at tournaments and disc golf events around the region.
"Matt brought a lot of the passion for the sport and I brought passion for small business," Lee explained. "We both wanted to start a small business and I just didn't know what it was. Disc golf is perfect for us. With the bus, our overhead is small."
"Katie grabbed the rings of the business and did a great job," he added. "She has set up all of the relationships with companies, got our store up and running and it's been perfect. We drive around to tournaments and set up and people love it."
Disc golfers can play an entire course with just a single disc, but like traditional golfers, many use specialized equipment depending on the course and required shot. Special "driver" discs, mid-distance discs and "putters" are all available.
With disc golf courses in Anna, Carbondale, Carterville, Cobden, Goreville, Marion and other area communities, Locke said the sport is taking off in Southern Illinois.
"I think we have a subtle glow right now, but it is about to ignite," he said. "We're averaging about 1,400 new courses nationally each year. It's growing insanely rapidly in Southern Illinois."
He said it is a great game for area residents.
"Disc golf is perfect for Southern Illinois for a variety of reasons. One of the biggest ones is that it is such an affordable sport to get into," Locke said. "You can get a starter set of discs for $14.99 and you could care that for years, plus most of the courses are free. It's a really great way for people to get outside and play for a very low price."
The couple plans on converting the carriage house at their new home in Benton into a bed-and-breakfast catering to disc golfers who will even be able to play on-site.
Locke said the pair sees themselves not only as advocates for disc golf, but also for entrepreneurship in the region.
"We want to serve as inspiration for other people – to encourage them to do something similar with their own passions. We want to let them know that they can be successful in a job that they love if they will just put in some effort and dream a little," Locke said.
November Business Spotlights
When Jason Smith was looking to pivot from an electronic cigarette business to something new, he chose a new arena: virtual reality.
The decorated cookies from Marion's i.e. originals almost look too good to eat.
Murphysboro man sells handmade pocket dice, wooden board games
Admittedly, Brandon Byars was too cheap to pay to have a wooden board game shipped from England.
"It was going to cost like a bazillion dollars," he exaggerated, but stressed it would be costly.
There was just one other option. A lifelong woodworker, the Murphysboro resident decided he could make his own version of Babinga, a game where players try to use an elastic cord to shoot wooden pucks through a small hole and onto their opponent's side of the board.
He didn't realize that his woodworking skills and his miserly ways would lead to a new venture.
"I made it and took it to a Christmas party where everybody loved it," Byars recalled. "At that moment, I realized I might have something. I decided to start making the game for others."
Several years and many games later, Byars' Board Room Game Company continues to produce a variety of wooden board games and pocket dice games.
"These are wooden board games that you would want to have sitting out in your living room, just waiting for someone to play," he explained. "They are not only fun, but they are really nice to look at."
The company's offerings now include seven hand-made wooden board games and a line of dice games.
"Most of the board games are variations of old, ancient games. Some of them were even placed by Roman soldiers. Others have roots that go way back, too," he explained.
Byars said all of the games are very simple to play, perfect for the whole family. His own children, ages 7 and 13, serve as in-house game testers.
"I make them where they can play and adults will enjoy them, too," he added. "My kids can play them and they tell me whether they think they are dumb or not."
Construction of the each of the wooden game boards takes several hours. Most are sold through local retailers, but Byars said he does ship the games as well.
 He said the business began "as an accident," but has grown into an endeavor he enjoys.
"At first, I just liked the challenge of figuring out how to build a game for myself, but also, I've always wanted to have a business for myself. This is just that – and something that people could get excited about," he said.
The games, which run $10-$50, are available online as well as at Muddy Roots Collective, Brews Brothers Taproom and Cold Blooded Coffee all in Murphysboro.
Byars, who works in information technology at Southern Illinois University Carbondale, said he wants to grow his game business, and has a very specific goal.
"I would love to really see this thing take off and be able to cover every single state as far as the dice games go. I want to see them in as many places as I can and I think it would be really cool to be on vacation somewhere and see a family playing one of my games. That would be really cool," he said.
For Nick James and his family, Christmas trees are a year-round business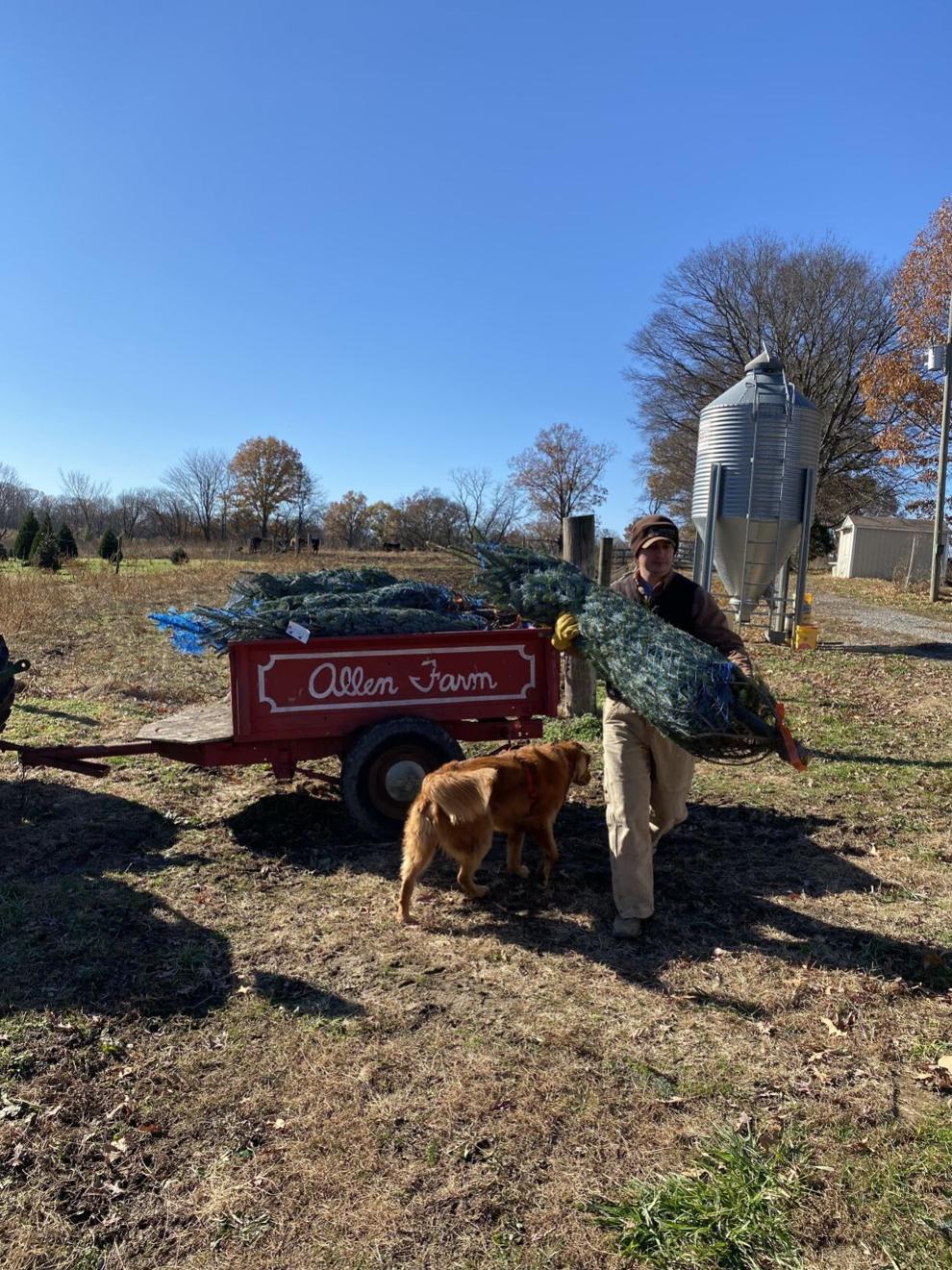 While most of us turn our thinking to Christmas just a few weeks out of the year, Nick James and his family think about Christmas — or at least Christmas trees — all year long.
As the operators of Allen Farm Christmas Trees and Cattle, holiday trees are front-and-center as the family plants, raises and sells hundreds of Christmas trees each year at their farm near Buncombe in Johnson County.
The farm has been in the family for more than 150 years. Their first Christmas trees were planted in 1986 and sales began several years later.
James, the Christmas tree lot manager at the farm, said it takes four to seven years for a Christmas tree to grow to maturity. The family raises Scotch Pine trees, selling 150-200 of the trees each year "out of the field," James said. The business also sells about the same number of cut fir trees that it brings in each year for the holiday.
"We're also expanding/experimenting with a new variety called Leyland Cypress, a southern variety of Christmas trees," James explained. "We're on the northern edge of the growing region, so as long as we don't get really harsh winters, they'll survive."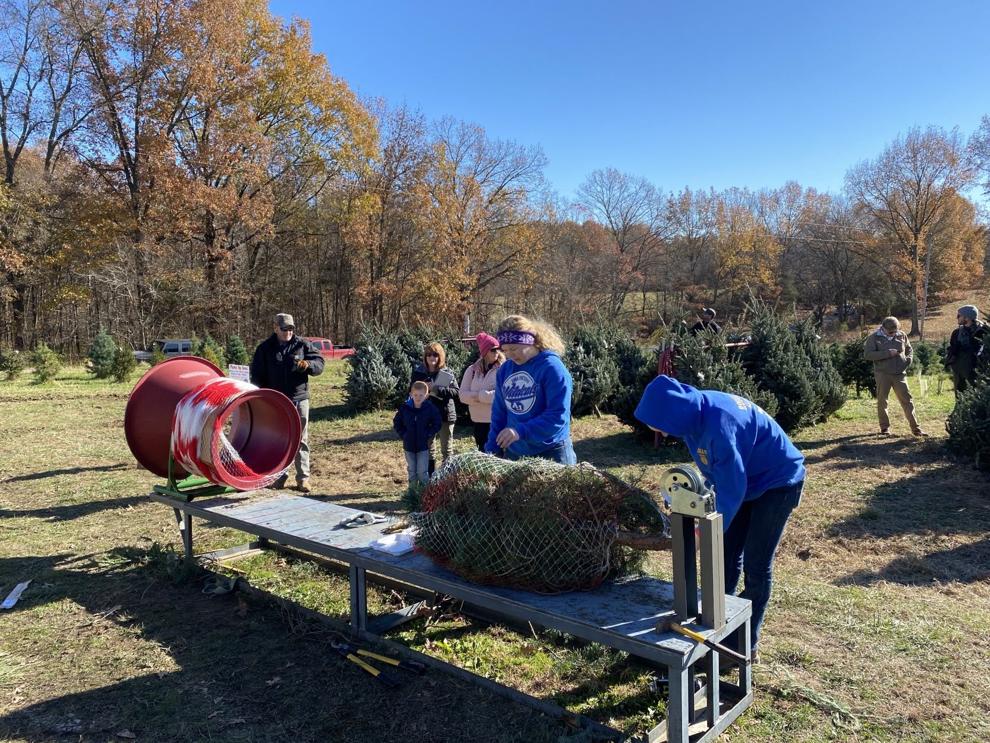 James said the Lelyand Cypress trees are more disease-resistant than the pines and they tend to grow faster. He said after a number of years of planting just a few, the family planted 250 on the farm in the spring and intends to plant another 600 next year. Cultivation of both varieties of trees is similar.
"When we plant them, they are two years old and they look just like a twig with a root ball on it. We plan on about a foot of growth each year, so five years after we plant it, we should have about a five-foot tall tree. That's when some of them are ready, but we do like to get some up to seven or eight feet before we sell them," he said.
Raising Christmas trees is a year-round endeavor, James said.  "I think that surprises a lot of people. There's a lot of work involved with growing Christmas trees. We fight all kinds of different diseases and things to keep them alive. We battle the deer, too. It's not an easy thing to do."
Stumps from the previous year's harvest are treated in February then the planting of new trees occurs in April. Insecticide and fungicide are applied in the spring as well. James said the trees are shaped – or trimmed – to give them the traditional conical form over the summer. Later the trees are sprayed to keep their green color and then the fall months are spent preparing for the annual sale of Christmas trees and wreaths, also created on the farm.
"We start selling the trees at Thanksgiving and usually go just a few weekends after that," he said.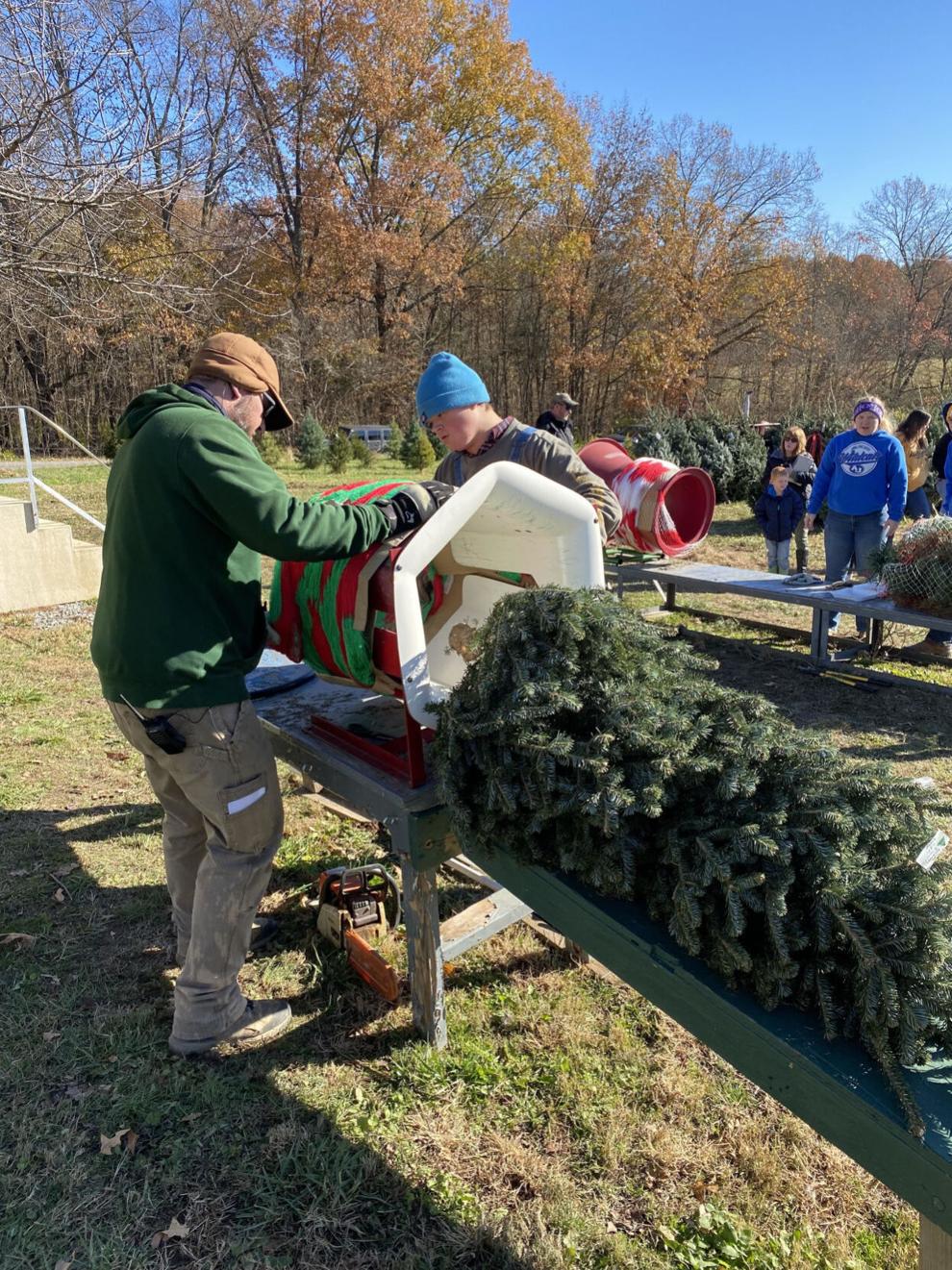 James said some customers come out to the farm in November to tag a tree as theirs for harvest a few weeks later. Others, who wait until it is time to take a tree home, are able to pick out a pine and cut it down or have a farm employee cut it for them.
In addition to trees, the farm offers handmade wreaths as well as ornaments. They also take orders for grave blankets, table centerpieces and other custom work.
James said his grandmother, who makes many of the wreaths, grew up on the farm and the James family continues to operate it. Personally, he's been involved with the Christmas tree operation since birth – or even before.
"My mom was pregnant with me when they planted the first Christmas trees back in '86," he said.
Today, three generations of the Allen and James family work on the farm.
He said there is a diminishing number of Christmas tree farms in the region because of the workload and because of the multiple-year timeline of raising evergreens.
"Several years ago when the economy went through a downturn, people weren't buying trees, so farmers weren't planting trees and now, here we are years later and there are not enough trees to go around," he said.
Holiday recipes: Six sweet treats featuring peppermint
BY DIXIE TERRY FOR THE SOUTHERN
One word we often link to Christmas is "tradition," that of decorations, music, entertaining, giving, and yes, food.
Traditions are comforting, as we hang onto ages-old ornaments on the Christmas tree, curl up with a vintage gingerbread-decorated throw to watch a Hallmark movie while waiting for an oven full of cranberry loaves to bake, or unpack the holiday mugs that our children once used for hot chocolate on Christmas Eve.
New candy canes are a must each holiday season, even though there is a stash of them, broken and crumbling, in the freezer. Those that I kept from last year, as I have traditionally done for countless years, will be used in a recipe or two.
If, you, too, hoard broken candy canes, maybe you would like to try your hand at turning out one or more of the following peppermint recipes for your holiday gatherings. Of course, new candy canes can be used, if you are not a candy cane hoarder.