BLOOMINGTON — Illinois on Thursday recorded the most number of COVID-related deaths since mid-May, reflecting a rapid increase in infections that's also reflected in local numbers. 
"We are experiencing a significant increase in new cases. The priority now should be what each one of us can do to help save the lives of our neighbors, family and friends," said McLean County Health Department Administrator Jessica McKnight. 
McKnight reported that 166 more McLean County residents have COVID-19 and another person has died of the virus. The county's 47th COVID fatality was a man in his 80s who had been associated with a long-term care facility.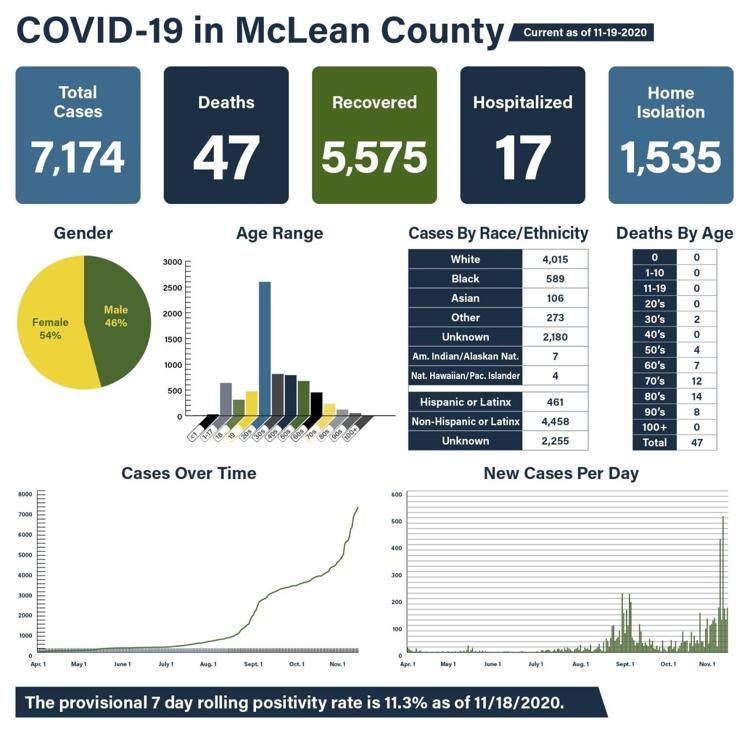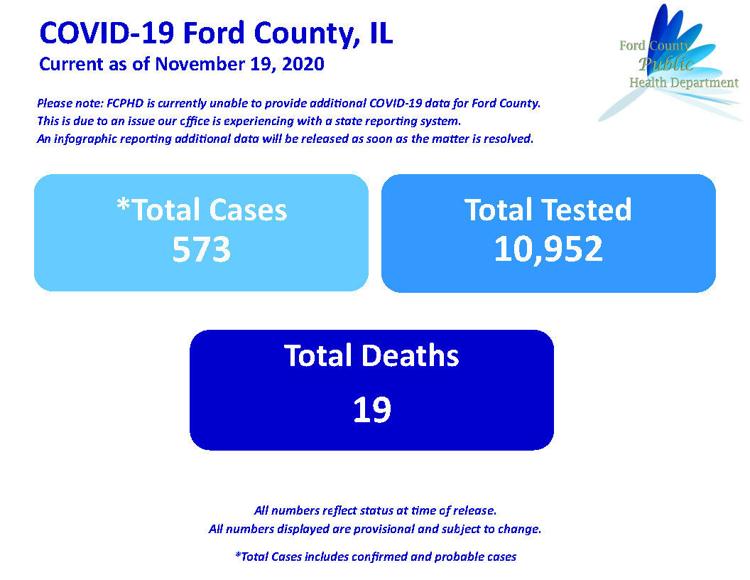 One improving area on Thursday was the county's seven-day positivity rate — the percent of residents tested for the virus in the past week who have tested positive — was 11.3%, a decline from the 14.9% on Wednesday.
Statewide, there were 168 coronavirus-related deaths added Thursday. The state is now averaging 101 deaths per day over the past week, reaching a triple-digit average for the first time since May 20. Thursday's death toll was the third-highest since the pandemic began, behind 192 fatalities reported May 13 and 176 on May 5.
Dr. Ngozi Ezike, director of the Illinois Department of Public Health, said she's worried cases will increase after Thanksgiving if there are large family gatherings.
"My fear is that the number of cases, hospitalizations and deaths will spike even further in the weeks after Thanksgiving, because people spent that holiday together, mixing households," she said during a press conference in Chicago. "I don't want anyone to have to look back and say, 'if only we didn't have people over for Thanksgiving, such-and-such, so-and-so, might still be here for New Year's.'"
The deaths reported by the state on Thursday included residents of DeWitt, LaSalle, Livingston, McLean, Tazewell and Woodford counties. A total of 6,037 Illinoisans were hospitalized with COVID, with 1,192 patients in intensive care and 587 on ventilators. All three of those numbers are increasing. The statewide, seven-day positivity rate was 12%.
"We continue to see concerning trends statewide in our hospitalization data but in the most recent two or three days, we've seen a hint of leveling in new cases and positivity rates in most of our regions," Gov. J.B. Pritzker said. "It's too early at this point to determine if this stabilizing of the average is a meaningful trend or an anomaly but we're glad to at least have a pause in our upward movement."
There have been 7,174 COVID cases in McLean County since March 19. Seventeen residents were hospitalized with the virus on Thursday, compared with 22 on Wednesday.
"It is important to remember that this number does not represent all persons currently hospitalized for COVID-19 or for other treatment and care," McKnight said. "Our local hospitals provide care for individuals from outside our county. Our local hospitals are reporting 75% of (intensive care unit) beds in use and 79% of total beds in use."
McKnight reported that 1,535 McLean County residents were isolating at home on Thursday and 5,575 residents have recovered from the virus since March.
Of the more than 124,300 COVID tests of county residents since March, 5.8% have come back positive.
"What smart choices can we make to help slow the spread?" McKnight said. "If we don't take this seriously now, we will see more sickness, and sadly more people will die from this virus or because there are not hospital beds or health care professionals available. We cannot wait for our hospitals to be at capacity to take steps that will slow the spread of this virus and save lives."
Ford County Public Health Administrator Lana Sample said, "With the holidays around the corner, we must reconsider our family gatherings. You might not be concerned about getting COVID yourself, but we must keep our loved ones in mind. Until there is a vaccine, the best way to prevent new cases, hospitalizations and deaths is to stay home, social distance when in public and wear a mask."
Among other Central Illinois counties, LaSalle County Health Department reported that a man in his 80s had died, meaning 110 residents of that county have died of the virus. LaSalle County also reported 130 new COVID cases, bringing that county's total to 5,178.
Livingston County also reported the death of a man in his 80s, meaning 17 residents of that county have died of the virus. Livingston also reported 92 new COVID cases, bringing its case total up to 1,868.
Logan County reported 34 new COVID cases to increase its count to 1,245 and Ford County reported 23 additional cases to increase that county's total to 573.
#MaskUp 
In other COVID-related news, OSF HealthCare joined 100 other health care systems to urge Americans to "mask up" to slow the surging COVID pandemic.
"This trend is causing increasing concern for OSF HealthCare and others, not only because of the demands on physical needs like personal protective equipment (PPE) and hospital beds but also because of a potential shortage of healthy caregivers to handle a rapidly increasing number of patients," OSF said in a statement. "The next several months will be critical."
No one knows when a COVID vaccine will be available for widespread use so everyone must remain vigilant, OSF said.
Wearing a mask helps to conserve medical resources by stopping the spread of the virus, said Dr. John Rinker, chief medical officer of OSF HealthCare Saint James-John W. Albrecht Medical Center in Pontiac.
Capitol News Illinois contributed to this report. 
---
Here are the 10 categories of new statewide COVID restrictions announced Tuesday
Contact Paul Swiech at 309-820-3275. Follow him on Twitter: @pg_swiech.
Chicago Tribune and Capitol News Illinois contributed to this report. 
Concerned about COVID-19?
Sign up now to get the most recent coronavirus headlines and other important local and national news sent to your email inbox daily.