A Mounds native who was at the forefront of the federal response to the COVID-19 virus said there are lessons to be learned following the nearly 16-month health crisis.
Former Deputy Secretary of the U.S. Department of Health and Human Services Eric Hargan oversaw many facets of "Operation Warp Speed," the federal government's efforts to battle the novel coronavirus. Speaking virtually to the more than 100 participants in an annual health policy institute organized by SIH and the SIU Schools of Law and Medicine as well as other groups, he said the pandemic showed how a variety of entities ranging from federal and state governments to local health departments and businesses could cooperate for the greater good, but also pointed out some flaws in the nation's response to a pandemic.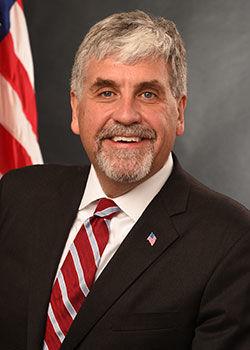 "This wasn't something that was in the ordinary course; we never had really seen anything like it. It was something that required an extraordinary effort and kind of thinking outside of the box," Hargan said.
Hargan, who was the second-ranking official in the department, said the response to the pandemic ranged from working with laboratories trying to develop a vaccine to interacting with the Federal Emergency Management Administration to provide personal protective gear to health care and other frontline workers and even to helping get Americans stranded on cruise ships overseas back to the U.S.
"There were a number of things that really needed individual attention. Fortunately for everyone, professionals at HHS, state and local governments, the private sectors and the non-profit sector really stepped up nationwide starting in the early days of the pandemic. It would have been far worse if we would not have had that cooperation," he said during the virtual event.
Hargan pointed to the pharmaceutical corporations as well as delivery companies as examples of businesses that worked with the government to move quickly.
He said one of the biggest challenges during the pandemic was the unexpected shutdown of many healthcare providers instead of ramping up their services. He called the situation "an oddity, a paradox."
"You would not expect a health care crisis to result in the practical shutting down of large elements of the health care system, but that is, in fact, what happened. It wasn't just the lockdowns that were imposed by state and local governments, but it was also that patients themselves were wary of going into a health care setting. That meant that there were no resources coming into the health care sector and it started shutting down."
One of the keys of getting through the pandemic, he said, was the notions that "we are all in this together," and "everyone just goes and does what they do best." Hargan said those approaches were among the gleanings of 2020.
"There are tons of lessons that have to be learned," the Meridian High School graduate said.
Among them, he explained, was the importance of having a decentralized health care system. Even though there were some issues in the system during the pandemic, he said the structure was beneficial.
"It is local, it's personalized, it's very redundant, but it is able to marshal local resources very quickly. I'm glad if we made mistakes in decisions at HHS — and there were some — they didn't rarify into the entire country because people could do what they needed to do," he said.
He said pandemic policies, programs and procedures were best left to states and local units of government because they could be more responsive and innovative in approaches to serving their areas.
Hargan used the example of the delivery of vaccines to clinics in Alaska by whaling vessels and the way Native American tribal leaders communicated the importance of taking precaution and the COVID-19 vaccine, and serving as examples, to their communities.
One painful lesson, he said, is the nation has learned the importance of having a domestic supply of medical products.
"We all remember the seemingly endless personal protection equipment shortage in the first months of 2020 that was because many products are not made here — things that we need. We found that we could have very sophisticated testing equipment here, but not the swabs that we needed to use it. We found it was the most low-tech but crucial pieces which we couldn't get. We have to address those sorts of things."
Hargan said there needs to be reform in the way information is shared with the American public, especially contrasting public health with medical science. He said communication by health care professionals to the public is something he believes deserves more attention and a more cautious approach.
"In many cases, we were seeing science done in 'real time' and there always are going to be steps forward and steps backward," he said, explaining mixed messages were often a result.
On a positive note, there were advancements and innovations that came about as part of the response to the pandemic, Hargan said, offering the increased use of telemedicine and the rapid development of vaccines as examples.