CARBONDALE — The challenge with planning for the "Great American Eclipse" is that nobody really knows how many people will descend upon Carbondale and Southern Illinois on Aug. 21, 2017, to marvel at one of nature's greatest phenomena at or near its point of greatest duration.
Phrases such as "tens of thousands" and even "hundreds of thousands" have been thrown about by officials planning for the event in regard to crowds throughout the region, though they readily admit they aren't really sure. In that regard, it's kind of like throwing a dinner party without RSVPs, where a few people could show up or dozens: it's a waste to cook too much, and rude to run out of food.
SIU Chancellor Brad Colwell estimated there could be 30,000 to upward of 60,000 people on campus that day — which is also the scheduled opening day of the 2017 school year at Southern Illinois University. And there are expected to be many more people in the region.
"It's a bit of a guessing game," Colwell said on Friday afternoon at a news conference on campus held in conjunction with the American Astronomical Society's Eclipse 2017 workshop, which took place on the SIU campus on Friday and Saturday. 
MURPHYSBORO — Gloria Campos remembers helping out her local community when there was a total…
Because of the expected crowds and to give students and faculty the ability to fully participate in activities, Colwell said he anticipates postponing the start date of classes for one day, until the next Tuesday. Freshmen drop-off and orientation will go on as scheduled the week prior, he said.
Bob Baer, specialist in the SIU Physics Department and co-chair of the Eclipse Steering Committee, said SIU's estimates are based on the number of people that campus can accommodate in addition to students and faculty. Tickets will go on sale for events, including a two-day Crossroads Astronomy, Science and Technology Expo on campus, on Aug. 21, 2016 — exactly one year ahead of the eclipse — and that should begin to give SIU officials a better idea of what type of crowds to expect. Events are scheduled for Saluki Stadium and SIU Arena. 
Steven Mitchell, chairman of the Southern Illinois Economic Development Conference Committee, expressed a similar sentiment about estimating crowds. He said officials are also trying to form estimates based off total eclipses visible in years prior in other parts of the world.  
The organization's 22nd annual conference taking place Tuesday at John A. Logan College also addresses planning for the solar eclipse, specifically examining ways community leaders, business owners and others can leverage the expected influx of visitors, and leave a positive lasting impression on eclipse chasers, perhaps enticing them to return to enjoy the region's non-eclipse related amenities.  It is titled "Using Quality of Place and Event Tourism as Economic Drivers — How will Southern Illinois Leverage the 2017 Solar Eclipse?" The public is welcome. Registration begins at 8:30 a.m. and the cost is $45. 
"Trying to estimate is an almost impossible task," Mitchell said of anticipated crowds on eclipse day, not only in Carbondale but throughout the region. In Southern Illinois, the eclipse's path of totality will run from south of Chester to south of Golconda, Mitchell said.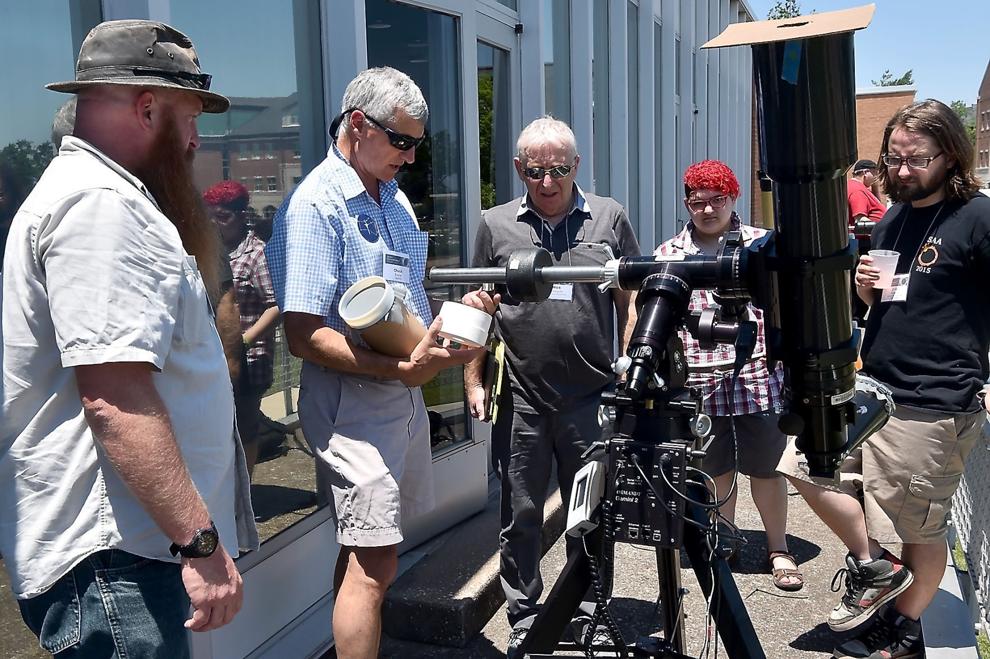 An eclipse is when the moon goes directly between the sun and the Earth, casting a shadow on the Earth. Across the United States, the 70-mile-wide path of totality runs from Oregon to South Carolina.
"It's potentially a big deal," Mitchell said. "That's the challenge. No one really knows what kind of attendance we'll get from outside the area." 
This past weekend's event on campus featured a "who's who" list of leading solar scientists and amateur sky-watchers. Those speaking at the conference included Fred Espenak — known by his fans as "Mr. Eclipse" — a retired astrophysicist who conducts eclipse timing predictions for NASA; Xavier Jubier, the top Google interactive eclipse mapmaker; and Michael Zeiler, who runs the site GreatAmericanEclipse.com, which includes detailed, printable eclipse maps and many other items of interest about the 2017 eclipse, according to Baer.
CARBONDALE – Though all eyes will be on the total solar eclipse due to arrive in Southern Il…
One link of interest at GreatAmericanEclipse.com is a list of the Top 10 best places to view the total eclipse that day.
Carbondale is listed as one of those top sites, with the author stating it has the "special distinction" of being near the crossing centerlines of both the Aug. 21, 2017, total solar eclipse and the April 8, 2024, total solar eclipse. Also, the point of longest eclipse for 2017 is just southeast of Carbondale, it states. The duration of totality is 2 minutes, 41.6 seconds, though that's just a matter of seconds longer than in some other nearby locations.
Totality will begin at 1:20 p.m.
Weather will be one of the primary factors in where people choose to go to view the eclipse, with serious eclipse chasers more apt to be on the move — even last-minute.
"People will be looking at radar maps and looking for gaps," said Angela Speck, director of astronomy and professor of astrophysics at the University of Missouri, who also spoke on campus. "That's why you need to worry about not just what's going on in Carbondale, but what's all around because you'll have people getting in their cars and driving."
She noted how hectic traffic can be after a university athletic event. "It's going to be so much worse on this day," she said.
CARBONDALE — Mayor Mike Henry wants to make sure Carbondale is ready for the total eclipse i…
As for historical weather patterns, she said the cloud cover average for that day is not great, but noted that in August, most storms come late in the day. "I think for this bit of the country we can be cautiously optimistic," she said.
NASA is planning to be set up in Carbondale that day, to broadcast the total solar eclipse to viewers around the world, said Lou Mayo, a planetary scientist and program manager working for ADNET Systems at NASA's Goddard Space Flight Center, and a professor of astronomy at Marymount University.
The goal, he said, is "Let's see if we can touch a billion people with this eclipse, and we have some history of doing that sort of thing."
Espenak, who also spoke with media on Friday at SIU, said a number of unusual events will accompany the total solar eclipse. The local temperature can drop upward of 10 degrees, he said. Flowers begin to close up as if it is dusk. Birds begin roosting. Cows may head to the barn thinking it's sunset. Baer also noted that pets may react negatively out of confusion, and should be left at home. 
This is anticipated to be such a big event because it is the first time in 38 years — since 1979 — that a total solar eclipse was visible from the contiguous United States, Espenak said. The last time a total eclipse was visible from Illinois was 1869, he said, and coming up, the Land of Lincoln will be graced with not one, but two occurrences: next year and in 2024.
The centerlines of totality for both these eclipses intersect over Carbondale's Cedar Lake.
"This is really unusual," he said. "You're really lucky."
618-351-5079
On Twitter: @MollyParkerSI ​