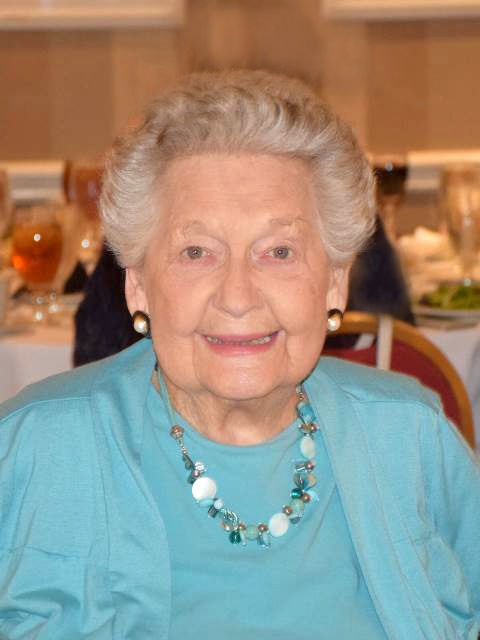 ROYALTON — Dorotha Mae Bender, 98, a resident of Naperville, since 1979, passed away Nov. 16, 2019, in St. Patrick's Residence in Naperville.
She was born at home Jan. 29, 1921, in Royalton.
Dorotha is survived by her loving daughter, Jo Ellen Bender.
She was preceded in death by her devoted husband, Walter "Bill" Bender; her beloved parents, George and Harriet Anna (Dabbs) Cox; and her siblings, Pauline Fales and Paul Henry Cox.
She leaves behind many relatives and countless friends who she loved very much.
You have free articles remaining.
Dorotha was a longtime and active member of Grace United Methodist Church in Naperville and the PEO Sisterhood. She was a charter member of Mu Upsilon Chapter of Beta Sigma Phi in Royalton.
She graduated from Hurst-Bush High School, the St. Louis College of Business and had a 17-year career in accounting and merchandising with the Carbondale regional office of The Kroger Corporation, retiring when her daughter was born.
She loved to travel and most enjoyed annual trips to Florida, her late husband's 13th Armored Division World War II reunions and visits with dear relatives and friends in Alabama, Southern Illinois and Iowa.
Dorotha lived each day with optimism, joy and gratitude. She was a gracious woman who was beautiful on the outside but even more beautiful on the inside. She had a beautiful smile and a twinkle in her eyes. Dorotha had a fun sense of humor, a spirit for adventure and a true zest for life. She was gracious and inclusive to all and made sure everyone felt loved. She was wise, understanding, generous, gentle and kind. Most of all, Dorotha was the most loving and devoted mother, wife, and friend and a faithful Christian.
For those who would like to leave a lasting tribute to Dorotha's life, memorials may be directed to Grace United Methodist Church Foundation, 300 E. Gartner Road, Naperville IL 60540; PEO Foundation, 3700 Grand Ave., Des Moines, IA 50312; Agape Christian High School, 5208 Meadowland Parkway #A, Marion, IL 62959, or First Baptist Church of Royalton, 709 W. 3rd St. S, Royalton, IL 62983.
Visitation will be from 10 to 11 a.m. Saturday, Nov. 23, at First Baptist Church of Royalton, 709 W. Third St. S., in Royalton. Services will follow at 11 a.m. and interment will be at Miners Cemetery in Royalton. Vantrease Funeral Homes, Inc. of Zeigler and Royalton, is entrusted with the local arrangements. Visit www.vantreasefuneralhome.com for more information.
An additional memorial visitation will be from 10 to 11 a.m. Saturday, Dec. 7, at Grace United Methodist Church, 300 E. Gartner Road, Naperville. Memorial services will follow at 11 a.m. Friedrich-Jones Funeral Home and Cremation Services, Naperville, was entrusted with arrangements. For information, call 630-355-0213 or visit www.friedrich-jones.com.
To plant a tree in memory of Dorotha Bender as a living tribute, please visit Tribute Store.