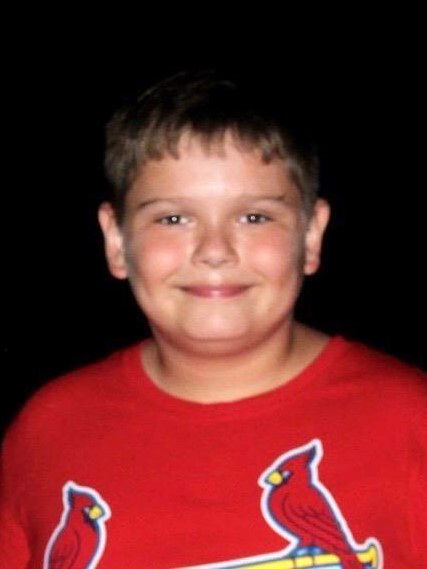 HERRIN — Gavin Lowe, 12, died at 4:17 a.m. Christmas morning.
Gavin was born Oct. 31, 2007, in Carbondale, to Renee (Calcaterra) Lowe.
He was an active sixth-grade student at Our Lady of Mount Carmel Catholic School in Herrin.
He played baseball for the Herrin Youth League and Junior High baseball teams and enjoyed spending time with his many friends. He was a big fan of the St. Louis Cardinals and his dream was to be their pitcher. Gavin also loved basketball and the Miami Hurricanes. Gavin was a real "foodie" who enjoyed his mother's chicken Alfredo, Jennifer's chicken fajitas, and his Gigi's ham. He liked golfing with his Pa Pa and he was a talented XBox gamer who enjoyed playing Fortnite. He had a great sense of humor with a smile that would brighten the room. He was a prankster who enjoyed telling jokes and wrestling with his cousins. He loved his family and friends. Gavin brought so much joy to everyone he met.
Surviving are his mother, Renee Lowe of Herrin and her companion, Travis Hood of Marion; three grandparents, Jim and Sue Stevens of Energy, John and Toni Calcaterra of Royalton, and Rick and Tracy Lowe of Marion; four uncles, Brian (companion Alicia Eubanks) Calcaterra of Benton, Ryan (Eman) Lowe of Carterville, Jimmy Stevens of Royalton, and Cole Stevens of Herrin; seven aunts, Jodi (Jordan) Miller of Herrin, Jennifer (Chris) Romito of Energy, Natalie (Paul, Jr.) Melzer of Carbondale, Shari (Randy) Miller of California, Teresa (Shawn) Whitecotten of Herrin, Brandy (Mickey) Belcher of Johnston City, and Gina (Griffin) Goetz of Marion; great-aunts, Deborah (Britton) Misker, and Terri (Greg) Haub; great-uncles, Steve (Michele) Smith, and Scott (Melissa) Smith; cousins, Eva Calcaterra of Brookfield, Bryce and Keegan Eubanks of Benton, Emma and Lyric Miller of Herrin, Jennifer and Madison Thompson of Herrin; Jessica and Violet Hepp of Goreville; Amy Haub-Sanders; Christopher Haub; Ross and Stefanie Smith; close friends, Dominic, Harper, Landon, Parker, and Santi, along with many other relatives and friends.
He was preceded in death by his maternal great-grandparents, Allyn and Lela Smith; and paternal great-grandparents, Joseph and Isabell Calcaterra.
Funeral Mass will be at 10 a.m. Tuesday, Dec. 31, in Our Lady of Mount Carmel Catholic Church, 316 W. Monroe St., in Herrin. Monsignor Ken Schaefer will officiate. Visitation will be from 5 to 8 p.m. Monday, Dec. 30, at Our Lady of Mount Carmel Catholic Church, 316 W. Monroe in Herrin.
Funeral Arrangements were entrusted to Leesman Funeral Homes of Southern Illinois under the direction of Devin McCluskie and Joni Binkley-Ross.