WICKLIFFE — Monday was a day for the little guy.
Officials representing rural areas in Kentucky, Illinois, Missouri and Tennessee came together Monday to sign the official paperwork creating a nonprofit to promote the region at the confluence.
The Mississippi & Ohio River Confluence Economic Alliance is formed of officials from Alexander County, Illinois; Obion County, Tennessee; the cities of Charleston and East Prairie, Missouri; and the Western Kentucky Alliance for a Vibrant Economy, representing Fulton, Ballard, Hickman and Carlisle counties.
About 100 people gathered at the Fort Jefferson Hill Park Welcome Center & Memorial Cross at the Confluence in Wickliffe to celebrate the unique deal that brought leaders together across rivers and county and state lines.
Speakers shared a common message: to compete against more influential political voices, small towns need to band together.
When people think Illinois, they often think Chicago, said Larry Klein, who sits on the Alexander County Port District board. "Well, sorry to say, but the majority of our monies do go to Chicago. And we're little bitty guys about 350 miles south of them that has kinda been forgotten about."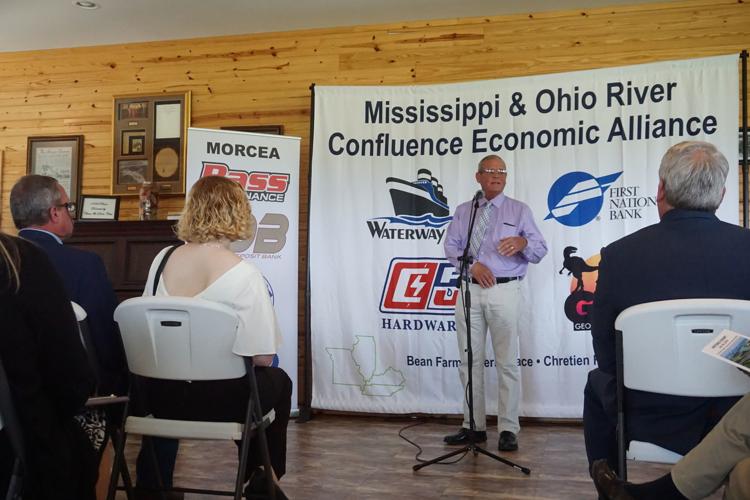 Joining together gives the region a more powerful bargaining position to lure private developers and state and federal resources, he said. "We're all neighbors. We recognize that we have to operate as a region. Anything that's good for Cairo is good for west Kentucky, southeast Missouri, all of Southern Illinois, even as far down as Tennessee."
Tennessee State Rep. Bill Sanderson said that population plateaus in many small communities in his district have made it harder to compete for infrastructure dollars as Nashville and the surrounding communities experience explosive growth.
"What they say about Tennessee is probably very similar to what they say about Kentucky, Missouri and Illinois. There are two parts to the state of Tennessee: there's Nashville and the area around Nashville, and the rest of the state," Sanderson said.
You have free articles remaining.
He applauded the group's mission of working together to grow the region's economy so that more young people have options for careers in the hometowns where they're raised.
The signing of Monday's agreement was the result of several years of talks. The process began about five years ago when four county leaders in Kentucky forged an alliance to promote economic opportunity at the state's western border. Then, those officials decided it was necessary to expand their partnership further, said Jerry Pace, the new organization's acting executive director.
For close to a year, officials from the entities that make up the alliance have been meeting monthly to work out the details. Each state's partners chipped in $2,500 to pay the lawyers who helped write the agreement.
This new partnership, Pace said, is "a way to tell the world that we are here, to show the world that we have the confluence of the two mighty rivers in this country, and we're in the heart of this country."
Pace said the region's rail and interstate access, as well as its central location — within an eight-hour drive of about 60% of the population — makes it a prime spot for growth. As rail lines and interstates reach capacity, he said, the promise of the Panama Canal expansion to move more containers through southeastern ocean terminals could put a renewed emphasis on rivers to connect the Heartland.
Officials in Cairo, Illinois and Ballard County, Kentucky have plans to each build river ports less than 2 miles apart on the Mississippi River, near the confluence. In both locations, leaders are optimistic about their efforts, though still face numerous hurdles to breaking ground. One major issue begging attention is the poor state of the bridges that connect Kentucky and Missouri to Illinois at Cairo. Pace said that's an effort the new economic alliance is likely to put its efforts behind early.
And he's confident there will be enough business to support both ports, as well as ancillary industry.
"Trust me, we want that river port, we want this river port," he told the crowd Monday. "It takes both of them to even come close to accomplishing what is possible at this location in the country."