As escalating COVID-19 cases and related hospitalizations strain Southern Illinois' health care system, one local doctor is asking residents to be mindful of those on the front lines.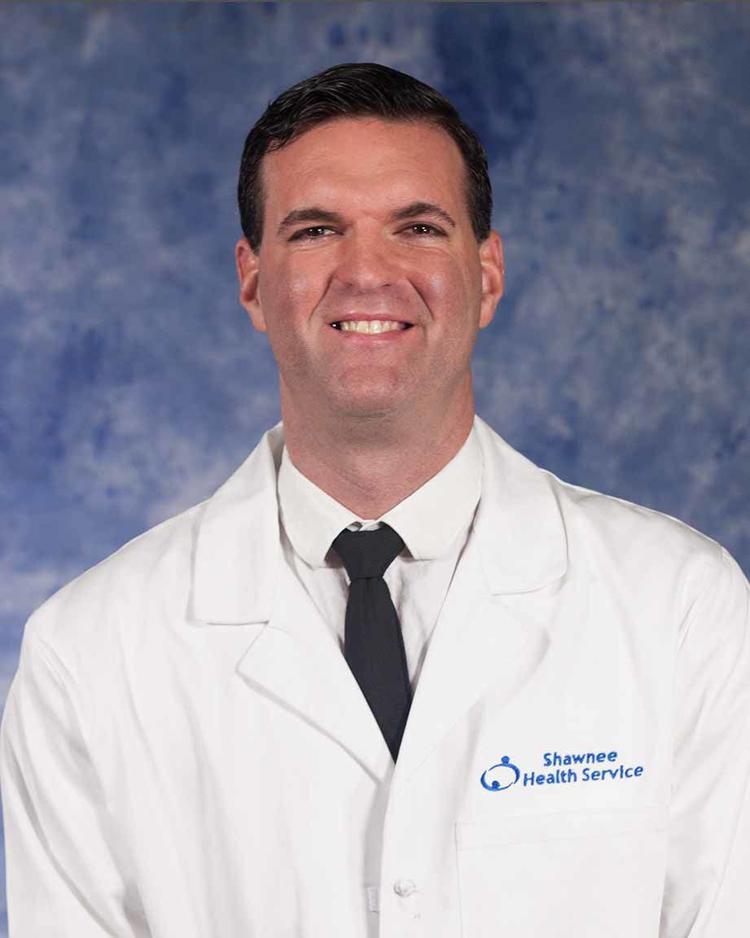 Dr. Jeff Ripperda, a family physician with Shawnee Health Service Murphysboro, said he understands that people are fatigued from hearing about COVID-19 and being asked to limit their normal routines. But he implored their patience and urged them to adhere to public health guidelines as the virus rages across the region.
"A lot of people don't have it staring them in the face every day like I do," Ripperda said. "To me, it's a very real thing and a major part of my life screaming at me every day and affecting my patients and people I know and love. I've seen bad things happen to people not taking it seriously. But I realize some people work jobs outside of health care, and they're not seeing people get really sick, and they're tired of not being able to do what they want. I just ask those people to identify with us health care workers and those of us on the front lines."
Based on numerous indicators, the COVID-19 situation in Southern Illinois is the worst it has been since the pandemic began.
This week, Southern Illinois Healthcare had a record 41 patients with COVID-19 hospitalized at Carbondale Memorial and Herrin hospitals. Earlier this week, SIH officials told The Southern the health system may have to postpone elective surgeries requiring an inpatient stay if COVID-19-related hospitalizations continue to escalate.
The most critical issue for SIH is not the availability of beds, but rather having enough staff to adequately care for COVID-19 patients as well as others seeking routine and emergency care, Dr. Marci Moore-Connelley, SIH chief medical officer, told The Southern on Monday.
On Friday, the Illinois Department of Public Health reported that 12 Southern Illinois counties are at a warning level for COVID-19 spread.
They are: Alexander, Franklin, Gallatin, Hamilton, Jackson, Johnson, Massac, Perry, Pulaski, Randolph, Saline and Williamson.
In total, 75 of the state's 102 counties are at warning level.
To date, IDPH has issued enhanced mitigation measures for all 11 regions of the state ordering bars and restaurants to close to indoor service and limiting gathering sizes. Though, some businesses have declined to comply, drawing the rebuke of Gov. J.B. Pritzker. This week, Pritzker said he is prepared to implement additional statewide restrictions if the pandemic is not brought under control soon. He was not specific as to when that would come or what the restrictions would entail, but suggested it could resemble earlier phases of his Restore Illinois plan that limited in-person school attendance, retail establishments and other public events.
State officials announced new mitigation measures for Region 5, which encompasses Southern Illinois, on Oct. 19. The measures were triggered when the region's testing positivity rate — that is, the percentage of positive tests out of overall tests conducted — reached an 8% rolling seven-day average for three consecutive days. Region 5's testing positivity rate has been at or above 9% since Oct. 24, and as of Nov. 3, the latest date available from IDPH, the region's rolling seven-day average was just over 10%.
"Even though we're tired," Ripperda said, now is not the time to take major risks with the pandemic. "It's the worst it's been since March."
Jackson County Health Department Administrator Bart Hagston said that the increased spread has challenged contact tracing.
"Back several months ago, with contact tracing, most of the time we could pinpoint or trace that case to where it got introduced into a group of people. Now, that's becoming harder and harder," Hagston said. Case investigations are important to controlling the pandemic because if the source of an outbreak can be identified, it may be possible to quarantine everyone associated with an office or event, for instance, and limit the spread. 
Hagston also expressed concerns about people becoming lackadaisical in their approach to health guidelines. Some folks seem to assume that if they've made it this long without contracting COVID-19, or knowing someone who has become seriously ill from it, that they don't have much to worry about. But that's not the case. 
"Local transmission risk is higher now than ever," Hagston said. "I truly believe that is the case based upon everything we're hearing from the health care system, and that we're seeing with new cases each day."
Though pinpointing the source of spread has become challenging, Hagston said contact tracers are recording a broad range of sources, including social gatherings in homes, weddings, funerals and workplaces.
For the first time, IDPH on Friday released new data on potential exposure locations by region. For Southern Illinois' Region 5, the data showed hospitals and clinics as the top source of potential exposure in the past 30 days, at 16% of cases. Restaurants/bars, schools and workplaces (other than offices) were each identified as being responsible for 8% to 10% of cases each, followed by 5% to 6% each attributed to other business/retail establishments, college campuses and correctional institutions.
Case breakdown by potential exposure location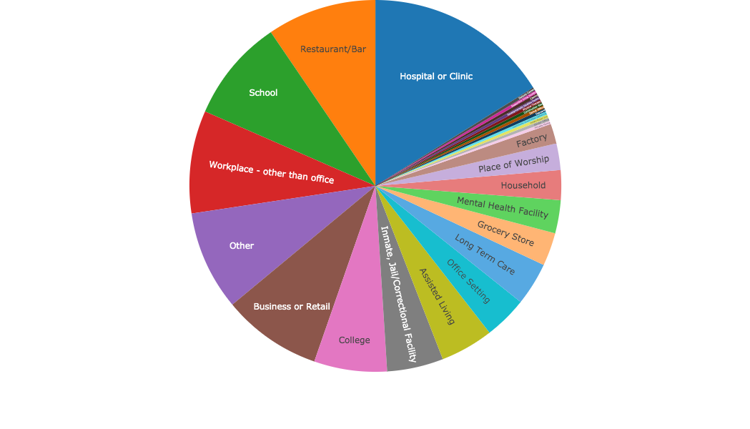 618-351-5079
On Twitter: @MollyParkerSI ​