Franklin County Sheriff Don Jones calls the opioid addiction a public health crisis — one that has to be addressed.
"We can't solve this by ourselves. We are working as hard as we can," Jones said.
Opioids are defined by the National Institute on Drug Abuse a class of drugs that include the illegal drug heroin, synthetic opioids such as fentanyl, and pain relievers available legally by prescription such as oxycodone, hydrocodone, codeine, morphine and others.
"It's unbelievable. I cannot express my amazement at what's happened. We almost always have over 100 people in our jail these days, and the vast majority of them are linked to those kind of addictions," Jones said. "When I first started in this business, we would have less than 20 people in jail all the time — usually young, white males with substance abuse problems. Now we have over 100."
Jones is learning from the people in the jail that an increasing number of methamphetamine cases are related to the opioid crisis as well. Several addicts have told Jones that crystal meth has become a substitute for opioids because it is prevalent, cheap and easy to get.
Jones said the department answers a lot of calls that can be linked to addiction, like burglaries or domestic violence.
Williamson County State's Attorney Brandon Zanotti is dealing with similar issues.
"When you look, give or take 40 percent of the felonies on the docket are drug-related, and at least half of those are opioid-related," Zanotti said. "In a big percentage of theft and burglary cases, the motive for those crimes are related to someone trying to get heroin or opioids."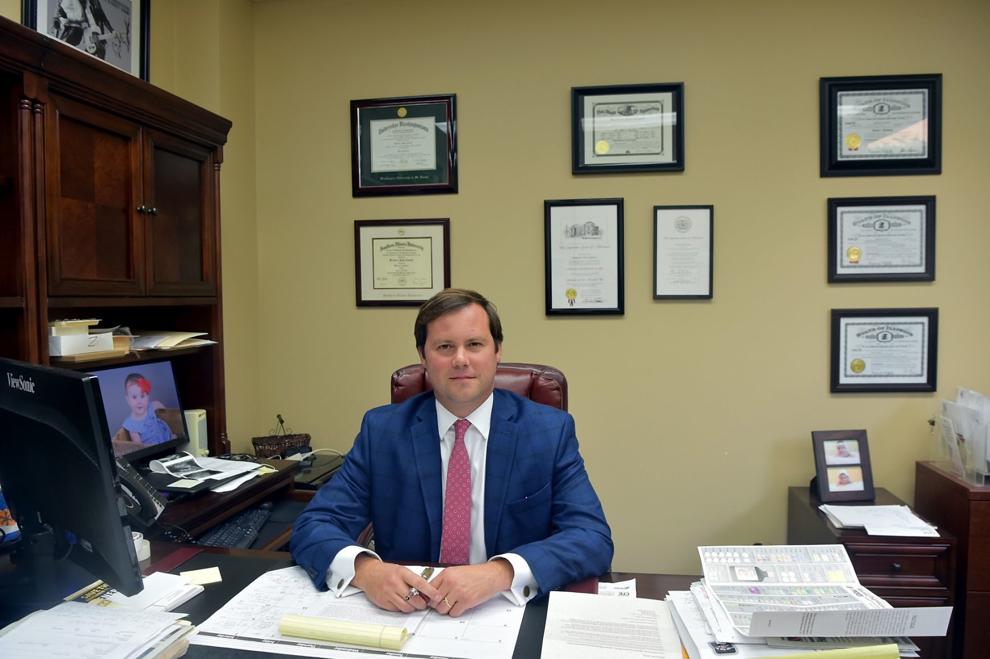 Zanotti added that the people who are addicted are not what are typically think of when  hearing the term 'addict.' They are people who used to have a good job, have an injury where prescription opioids are prescribed, and it all went downhill from there.
"I think that's why we're seeing a large spike in heroin usage," Zanotti said.
As pain medication has become harder to get, people turn to heroin, which is more dangerous, and sometimes even fatal.
Jones believes the crisis will have to be addressed from many different angles, including law enforcement, city and county officials, the faith community and education leaders.
"We have formed a committee here of local officials and community leaders, and we are going to explore our options," Jones said. "We are going to try to address (it) in juveniles."
Zanotti said his office is working with judges and public defenders to create an opioid diversion program. They currently have 10 open files they are considering for the program.
To qualify, an offender must be charged with possessing a relatively small amount of drugs, have no criminal history such as a history of selling opioids, and must want to get treatment.
"We have been working with public defender on some cases. It offers a chance before a case goes to trial to get treatment. Successful completion of treatment results in lowering charges or dismissing them," Zanotti said.
The hardest part is choosing which cases to target. 
They also offer a similar program geared toward veterans called Veterans Drug Court. It gives offenders who are veterans a chance to complete treatment before going to court, with a payoff of reduced or dismissed charges.
"The goal is that the person gets better, and because of that, does not get the normal punishment as in a traditional court setting," Zannotti explained.
Zanotti said the programs are seeing some success, but there is more to do.
Much like Sheriff Jones in Franklin County, he is trying to attack the problem from as many different angles as possible.
Within a month, Zanotti expects to file a lawsuit against opioid manufacturers much like the suit filed by Union County State's Attorney Tyler Edmonds.
On June 26, 2017, Edmonds filed a lawsuit against five manufacturers of prescription opioids and their related companies. The lawsuit alleges the pharmaceutical companies made numerous misrepresentations about the risks, benefits and adverse effects of opioids for the purpose of increasing profits, in violation of Illinois Consumer Fraud and Deceptive Practices Act and the Uniform Deceptive Trade Practices Act.
"Opioid manufacturers through a coordinated, sophisticated and deceptive marketing campaign have led prescribers and consumers to believe that opioids were not addictive, addiction was easy to overcome, and prolonged use of opioids was appropriate for even low-level pain. The representations of the opioid manufacturers are not supported by, and in most instances are directly contrary to, the scientific evidence," Edmonds said in June.
CARBONDALE — Jacob Dellinger was awakened by a police officer at about 12:40 a.m. on Sept. 8 outside of a Burger King in Marion County. The of…
Zanotti also believes there is a lot of evidence that there was clear wrongdoing on the part of manufacturers, in marketing to the doctors who then prescribed opioids.
"I think if this is successful, we could see a lot of money earmarked for treatment in Southern Illinois and Williamson County," Zanotti said.
One problem that the opioid crisis has brought to light is the amount of unused prescription opioids that sit in home medicine cabinets. Those medications are then shared with a friend or relative who is in pain, or stolen by a visitor or family member.
Many people, according to Zanotti, do not understand that sharing their prescription medication with another person is illegal. Others may not understand the importance of securing medication. To help reduce the amount of opioids available, he is working with law enforcement to expand medication takeback programs.
"How I envision it is, using federal drug funds or grants to expand the takeback," Zanotti said.
On March 5, Southern Illinois Healthcare announced it would accept unused prescription medication at four locations in Jackson and Williamson counties.
According to a press release from Greg Smith, SIH community health coordinator, more than 40 percent of teens who have misused or abused a prescription drug obtained it from a family medicine cabinet. SIH hopes the takeback program will reduce the availability of those medications. 
Memorial Hospital of Carbondale and Herrin Hospital will accept medication seven days a week, from 7:30 a.m. to 6 p.m. Sunday through Saturday.
St. Joseph Memorial Hospital in Murphysboro will accept medication from 6 a.m. to 4:30 p.m. Monday through Friday and 7 a.m. to 2:30 p.m. Saturday and Sunday.
SIH Cancer Institute in Carterville will accept medication from 7:30 a.m. to 3:30 p.m. Monday through Friday. It is closed Saturday and Sunday.
Angie Bailey, community benefits manager at SIH, said the move is a way the organization can help combat the opioid crisis.
Jones, Zanotti, Edmonds, Bailey and their colleagues are trying to make a difference, but they will need help.
"It's an enormous problem. It will take a lot of money to get a handle on it," Jones said. "We need more services. A lot of folks have underlying health conditions. It has to be addressed either before or at the same time. We need more services for mental health and addiction."
"This is such a massive crisis for all of us — law enforcement, health care and the general public. I'm willing to listen to anyone and employ any rational idea," Zanotti said. "Not everything will work, but the important thing is we all keep trying."
If you or someone you are about is addicted, call the Illinois Helpline for Opioids and Other Substances at 1-833-2FINDHELP.