CARBONDALE — After seeing video showing a Carbondale Police officer pepper-spraying a small group of demonstrators after a march Sunday, dozens gathered Monday to denounce what they saw.
A group of about 30 people marched Sunday to celebrate Pride and to protest police violence. During the two-hour demonstration, it was alleged that one of the members of the protest spray-painted a wall.
Amber Futch and Devarsi Iris said it had been a good day.
Futch and Iris were among the small but lively Wrath 2020 Queer Anti-Cop protest that meandered through Carbondale's neighborhoods Sunday.
"We all got together, we met on Gay Street. It was just generally fun," Futch said Monday.
There were bubbles, music and even sparklers, which Iris said were great at keeping people socially distant.
"It was as gay as we could make it," Iris said.
Futch described it as a two-hour "roaming block party" that went until the batteries ran out — literally. The portable sound system that kept the march marching ran out of juice, so the tired revelers ended the event.
At about 8:30 p.m., Futch said they were tired and looking forward to heading to the bar with friends to celebrate the successful end to their march — no one got hurt, no one got harassed. As Futch and a few friends were walking to their cars, Futch said they saw a Carbondale Police cruiser pull through the grassy lot in the 400 block of South Washington Street, and Futch said officers got out and, in an attempt to ticket their friend Cat for for criminal damage to property, slammed her into a police cruiser.
Police arrested Cat, who police identified as Thomas Bruefach, 20, of North Carolina, in a Monday news release from the Carbondale Police Department. The release said a witness informed an officer monitoring the demonstration that they had seen Cat spray-painting a retaining wall near a fraternity house in the 500 block of South University Avenue. Carbondale Police confirmed to The Southern that the writing in question said "be gay do crime."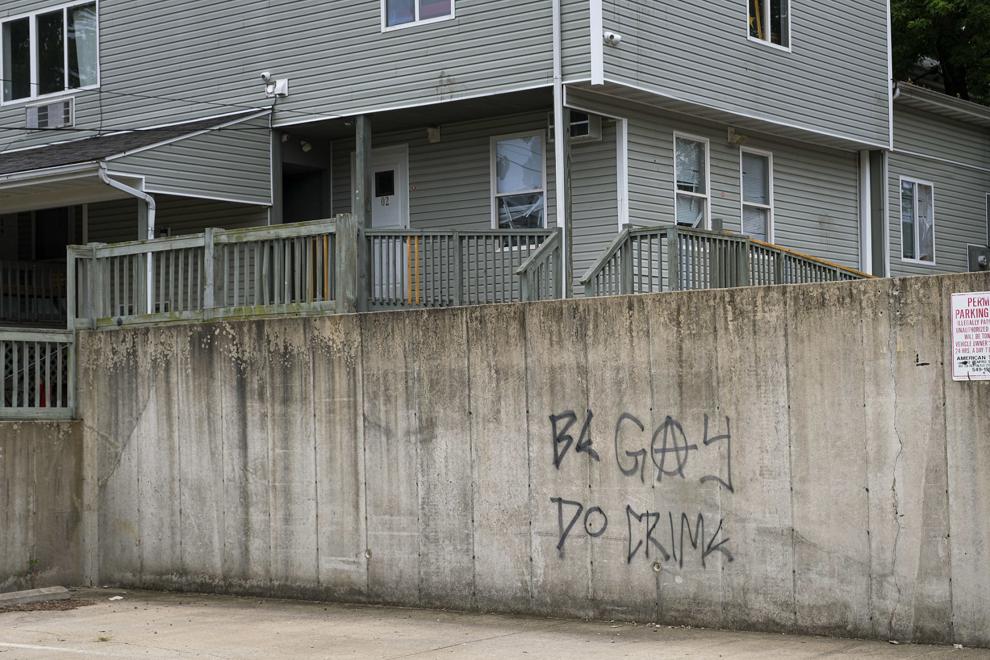 The release states that Bruefach was cited for criminal damage to property and was also ticketed for resisting a peace officer. Both are city ordinance violations, which typically are enforced with a ticket.
Futch said an officer told three or four people to get back, though Futch said they weren't sure where to go — they were filming the incident. When the group didn't get back far enough, Futch said an officer pepper-sprayed them.
Futch said it took more than two hours in the shower to get spray off, and, on Monday, they were coughing up blood.
The news release said there were no injuries reported associated with the incident. People who saw the incident questioned how Bruefach couldn't have gotten hurt and those who had been pepper-sprayed, Futch included, were not treated for their injuries.
Sgt. Doug Wilson with the Carbondale Police Department responded to these questions.
"A use of force review is being conducted as a part of the full investigation into this incident. There were no reported or known injuries as a result of this incident," he wrote in an email to a Southern Illinoisan reporter.
As for those who had been pepper-sprayed, he wrote, "It is policy to arrest and decontaminate subjects who are pepper sprayed, when possible and when safe to do so for all involved. As the video clip shows, police left the scene as soon as the suspect was in custody." Wilson also said that further arrests and decontamination efforts were not made at the scene in order to avoid further conflict.
Futch wasn't the only one filming. A video was posted to the WTF? Carbondale Facebook page Sunday night by Dan Milam, who said he captured the video not long after protesters walked by Italian Village. The video shows a group of about four people gathered near two Carbondale police cruisers — one of them was detained against the car.
In the video, Milam says he saw a Carbondale officer "slam that girl into the car, face first into the car." In an interview with The Southern, Milam said this happened moments before he started filming.
Several seconds after Milam makes this exclamation, a Carbondale officer sprays what appears to be pepper spray into the group of three people, some of whom were filming the arrest and shouting "Let her go."
A second video posted by Justin Lee shows officers driving away, but before the vehicle carrying the arrested person could depart, a demonstrator appears to hit the vehicle with the end of a flag pole. At this point, the gathering of demonstrators appears to have grown to six or seven. It is unclear how much time elapsed between the two videos.
"Seeing how peaceful these people were only minutes before, I don't understand why the police got so violent with them," Milam said.
This was the sentiment at Monday's response rally. Futch and Iris as well as many others took to the bullhorn to denounce the bigotry they see in Carbondale's police community.
"A lot of us are hurt and angry," Iris said of the local LGBTQ community and its supporters.
She said a complete rebuild of law enforcement would be needed to rebuild trust in the community, and that people in her community have to fight for the simple validation of being accepted and this incident proves to her that there's more work to be done.
"I guess we just have to change the world," she said.
Photos | Carbondale protesters respond Monday after 1 detained, others pepper-sprayed Sunday
Photos | Carbondale protesters respond Monday after 1 detained, others pepper-sprayed Sunday
Demonstrators gathered Monday in Carbondale after a protester accused of graffiti was detained following a Queer Anti-Cop march Sunday.
As the protester was being detained by Cabrondale Police on Sunday, police pepper-sprayed a group of people filming and observing the arrest.
618-351-5823
On Twitter: @ismithreports