CARBONDALE — The crowded barroom at Pinch Penny Pub was tense Dec. 6. The Salukis were down just a few, with only a minute or two left. The tables filled with maroon were fixed on the huge TV showing the game.
The buzzer formalized the SIU loss, and the crowd sank like a deflated balloon. Bar stool managers told friends they were right all along, this play or that was the wrong way to go. Sad as the scene was, there was solace in knowing they were in good company, and in a place that was like a second home.
But, this won't be the case much longer. Pinch Penny Pub will be closing its doors at the end of 2019 after nearly 50 years as a Carbondale mainstay. The bar's owner, Jimmy Karayiannis, told The Southern last month that a deal had been reached to sell Pinch and its adjacent venue, The Copper Dragon, to developers who did not plan to continue the operation of either business.
Karayiannis said since making the announcement last month he and the bar have been inundated with well wishes and orders for Pinch merchandise. He said there have been thousands of orders from all over — they have had to reorder items from Silkworm every week, he said.
More than that, Karayiannis said, he's been asked out to the bar many, many times to greet longtime regulars and remember the good times. He said these are usually joyful affairs, at least to start.
"At about midnight it turns into a visitation," he said.
Karayiannis said there is something he's asked even before being asked why the bar was sold.
"The one thing I hear more than anything else is, 'What's your dad going to do and how's your dad doing,'" he said. His father, Fotios "Frank" Karayiannis, helped found Pinch Penny 47 years ago, and has been a mainstay of the bar, showing up seven days a week.
Jimmy Karayiannis described his dad, a Greek immigrant, as "a real-life version of the American dream."
Dec. 6 was a designated event at the bar where former employees and regulars were invited to come share one last round.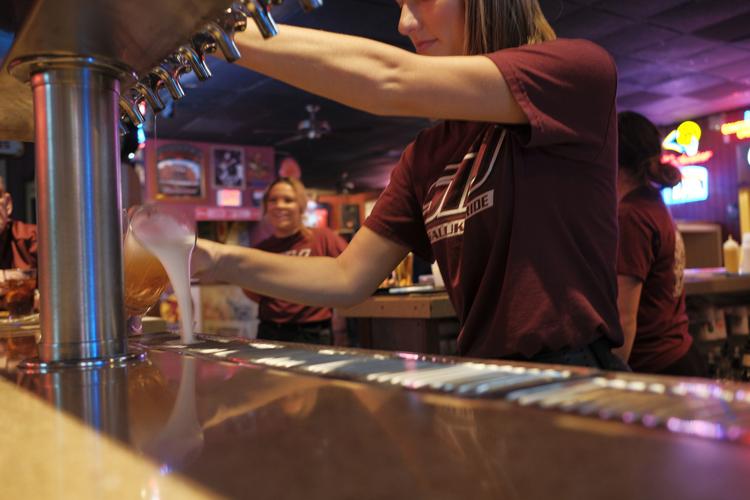 "It even smells the same," one man was overheard saying as he opened the door from the parking lot.
Thor Lindquist and Carol Leeman sat at the bar that evening and shared a house special pizza, something Pinch has been known for. The two recalled coming regularly in their youth. They don't make it out of Marion much these days, but said they heard the news in November that their favorite college bar would be closing and needed to soak it in at least once more before it's all said and done.
"I guess I just cruised here looking for guys," Leeman remembered.
Lindquist, who studied engineering at Southern Illinois University, said he came every Sunday for two years for a decidedly less hip reason. It was slow on those days and the bar staff would let him and his friends turn on reruns of sci-fi cult classic TV show "Battlestar Galactica."
Sitting along the wall near a bank of windows was John Tallman, an SIU alum who now works and lives in Redbud. He drove his three daughters all the way to Carbondale to show them the town he remembered before it's gone. Tallman hit all the haunts: Arnold's for lunch, Pinch for popcorn and Pagliai's for dinner. They even toyed with taking in the Lights Fantastic Parade that night.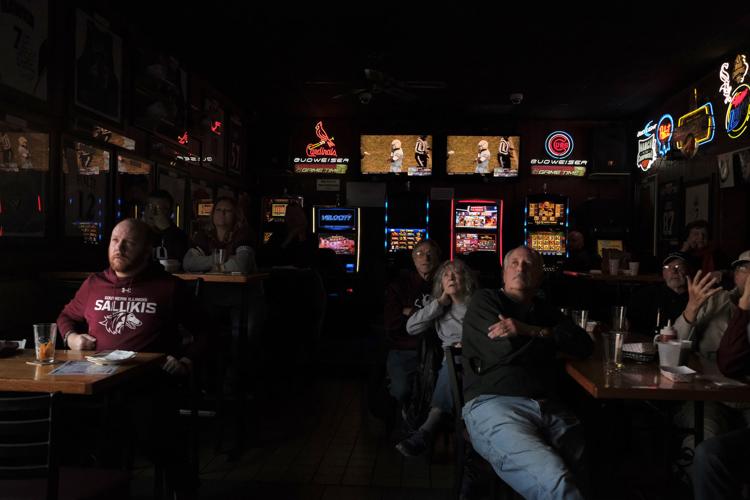 Across the room sat a fixture at the bar. Wally and Carole King had drinks with Jack and Kay Wissmann. The group said they went to SIU in the 1960s and partied at Pinch in those years. As their lives settled around Carbondale, they kept the tradition of coming to their favorite watering hole, especially to watch Saluki sports. Kay said she was "brokenhearted" to hear of the bar's closure.
The group said they are trying to find a replacement for Pinch to watch Saluki games, but said there doesn't seem to be another option. Wally King said he wanted to know which local bar owner would "be smart enough" to pick up the Saluki games and the business of their fans.
While they were all sad, King had a pragmatic look that has been informed by years of watching Carbondale evolve.
"Why would I slash my wrists that another bar closed in Carbondale?" he said. He finished the thought by saying that another will open in its place.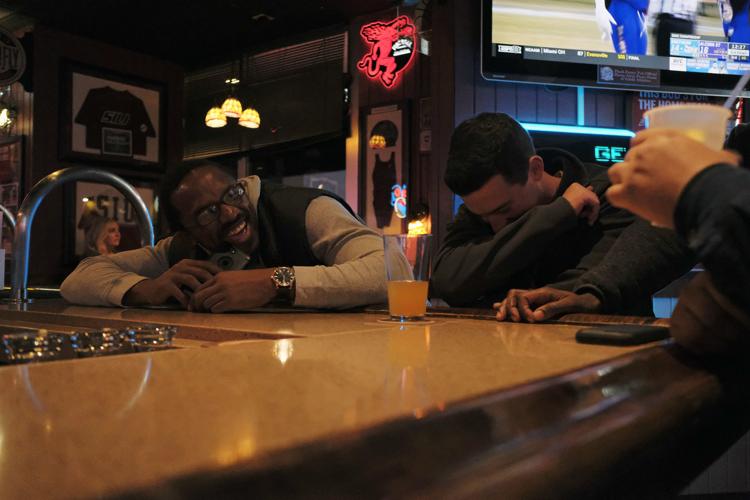 Jack Wissmann pointed out that the early evening hours show a different side of Pinch. After 10 p.m., the place becomes the college hot spot. This half of the business has been highlighted by all-day drinking and party events like Polar Bear, an annual winter bar party. This is the bar Kyle Golden came to know. He said he's been coming to Pinch for 10 years, starting when he was a student at SIU. He said he comes from a long line of regulars at both SIU and Pinch Penny.
"It's definitely one of the stops," Golden said.
Wissmann noted that, for his money, no other place in town had all the elements that Pinch does, specifically the dedication to SIU. As one of their last evenings at Pinch came to a close, Jack grabbed Pinch Penny founder, Fotios "Frank" Karayiannis, for a quick picture. Despite his age, Frank is seen almost everyday the bar is open.
Still trying to find the best way to describe what Pinch Penny Pub has meant to him and others like him, Jack Wissmann recalled another famous bar in the American lexicon.
"This place is Cheers," he said.
Pinch Penny's final day of operation will be Dec. 30.
Shut-down Southern Illinois restaurants we still crave
16 more Southern Illinois restaurants we miss
618-351-5823
On Twitter: @ismithreports