WASHINGTON — United Mine Workers of America International President Cecil Roberts called the thousands of retired mine workers, their loved ones and supporters who rallied on the U.S. Capitol lawn on Thursday "the most patriotic people on Earth" in a fiery speech and plea with Congress to act on legislation to protect retirees' pensions and health care benefits.
Those benefits are in jeopardy for thousands of aging coal miners as numerous coal companies have filed bankruptcy in recent years and successfully sought to shed their obligations to employees in Chapter 11 reorganizations. Retirees fear there may be more bad news in the years ahead as demand for coal continues to fall.
"We have given all that we have to give to this country, to these United States, and it is time, brothers and sisters, for this government to stand up for the people who work for a living," Roberts yelled from the podium in a cadence and volume that could be likened to a southern Baptist preacher.
Roberts acknowledged how far that many of the 10,000 or so people in the crowd traveled from coal-mining communities in numerous states to the nation's capital to send this united message to lawmakers.
"Some of the people who stayed overnight last night have to stay overnight on the way back," Roberts said. "Some people rode a bus with no air conditioning. But you just kept on coming on. Only the United Mine Workers would do that."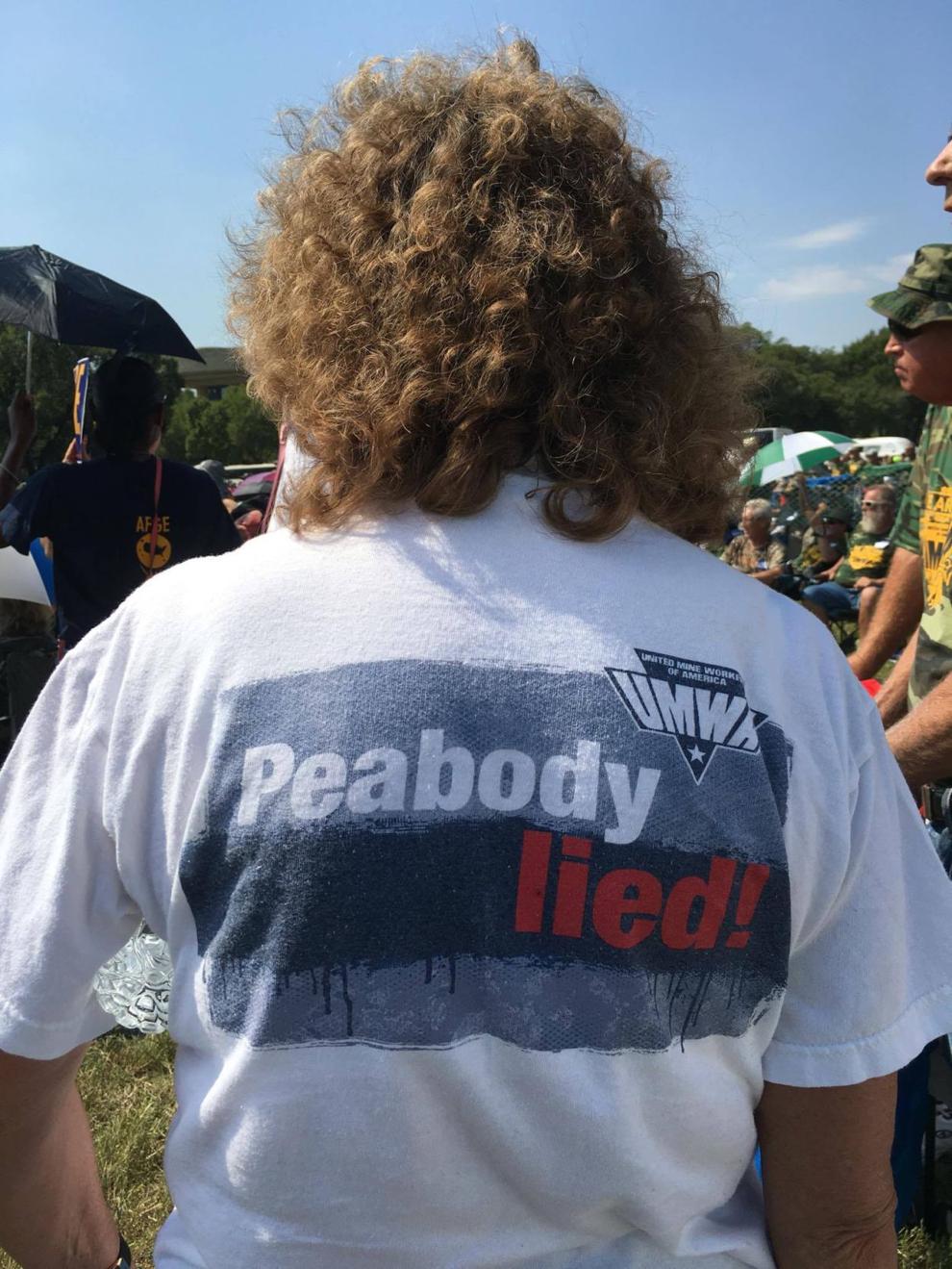 From Illinois, 13 buses packed with UMWA retirees and their family members traveled to just outside of Washington, D.C., on Wednesday and into the capital city on Thursday morning. Several hundred people left from various locations in Southern Illinois, including Pinckneyville and Benton. The Southern Illinoisan rode along on a bus that left from Benton.
In total, more than 120 buses, many of them packing not only the retirees but their oxygen tanks, wheelchairs, canes and various other medical equipment, made the journey from Alabama, Georgia, Illinois, Indiana, Kentucky, Ohio, Pennsylvania, Virginia and West Virginia. Retirees form elsewhere also joined in at the rally, as did individuals representing various other unions.
Most of the people in attendance wore matching camouflage UMWA shirts that read "We are one" on the front and "We are everywhere," on the back. They carried signs that said such things as, "Don't forsake miners and widows," "Support SB1714 – It's a matter of life and death" and "Pray for the dead and fight like hell for the living."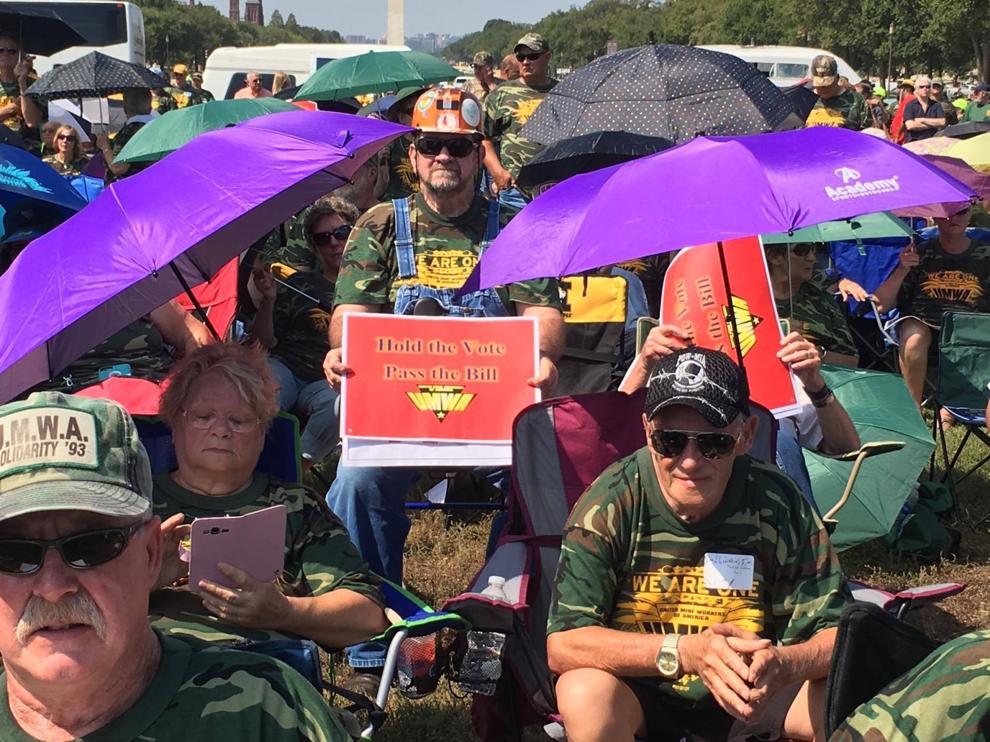 In his speech, Roberts noted that the UMWA has had a busy few years organizing and traveling to rallies in various places to exert pressure on company CEOs and key political players in this months-long effort to shake loose a solution to secure benefits for retirees.
"We'll go wherever we have to go to defend our retirees' pensions and health care that they have earned," Roberts said. "Just in case people here on Capitol Hill don't quite understand who we are, let us now tell them, we are UMWA," he said as the camo-clad crowd joined him in a chant of "UWMA. UMWA. UMWA…"
Many of the people who attended the rally wear their union membership as a badge of honor, noting that it was the union that fought decades ago to protect basic workplace safety, and later battled for livable wages and health care benefits. There was a time when workers were treated as something other than human, dragged to the other side of the company gates and left to fend for themselves if injured, the union members said.
Joe Stewart of Marion said coal mining and the UMWA are part of Southern Illinois' heritage, and an important piece of its history. Born at the long-ago shuttered UMWA hospital in Christopher, Stewart said, "I tell people, 'You think you're union. I was born union.'"
A dozen or so politicians — Republican and Democratic members of the U.S. House and Senate — addressed the crowd. Several political leaders said the Coal Miners Protection Act has the support of members of both parties, but told the audience not to stop pressuring their lawmakers because more Republican support is needed, particularly in the U.S. Senate.
Concerns also were raised about whether Senate Majority Leader Mitch McConnell, R-Kentucky, would allow the legislation to have its day in the upper chamber, though the Senate Finance Committee is reportedly expected to take up a vote on the measure next week to move it to the floor.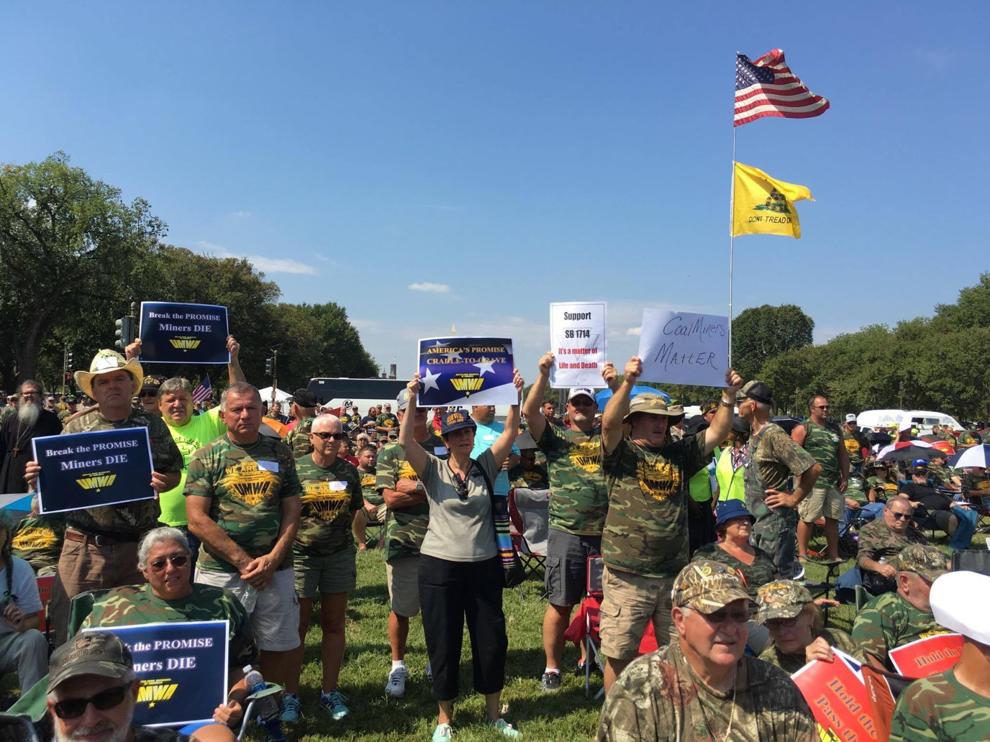 Critics have said the proposal amounts to a bailout of a private industry's pension and health care benefits and sets a dangerous precedent for the government. But supporters of the UMWA initiative say it's different because a way to pay for it has been identified — interest from a reclamation fund paid into by coal companies — and there's a 70-year-old promise on the books to take care of coal miners that President Harry Truman brokered to avoid a strike at a critical time in the country's post-World War II economic recovery.
Sen. Joe Manchin, a Democrat from West Virginia, a leading sponsor of the legislation, told the crowd that it's imperative the government keep that promise. He noted that the immigrants who came to the United States in the early 1900s seeking a better way of life worked hard in grueling conditions chasing the American dream, and finally earned a little piece of their reward in 1946 with the Krug-Lewis agreement.
"Because of what your family, your uncles and grandparents, have done for this country, we've won two world wars, we've built the industrial might, we built the middle class as we know it today," he said. Manchin said that legacy was carried on by the hard-working men and women who followed in their footsteps and continue to fight into their retirement for those promised benefits.
"Without you here today, this doesn't get done, I can assure you," he said.
On the Republican side, the lineup of speakers included U.S. Rep. Mike Bost, R-Murphysboro.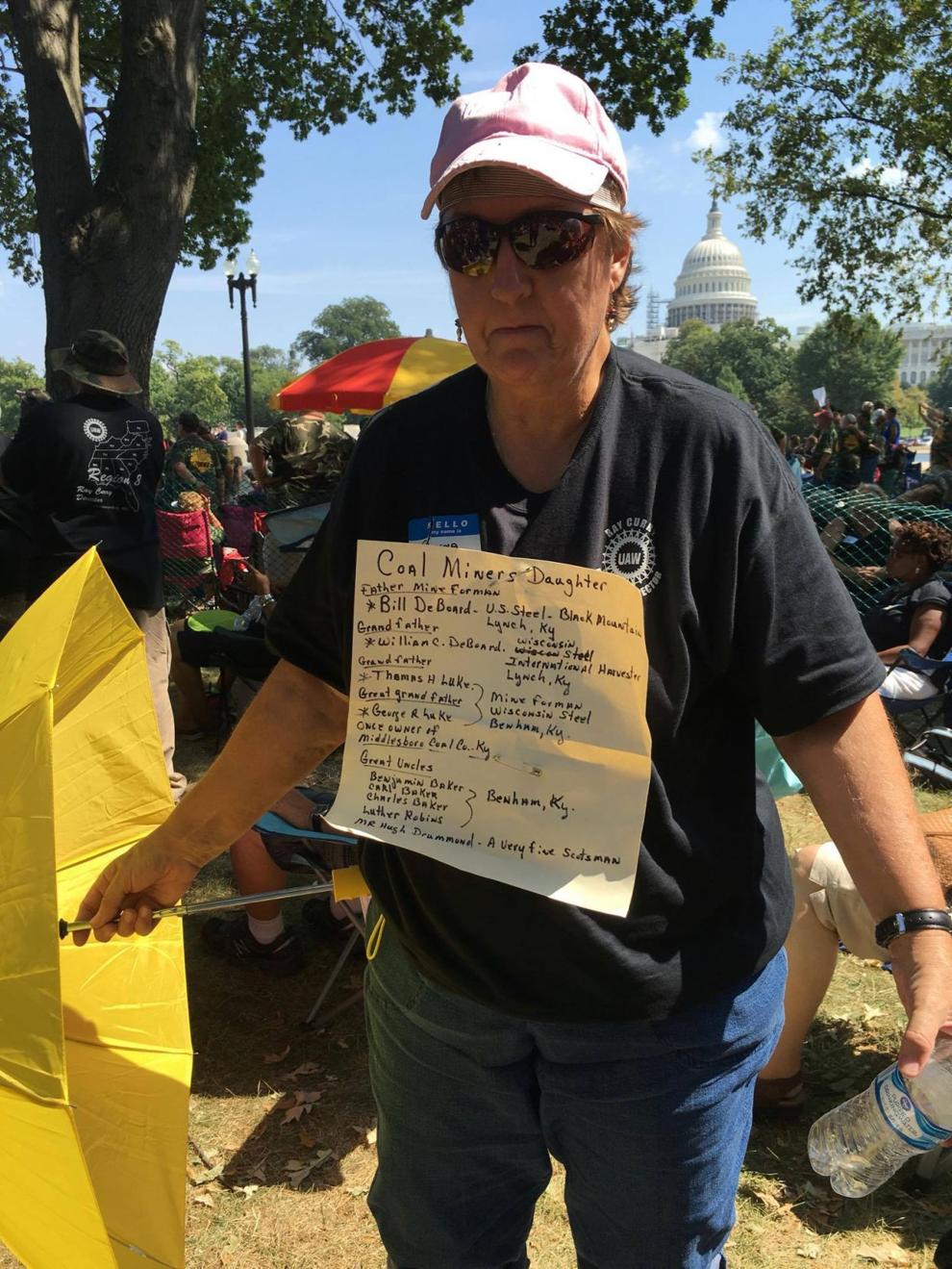 Bost said several of his ancestors worked in coal mines in southern and central Illinois, and that he had relatives on a bus that left from Southern Illinois. "We know from our own history about the times when people were buried quite often and just left," Bost said. "Then you stood up and you fought for your rights, for a good wage, for benefits — for health benefits, for a pension.
"People stood with you to make sure that happened. Folks, we're not going to walk away right now."
Roberts told the crowd that the time for Congress to act is now. He said that some retirees, without this deal, may lose their health benefits by the end of this year, and thousands more in the following year. UMWA pension funds also are on the brink of collapse, largely because there are fewer active workers paying into the system because of the number of coal mines that have closed, and where there are mines employing people, most of the workers are non-union.
At the end of the rally, several dozen people carrying white crosses marched toward the street while "Amazing Grace" played in the background. As they approached, they tossed their crosses into a makeshift casket and sat down on the street creating a human traffic blockade. Their intention was to be arrested — and they were. It's tradition at UMWA rallies for a select number of people in the group to get arrested to drive home their message.
The capital city police officer who explained to the group, which included Roberts, how the arrests would proceed if they failed to move out of the way first noted he had with him his father's 60-year pin from his career in the coal mines.
They cheered at that, and then chanted in call-and-response fashion, "We are: Union."
Larry and Charlotte Dawson, of Mulkeytown, said they made the trip to Washington, D.C., because they can't imagine what would happen to their family if those benefits are not there. "We're about to, I think, lose our pensions and we have to do something or we'll be strictly on Social Security and that's not going to be a good thing," Larry Dawson said.
Charlotte Dawson said that the rally was a last-ditch effort to secure the right to enjoy the humble retirement that coal miners worked for all their lives.
"This is all we can do," she said. "This is our last stand."
618-351-5079
On Twitter: @MollyParkerSI ​