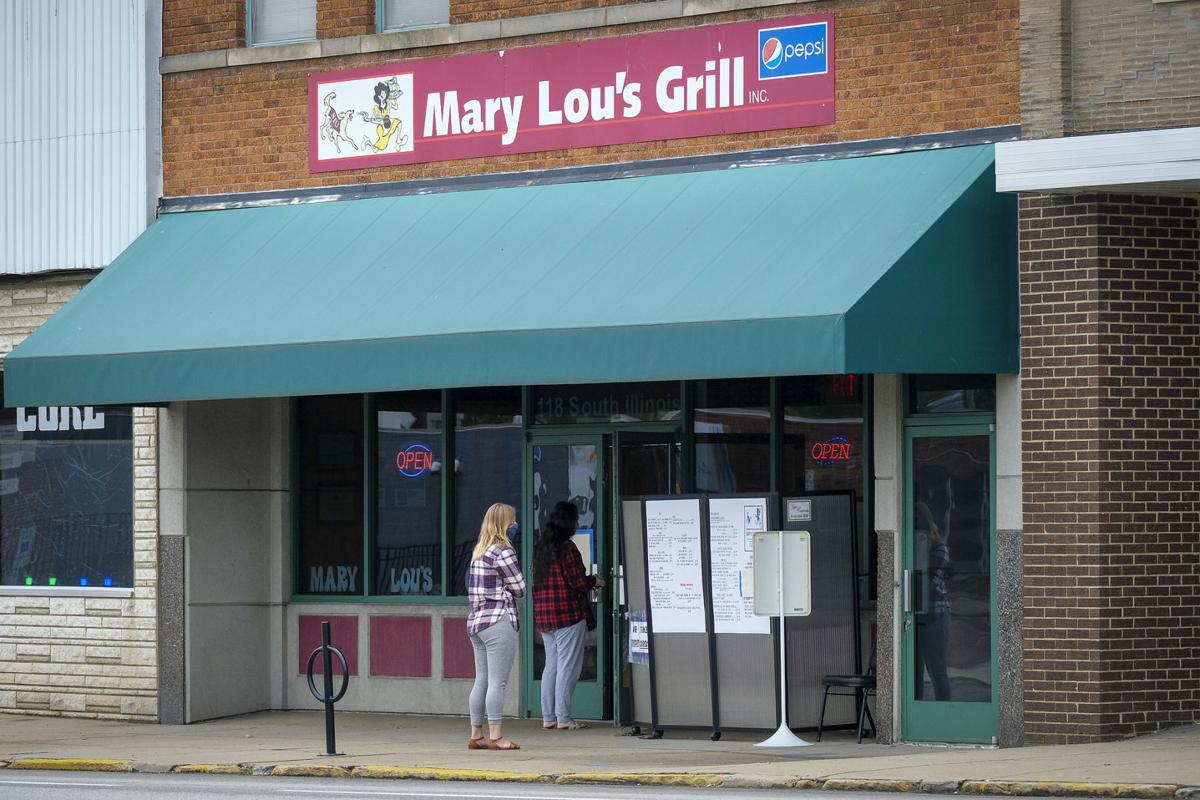 CARBONDALE — The owner of downtown diner Mary Lou's Grill says she is one of several restaurants that received a ticket and fine from the city last week for allowing indoor dining, which is banned by the state as part of the effort to slow the spread of COVID-19.
On New Year's Eve, signs went up on Mary Lou's front door that said the restaurant had been ticketed, and the ticket carries fines of $750 for each day the restaurant allows indoor dining.
According to a Jan. 2 post on Mary Lou's Grill's Facebook page, the restaurant and four others were ticketed by the City of Carbondale Code Enforcement.
The post said the restaurant tried offering carryout only under the state's pandemic mitigations during the early days of the pandemic, but it is not enough business to pay the bills.
The post reads: "Being open inside with very limited seating is barely enough to survive. It is unfair to target small businesses while the big stores are allowed to be open with no enforcement of the masks, distancing, etc."
The Southern requested information about the tickets and asked to talk to a representative of the city.
Roni LeForge-Croxell, public relations officer for the City of Carbondale, sent the following message:
"The City's primary goal is to provide public safety and protect citizens and visitors of Carbondale. Our City Council and community expect us to enforce the City's ordinances during this health crisis. Our efforts to gain voluntary compliance have been notably successful, but unfortunately, in some cases, we have gotten to the point where tickets are unavoidable. While we respect the challenges businesses face and are deeply sympathetic to their struggles, we must act in the best interest of the community's health."
The city did not say which other businesses were ticketed.
Marilynn Martin, who owns Mary Lou's Grill with her husband, Robert, says she does not know if the restaurant can survive on carryout alone.
The restaurant is a Carbondale icon. It was opened in 1962 by Martin's parents, Mary Lou and Jim Trammel, and has been open for nearly 59 years.
When the coronavirus pandemic shut down restaurants in March, the Martins tried to survive on carryout business, but the restaurant did not bring in enough money to pay the bills, Marilynn Martin said. They applied for help available through the Paycheck Protection Program, which offered a way to keep restaurant employees on the payroll while freeing up funds to help restaurants pay their bills. The program expired Aug. 8.
In November, Gov. J.B. Pritzker again issued a ban on indoor dining as part of Illinois' mitigation plan to deal with increased cases of COVID-19.
"We're doing all the proper things, but we were shut down again. We knew we couldn't survive," Martin said.
They allowed a small number of diners in the restaurant, Martin said, requiring masks and increasing cleaning protocols. Martin said even that small number allowed them just enough business to get by. After receiving the ticket, they are back to carryout only.
Now, Martin worries about being able to pay the bills. Quarterly tax payments are due soon, too. She said she thinks the indoor dining ban is unfair.
"Towns all around us are letting their businesses stay open. We saw an attorney, but to fight legally would take money we don't have," she said.
Mary Lou's also is offering delivery in Carbondale on a trial basis to try to increase sales. Martin said there is a $15 minimum and a small delivery fee. They also began accepting credit and debit card payment.
Martin hopes those efforts are enough to get by, but only time will tell.