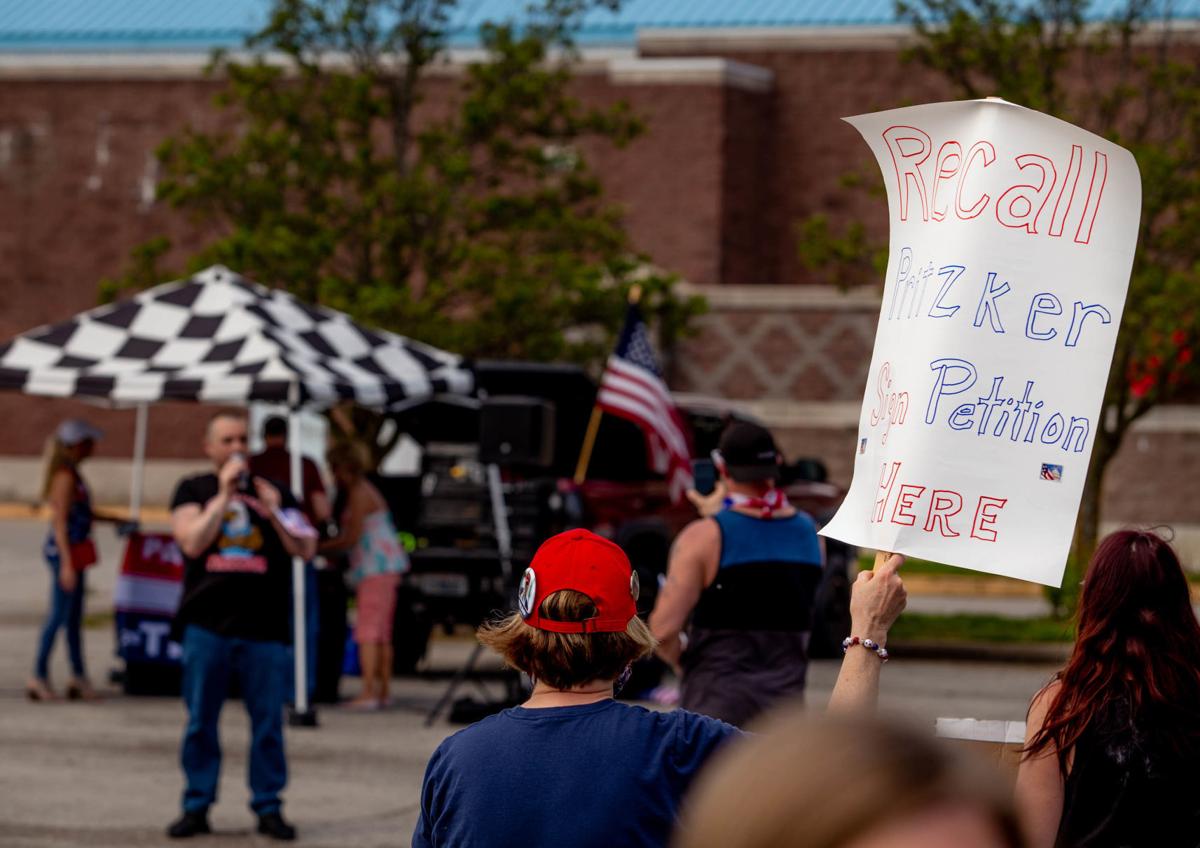 MARION — Nearly 50 demonstrators rallied outside of the Illinois Centre Mall calling on state officials to reopen the economy and remove Illinois Gov. J.B. Pritzker from office amid the coronavirus pandemic.
Attendees donned Americana clothing and American flags while some passed out flags supporting President Donald Trump. Two City of Marion Police squad cars sat at a distance from the event. The majority in attendance did not wear personal protective equipment.
Moshe Ben Avi, of Marion, said he was one of the organizers for the event and it is not a protest but is a "gathering of patriots celebrating freedom" to "show that we are bigger than this crisis." He said there were already plans in place for having a similar event due to it being an election year but claimed the event was not political in nature.
"I would love to see Democrats here, Republicans [but] really it's not about that. It's about who's here wanting to protect our first amendment," Ben Avi said. "In what right the first amendment should be jeopardized over what? A handful of cases in a region that has 900,000 people — I don't agree with that."
Ben Avi said his "freedom" has been infringed upon. "If it's the freedom of movement, if it's the freedom to go to the park, if it's the freedom to take your kids to the public park even if the park is empty while you take sole responsibility of your children — that freedom was jeopardized." He added he doesn't believe there has been a COVID-19 outbreak in southern Illinois.
"I'm actually here when you look at numbers, and numbers only, I don't think there is, or has been, an outbreak in Southern Illinois," Ben Avi said. "It hasn't hit this part of the state enough to not allow small businesses to open up earlier."
He said the public should follow guidelines from the Centers for Disease Control and the federal government but has a problem when each governor applies their own state of emergencies.
"Not because I don't believe we shouldn't protect ourselves but I think, numberswise, this is not a hot zone — not even close," Ben Avi said. "There is no reason to not open up. I don't think that Southern Illinois should be part of Stage 3 because we were never really in a Stage 1 of an outbreak."
There have been more than 900 total lab-confirmed COVID-19 cases in Illinois' bottom 17 counties. Out of those, there have been 34 deaths and nearly 650 who have recovered. Dr. Ngozi Ezike, the director of the Illinois Department of Public Health, has previously said an outbreak constitutes more than two positive cases in a single location.
Kathleen French, of Marion, waved to fellow demonstrators as she held up a sign calling for Pritzker to be recalled. She said she is "doing her part" as a group of Illinoisains attempt to collect 750,000 signatures to recall the governor. French said there were multiple reasons she was attending the event.
"Our governor has become a dictator and he's trying to strangle our fate and I think he's trying to embezzle the federal government to bail out the state of Illinois for the poor mismanagement of all of these public pension programs for decades," she said.
French said she understood the restrictions at first because there wasn't much known about the virus but believes there are ulterior motives behind the restrictions. "As it has progressed, and we've seen other states handle it in different ways, you realize that it's just another ploy to take down our president," she said.
The "most offensive" order the governor has given has been regarding the gathering of churches amid the pandemic, according to French. While she said her church — St Joseph Catholic Church in Marion — has done online services, "it has not been the same."
"They've prevented me from receiving communion which is one of the centerpieces of the Catholic faith," French said. "It's very disturbing and I've been very distraught."
James Traeger, of Zeigler, shared similar sentiments on feeling his constitutional rights on religion have been compromised.
"I have constitutionally guaranteed rights to worship and when the government is telling me I can't go to church — I don't think that's right," he said. "My thought on it is getting everyone information and if people want to stay home, they can stay home and if people want to go out, then they can go out."
Traeger said he understands why state government leaders limited gatherings of large groups and felt like it was, in part, due to the fact that "we didn't know much about the virus" but believes it's time to reopen because the "death rate isn't as high as what they originally thought."
"If people are going to separate and keep distance, what does it matter if it's 10 people or 50 people," Traeger said. "Most churches around here are small churches. We can sit not right together and leave some distance between people and have more than ten people."
Traeger said he doesn't know what life will look like moving forward living in a coronavirus world. "I really don't know at this point. A month ago I would have ever expected things to be the way they are now," he said. "Only God knows what the future holds."
Ben Avi said this is the time for the country to come together and "stop with the division."
"I think that we need to stop taking [the virus] to places that divide us and more to places that bring us all together," he said.
Concerned about COVID-19?
Sign up now to get the most recent coronavirus headlines and other important local and national news sent to your email inbox daily.