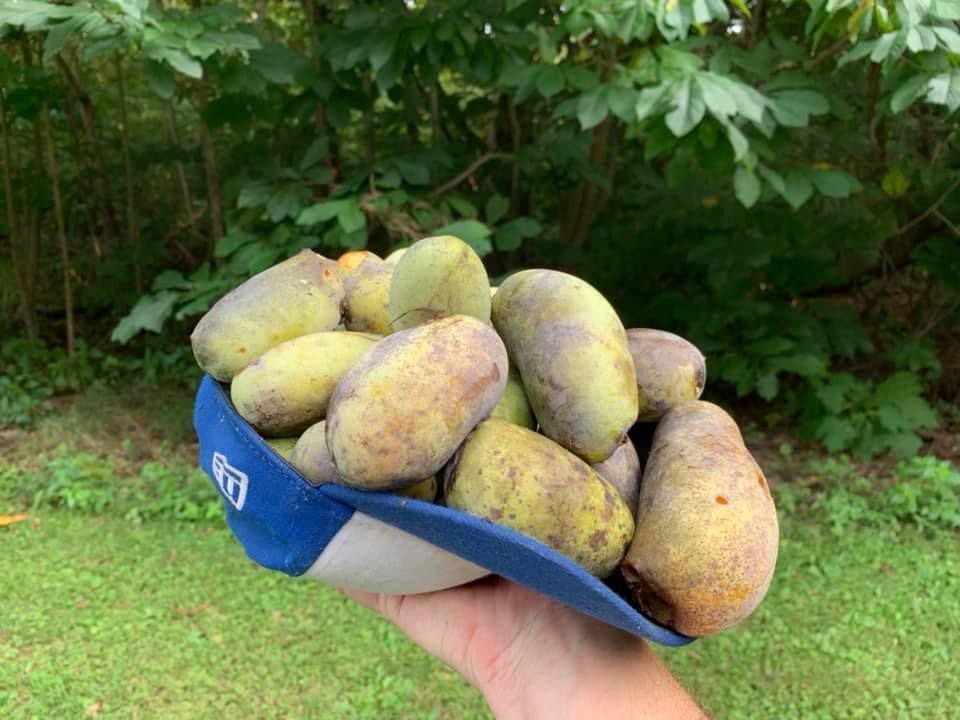 In the mid-1990s, Joseph Gray was introduced to the pawpaw fruit by his dad, who regularly took him squirrel hunting in the Shawnee National Forest past the Little Grand Canyon area.
"I specifically remember one time he stopped and he was like, 'Ah, that's a pawpaw tree.' And he's like, 'Oh, it's actually got pawpaws on it.' He was pretty intrigued because he hadn't seen that in a long time, so that made an impression on me."
His dad sliced it open and took a bite, and then offered one to his son. As a kid, Gray wasn't so sure it looked good. It was pale yellow and bruised on the outside, and there were large seeds inside he had to navigate to get to the pulp. He gave it a try anyway, and was pleasantly surprised by the sweet tropical flavor.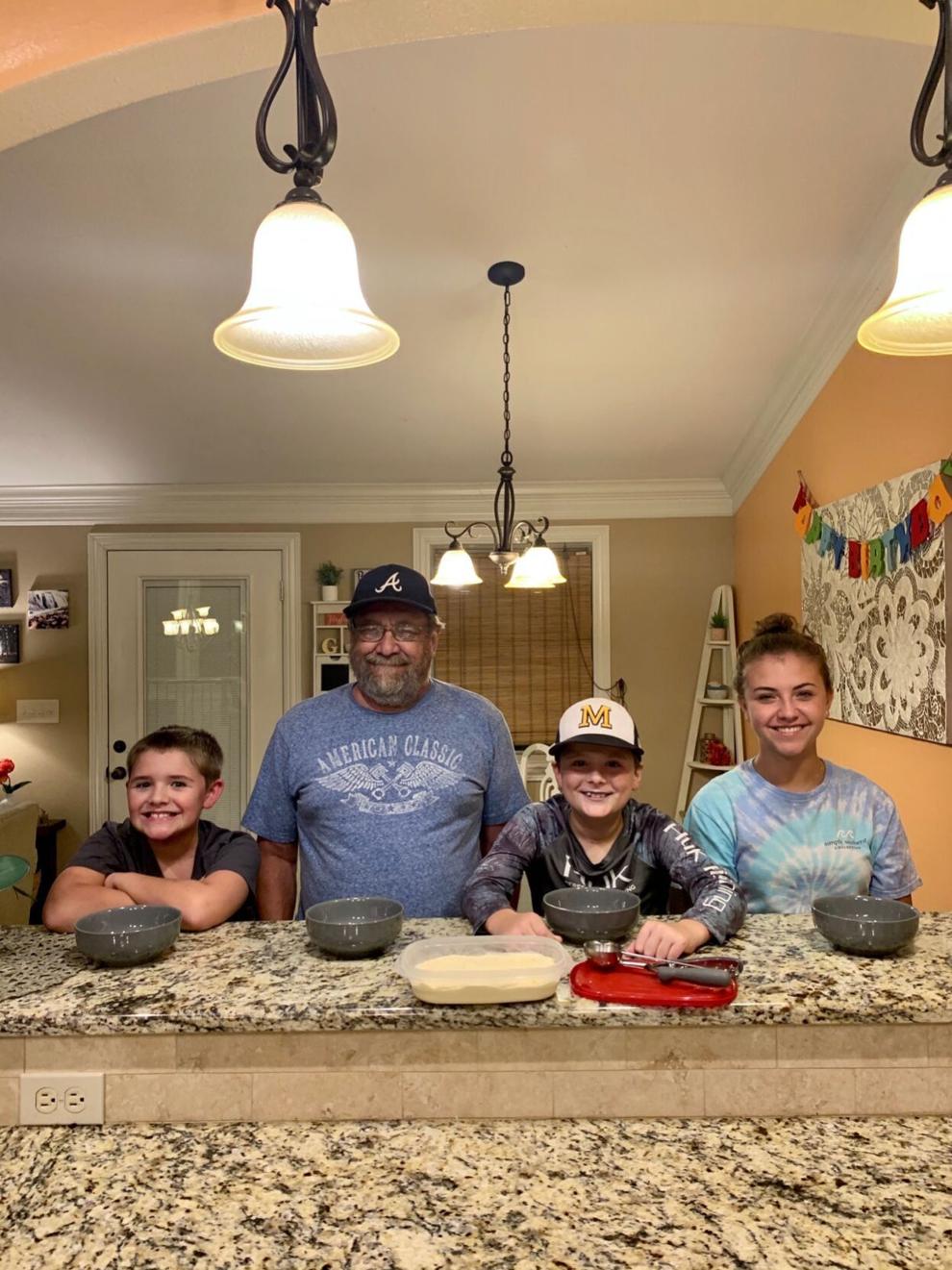 Now, as an adult with kids of his own, Gray looks forward to September, when Southern Illinois' pawpaw trees drop ripened fruit to the ground during a brief window signaling the dawn of the fall season. "It doesn't taste like any fruit you would expect to be around here," Gray said, as his Cuisinart ice cream maker cranked a batch of homemade pawpaw ice cream in the background. 
Gray, of Murphysboro, was excited to share one of his favorite pawpaw recipes with his three children, Carter, Emery and Lauren. They invited Gray's father, James Gray — otherwise known as paw paw to his grandchildren — for their fittingly named "Paw paws with paw paw" ice cream social Monday night.
He also posted an instructional two-part video to his YouTube channel, "Joe Cooks," as well as his personal Facebook page, for others interested in giving it a try. But fair warning: People hoping to get their hands on the mysterious tropical-like fruit that grows native in the Midwest are running out of time.
It's near the beginning of pawpaw season in Southern Illinois — and also near the end. The fruit typically ripen around mid-September, and by early October, they'll likely be gone, fallen from trees and devoured by raccoons or other animals or turned to rotten mush.
Gray surmises that the incredibly short pawpaw fruit season is probably why a lot of people, even many who grew up around here, don't know about the pawpaw and its potential. He shared a photo of his bounty from earlier in the week — about a dozen pawpaws balanced in a baseball cap — in a Facebook group dedicated to the Shawnee National Forest. Some folks responded with favorite recipes and memories of eating them as children, while others were stumped. "What the heck are paw paws?" wrote one commenter, who said he has spent years exploring the woods of Southern Illinois but had never come across one.
A pawpaw is the largest edible fruit native to the United States. The trees that bear them grow in 26 states, from as far west as Texas to the eastern border. They are shaped like a potato, and weigh upward of a pound. They are green while growing and then turn yellowish-brown when ripened. At their best for eating, they have a consistency like custard. People describe their taste in a variety of colorful ways, but the most popular description is a blend between a banana and a mango.
"It's like a fruit cocktail with a bunch of different flavors you can't quite put your finger on," said Jon Schoonover, with Southern Illinois University's Department of Forestry. He is a physical hydrologist and soils professor who also teaches a class on tree identification.
The trees tend to grow in bottomlands along creeks and streams. They prefer well-drained sandy soil. Shade tolerant and common in the understory of forested areas, pawpaw trees rarely grow taller than 45 feet, or have a trunk diameter greater than 12 inches. The record trunk diameter in Illinois is about 7.5 inches, Schoonover said. Some fruit-bearing trees may only measure 10 feet tall or so.
They have many interesting features that set them apart in this area. For one, the trees are not pollinated by honeybees like most native species. They sprout a maroon flower before their leaves emerge in the spring that smells of rotting flesh. This attracts blowflies and carrion beetles, which act as pollinators. "This is a tropical trait," Schoonover said, noting their broad leaves also resemble tropical plants.
The pawpaw fruit, considered safe to eat raw, holds a rich place in American history. Through time, the fruit sustained Native Americans, European explorers and enslaved Black Americans, according to the book "Pawpaw: In Search of America's Forgotten Fruit" by Andrew Moore.
An oft-repeated legend is that chilled pawpaw was a favorite dessert of George Washington. Though, Moore writes in his book that he had not found any evidence to substantiate the claim. "But perhaps it's fitting that the nation's first president, about whom there are so many legends — the chopping of the cherry tree; the wooden teeth that weren't — ought also to have some connection with America's largest, most impressive native fruit," he writes. 
No matter Washington's tastes, it is a perennial favorite among the forestry students at SIU. Pawpaw trees grow in relative abundance on the Carbondale campus, in Thompson Woods and around Campus Lake. But Schoonover, like most any pawpaw gatherer — and certainly morel mushroom hunters can relate — is hesitant to disclose all of his favorite spots.
That said, many of the forestry students know them well. Because of that, they are "probably gone before they hit the ground" on campus, he said. Students have been known to harvest them for pancakes, biscuits and smoothie recipes — there's even a pawpaw coladas recipe that has been passed down.
The best time to eat them, Schoonover said, is right when they fall from the tree. It's hard to find them on the ground, though, because raccoons are also on the lookout. Another option is to give a pawpaw tree a gentle shake: those that fall without much effort are generally ripe.
Once on the ground, it's best to eat the fruit or use them in a recipe right away; freezing the pulp is another option. "As soon as they fall off that tree, the clock starts ticking," added Gray. Slightly over ripened, they can still be good in ice cream and other recipes. But it doesn't take long before they are beyond salvageable. "The shelf life on them is extremely short."
---
10 foods that say Southern Illinois
618-351-5079
On Twitter: @MollyParkerSI ​