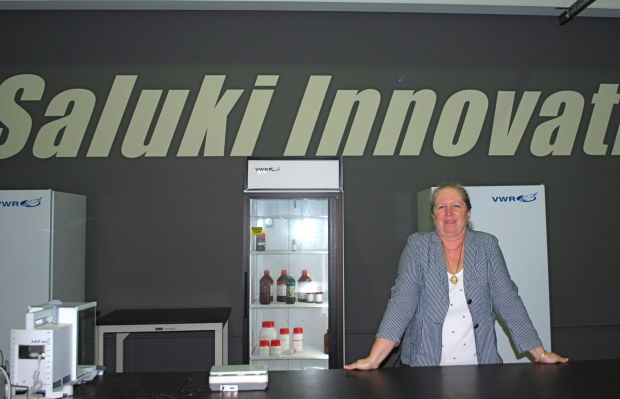 SIU plays a vital role in the economic health of our region. A 2011 study conducted by university economists concluded that SIU contributes $859 million in annual total economic activity in the 23-county Southern Illinois region. SIU contributes $2.3 billion in economic activity annually to the state's economy.
Helping to grow the region's economy is a priority for us. And, as Lynn Andersen Lindberg points out, creating new goods and services is essential. As associate director of Southern Illinois Research Park and director of business innovation and research for SIU, Lynn helps technology businesses do just that. Her connection and commitment to the region and university, and those of her family, stretch back to 1967 when her family moved here.
Lynn earned her bachelor's and master's degrees in business administration from SIU. Husband Phil, who holds a doctorate from SIU, recently retired as assistant director of our Center for International Education, and two of their three children are Salukis, as well. Oldest son Josh earned his degree in aviation management in 2012 and is an aviation accident investigator with the National Transportation Safety Board. Daughter Mallory earned her bachelor's degree in physiology and is completing her master's degree in physiology at SIU. Youngest son Zachary is completing an associate degree in science in Dallas.
Lynn's background includes experience running a business, and she has been contributing to our economic development efforts since 1985. She considers her role to be that of a catalyst, particularly for technology entrepreneurship.
"The research park is the university's focal point for outreach to the business community," she said. "People think of us as many things, such as an incubator or as the Small Business Development Center, but the research park is where we bring everything together. It's our staff working with business people and with those who come here for seminars and to take advantage of other resources. We try to be out there finding ways we can contribute."
Key to growing our economy is innovation.
"We are lucky in Southern Illinois, and especially at the university, that we have a lot of people who want to do research and they are good at it," Lynn said. "They are solving problems. We want to work with them to get their problem-solving ideas into the marketplace."
One of the ways they accomplish that is through Operation Mousetrap, which helps faculty bring innovations to the marketplace. Lynn serves as facilitator for the annual program, which has "graduated" 25 faculty members since it started in 2010.
Earlier this year, we launched the Student Innovation Incubator at the research park through a partnership with the U.S. Department of Agriculture and Delta Regional Authority. Five students currently are taking advantage of the hands-on training, consulting services and mentorship the program offers, and Lynn and the staff hope to attract more students this fall.
My educational and professional background is in business, management and accounting, so I understand many of the challenges involved in starting and running a business. With Lynn and her colleagues at Southern Illinois Research Park, I am confident we have the resources to help grow the Southern Illinois economy.
RITA CHENG is chancellor of SIU Carbondale. Her column appears weekly in Southern Plus.
Be the first to know
Get local news delivered to your inbox!