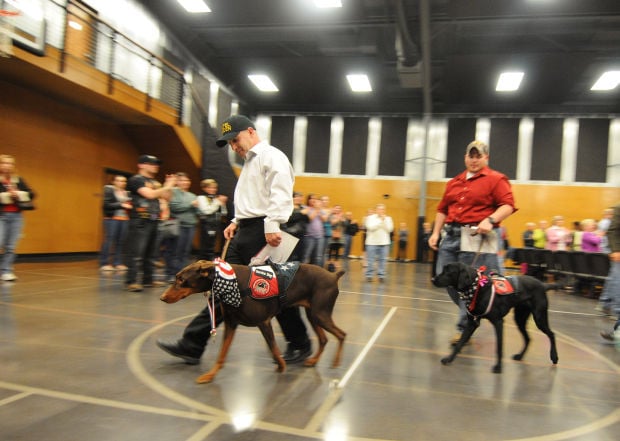 CARBONDALE -- At least two military veterans suffering from PTSD will get a new lease on life as they welcome new service dog partners to their families with donations from two non-profit organizations, Gateway Warrior Foundation and This Able Veteran (TAV).
Gateway Warrior Foundation, established for the express purpose of providing support for wounded service personnel, donated $50,000 to This Able Veteran, to acquire and train two service dogs for veterans from the St. Louis metro area.
Gateway raised $200,000 through a golf event in October. This year's event was held in honor of the organization's founder, retired Master Gunnery Sgt. USMC Lennie Miller, who passed away in April 2014.
Leary said a recommendation led his group of volunteers to consider donating to This Able Veteran after meeting its founder, Behesha Doan, hearing her describe the organization, its impact on the lives of many wounded warriors and seeing a video illustrating the program.
This Able Veteran, purchases and trains service dogs which are paired with selected veterans, helping the veteran overcome psychological and physical injuries. This Able Veteran provides training in the skills that empower veterans to take charge of their individual recovery journey while experiencing the support and companionship of their service dogs.
The cost of acquiring and training each service dog, providing necessary equipment, bringing the veteran to Carbondale and housing them, averages about $25,000 but is provided to the veteran at no cost. Donations and fundraisers provide the organization's only support.
Founded in 2011, TAV has trained and paired 22 service dogs with veterans. There will be a new class of service dog pups coming in March and the next class of veterans will be coming in the Spring of 2016.