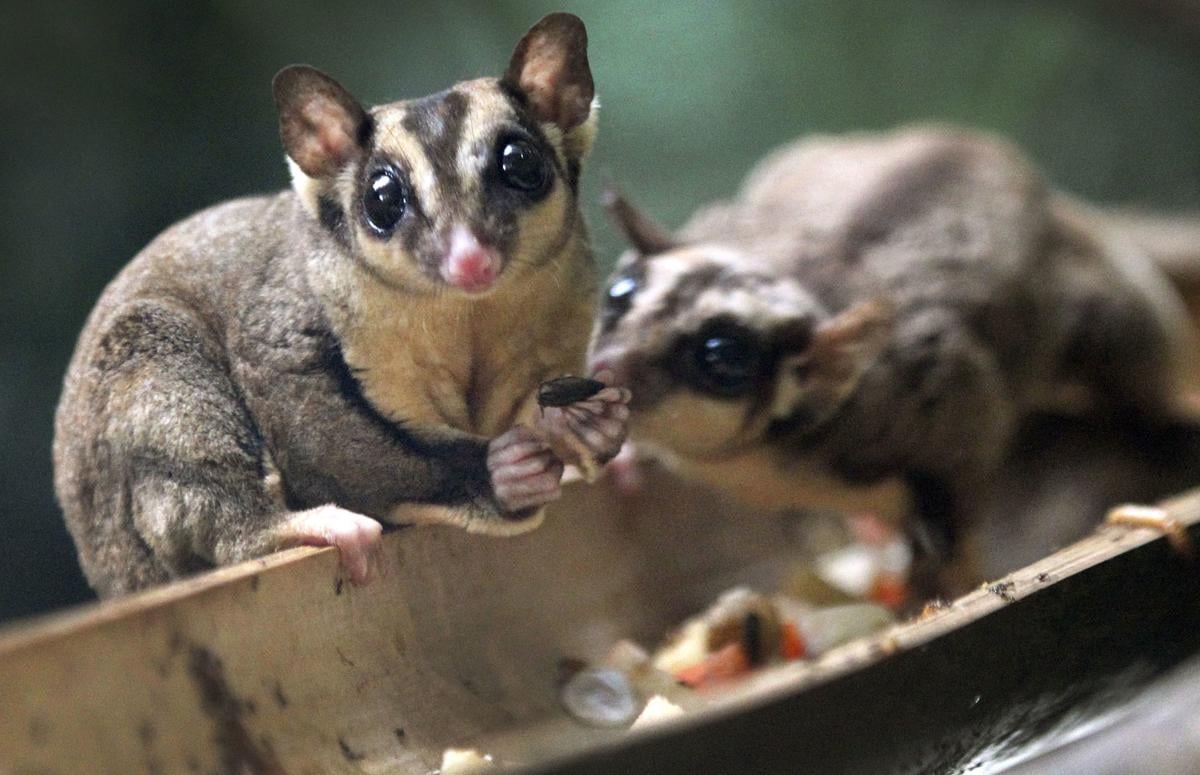 CARBONDALE — Pocket Pets, a company that sells tiny Australian marsupials called sugar gliders, will not be dis-invited from Southern Illinois Hunting and Fishing Days at John A. Logan College this weekend, despite objections from some local people.
The final decision came Friday afternoon from JALC President Ron House, after the company passed its pre-event safety inspection.
"I respect both sides, and I'm not trying to fuel this debate. I just want to have a good Hunting and Fishing Days event and move on," House told The Southern.
Pocket Pets is the largest U.S. vendor of sugar gliders, responsible for sales to "over 75,000 in homes all across North America," the company's website states.
While removing sugar gliders from their natural habitats in the rainforests of Australia and New Guinea is illegal, the animals sold by Pocket Pets are bred by United States Department of Agriculture certified "small breeders," all over the U.S., according to Adam Wayne, one of the company's directors.
They are not an endangered species.
But opponents like Retha Daugherty argue the practice of selling exotic animals with no ancestral history of domestication is abusive.
"They're nocturnal, social beings that won't be happy in the pockets of egotistical humans. They need to be in the tree canopies of Australia," she said. "They're not like dogs and cats, that have been domesticated for a long, long time. Their DNA is wild."
Daugherty appeared Tuesday before the John A. Logan Board of Trustees to advocate rejecting Pocket Pets as a vendor.
She became aware of the company's planned attendance via Facebook posts from friends, she said, and phone calls and emails to the college on the topic had gone unanswered.
Pocket Pets has long been been a target of criticism by animal rights group People for the Ethical Treatment of Animals, which alleges the company targets impulse buyers who take home the furry, long-tailed gliders unprepared for the highly specialized care they'll need.
That characterization is totally off-base, Wayne said.
"The company was founded because Virgil Klunder, our founder, felt that having these animals in pet shops was unethical," Wayne said. "We support our customers with more specialized information than probably any other pet supplier, all of it direct from veterinarians."
The company does not directly sell the animals, instead brokering their sale through local breeders. It makes the majority of its money, Wayne explained, by selling proprietary supplies: glider food, toys, cages and heat rocks.
Pocket Pets requires all customers fill out an application to demonstrate they'll provide a good home, and only sells gliders at the ideal age for bonding with humans, between eight and 12 weeks.
"There's a very limited supply of these animals and my demand outpaces my supply," Wayne said. "I will tell my distributors all the time, 'If this is a question mark and you're not sure this will be a good home, don't sell to them, we'll sell to other people.'"
The company offers a lifetime warranty on each sale, promising to replace any glider that dies prematurely, as long as the owner followed all of Pocket Pets' care recommendations.
"Beyond the ethical implications, if we place an animal in a situation that's going to cause it to self-mutilate or die, I have to replace the animal," Wayne said. "We have an interest in keeping the animals alive. I have no incentive other than to give the best possible advice and care."
But as with any animal, opinions may differ on the most appropriate care, Wayne acknowledged.
Some animal owners have taken issue with Pocket Pets' for downplaying the gliders' unique needs, from their complex diet, to their unique musky smell, to their nocturnalism and need for companionship.
"Their website, quite honestly, much of the information on it is completely inaccurate," said Meghan Arriola, a Texas-based animal educator who owns four sugar gliders. "You end up with people who realize they don't want these animals, and a lot of rescues just won't take exotics."
By nature, sugar gliders can make great pets, said Veterinarian Jeffery Parton, of Quality Care Animal Hospital in Herrin. They're intelligent, social and cuddly.
But no exotic animal should ever be an impulse buy.
Parton, who sees sugar gliders every few months at his practice, advises interested owners to have everything ready at home, from the food, to the habitat, to a detailed care plan, before purchasing any exotic.
"I don't have a problem with somebody educating people at an event, but I don't think those animals should be sold on impulse, because they are probably not going to survive," Parton said. "People have not done their research."
The Pocket Pets distributors who attend events like Hunting and Fishing Days are mostly former customers, Wayne said, who share their knowledge and experience with the animals.
"We always encourage people to do their due diligence before buying," he said. "We never pressure a sale."
The animals are hardly priced for an impulse buy, he added, at $649 for one glider plus cage, food and supplies, or $949 for two animals, the most common package.
Though he doesn't like the sale of sugar gliders, John A. Logan Board President Bill Kilquist said blocking Pocket Pets would have put Hunting and Fishing Days, an event predicated on human control and harvesting of animals, on a slippery slope.
"Where do we draw a line? Is it a fish in a tank or a bear in a cage? Is it a dog that's trained to jump off a dock that people come and watch?" Kilquist said. "It's not an easy call, but pretty soon, we wouldn't have a Hunting and Fishing Days."
Get local news delivered to your inbox!
Subscribe to our Daily Headlines newsletter.