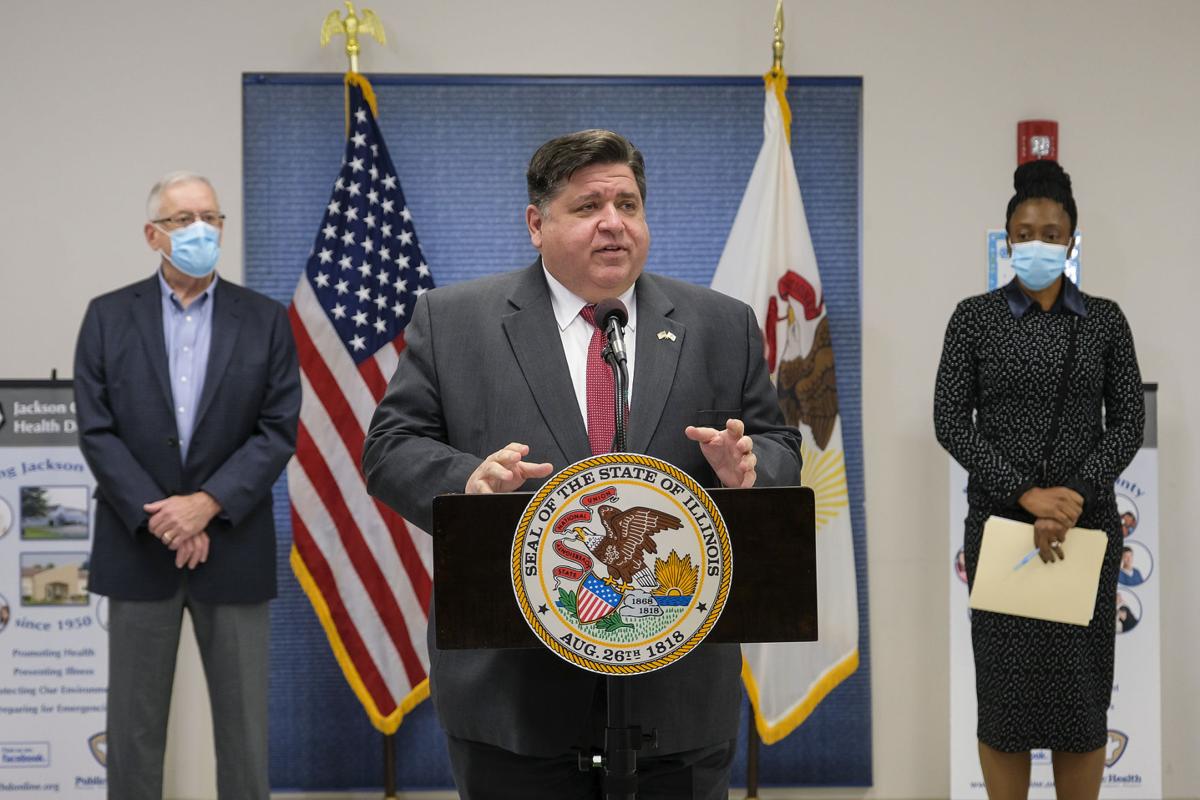 Gov. J.B. Pritzker announced Monday that he's imposing new restrictions on Southern Illinois counties in an attempt to slow the spread of COVID-19.
Prtizker said Region 5, which encompasses Southern Illinois, along with Regions 7 and 8, encompassing Chicago's south and western suburbs, will enter into Tier 2 mitigations on Wednesday.
Southern Illinois entered Tier 1 under the state's Restore Illinois Resurgence Plan on Oct. 22 after posting more than three consecutive days of a seven-day rolling average testing positivity rate above 8%.
Tier 1 mitigation efforts included closing restaurants and bars to indoor service and restricting gatherings to no more than 25 people.
Since then, the region has seen its testing positivity rate continue to climb to an average of 11.5% as of Nov. 6.
Under Tier 2, restaurants and bars can continue outdoor seating, but groups are limited to no more than six, rather than 10, people. All other indoor and outdoor gatherings are also limited to no more than 10 people heading into the holiday season. 
K-12 schools, colleges and universities are exempt from the new rules as it relates to in-person classes. Business offices and retail stores are also unaffected, as are religious services, though health officials continue to stress caution if worship groups congregate while recommending virtual services. As the holiday season approaches, health officials are warning families not to gather in large groups, "but there is no way to police private gatherings," said Prtizker spokeswoman Jordan Abudayyeh. 
If the region continues to move in the wrong direction for several weeks, it could then advance into Tier 3, which would suspend elective surgeries, institute remote work for all nonessential employees, and close nonessential retail stores, salons and personal care service businesses. Closing retail stores could cause a significant economic hit heading into the busiest shopping season of the year. 
Speaking at a news conference Monday in Chicago, Prtizker said it is his hope not to have to take mitigation efforts further. But, he noted, the entire state is seeing its test positivity rate rise, as well as increases in hospitalizations and deaths related to COVID-19. At the same time, he expressed optimism that President-elect Joe Biden had announced the formation of a COVID-19 task force as part of his transition team, and that a nationwide mitigation strategy may be on the horizon.
"Make no mistake, the weeks and months ahead in our fight against COVID-19 will remain phenomenally difficult, but specifically here in Illinois we will persevere and we will continue to work with the federal government — soon with at least one fewer major impediment," he said, taking a jab at President Donald Trump.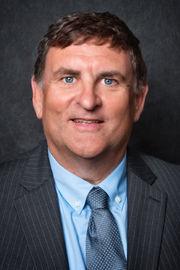 Rep. Dave Severin, R-Marion, said he continues to have concerns about Pritzker's mitigation strategy. Severin said he understands the virus is real and a serious health threat; he and his wife both recently recovered from COVID-19. But Severin said he's been particularly concerned that one sector of the economy — bars and restaurants — have been asked to shoulder the brunt of the sacrifice while IDPH data show there are numerous other potential sources of spread.
"We'd like to see the governor come down here and come and explain what's going on and what he wants to do with these different levels of mitigation," Severin said Monday. "We just feel like we just keep getting these things thrown at us, and we'd like to be able to discuss this with him."
Northwest Illinois' Region 1 was the first to be placed under the enhanced Tier 2 mitigation efforts on Oct. 25. Since then, its average seven-day rolling positivity rate has skyrocketed, and is currently at 17.6% — meaning that more than one in six tests are coming back positive.
For the governor's part, he said the mitigation efforts are effective, and that the problem is they aren't being enforced by local officials. He also said that areas near border states are being affected by irresponsible neighbors where state government leaders have taken a far less aggressive approach to controlling the virus.
While Region 5 has seen its test positivity rate continue to steadily increase, at 11.5%, it is lower than all others in the state with the exception of Region 6 in east-central Illinois, which has an average rate of 11.3%. Still, hospital officials have been sounding the alarm about the increasing number of patients with COVID-19 seeking inpatient care. Southern Illinois Healthcare officials told The Southern last week that while it has enough open beds for patients, staffing levels are getting stretched to concerning levels.
According to Prtizker, twice as many COVID-19 patients are entering a hospital each day in Region 5 compared to the summer peak in late August. The pandemic, he warned, may get worse before it gets better.
"As the weather turns cooler and more activity is driven inside, we may have a real problem on our hands," he said.
From Saturday through Monday, IDPH reported a total of 33,020 new confirmed and probable cases statewide – an average of just over 11,000 per day – and 132 virus-related deaths. The preliminary seven-day rolling average positivity rate stood at 11.4%.
That pushed Illinois' totals since the pandemic began to 498,560 cases, and 10,210 deaths. Given the current rate of spread, Illinois will likely surpass half a million total cases on Tuesday.
As of late Sunday night, 4,409 people in Illinois were reported hospitalized with COVID-19. Of those, 857 patients were in intensive care units and 376 of those patients were on ventilators.
For the week of Nov. 2-8, the average number of people hospitalized with COVID-19 each day stood at 4,043, the highest it has been since the peak of the first wave of the pandemic in mid-May. The average number of people in ICU beds stood at 799 per day, the highest number since early June, while average ventilator use stood at 349 per day, the highest rate since mid-June.
— Peter Hancock of Capitol News Illinois contributed to this report.
618-351-5079
On Twitter: @MollyParkerSI ​