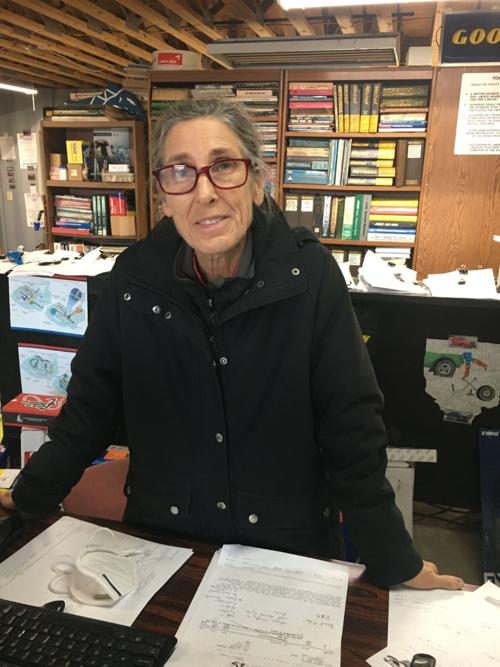 Real Green People is a monthly feature that puts a spotlight on folks who are being the green change they want to see in the world. 
I knew Gator Automotive was "different" the first time I walked into the old location next to the mall. There were giant plants in the waiting area, maps on the wall, and a selection of magazines for patrons that included the Crab Orchard Review, the Economist and National Geographic.
When I met Karen Greenberg, who owns and operates the shop with her husband, George, the cognitive dissonance continued. Greenberg, clad in her customary navy coveralls, was warm and welcoming and, well, tiny.
Over the years, I have had so many snippets of interesting conversations with Karen that I knew I wanted to find out more about her and how she lives her green ideals while working on cars for a living.
Mike Baltz: How did you get to Carbondale and into the mechanic business?
Karen Greenberg: I arrived in Carbondale, in 1979 or 1980, in order to finish my environmental biology degree. I had grown up in Chicago, got a degree at Eastern University, and came here to complete an internship at SIU's Touch of Nature.
I quickly fell in love with Southern Illinois and an exceptional man, my husband, George, who at the time owned and operated an automotive repair business in Johnson City.
Although auto repair was not what I came here to do, during the early 1980s the changes in automotive technology opened new areas of specialization that suited my science background and I became involved with diagnostic and electrical systems work. 
MB: What advice might you give to "green people" with traditionally non-green jobs?
KG: Living your principles at work can be difficult. But I believe a person needs to focus on what they can control.
For example, when we built our current facility on North Reed Station Road in Carbondale, we tried to be as green as possible. The big one for us was installing geothermal cooling and heating. We also recycle everything from cardboard, to tires, to metal. We buy products that minimize or negate impacts on the environment like purchasing antifreeze from an antifreeze recycler and buying oil in bulk to reduce plastic waste.
And if you are in our waiting area you will be surrounded by plants, including our 50-plus-year-old Cycad, maps, the periodic table, magazines and books all of which are intended to help people appreciate the complexity, vastness, and beauty of the world.
MB: Outside of work, what do you do to be the green change you want to see in the world?
KG: On a personal level, I have been a vegetarian for 48 years now. I try to recycle and extend the life of everything I buy. I choose not to cool my home with air conditioning. And I thank God for my life and stay astonished at the creation.
I read as much as a I can, too. I certainly recommend reading some of the environmental classics written by amazing people who have thought deeply about the relationship between human beings and the planet. For example, anything by Rachel Carson; "The Firmament of Time" by Loren Eiseley; "Desert Solitude" by Edward Abbey; "Diet for a Small Planet" by Frances Moore Lappe; "A Sand County Almanac" by Aldo Leopold; and "Walden Pond" by Henry David Thoreau.
MB: What gives you the most hope about the future?
KG: I think the word "hope" is like the word "love," in that it can lose its meaning if you use it generically. So, you have to be specific about what you're hoping for. My actions each day certainly are not determined by hope. I try to make it through each day while doing as little harm in the process. Hope can be difficult.
But I do think we humans are slowly learning that peace and cooperation are almost always better than war and conflict. So, that's hopeful. And I think we are finally beginning to realize that if we are going to survive on this planet, then we must become more aware of how we are impacting the basic life support systems on which we depend. So, that's hopeful, too. But unfortunately, there's no going back. The question is: What do we do now?