DOWELL – Twenty years ago this month, one of Southern Illinois' most famous adopted sons passed away. Rudolf Walter Wanderone was originally of New York but spent many years in Dowell.
Long called New York Fats, Wanderone began calling himself Minnesota Fats after the 1961 release of "The Hustler," based on Jackie Gleason's character that may or may not have been influenced by Wanderone -- that was for years denied by the author, a source of debate. But Wanderone's adoption of the name is a certain nod to his self-marketing genius.
Fats, or Fatty as he also was often called, was a large, eccentric, animal-loving, fast-talking pool hustler who, without question lived a colorful life full of events including those real, imagined and exaggerated – and probably most were a mix of all of those things.
While Fats is long gone, his larger-than-life stories live on in Southern Illinois. 
A big man, a big heart  
The only thing larger than his tales was his heart, said Joe Brewner, of Dowell. Fats gambled away a lot of money, but he gave a way a lot too, to children and families in need at Christmas. And aside from a bet, one of the other things Fats could never say "no" to was pretty much any stray animal he ever met. He housed dozens of cats and dogs in his yard – and a chicken, by one account – and fed them a steady diet of scraps from the Du Quoin KFC and area grocery stores. If someone's animal fell ill, he would see to making sure it got to a vet, and would also pay the bill, Brewner said.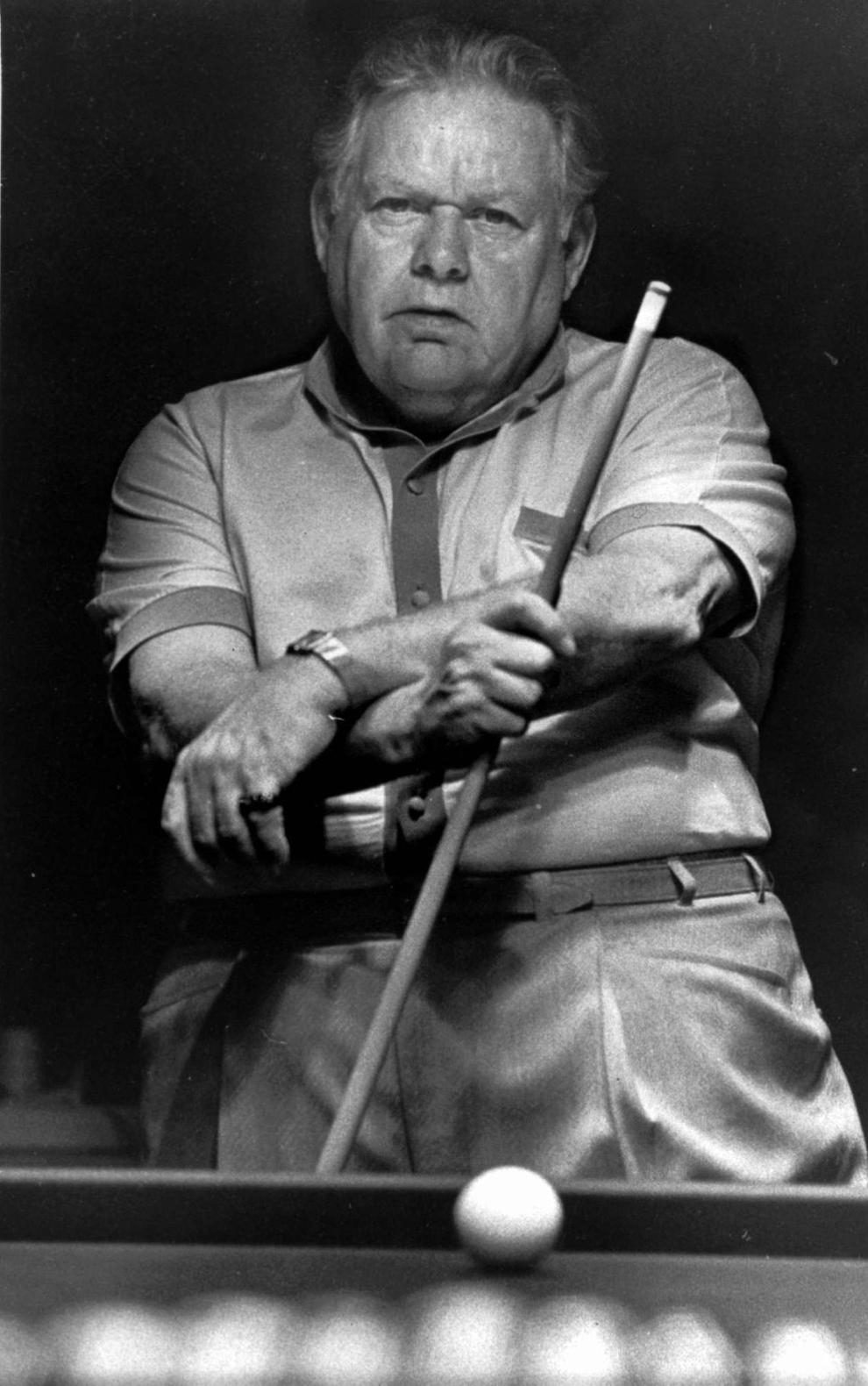 Fats – and he truly was a big guy, weighing upwards of 300 pounds at one point – lived for years at 611 South Street in Dowell with his wife, Evelyn (Graff), a native of Dowell. They met when she was a waitress at The Perfection Club, located then on the outskirts of Du Quoin, a steakhouse, where Fats was known to dine, that was named for the coal mine nearby. He always called her "Eva-line" and, according to a New York Times obituary, she was the one who would drive them around, carry the luggage and even change a flat tire, as Fats was more of the pampered sort, not known to lift anything "heavier than a silver dollar."
In their later years, Fats and Evelyn divorced and Fats, according to the obituary, later remarried 27-year-old Theresa Bell, and the two lived in Nashville, Tennessee. Fats died in his home there on Jan. 18, 1996. The New York Times said that Bell was Fats' only survivor. He was long believed to be the father of the late legendary singer Etta James, though that also has been called into question in more recent years, with the passing of James.  
By most accounts, he was 83 at his death, though as the New York Times article notes, by some of his own accounts, he also could have been 95.
That was the thing with Fats. His stories were fantastic even if they didn't always add up. But he was never one, as has been said, to let the facts stand in the way of a good story.
A booze-loving pet goose 
The story of his introduction to the game of pool is one of many of those wild, amazing tales.
According to Fat's biography, "Minnesota Fats: The Bankshot and Other Great Robberies" written with author Tom Fox, Fats was introduced to pool accidentally at the age of four by his pet goose, Gans (In German, Gans means goose).
Fats explains, in "Chapter 3: The Oversexed Goose," that his father won Gans in a raffle in New Jersey. It was on that day a love of gambling was born inside the heart of a then very young Roodle, as his father called him, as he discovered he was so good at picking numbers on a raffle wheel that he never, ever lost.
With one particular spin, a little goose was the prize, and his father asked Fats to pick a number, and you better believe they went home with that goose. Now, as Fats tells the story, everyone thought it would be great to fatten up the goose for a nice meal, but "nobody in my family ever animal-killed or anything like that," Fats explained. So, Gans became a beloved family pet. The only problem was the goose's behavior really embarrassed Fats' mother. That's because Gans loved the booze, and the more Gans drank, the more he would get to "running up the ladies' dresses and sticking his beak down the doll's bosoms."
But all that is mentioned as taking the long way to the point, in true Fats fashion, to explain how Gans is responsible for Fats' long career around a pool table. In his book, Fats writes: 
"Well, the way Gans introduces me to pool came about when I was four years old. We were at an outing and Gans took off on me and ran into a big pavilion at the amusement park and I ran inside after him. It was an enormous place with bowling lanes and card tables and a bar that looked like a distillery and right near the bar they had these pool tables. It was the first time I ever saw one." 
Fats would of course grow up and go on to hustle a lot of people out of a lot of money around numerous pool tables. Fats was not the best pool player of his day by any stretch of the imagination, except maybe his own, but he was the game's most famous and successful hustler. A credit to his success, a big bet didn't rattle Fats, as it might a sucker – that is, as defined by Fats, "someone with a weakness for taking on something he knows nothing about."
"If he shot a game for 25 cents, or for $25,000, his game never changed," said Brewner, whose mother, Jackie Brewner (Ogolini), was the owner of Jackie's Tavern in Dowell between 1964 and 1984. That tavern was a family business dating back to 1912 when Brewner's grandfather operated The Diamond Inn, which at various times included a Greyhound bus station, hotel, tavern and other businesses in the heyday of Dowell, when the coal business boomed.  
So many, many strays 
Regina Jansen is another person who lived near Fats years ago. Jansen said she and her husband moved into a new home in 1984 next door to Fats and Evelyn. Jansen said she always thought Evelyn was a really sweet lady, but found Fats to be a bit grumpy and rather anti-social.
But Jansen she'll never forget him, or all the noise, or the sight of the large man in nothing but boxer shorts feeding all his dogs on the property line.
"They're all barking and growling and he's feeding them in his underwear," she recalled of the regular, odd occurrence. But, she said, he certainly took good care of all the strays he took in, and seemed to really love them. Of animals, Fats wrote in his biography: "I'm crazy about every living creature, it doesn't matter what it happens to be. I even love insects; in fact, I wouldn't swat a fly or a mosquito for a whole barrel of gold."
Bill Keith, also of Dowell, said he and his wife Sue lived near Fats for about 14 years, and he remembers watching Fats take in the skinny neighborhood strays and how quickly they would plump up. 
Fats' wrote that "The Man Upstairs" intended humans to be the best of the creatures, "but what happens is one human gets to plotting with another human and maybe another and another and after awhile they all decide to be generals." 
Swallowing the ring 
Keith said he remembers hearing another of the many famous tales of Fats, and it went something like this: Fats was playing a card game at a gambling hideout that belonged to the late Louie Reid of Du Quoin on the Little Muddy Bottoms. On this particular night, there was a robbery, and some men with guns were coming after their money.
"Fatty always had either a diamond ring or a sapphire ring on his hand – a big, flashy thing," Keith said. "Anyway, the story goes that as they were coming in, he slipped off that ring and swallowed it."
Later, Fats thoughtfully recovered it, Keith said, repeating a story he heard another man telling years ago at a dinner. Is it a true story? Who knows. But it sure is entertaining, and that was what Fats did best: entertain.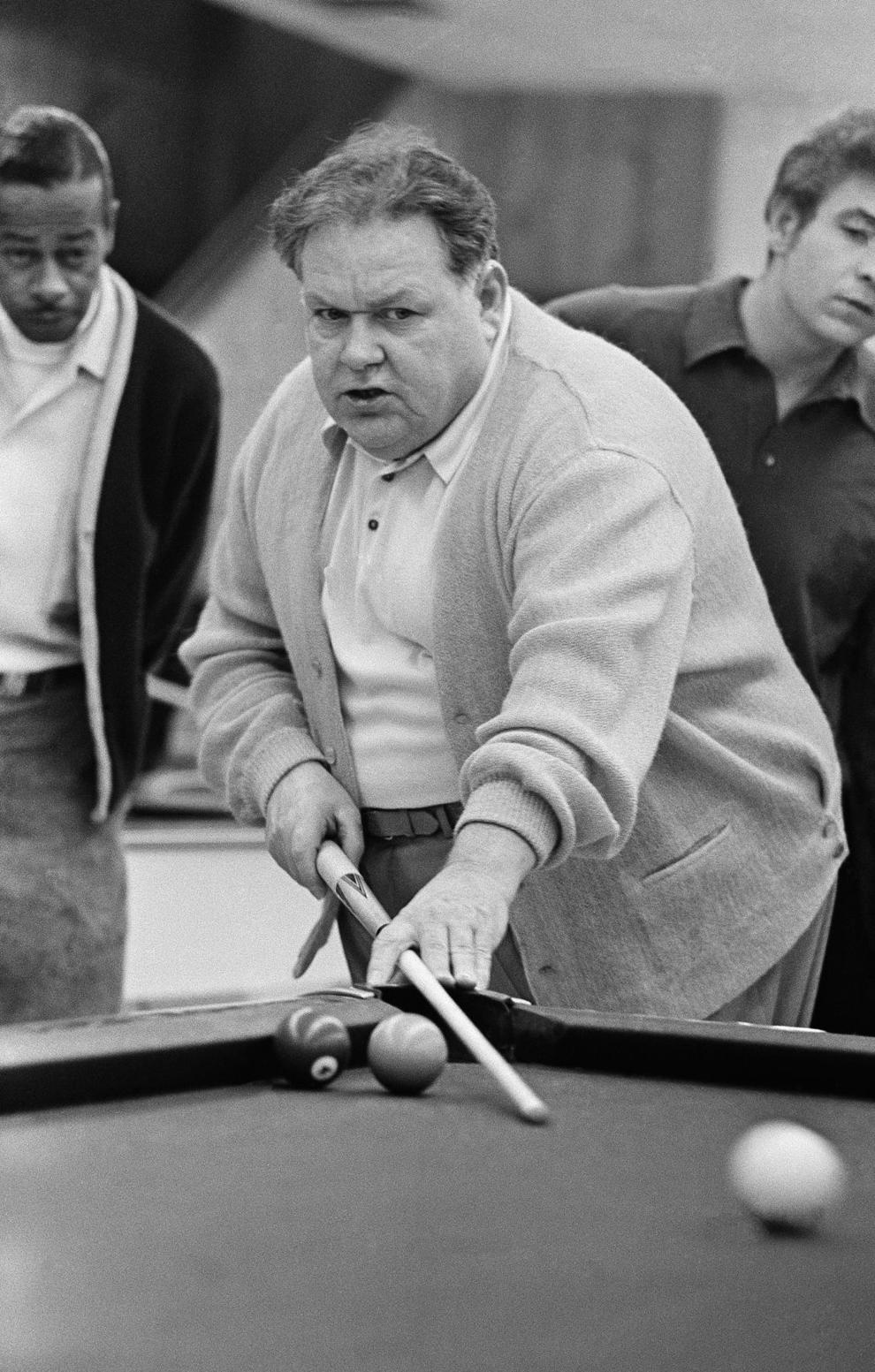 "He was somebody that you'd like to meet at least once and listen to the jibber-jabber he'd put out," Keith said. "He'd tell stories about how he first started shooting pool as a little boy. He was short and round. He would get on the coke boxes to shoot on the pool tables. He'd move those from one spot to another to reach the table."
And then there were the fancy cars, Keith said, a new Cadillac rolling through the neighborhood every whipstitch, and the occasional commoner's ride when things may have gotten a little tough at the gambling table. Fats would have referred to those times as when he was "tapped out," as in flat busted.
Said Keith, the longtime neighbor: "He was a dandy, a very colorful part of Dowell."
Counting hundreds at the bank 
But when things were going well, Fats let it be known, and he shared the wealth at random on occasion. Marilyn Halstead, of Elkville, a longtime journalist at The Southern Illinoisan, recalls going into the bank as a teenager to cash her humble paycheck from a local fast food restaurant, and seeing Fats in the corner of the bank counting – "or pretending to count," as she put it – a stack of bills. "I said hello, as usual," Halstead recalled. Fats questioned her about why she wasn't in school, and Halstead told him she was going shopping with her sister and friends in Fairview Heights, and her mother was aware of the trip.
During the conversation, Fats let her know he was counting his $100 bills. "He then pulled out a $100 bill and gave it to me, saying, 'Have lunch on me,'" she said. "I think the $100 paid for lunch, dinner and a little more."
A high-stakes robbery 
Joe Stephens, of Du Quoin, recalls another oft-repeated Fats story about the time there was a robbery of a high-stakes game at the St. Nicholas Hotel in Du Quoin – now the location of the St. Nicholas Brewing Company – that stripped all the men of their money and clothes.
Fats tells that story on page 124 of his book:
"A couple dozen of the highest rollers in the whole country happened to be in Du Quoin at the time and the play was so fantastic that they dismantled the kitchen at the St. Nicholas Hotel and turned it into a private poolroom. The action went on and on right around the clock and for awhile it looked like a re-run of the Norfolk days, only these heisters set off a deadly recession in the kitchen economy.
It was about three o'clock in the morning … when all of the sudden the robbers swarmed in from all over. I happened to be out of action at the moment and was leaning against the wall right next to the swinging doors coming off the old dining room when suddenly I felt a real start. I turned around like I knew something was behind me and sure enough there was, on account of I was staring into the most brutal pair of Thompson submachine guns you ever saw.
I happened to be holding my hands as high as I could reach myself and with all my weight, it was killing me. So I went to the conversation. I told one of the intruders with the Thompson subs that there was no way I could hold my arms up anymore on the account of it was putting a deadly strain on my pump. So what happens but one of the stick-up artists recognizes me.
'Well, well,' he says. 'if it isn't the old Fat Man.'"
Now, the holdup men whistled in a couple of helpers with a tremendous blanket and they spread it out like a fire net and went from one high roller to another relieving them of the cash exactly like they were passing a collection. By the time the collectors got to me that blanket had a sag in it like a sway-back mule. But now the fellow with the Thompson sub comes up to me and instead of snatching up my cash, he starts laughing and laughing like knew something real good.
'Fat Man,' he said. 'you've robbed a lot of people in your time, haven't you?'
'That's exactly right,' I said. 'I've robbed them all.'
'Well, in that case he said, 'we won't take any of your money. You are a brother.'
… When the collection was completed the heist gang made every high roller strip all the way down to his skin. Then they tied everybody's wrists behind their backs with electrical wire and anchored the wiring to the ankles which they tied up, too. Then they ran off with all the gold. So now I'm rolling around on the floor on my belly like one of those old roly-poly clowns, only when I look across the room Muzz, who is heavy as me, is in a similar predicament.
'Muzz,' I said, 'you look like a stuffed turkey.'
'Oh yeah,' Muzz said. 'well, you look like a big fat pig ready for roasting, Fatty. All you need is an apple in your mouth.'" 
As colorful as he was, Fats also was a "very, very, very kind hearted man" who socialized with locals even as his fame grew, Stephens recalled. Stephens said his earliest memory of Fats is in the mid-1960s when, as a child, he was dining at The Perfection Club with with his parents and grandparents, and Fats walked in and recognized his grandmother, Frances Reminger, who ran the Elk's Country Club between Du Quoin and Pinckneyville.
"When he saw my grandma, he dropped everything and gave her a hug and kiss and looked at me and said, 'Young man, your grandmother makes the best steaks in the world.'"
Stephens said his grandmother was skilled in the lost art of aging beef, which is when the meat hangs in a cooler until it grows mold, and then the mold is cleaned off, and the meat cooked. "They say it's wonderful," Stephens said. He noted that process likely fell out of vogue over sanitary concerns. "I think there's a fine line between wonderful and poison," he said. 
And it's of little surprise that Fats would have enjoyed a gamble on a fine line like that.
Remembering Minnesota Fats
Twenty years ago this month, one of Southern Illinois' most famous sons passed away. Rudolf Walter Wanderone was originally of New York but spent many years in Dowell. Long called New York Fats, Wanderone began calling himself Minnesota Fats after the 1961 release of "The Hustler," based on Jackie Gleason's character that may or may been influenced by Wanderone, and that is a certain nod to Fats' self-marketing genius. With his passing, Fats left behind many memories of those with whom he interacted in Southern Illinois. Consider this a little walk down memory lane. 
618-351-5079
On Twitter: @MollyParkerSI ​