Water customers are asked to continue conserving water and boil orders remain in effect.
BENTON — Some Southern Illinois cities are out of water, schools and businesses are closing, several communities are under boil orders and many residents are being asked to conserve water after a breach in a pipe at the water plant for Rend Lake Conservancy District.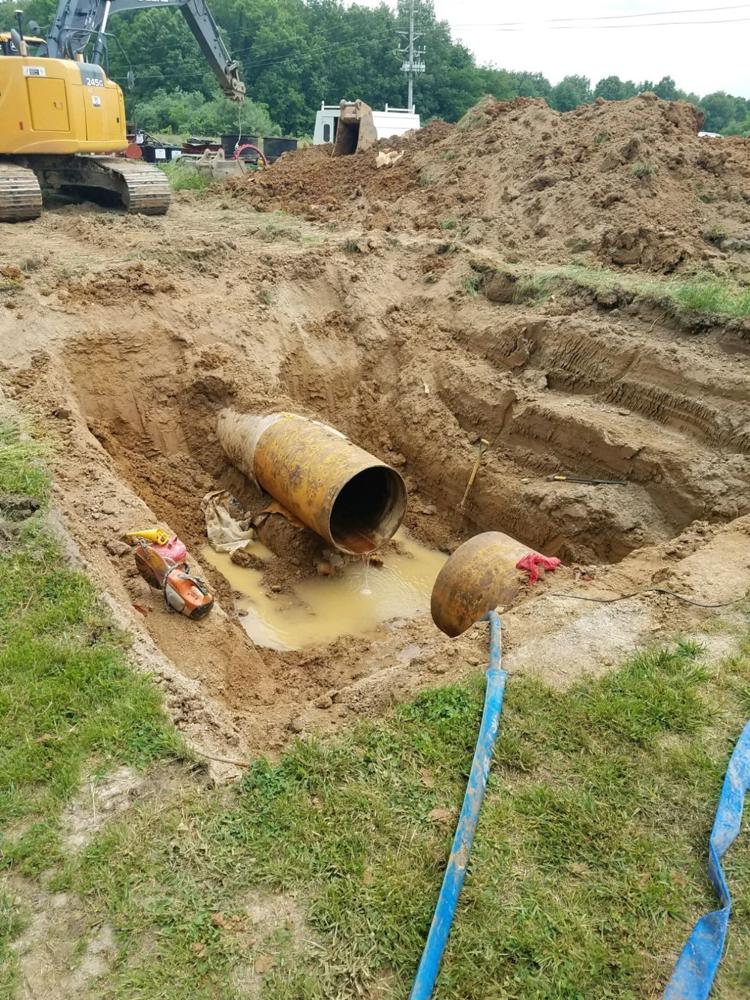 Larry Sanders, general counsel, media contact and assistant general manager of Rend Lake Conservancy District, said the district had a breach in a 36-inch pipe at the verge of leaving the plant.
"It shut down the whole system," Sanders said.
Prior to a conference call with local officials in Franklin Countyat 3:30 p.m. Thursday, Sanders toured the two projects underway at Inter-City Water Plant, a bypass which will provide limited capacity and a new 36-inch piece of pipe to replace the breached pipe. Neither was expected to be completed within three hours. 
Workers tried throughout Wednesday night to patch the pipe, without success. Thursday morning, they began the process of creating a bypass for one of three high-service pumps. That will pump some water into the system.
The Illinois Environmental Protection Agency asked that Rend Lake Conservancy District request all customers to immediately declare a boil water order. This request is immediate and not just when water pumping resumes.
Rend Lake Conservancy District cannot declare a boil order for all communities, but the district is passing along the request from IEPA that all customers individually declare boil water orders.
Customers also are asked to continue to implement their loss of water back-up plans.
Even though a bypass will not restore the system to full capacity, it will provide water for necessities. It was not clear Thursday evening when the bypass would be in place. Residents will still need to conserve water.
Marion Mayor Anthony Rinella signed an emergency declaration just before 2 p.m., saying the city could run out of water "in a few hours." At the direction of the city of Marion, all hotels, restaurants, hair salons, bakeries and bars were ordered to close by 3 p.m. Thursday due to the water shortage crisis, according to a statement from Marion Police Department on Facebook. Marion Police officers were making notifications to businesses.
MARION — At just before 2 p.m. Thursday, Marion Mayor Anthony Rinella signed an emergency declaration restricting the use of water in the city…
West Frankfort discontinued water service Thursday evening until further notice.
Earlier on Thursday, West Frankfort mayor Tom Jordan said the contingency plan for the city in case it did run out of water was to draw from a pond north of town.
"They have the equipment to do it with. We can go to the pond at any time and set up an operation," Jordan said.
Carterville is out of water and had closed schools Thursday morning. Carterville Police Department said at about 2 p.m. that Rend Lake Conservancy District had notified the city water service would be partially restored by the end of the day. When water service is restored, the city will be under a boil water order. But officials from Rend Lake Conservancy District were not clear Thursday when water would be restored in Carterville.
Robinson also reminded residents that using all of the hot water in their water heater could result in damage to the water heater. 
Christopher shut off its water system at 1 p.m. It is suspending water usage due to low water levels in the storage tanks.
Cities that receive water from Rend Lake are supposed to have a 24-hour supply of water in the elevated or underground storage tanks. Rend Lake Conservancy District provides water to all or part of seven Southern Illinois counties.
Sanders said every community is relying on its own reserves since Rend Lake has not put any water into the system since 5 p.m. Wednesday. 
Multiple boil orders have been issued across the system, including in West Frankfort, Carterville, Christopher, Johnston City and West City.
Carterville ran out of water early Thursday morning.
"We ran out in the 8 o'clock hour this morning. We are just waiting for Rend Lake to go back online. We are reinforcing the burn ban and asking everyone to be cautious with fires," Carterville Mayor Brad Robinson said.
He added that they, along with other cities affected by the water shortage, are now relying on water shuttles to fight fires, and only a few rural fire departments in the area specialize in water shuttle.
Herrin Mayor Steve Frattini said at 10:15 a.m. Thursday morning that the city had about 16 hours worth of water reserve remaining, and asked residents to conserve water "in all possible ways." 
Frankfort Community Unit School District No. 168 remained open Thursday for normal school hours. According to a statement from Superintendent Matt Donkin, school officials were boiling water and "conserving as best as we can."
Marshall Browning Hospital in Du Quoin is using water reserves it has on site. Laurie Kellerman, chief clinical officer, said the longest they have been told to prepare to be without water is 48 hours.
"We currently have water but we are instituting our plan in case the water does get turned off," she said.
The following communities receive water from RLCD and may be affected:
Akin Water District
City of Benton
Village of Bonnie
Village of Buckner
City of Cambria
City of Carterville (out of water as of Thursday morning)
City of Christopher (suspending water service at 1 p.m. Thursdsay)
Coal Valley Water District
Village of Colp
Village of Crainville
Village of Dahlgren
City of Du Quoin
Ewing-Ina Water District
Ferges Water District
City of Galatia
Greenwood Creek Water District
Hamilton County Water District
Village of Hanaford
City of Herrin
Highway 37 North Water District
Hill City Water District
City of Johnston City
City of Macedonia
City of Marion
City of McLeansboro
City of Mount Vernon
Mulkeytown Water District
Pittsburg Water District
Royalton Water District
City of Sesser
Village of Tamaraoa
Village of Thompsonville
City of Valier
Washington County Water District
Village of West City
City of West Frankfort
City of Zeigler
In addition, 1,200 retail customers also receive their water from Inter-City Water Plant operated by Rend Lake Conservancy District.
The City of Carbondale issued a statement reminding residents in affected communities that it is unaffected and has a bulk fill station at the city's water treatment plant. Anyone who would like to fill up there should call the Carbondale Water Treatment Plant at 618-457-3241 or the 24-hour hotline at 618-529-1731.
This story will be updated as new information is made available.
— Isaac Smith contributed to this report.