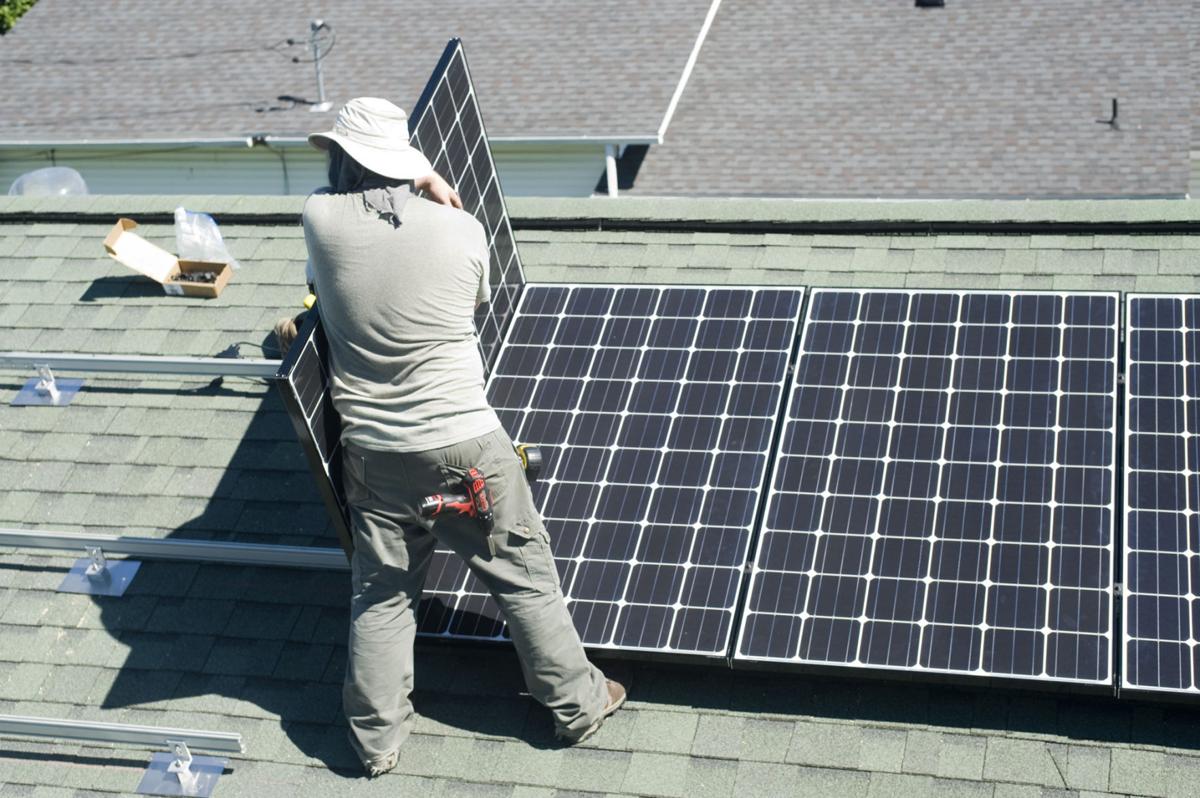 CARTERVILLE — The Future Energy Jobs Act and its impact on regional job creation was the focus of the "Growing New Energy Jobs Downstate" conference Tuesday at John A. Logan College.
The conference will also be offered from 9 a.m. to 12:30 p.m. Wednesday at Southeastern Illinois College in Harrisburg.
On June 1, 2017, the Future Energy Jobs Act became law in Illinois with bipartisan support. The key features of the act impact energy efficiency, renewable energy and job training and payment help.
Pam Reichert, co-director of the Eco-Justice Collaborative and an organizer of the conference said "The FEJA provides for $180 million, growing to $200 million by 2030, to be made available each year for new wind power, large-scale solar power, and rooftop and community solar projects."
Additionally, the new law devotes $750 million to programs that provide training for new energy jobs.
According to Straightup Solar Director of Business Development Shannon Fulton, those monies are still a little way off from directly impacting the local community.
"That money is real, and it is available, but there is a process to get it. In the next six months or so, you will see organizations like community colleges begin to form their programs and apply for the money to fund them," Fulton said.
And according to Fulton, retraining in the solar industry is more along the lines of taking an already established skill set and learning how to use it in a new way. Electricians, for instance, are in great demand in the industry.
WindSolarUSA founder and president Michelle Knox said she wrote a grant recently for the USDA Marion Office for the training of electrical contractors to become Distributed Generation certified because she found out there were only three DG certified electricians downstate.
"DG certified electricians allow for the integration of electricity from solar systems through the existing infrastructure so the solar system of a home of business can pull power from the grid when they need it and feed energy to the grid in times of overproduction," Knox said.
Knox, who comes from a business background, personally took advantage of retraining programs in 2008 when there were only two such programs in the country. She was successful with that retraining and now owns her own company.
"I make a no-cost visit to a home, farm, or business and evaluate their consumption to determine what sized system they would need in a perfect world, design something to fit the space they have for a project, then move it into a cost model to show them what their financial performance looks like based on available incentives," Knox said.
Knox then becomes the general contractor for the job. She makes an income by selling the system she has designed to the consumer, and sub contracts to complete the work. She uses IBEW electricians and local contractors for the construction aspects of the work.
Conference presenter Erica Mackie is an SIU graduate who is co-founder and CEO of California-based Grid Alternatives which is celebrating its 13th year in business. Mackie's company has offices in multiple states in the US and is working to bring models from other states.
"If we get it right then people really do have an opportunity, not just for a job, and not just for a solar panel, but for security, resiliency and a career. I think we are setting on the precipice of something exciting. Illinois is poised to build a fairly substantial solar and wind economy in the state," Mackie said.
Illinois Solar Energy board member and project developer at Straight Up Solar Brent Ritzel said the strength of future energy jobs partly relies on the knowledge of the past.
"We need the benefit of the coal industry's institutional knowledge of energy. They are energy industry people in an industry that is evolving and we need to include them in the future of renewable energy. It will make us stronger," Ritzel said.
618-351-5074
On Twitter: @barbeidlin