HARRISBURG — Bill and Annette Rodgers are among the countless faces of the rural middle-class Midwest coal families who feel abandoned and forgotten. Married for 51 years, the two showed up dutifully to their work and family obligations for decades with hopes of retiring comfortably — only to now watch the erosion of their American dream.
For Bill, who worked two decades underground, his golden years come with black lung, he said.
Now, he's facing the prospect — along with thousands of others in Southern Illinois and elsewhere — of his health insurance benefits evaporating at year's end related to the 2012 and 2015 Chapter 11 bankruptcy of Patriot Coal. This, he said, even though he spent his career with Peabody Energy and never worked a single day for Patriot Coal. 
What has been threatened for months was on its way has officially been put in writing. A letter sent to the Rodgers household dated Wednesday from the trustees of the Patriot Voluntary Employees' Beneficiary Association (VEBA), which provides his health insurance, states that the plan is "currently experiencing a critical financial shortfall of funding which will negatively affect your continued ability to receive benefits …"
The newspaper sat down with the Rodgers at their home the day the letter was mailed to about 12,500 families, including roughly 3,500 in Southern Illinois, those numbers according to the United Mine Workers of America. By the end of the week, the Rodgers had received word it was on its way to their mailbox.
"We sincerely hope that the UMWA is successful in these ongoing efforts to enact legislation so that these drastic actions can be avoided," continues the letter, which the UMWA posted on its website. "However, Congress has not acted yet. Therefore, all beneficiaries who receive these benefits as a result of the Patriot bankruptcy will be terminated from coverage on Dec. 31, 2016."
SESSER — Sitting at his kitchen table at his home near Sesser, retired coal miner Jim Miller…
Hard to breathe
Bill's respiratory problems require him to be hooked up to oxygen 24/7. He also suffers from COPD and emphysema, he said. He's had two heart surgeries this year. Plastic tubes dangle from his nose during his waking and sleeping hours. His breathing is labored. Coughing fits can go on for hours. He never knows when one might hit — while playing with the grandchildren, in church, out to dinner.
His list of daily medications is more than two pages deep.
During the day, a portable oxygen tank pumps air into his lungs with a steady puff, similar to the sound a quick squeeze on an air compressor makes. It's like carrying around his very own metronome counting out loud the steady beat of his every breath until his final one.
"If I knew what I would be like (puff) in a few years you wouldn't have drug me down that hole," Bill, 76, said during an interview with the newspaper in his kitchen, his wife by his side. 
"It's just not worth it (puff). The feeling I get is suffocation. If you could just imagine some big guy holding your nose (puff) and your mouth and you can't breathe. That's the feeling (puff) I get and it is horrible. It is horrible (puff)."
The Rodgers feel abandoned and betrayed: by Peabody Energy, his employer of 23 years, by the judges who signed off on bankruptcy deals for Peabody spin-off company Patriot Coal that put shareholder profits before the welfare of workers, and by members of Congress that allow these types of bankruptcy deals to go unchecked, they say.
'But, I didn't work for Patriot' 
Bill began working for Peabody Energy in 1969 at Eagle No. 1, an underground mine near Shawneetown. His time with Peabody ended around 1993 when Bill was 52 years old and Peabody shut down Eagle No. 2 mine, located in the same rural Gallatin County community.
Patriot Coal was formed in 2007 — roughly 14 years after Bill hung up his hard hat. In the transition, Patriot Coal took with it Peabody's former Appalachian mines, as well as some retiree health care obligations to former employees such as Bill, the latter of which would come as a surprise to many. 
Bill and Annette said they recall the health care paperwork they received at home changing from Peabody to Patriot's heading. They were concerned, but there wasn't much they thought could be done about it. They hoped for the best. 
"Even guys at the union meetings would say, 'But, I didn't work for Patriot.' Nobody in here ever worked for Patriot. They just, what they call, spun you off," Bill said.
"In other words, they got rid of you," Annette said.
"Throwed you away is what they did," Bill said.
WASHINGTON — United Mine Workers of America International President Cecil Roberts called the…
Time marched on, as it does when people are busy with life. 
The Rodgers, who live in rural Saline County in a home overlooking an expansive soybean field, cheered on the personal and career successes of their children and welcomed grandchildren and one great-grandchild. Bill plucked away at his guitar, playing old-time Gospel music until Dupuytren's disease stole the nimbleness from his hands.
As the years passed, Bill's respiratory and heart problems, which he believes are solely related to his time underground breathing in fine particle dust, steadily worsened, he said. But his claims were still being paid on time — perhaps they had no reason to worry, they thought. 
Then, in 2012, Patriot Coal filed Chapter 11 bankruptcy.
In the years since, Patriot and Peabody company executives have been dogged with accusations that they created Patriot Coal with the end-game of shedding expensive obligations to employees on whose backs they profited, many of whom suffer ailments in older age because of the grueling and dangerous work they performed underground.
Peabody: We've fulfilled our obligations 
Peabody has denied those allegations, saying Patriot Coal was a healthy company at the onset but then faced the financial woes that have beset the entire coal industry. Coal supporters say the industry has been chocked by a combination of market factors and at the hands of more restrictive federal environmental standards enacted by the Obama administration.
Peabody, the world's No. 1 coal producer, also filed bankruptcy this year in April, the latest in a long line of coal companies to do so. The St. Louis-based company has stated it intends to continue paying retiree benefits, but the Rodgers predicament is not related to Peabody's recent legal filing for relief because he was among beneficiaries whose obligations were transferred years ago to Patriot Coal.  
As Patriot Coal emerged from its first bankruptcy in 2013, the Voluntary Employees' Beneficiary Association, or VEBA, was created as a special fund to keep benefits flowing to those affected by the company's reorganization. According to the UMWA, the VEBA provides benefits for retirees of Peabody Energy, Patriot Coal and Arch Coal.
WASHINGTON — Congress adjourned this past Wednesday after passing a spending measure to avoi…
Through negotiations with the UMWA, Peabody agreed to pay more than $300 million into the special trust fund at the time. That deal fell apart after Patriot Coal filed Chapter 11 bankruptcy again in 2015. 
Peabody argued in court that it shouldn't have to make any more VEBA payments because Patriot had breached its 2013 agreement. But in January, Peabody struck a deal with the UMWA to pay $75 million into the trust in installments, roughly half of what was still owed under the original plan, according to the St. Louis Post-Dispatch, which closely followed the bankruptcy proceedings. Peabody had already paid about $165 million into the fund, according to the Post-Dispatch.
A spokeswoman for Peabody declined to answer a question about how many former employees' benefit obligations were transferred to Patriot Coal when the company was spun off. Beth Sutton, Peabody's vice president of corporate communications, did email a statement, which reads, "Patriot Coal was highly successful when it became an independent, publicly traded company in 2007 with a market value that grew 360 percent — from $1 billion to $4.6 billion — in less than a year. Peabody was pleased to reach agreement with the UMWA for its related Patriot healthcare obligations earlier this year."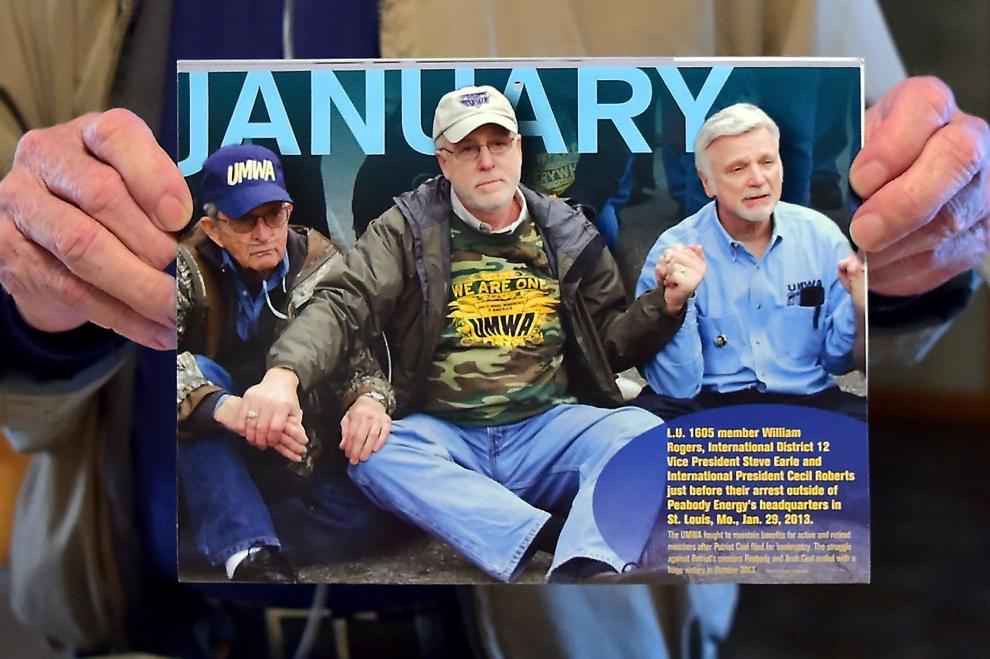 Uncertain future
Bill said he's not sure what they will do if Congress doesn't act to pass legislation the UMWA has billed as a solution for Bill and the thousands of other retirees on the brink of losing their coverage. The Mine Workers Protection Act seeks to add the UMWA retirees affected by the Patriot bankruptcy to a special fund that was created by Congress years ago for workers in similar situations. 
He receives Medicare, but said he needs supplemental insurance because of his myriad health needs. He was a Vietnam-era draftee but was told some years ago that his household income disqualifies him from seeking services at the Marion VA. The Rodgers do have options, but all have a price. Bill said it just doesn't seem fair to lose something he was promised in exchange for his working hours. And Annette said she worries about widows of coal miners who rely on health coverage because they stayed home to raise children and have no other coverage.  
A Senate Finance Committee moved the measure onto the floor late last month, but Congress recessed before any action was taken by the full Senate. The legislation is controversial because the UMWA is also seeking funds to shore up its crippled pension system, and some have argued that could set a dangerous precedent for taxpayer-funded bailouts of private pension funds. In response to the letter about benefits running dry, UMWA President Cecil Roberts, in a statement, urged Congress to act soon. Members of the House and Senate return Nov. 14.
"This is a life or death matter for thousands in the coalfields," Roberts said. "They are counting on our government to fulfill its moral obligation and pass legislation this year that will save their lives."
BENTON — It was as dark as the coal mines when about 100 people piled onto two buses parked …
Waiting for relief 
In the meantime, Bill and Annette said they put their faith in God that things will work out and try not to let their worries get in the way of enjoying retirement and their family as much as possible.
But between labored breaths, Bill, who is not a bitter man except on this topic, said he wishes he had never gone to work underground. 
"If I knew then what I know now I would have never even looked at a coal mine," he said.
618-351-5079
On Twitter: @MollyParkerSI ​