Retired Vice Adm. Nancy Brown of Marion said her 35-year Navy career grew out of a suggestion from her father and a less than enthusiastic recruiter.
"I couldn't get a job after I graduated from college. My dad suggested that I join the Navy. He had several friends who were Navy pilots who he respected," Brown said. "My father also said the Navy had the best food."
So Brown went to see a recruiter. He told her she could not get into the Navy. She decided to prove him wrong.
"It worked out well for me," Brown said.
Brown served from 1974 to 2009, retiring at the rank of vice admiral, the second highest rank of Naval commissioned officers. At the time of her retirement, she was the director for Command, Control, Communications and Computer Systems (C4 Systems), the Joint Staff. She was the principal advisor to the Joint Chiefs of Staff on all C4 systems.
Between those two career stops, there was a lot of service. Brown served at Scott Air Force Base, Japan, San Diego, Maine, the White House, the Pentagon and Baghdad, Iraq. She attended Naval Postgraduate School, Naval War College and Army War College.
Brown served some memorable tours of duty, including two at the White House and numerous tours in Washington, D.C. On Sept. 11, 2001, Brown was working at the Pentagon.
"I've always thought it was just fate or a crazy set of circumstances that I actually wasn't where that plane hit. At the last minute my boss called me and told me he needed me to go to another building two blocks away for a meeting that he couldn't attend," Brown said. "It wasn't long after that that I heard the plane had gone in right where I was."
It was chaos, Brown said. She was part of a team trying to establish order out of that chaos.
"Cell phones wouldn't work and we had about 200 people we had to locate and try to account for. They were all over D.C. and northern Virginia at that point," Brown said. "We had to establish a chain of command and ensure senior leadership was intact."
They had to find temporary quarters and set up offices in those quarters. Brown worked 72 hours straight.
In the Pentagon, 125 people died.
"It was a pretty challenging time. I found out seven of the folks who worked for me weren't as lucky as me and didn't get out," Brown said.
The Pentagon is divided into five wedges, and the plane hit the first wedge. Brown explained that the building was undergoing major renovations at the time.
"Where the plane hit was the first wedge that had been renovated. It had been reinforced to current-day standards. That meant the blast did not have the impact it would have had if it had hit any other wedge. We did not have the deaths that we would have had," Brown said.
Because of the renovations, there were better fire systems and better systems for getting people out. The fire did not spread as quickly because of fire retardants put in during the renovation.
"Of course, the people who were there, the police, fireman, Pentagon security forces, and just the folks working there that day were heroes," Brown said. "Put in that situation, you do things that even surprise you. We all hope we would react that way, but the people at the Pentagon reacted that way."
For Brown, a couple things stand out in her career.
One of the main things is helping to create a career path for information technology in the Navy.
"The Navy didn't have a career field for someone in information technology, and I always believed very strongly that we needed one because we needed to develop those skills," Brown said. "I was proud to do that because I think it was good for the Navy."
Another was her service in Iraq. Brown was deployed to Iraq, becoming the first Multi-National Force-Iraq combined staff command, control and communications systems officer headquartered in Baghdad.
"I volunteered to go to Iraq and served eight months from August 2004 to May 2005," Brown said. "I was the first admiral on the ground in Iraq. I was too naive to be scared."
Brown never had a problem as one of the first women to reach the rank of vice admiral.
"I ran into folks who weren't certain they wanted to work for a woman, but we worked it out. I never had anyone who felt I was not up to the challenge of being in charge," Brown said. "Some men took a little bit longer, but we always worked it out."
Brown does feel like there is a disconnect between the general population and members of the military, adding that civilians do not always understand the sacrifice.
Those who serve sacrifice their families, homes and friends go to god-forsaken places. She added that members of the military today are well-educated, bright and considerate.
"For the most part, people in uniform have a very high level of respect. They are the first to try to make sure we don't have to fight. We are not warmongers. We are not the ones who want to grab a weapon and go shoot," Brown said. "We want to find peaceful solutions, but we want them to know we will fight if we have to."
Brown currently serves as vice chairman of Veterans Honor Flight of Southern Illinois.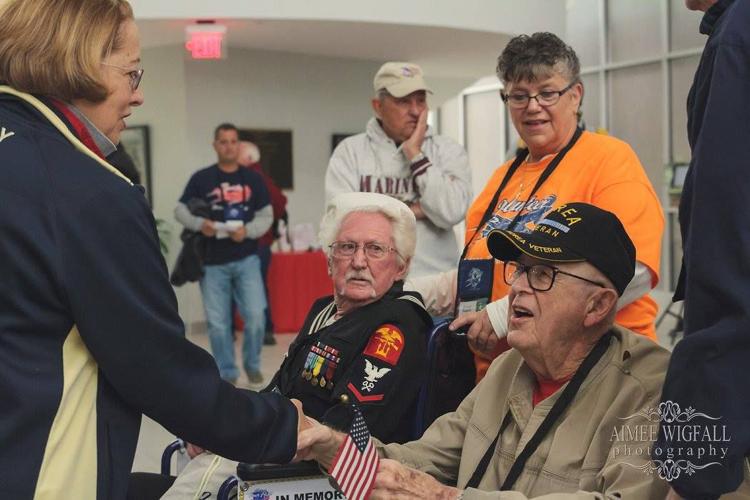 "It gives me an opportunity to give back to my community. I feel fortunate to have had the opportunities I have had. I wanted to find something to give back to community, and I found honor flight," Brown said.
Honor Flight gives Brown the opportunity to really thank folks who sacrificed so much.
"Being able to give them a homecoming and honor their service is just an unbelievable experience, and one I am so grateful to have been a part of."
She added that there would be no honor flights without the backing of the entire community through donations of time and money.
"I always have to thank my Marine Corps husband. If it hadn't been for him I wouldn't have been so successful," Brown said.
She added that her husband, retired Marine Lt. Col. Pete Hesser, has been a big part of any success she ever had.
Brown said the military is a great life and provides a lot of opportunities, including educational and career opportunities.
"I wouldn't trade a day in uniform for anything. I feel so fortunate that my dad encouraged me and I stuck with it," Brown said.