It all started with a bean field and a big idea.
High school students in Kirkwood Community College's seven-county district in eastern Iowa had benefited from dual-credit programs for a few years, but in rural Jones County, those services were spread out — college-level engineering classes at Anamosa High School, an information-technology academy at Midland High School in nearby Wyoming, Iowa.
The facilities left something to be desired, and individual high schools in the region couldn't shoulder the cost of the bevy of technical and college-prep courses students would need to be prepared for their next steps.
"We kind of came together and said, 'We really have a good thing going here, but if we were really to get creative, what would the next step of this partnership and collaboration be?'" remembered Kristy Black, Kirkwood's dean of regional and county centers, and one of Jones Regional Education Center's founders. "We had this idea to create a centrally located facility."
At first, Black admitted, the concept felt like a pipe dream. Funding sources were "pretty well tapped out." But after a couple years of planning and community involvement, "It kind of gelled together," Black said.
The college's board of trustees approved the sale of revenue bonds to fund construction. Local businessman Lloyd Welter and his family donated their bean field just off the newly built four-lane bypass road on the south side of Monticello in Jones County, about 25 miles from Iowa's iconic Field of Dreams.
"You hope if you build it, they'll come, Black said. "We felt good about it, but you really just don't know until you get it off the ground."
In August 2009, administrators welcomed 145 students from eight nearby school districts to Jones Regional Education Center, a 32,000-square-foot facility.
For college-bound students, the center offers advanced core courses and electives. For students interested in vocational careers, Jones Regional provides high-level technical courses in well-stocked practical labs, with entry-level technical certifications. The classes are offered at no cost to students.
Taken together, the programs are simply too expensive for individual high schools to provide. But by pooling resources and partnering up, educators in eastern Iowa are offering vital vocational training for the New Economy — training that could better position students to fill employment gaps near their own hometowns, thereby stemming the rural brain drain.
There is no panacea, no silver-bullet solution to ending the devastating trend that has hollowed out the American heartland and that saw 16,563 Illinois young people leave their home state in 2012.
But some education experts agree, facilities like Jones Regional — combined with targeted economic development in small towns, enhanced collaboration between city and school, and a renewed focus on vocational training — could combine to turn the drain into a gain. 
'Together we can do so much more'
On a crisp fall morning at Jones Regional, students shuttled in from farms, and from houses on the tree-lined streets of tiny towns. In a patient-care classroom, a small group learned about pharmacology. Next door, a cadre of male students raised a 1995 Chevy on hoists to examine the transmission.
Enrollment at the center has grown to 270 students, some who travel 30 to 40 minutes each way to participate in one of eight career or college-prep academies, from liberal arts to advanced manufacturing.
The center's welding lab features a $61,000 virtual welding station that allows students to learn in a virtual-reality setting before testing their mettle on real metal parts. Down the hall, an auto maintenance laboratory includes $95,000 in equipment. An architecture and construction lab features computers outfitted with CAD programming.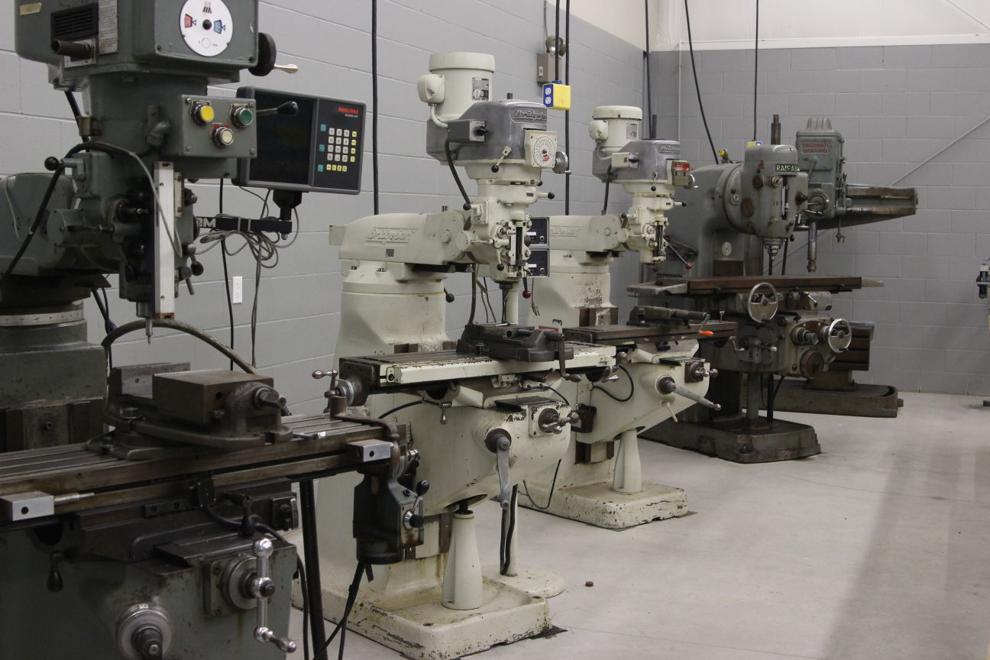 "Every one of those labs are designed around industry specifications and standards," Black said. "There's no way these eight high schools feeding into the regional center could sustain those labs. The equipment alone costs well over $1 million. That's a big part of why we're partnering and sharing. Together we can do so much more than those individual schools."
Since its inception, Jones has become a model for shared educational resources. Earlier this fall, a statewide task force released five recommendations for enhancing K-12 career and technical education. The regional-center concept was one of them.
When it came time to choose one of her first campaign stops of the 2016 election season, former Secretary of State Hillary Clinton honed in on Jones Regional Center, hosting a roundtable discussion there with high school and college students in April.
And it didn't take long for local residents to join the center's cheering squad either. In 2011, voters in Kirkwood's district overwhelmingly approved a bond issue that funded three more regional centers in nearby counties. All three are serving students today. 
Undoing the 'Caste System'
For its proponents, the center also remedies what they see as a devastating disconnect in modern education: That an overemphasis on core subjects and obtaining a four-year college degree has decimated vocational education. And without a pool of trained students to draw from, small-town industry has suffered.
"We've been (telling students) that the four-year degree is the ticket to the American dream, and if you're not participating in that, you're second class," said Craig Stadtmueller, an administrator at the center. "We've created a virtual academic/career caste system, and it shouldn't be that way at all."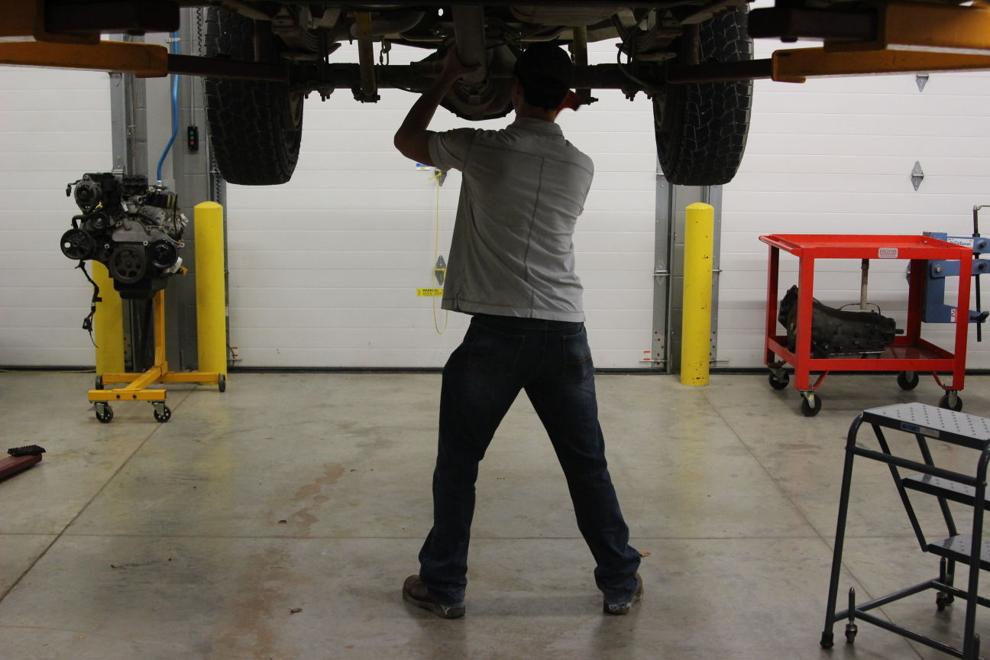 Even though the U.S. manufacturing industry has fallen off since 1980, some signs hint it's starting to return. That trend, combined with a divestment in training programs and an aging workforce, is likely to lead to a worker shortage. According to a 2014 study by Boston Consulting Group, the industry will be short 875,000 machinists, welders and other workers by 2020.
As the center's career development coordinator, Stadtmueller keeps his finger on the pulse of eastern Iowa industry. The more he knows about what employers need, the better he can help craft curriculum to skill-up future employees. It's a symbiotic relationship.
Manufacturing, he said, has remained strong in eastern Iowa. When too few students signed up for the center's advanced manufacturing academy this past fall, administrators revamped the program and started singing its praises in local high schools.
For those who sign on next year, manufacturing job opportunities in the region will abound. And Kirkwood employees make it their mission to link local worker with local boss through a job-shadowing and internship program.
"That's critical to helping students know that there are good jobs that are right here," Black said. "You don't need to go into a big city to be a successful accountant or manager."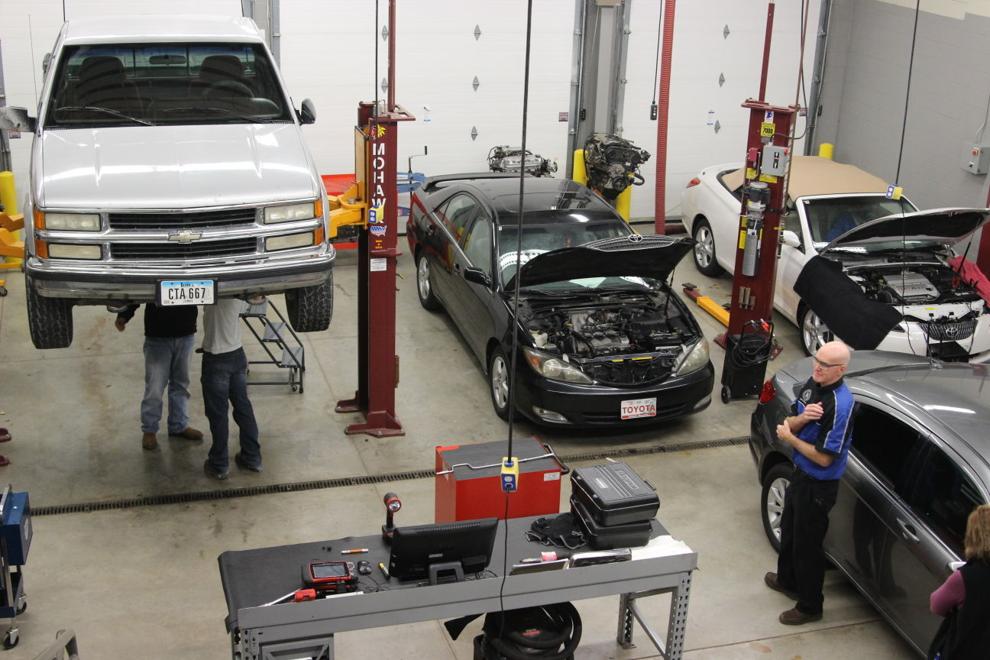 Still, Black admits it's nearly impossible to tell, at this point, how successfully the center has fought the brain drain in Jones County. Anecdotal success exists, yes, but it's too early to validate it with demographic data. 
Caleb Miner: A taste of success
There's little glory in grinding grooves into 20,000-odd sunroof guiderails. It's a tedious job, day in, day out.
For Caleb Miner, a 19-year-old newbie machinist, that's what the past couple months have wrought.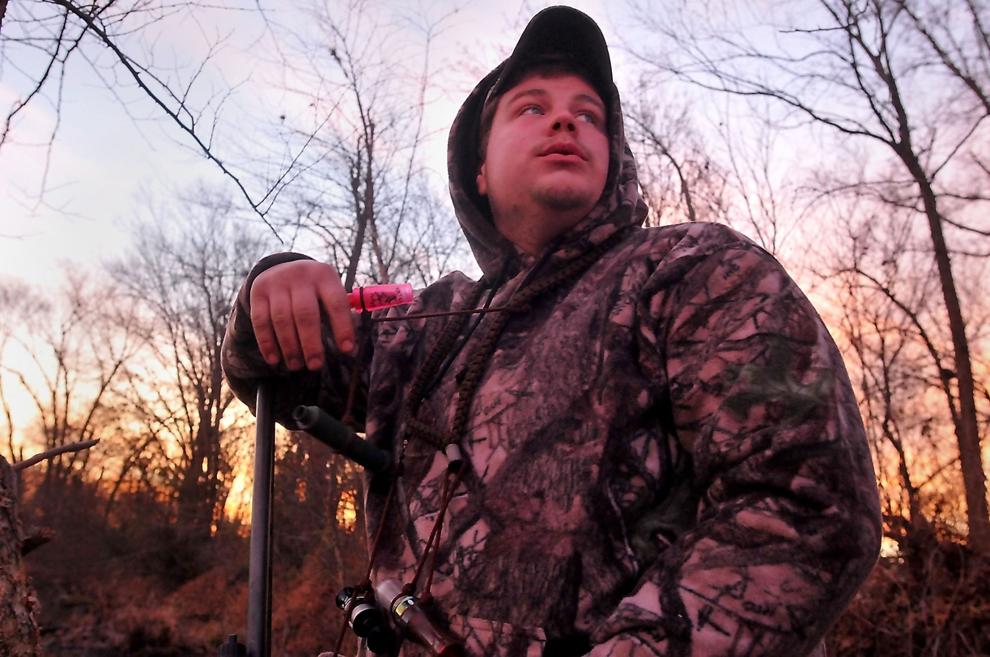 "It sucks. It sucks bad," the recent graduate of Zeigler-Royalton High School said after another day at Precision Machine & Tool in Marion. "Every now and then I'll get a break. We'll get a hot job come in. I'll get some millwork in. Not very often."
The 20,000-part order came in from Aisin, a Japanese auto-parts giant with manufacturing divisions in Marion. The work won't last forever, but it's made for plenty of mundane days. Still, Miner knows he's the greenest machinist in the shop — and working for Precision hasn't come without benefits.
A couple months in, his boss, Dan Willoughby, gave him a $1/hour raise. After 90 days on the job, Miner earned another one, and Willoughby added five hours per week to his charge's schedule.
These days, at the end of a 45-hour week, Miner deposits $562.50, less taxes, into his account.
The extra cash has helped. He's managed to save some money. And Miner knows the experience is invaluable. A year at Precision and he can nab any number of manufacturing gigs. The prospect is exciting, and it's opened Miner's eyes to a new possibility — that maybe his 9-to-5 could make a rewarding career.
He's still signing the books at the International Brotherhood of Electrical Workers, hoping to get on a high-paying crew, clearing trees or stringing wire, but with the skills he's earned at Precision, a new world has opened up.
Before he graduated in May, leaving Southern Illinois was hardly an option. Now, though it wouldn't be ideal, he'd move out of his parents' house in Zeigler and head as far away as Texas if the job were right.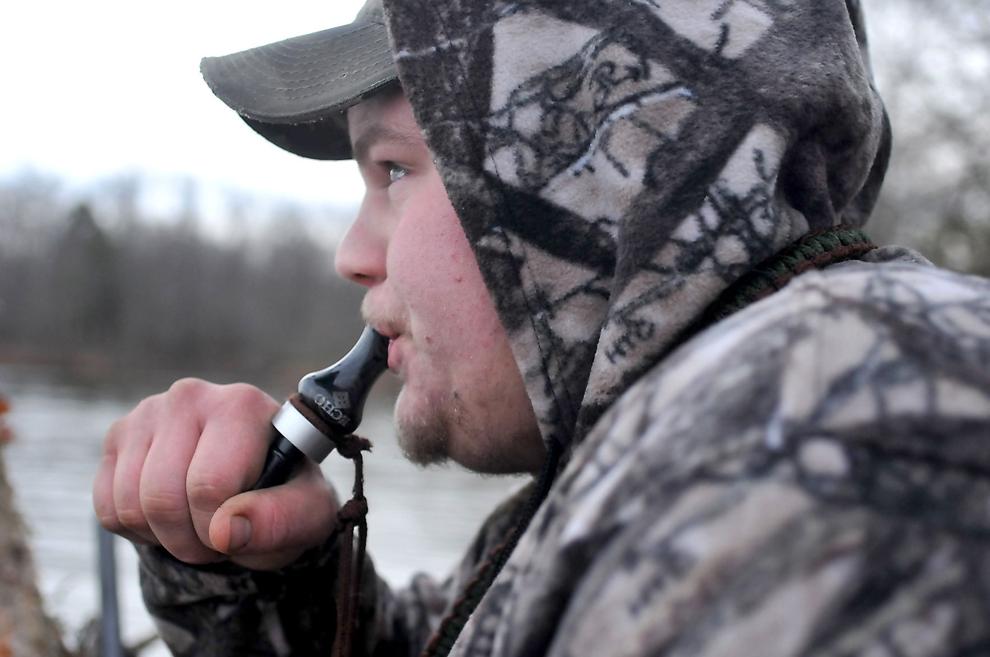 "I don't like new, I don't know why, new things," he said. "I don't like change. And having to move away from all my friends and stuff, and family, start somewhere new, I don't think I'd like it. But if the money's right, I'd do it if I had to. I could always come back." 
School funding: 'This has to change'
Now that he has a few months of full-time work under his belt, Miner looks back on high school with a mixture of appreciation and disdain.
All those math classes that felt so pointless at the time have actually come in handy. He's even had to bust out the Pythagorean theorem a few times at Precision.
Still, so much of the knowledge he gleaned from so many classes has fallen by the wayside, and Miner is left wishing he'd had access to more practical coursework in the industrial arts.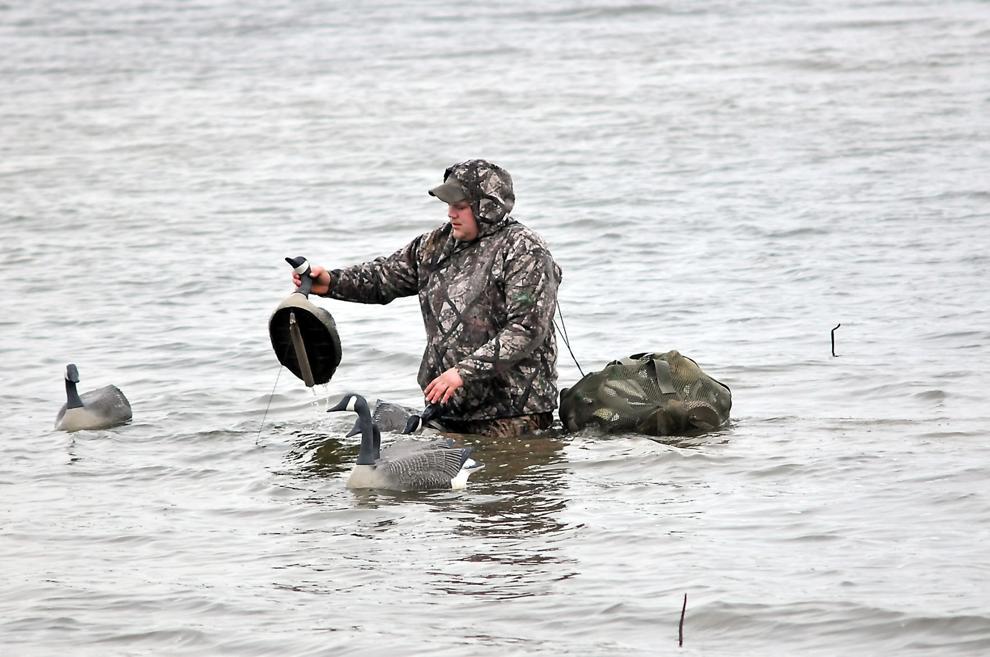 "I only had one year of (welding) 'cause my school didn't offer it," Miner said. "We had to go to Christopher to do it."
Thanks to dwindling budgets, Southern Illinois schools from Galatia to Goreville have had to cut back, slashing not only the programs that prepare career-bound students for work, but also the ones that train advanced college-bound students for the rigors of a university curriculum.
For education-reform advocates statewide, the bleak reality of state funding in poor, rural schools is a cause for deep concern.
A report released in March by the nonpartisan advocacy group The Education Trust noted that Illinois has the largest funding gap of any state in the nation, with poor districts receiving nearly 20 percent less in state funding than wealthy ones.
"The property tax model … hasn't worked, doesn't work, is never going to work," said David Ardrey, executive director of the Association of Illinois Rural and Small Schools, or AIRSS. "We know that. There are places that fund their schools without doing the property tax (model). But we can't get past the political rhetoric to have a legitimate conversation about it."
Illinois doles out state funding to schools based, in part, on the value of property in each district. School districts with a large tax base rely less on state funding. Poorer districts rely on it more.
In theory, state funding should offset a shortage of local tax dollars. In practice, the system has resulted in what legislators on both sides of the aisle see as broad inequities between districts.
Take, for example, New Trier Township High School District 203 and its two campuses in Chicago's wealthy North Shore suburbs. During the 2014-15 school year, the top-rated public school district earned nearly 93 percent — or $95 million — of its funding from property taxes alone, according to the online Illinois Report Card database. Another $3.4 million came in from other local sources along with about $4 million from the state of Illinois and federal grants.
All told, the district earned enough to spend, on average, nearly $36,000 on each of its students.
In Southern Illinois, funding pie charts look much different. Benton Consolidated High School District 103, for example, received 43 percent of its $8 million budget from property tax revenues. State funding made up another 43 percent, with federal funding and other local funding rounding out the total.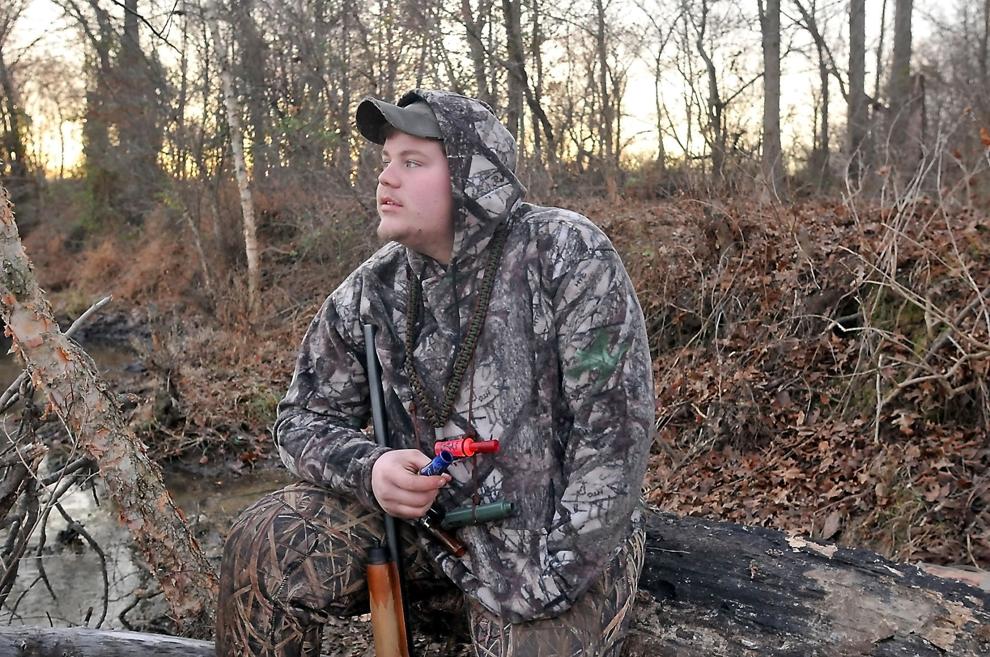 With its $8 million, Benton spent $19,393 per student. (The per-student state average hovers just under $20,000.)
Under this system, which he described as an "engrained mistake," Ardrey argued that wealth and poverty breed educational winners and losers. And the losers all too often are poorer communities.
"What we've made is a competitive school market using students as the pawns," he said.
The issue is compounded by the fact that, since 2011, Illinois legislators have voted to slash state spending to the tune of $3.7 billion. Those cuts disproportionately impact poorer districts, which rely more heavily on state funds.
Leaders throughout the state — including state Sen. Andy Manar, D-Bunker Hill, and members of the Vision 20/20 education reform movement — are calling, with renewed vigor, for a funding revolution. The state, they say, should distribute funds based on how much it costs to educate a child. Period.
"This has to change," Ardrey said. "We have to keep fighting for that change. If we don't make that change, in my opinion, I think you will see significant migration out of this state by people who want better for their children and their families. You'll see a brain drain not only of the coming generation, but you'll see a brain drain of the generation you need right now, who are your business leaders, who are your political leaders."
"(We should) stop talking about winners and losers and create one winner," he added. "And that's the children of this state." 
Kylee Brown: 'I'm capable of this'
The swastika, scrawled in feces on a bathroom wall in Kylee Brown's dorm, spurred a movement.
When the University of Missouri's flagship campus in Columbia, Missouri, erupted in headline-making protests earlier this fall, the 18-year-old Galatia native simultaneously felt connected to and separate from her fellow students' activism.
The protesters assembled in Speaker's Circle. Brown hardly ever passed by there. The movement came in response to a series of racist incidents on campus and the way administrators responded to them — or failed to respond. Aside from the swastika, Brown had never witnessed any racism on the 35,000-student campus. And even the swastika seemed innocuous, somehow.
"I think he was just on drugs, honestly," she said.
(The incident was classified as a hate crime. Brown said campus officials warned the perpetrator could face felony charges and jail time.)
Still, campus was abuzz with the news of the protests, and students took to social media, where once-lighthearted conversations had turned serious.
Snapchat videos showed sign-holding activists shouting words like "power" — words with deep Civil Rights resonance that Brown said she didn't fully understand. On Yik Yak, a place-based app that is increasingly popular at high schools and on college campuses, students debated the prevalence of white privilege.
"Concerned Student 1950, that was their whole point was to, like, make people aware of the struggles that black people have," Brown said of the activist group at the forefront of the protest movement. "But then the white people were like, 'Well, this is why you have it better than us.'"
"I think it caused more tension, honestly," she added.
All in all, the protests, which resulted in the resignation of system President Tim Wolfe and campus Chancellor R. Bowen Loftin, and inspired similar movements at college campuses nationwide, seemed out of step with the Mizzou that Brown had come to know.
She arrived in August from her hometown, an overwhelmingly white community of 933 residents in northwest Saline County. But she quickly felt at home in her diverse new environment. She developed close friendships with several students of Indian descent and learned about their culture. She has African-American friends and gay friends — an unlikely prospect in Galatia.
"I had the small-town view for a long time, and now that's kind of changed a lot," said Brown, who graduated from Galatia Jr/Sr High School in May. "I'm more, like, open to different people."
Still, between the protests and the rigors of a college curriculum, it hasn't been a simple transition.
Galatia doesn't offer honors classes, a music program, Advanced Placement classes or physics. Students only have access to foreign language through online dual-credit courses. Brown tried taking Spanish online, but she could barely hear the instructor through the computer, so she dropped it.
Brown loved her high school teachers. They were supportive and helpful and treated her like family. But she said she felt somewhat unprepared for college. She didn't know how to study well, and she found it hard to keep up with the coursework in some classes.
It was a far cry from high school, where she skated by on brains, rarely feeling challenged.
"We went so slow back in high school and now we're just speeding through things," said Brown, who is studying radiography. "It's so hard. Like, it's hard for me to keep up."
At first, the solitary feeling of struggling through a 500-student chemistry class weighed on her. But as the semester wore on, Brown's grades and spirits lifted. She learned she does have what it takes to do well in college — even if she doesn't always meet her own admittedly high standards.
It was a freeing experience.
"I've realized I'm capable of this," she said. "I was nervous about meeting new people, and I have friends. … I'm doing well in my classes, and I was nervous about that. So it's kind of eased my anxieties about it."
And now, when she thinks about life after college, she feels even less compelled to return to Galatia. The pull of city living — and all it has to offer — is too strong. And she knows she can cut it on her own.
"I don't plan on coming back here to live," she said, sitting in a booth in Mackie's Pizza in Harrisburg. "This is where I grew up. This is home. But I kind of have my sights set on bigger things." 
Courting a new generation
Kyle Harfst boils it down to one question: If you had to choose, would you rather have a car or a smart phone?
For Harfst, the executive director of the SIU Research Park, the answer is simple. You can't get far without a car.
But for members of Brown's generation — those social-media-consuming Millennials along with the newest crop of adults, known as Generation Z — technology rules. And if city leaders want any chance of convincing out-migrating young people to stick around or return after college, Harfst said they ought to start catering to what these young generations wants.
"This is the first Internet generation," Harfst said. "The Internet has been a part of their lives since they can remember. It's a more inclusive people in terms of their networks. Their inner networks are people from other backgrounds."
It's all about connectivity. Walkability. A vibrant, recreation-filled downtown with bars, restaurants and cooperative working spaces. A culturally rich haven where tolerance and livability are just as important as job availability. If you build based on these principles, development experts like Harfst say, degree-holding young people will come — bringing their earning potential with them.
The concept draws on University of Toronto urban studies Professor Richard Florida's controversial Creative Class theory — the idea that when development efforts aim to attract workers in knowledge-based industries like healthcare, the arts, science and technology, strong economic growth results.
When it first was introduced in 2002, Florida's theory garnered praise and spawned a series of development programs aimed at testing it out. Michigan's Cool Cities initiative was one of them.
Between 2003 and 2010, under the leadership of Gov. Jennifer Granholm, the State of Michigan awarded more than $3 million in grants to cities looking to spruce up their downtowns. Grantees then had access to more than $100 million in other state grants and loans.
In Saugatuck, an old pie factory was transformed into a center for arts and culture, complete with greenmarket.
In Detroit, investment in the historic Eastern Market building helped renovate part of the facility into a year-round marketplace that serves as an economic and cultural anchor for the surrounding community.
In Grand Rapids, developers used a $100,000 grant to turn an old gas station into mixed-use retail and office space. Another grant funded a rain garden in partnership with the Michigan Department of Transportation.
Years after the program ended, Kara Wood, economic development director for Grand Rapids, said city officials still are seeing the impact of those projects.
"A lot of new businesses have opened," Wood said. "A lot of businesses have been revitalized. Those neighborhoods are a lot more attractive to people now than they were before."
In the surrounding neighborhoods, new residential units have gone in over the past few years. The grants inspired further investment to help spruce up neighborhoods and make them more walkable.
"They really were catalyst projects in these neighborhood districts that have started momentum that has continued over the past 8 to 10 years, " she said.
Today, Grand Rapids is a Millennial haven. Neighborhood centers feature independent shops and restaurants. Both loft-style condos and single-family homes beckon new residents.
And though urban Grand Rapids, population 188,040, is a far cry from small-town Southern Illinois, some policymakers see the principles as scalable.
Harfst said it will take forward-thinking leadership and passionate community involvement to revitalize small-town downtowns with limited resources. But it can be done.
Policymakers need to "think of the hook," he said. "How can we differentiate ourselves, and who do we want to be?"
The Cool Cities initiative died out when Granholm, a democrat, left office on Jan. 1, 2011. Critics of the program — and of the Creative Class theory overall — have said catering to that class of educated creatives ignores blue-collar workers and the under- and over-unemployed, breeds gentrification and broadens the nation's already growing inequality.
When Republican Gov. Rick Snyder replaced Granholm, he started a series of new initiatives — some of which arguably transfer some of Cool Cities' development concepts from downtown districts to blighted rural and urban communities instead.
"It's just evolved into something huge, and Michigan has really become known as a state at the forefront of place-making," said Karen Gagnon, former director of the Cool Cities program.
Other new initiatives funnel money into career and technical training for the New Economy.
Despite its Cool Cities grants, the population of Grand Rapids decreased and aged slightly in 2010. Michigan was the only state to lose population between 2000 and 2010. Still, proponents are hopeful it started a snowball effect that will continue to draw in creative workers — and yield a brain gain for western Michigan.
"What we're trying to do is not something that's going to happen overnight," Gagnon said. 
Tenika Carter: Hometown spirit, organically grown
Tenika Carter likes her hometown just the way it is, thank you very much.
Sure, it would be great if a few new restaurants opened up and village officials made efforts to spruce up downtown, but when it comes down to it, Galatia's top commodity, she said, is its people.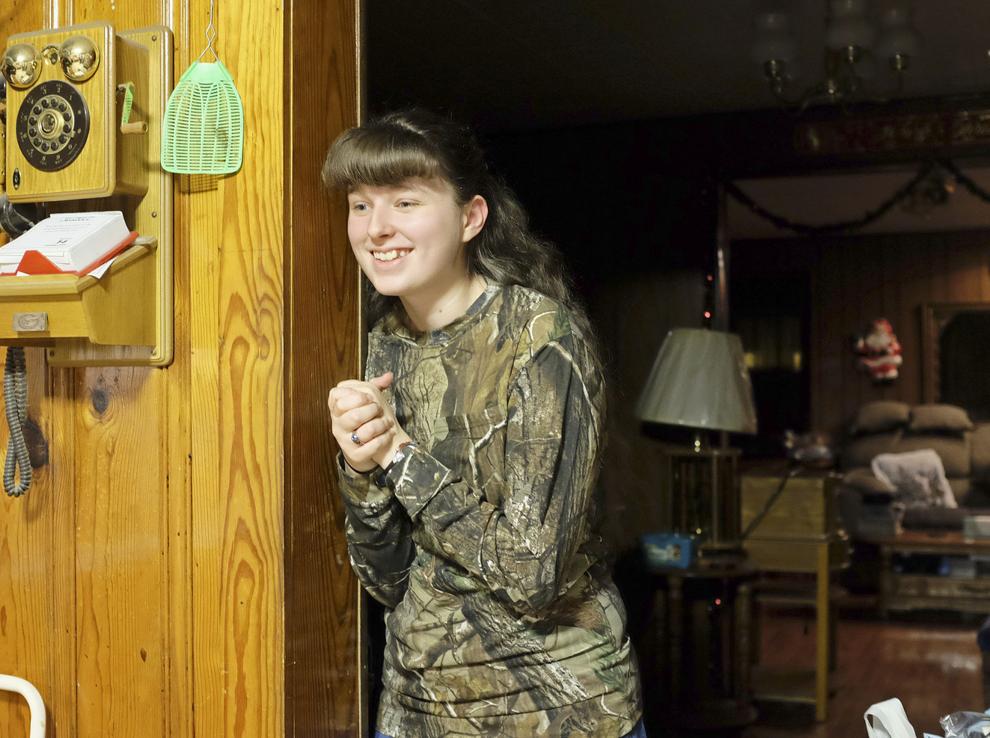 "You know everybody. They've pretty much known you your whole life," said Carter, 19. "It's just kind of that attachment, I guess."
Carter, also among the graduates of Galatia High School's Class of 2015, has spent the past four-odd months taking intro occupational-therapy classes at the Southern Illinois Collegiate Common Market, or SICCM, headquarters in Herrin.
The program brings together students from the state's southernmost community colleges (Carter attends through Harrisburg-based Southeastern Illinois College) to learn together in one jointly funded facility. It's a veritable Jones Regional Education Center for community colleges — albeit on a smaller scale.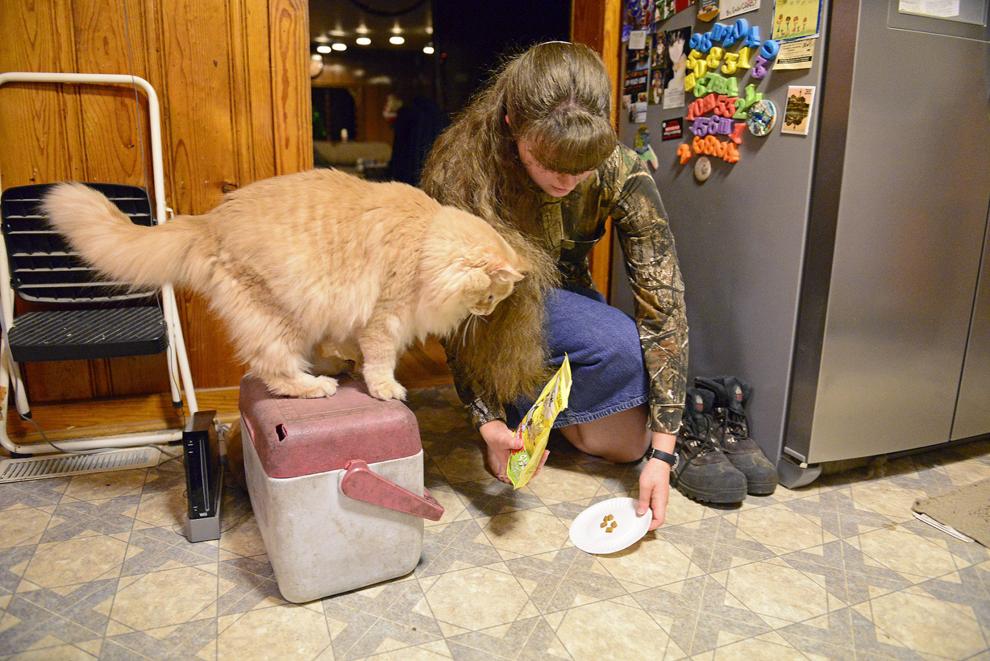 College life has done little to change Carter's mind about living in her hometown in the future. As she drives to classes every Tuesday and Thursday from her parents' home in Galatia, the beauty of Southern Illinois — its farms and fields, its lakes and rolling hills — reinforces for her the peaceful joy of rural living. Even Herrin feels a bit too bustling for Carter's taste.
"It's a lot busier," she said. "They have a lot more gas stations and a lot more stores. They've got a Walmart. Galatia's too small for that."
The fact that she's attending college is a big deal in her family, Carter said. Her mother holds an associate's degree from SIC, but beyond that, few family members have completed college.
Carter already has her eyes set on the future, though. Another stint this fall volunteering at Ferrell Hospital in Eldorado only strengthened her desire to work there some day, once she's earned her associate's degree in the occupational therapy assistant program.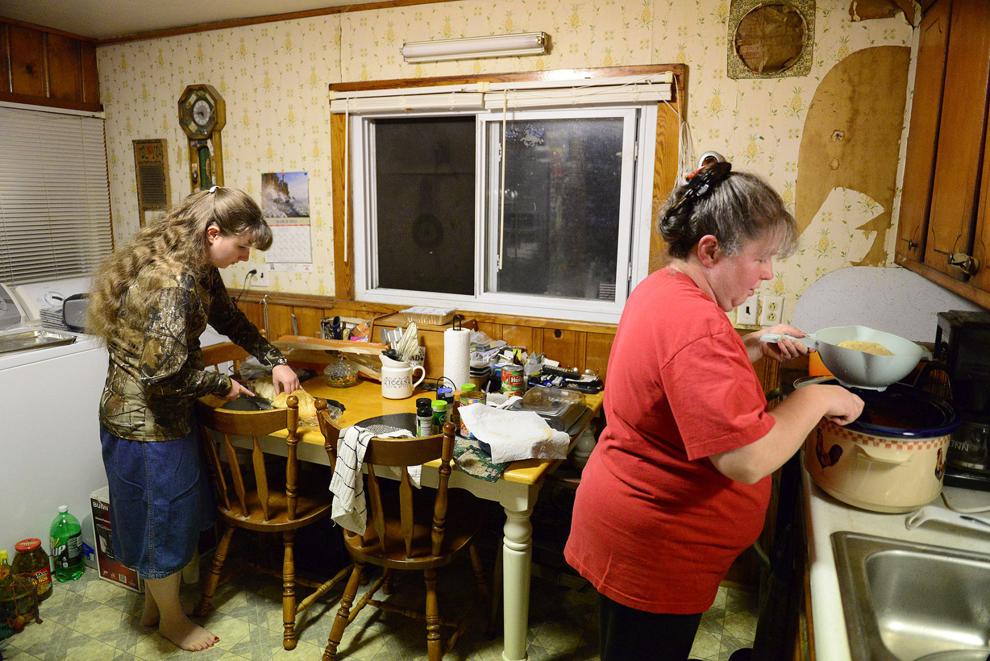 That is, if positions are open. Thanks in part to SICCM's program, the market for occupational therapy assistants is somewhat saturated in Southern Illinois.
Small-town living isn't for everyone, and some students always will choose to leave their hometowns. But for those who study the brain drain, the conundrum lies less in how to convince those outward-bound students to stay than in how to provide opportunities for students more inclined to stick around in the first place.
New perspectives
The meeting began early, at 7:15 a.m.
In a Du Quoin boardroom, participants sat around a table in business casual attire. Business cards stashed in pockets and purses announced their titles and affiliations. At the back of the room, a speaker shuttled through PowerPoint slides while the rest took notes.
It's a scene that plays out in offices worldwide every day, but this wasn't a traditional business meeting, and these weren't traditional workers. Instead, the note-takers were students in a new kind of class — a class that some expert onlookers think is uniquely positioned to deal a stunning blow to Southern Illinois's brain drain.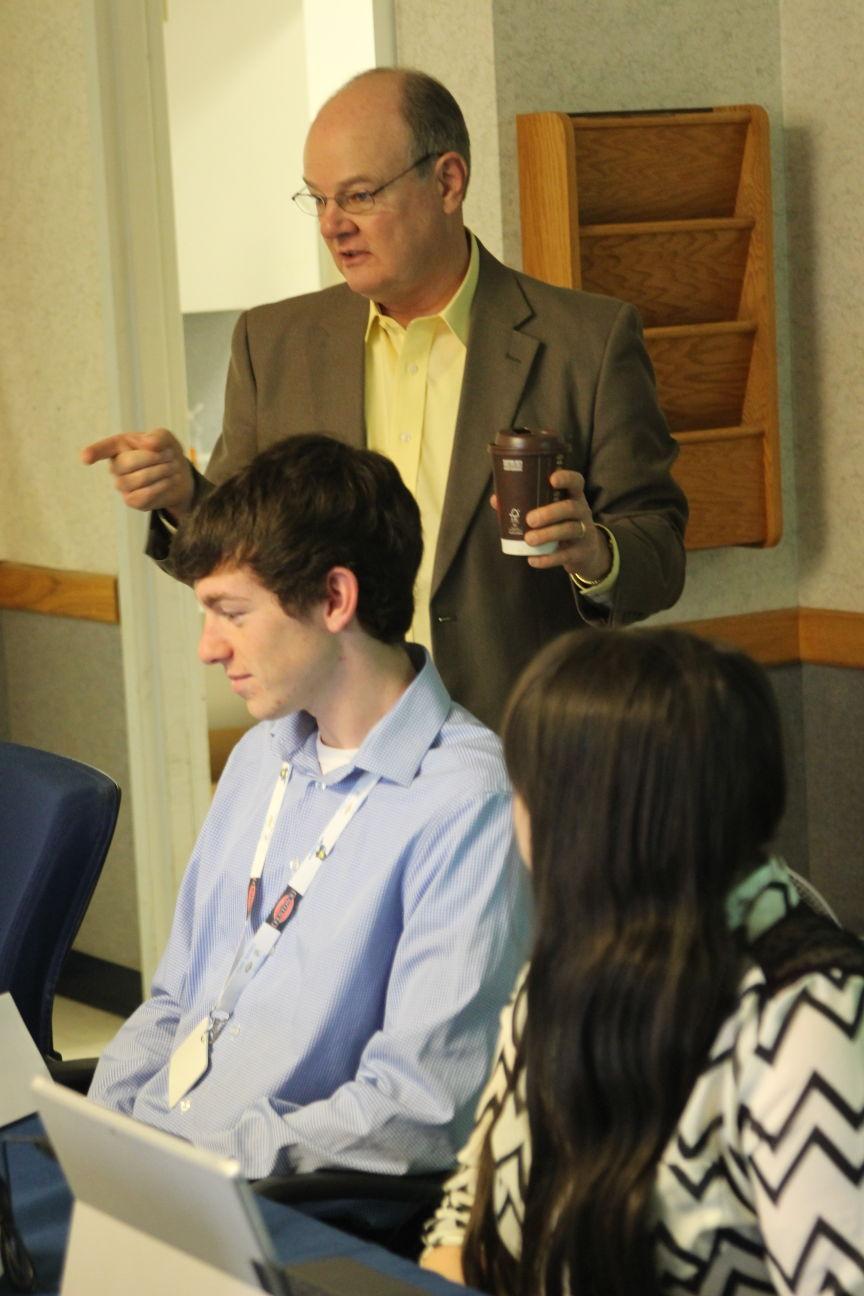 Conceptualized and piloted in 2008 by Effingham educator and entrepreneur Craig Lindvahl, the Creating Entrepreneurial Opportunities, or CEO, program since has spread like wildfire throughout the Midwest. This year, it's offered in 28 locales in three states.
In Southern Illinois, Randolph, Perry, Jackson, Union, Williamson and Saline counties host their own classes, each funded by investments from local businesses.
The program's goal? To train a new generation of budding entrepreneurs, in part by exposing them to successful business leaders in their own communities. In doing so, organizers hope students develop a deeper connection to their hometowns — and feel empowered to stay or return after college.
"This is the first truly organized effort that's been made in this county to collectively reverse outmigration," said Rex Duncan, former mayor of Du Quoin and one of two facilitators for the Perry County CEO program.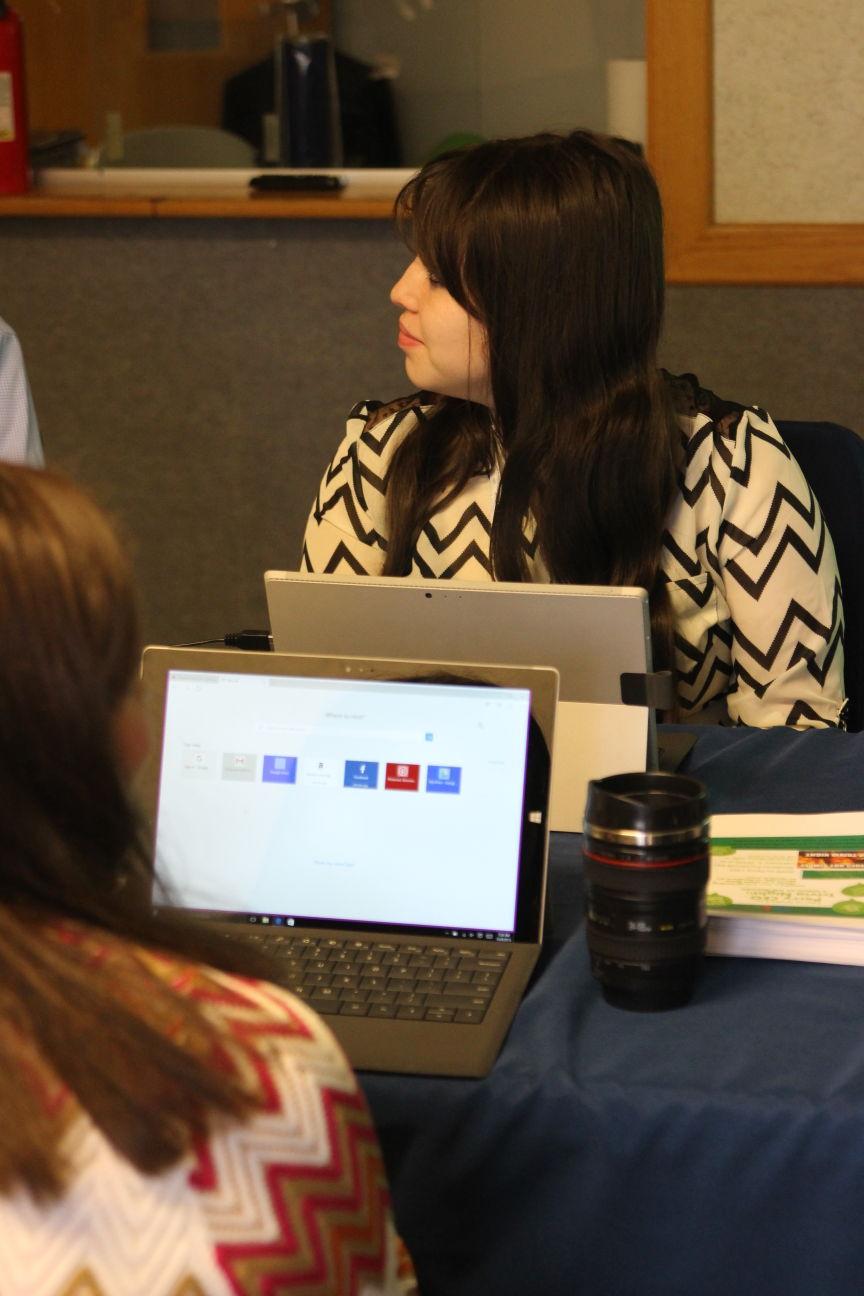 Duncan said the program is vital. Between 2000 and 2010, Perry County lost a net average of 74 residents per year — nearly the size of a Pinckneyville High School graduating class.
For CEO students, the classroom is the community itself. Students meet most days with business leaders, who pass on tips and tricks, schooling students in effective marketing, professionalism and fundraising.
By the end of this school year, the six students in Perry County's inaugural class will have drawn up business plans and launched companies of their own with the help of local mentors — people who "dare to be entrepreneurs in a region that has not fostered the value of entrepreneurship," Duncan said.
"The messages in the school and the messages in the home by and large tend to be, 'You've gotta get out of here,'" Duncan said. "We're trying to reverse that. We're trying to make sure (students) see that there are successful people here in Perry County … who do a great job at work, running their own businesses."
In Effingham, where the program has grown to include 40 students from six high schools, this community integration seems to be paying off.
At the beginning of one school year, students were asked if they planned to return to their hometown after college. Only three of 25 said yes. But by the end of the class, 18 students had changed their minds.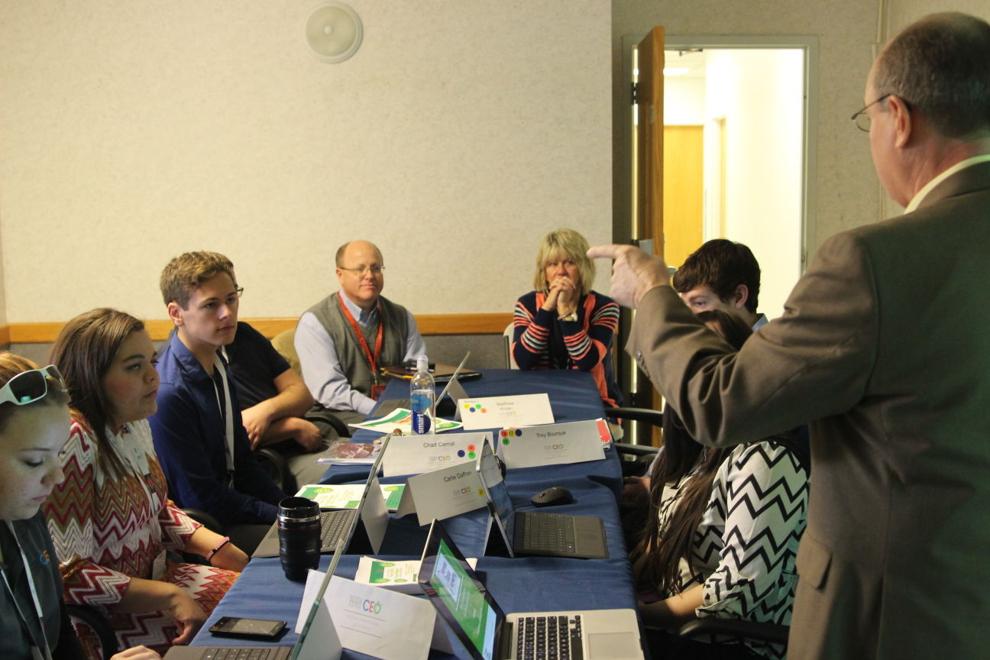 And business leaders in Effingham line up to invest in the class. When students stay or return, they contribute to the local economy. And that lifts up the entire business community.
Most Southern Illinois programs are in their first or second year. Class sizes are small, and it's hard to say what the impact has been. But after hearing a digital-marketing presentation from Herrin entrepreneur Tom Harness, some students said their perspective already is changing.
Before starting CEO class, Pinckneyville High School senior Sierra Najewski had no plans to return to Southern Illinois. The 18-year-old is set to attend Western Illinois University for a couple years before joining the armed forces.
Her childhood was tough, and until recently she felt few ties to the region. CEO, she said, changed that.
"It made me realize that we really don't have a lot of people who come back, and eventually our towns are not going to have anything if people don't come back," Najewski said.
Najewski said she hopes to return home after her Army career to continue the business she's starting in CEO class.
And even if students don't wind up returning immediately, Duncan said he hopes their local interest has been piqued.
"You're going to see some students in this class who will go out and do other things," he said of his Perry County cohort. "But at some point the switch might flip, and as they think about owning a business, starting a business, they'll remember, here in Perry County, it's possible to be successful."
A sense of place
Increasingly, rural advocates are championing this local focus in education. So-called place-based education, they say, is a powerful tool that not only can deepen learning, but can deepen the ties between school and community. Their fates already are tied together.
"The stronger the economy in that little town is, the stronger the school, and the stronger the school, the stronger the potential for the town to be," said AIRSS's Ardrey. "Those two have to work together."
Examples of the approach already have popped up in Southern Illinois. At Shawnee High School in Wolf Lake, social studies teacher Jamie Nash-Mayberry's levee project integrates lessons in civic engagement, science, government and politics.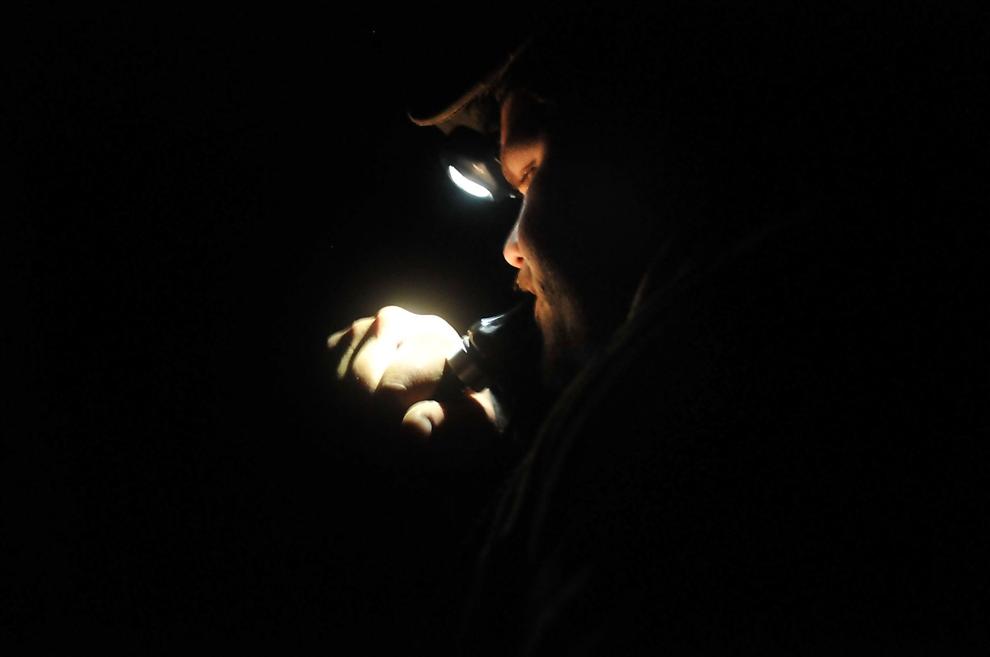 Students, many of whom live along the Mississippi River, learn how a breach in one of the region's crumbling levees would impact their community — and they lobby lawmakers to step in and help.
In Egyptian Community Unit School District 5, Ardrey's organization helped organize a cross-disciplinary project to educate students about local flooding.
The projects include collaboration with local officials, further tying school district to downtown, and vice versa.
"We've got to break down the barriers between school, community and business," said Gary Funk, director of the Rural Schools Collaborative, a Wisconsin-based advocacy group. "We've got this antiquated model of education where students sit in a building all day. "
Kaelyn Watson: 'We Go Home For The People'
Some nights, when the stresses of dorm life and the rigors of class get her down, Kaelyn Watson misses home.
She misses old friends, who know all about her quick temper but love her for it anyway. She misses her mom and her little sister. She misses her teachers at Galatia High School, who cared about their students' success and always were quick to offer guidance.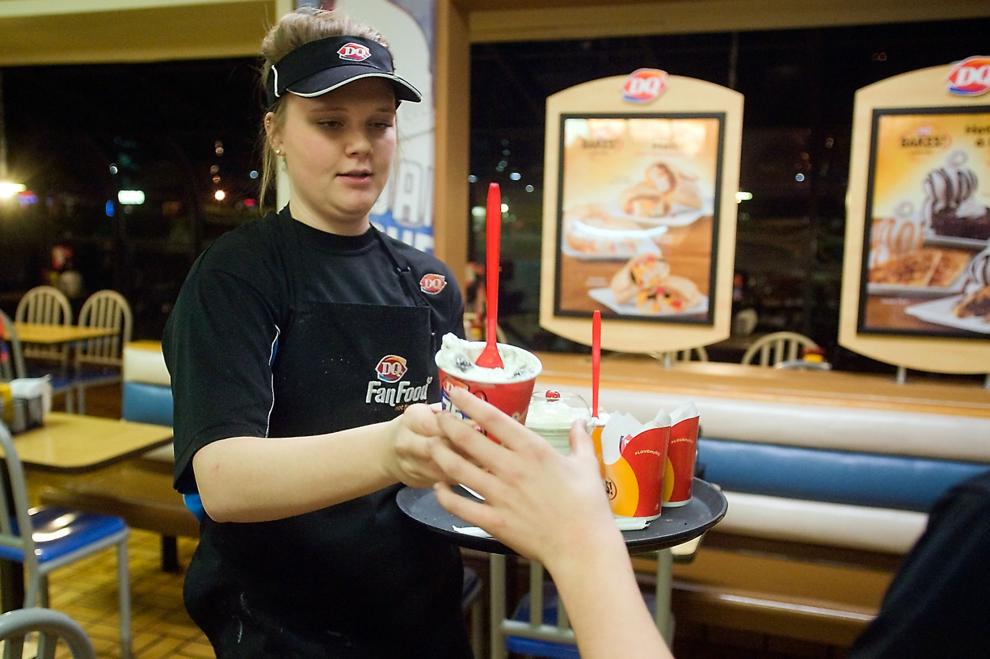 It's not that Watson, 18, doesn't love college life. She's done well academically, and she's made a handful of good friends — some through her residence hall, others at a Christian group she recently joined.
She likes the freedom college affords, and between classes, studying and serving customers at the Dairy Queen in nearby Glen Carbon, she keeps busy.
Still, sometimes home beckons. But it's not Galatia, per say, that Watson misses.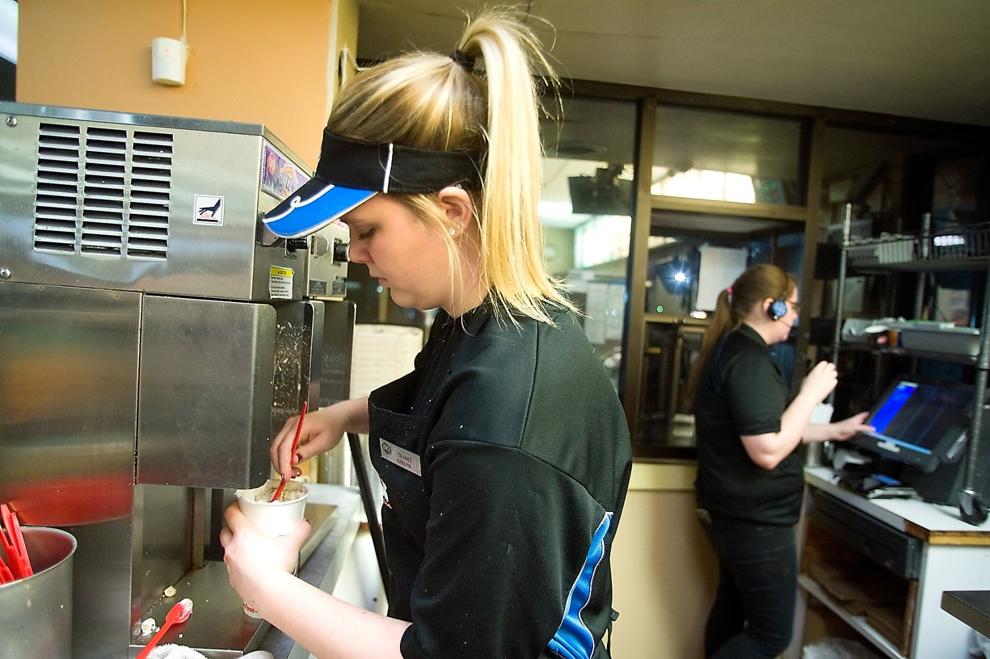 "(My friend) said it the best," Watson said. "She was like, 'We go home for the people, not for the town.' Like, we go home to see the people we love, the people we miss."
In a few years, most of those people will be gone from Galatia, too. A couple of her friends stuck around after high school, but her parents hope to move somewhere warm after Watson's little sister, who attends Galatia High School, graduates.
Watson's older brother Kobe already has moved on. After completing business school, he nabbed a job in Dallas. Already, he's settling in to his new Southern lifestyle.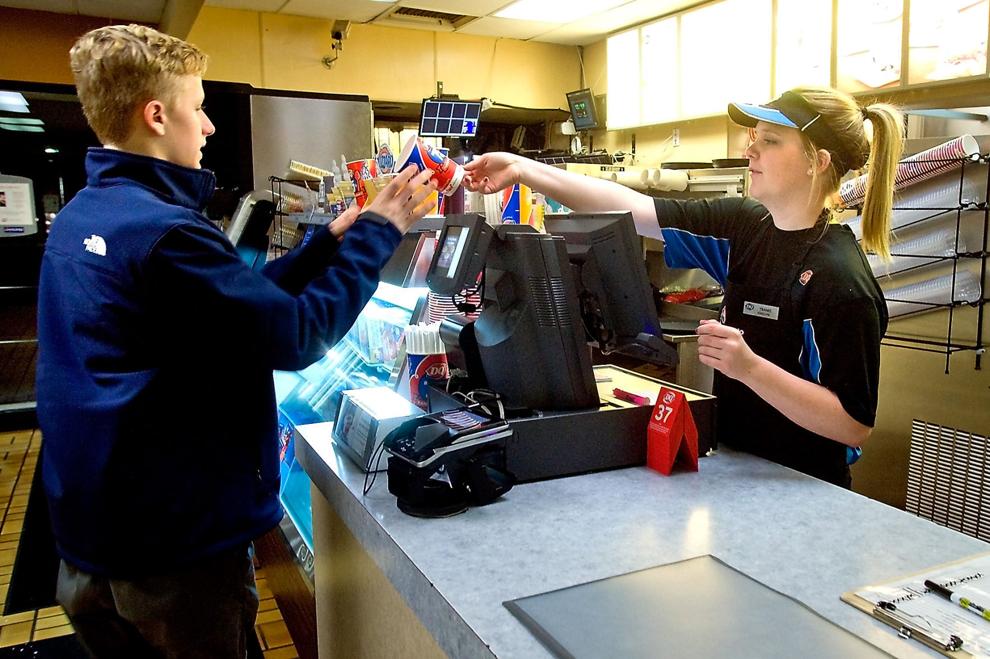 "He was having a hard time when he left, … but now he's like, 'I love Dallas,'" she said. "He's like, 'Texas everything, Texas forever.'"
"He thinks he's a cowboy," she laughed.
Per his request, she bought him a Lone Star State flag for Christmas.
Watson knows it's her turn next. She looks with eager anticipation to the day, six years down the road, when she embarks on a career as a pediatric nurse practitioner.
She can't wait to collect her degree, to set up shop in St. Louis — and to relish in the promise of being gone.
618-351-5076
@SHalaszGraham​